Cochrane UK is gearing up to host the much-anticipated Cochrane Colloquium at London's Queen Elizabeth II Centre (QEII) from September 4th to 6th, 2023. The event promises an enriching experience, combining learning, networking, and fun. The countdown has begun, but there is still time to register
To ensure you make the most out of the Colloquium, we've gathered a selection of insights and suggestions from members of the Cochrane Community. These tips will guide you through multiple days of intense engagement, helping you maintain your well-being, enthusiasm, and collaborative spirit throughout the event. Have other suggestions? Let us know by using the hashtag #CochraneLondon on social media.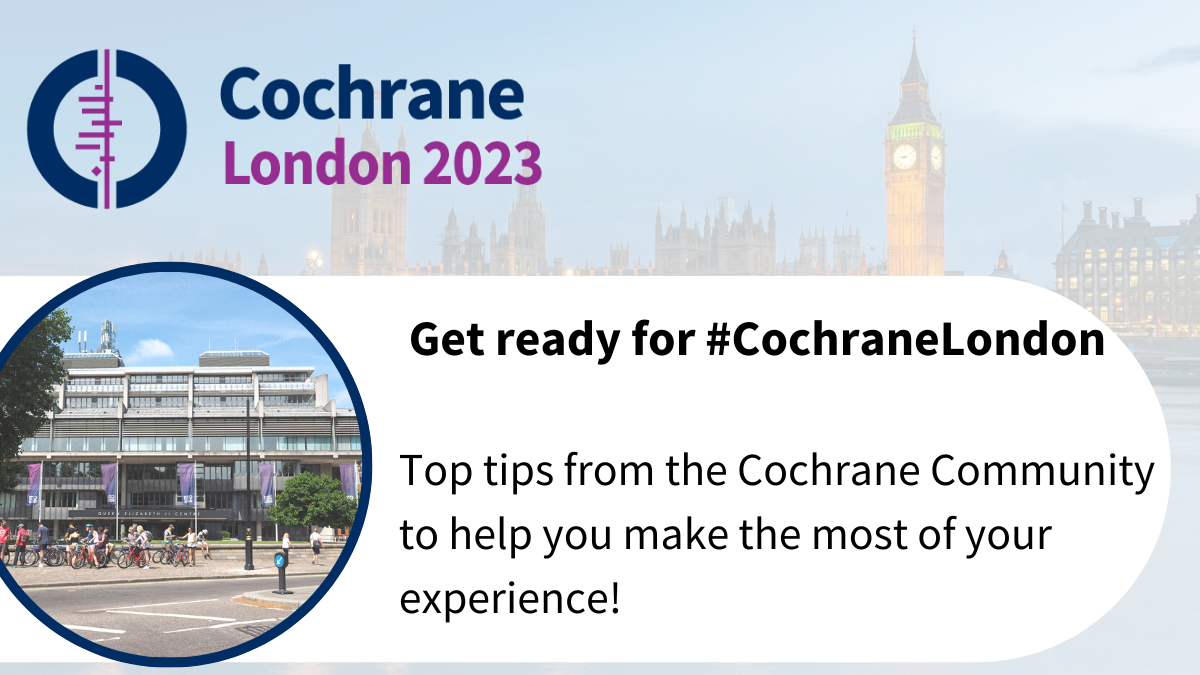 1. Download a Business Card App
Embrace the digital age by adopting a digital business card app. This eco-friendly option enables you to effortlessly exchange contact information, fostering future collaborations.
"When Cochrane recently attended the 76th World Health Assembly we used blinq.me digital business cards. It was free, easy to set up, and was the main form of business cards that people were using. I hope our Cochrane Community embraces digital business cards as an environmentally conscious choice and helps sets themselves up for future collaborations."

- Catherine Spencer, Cochrane CEO
2. Plan your routes with the Citymapper App
The Colloquium venue is a short walk from tube stations, many hotels, and much more. The Citymapper app (free) is a really useful tool offering offline navigation to help you get around, including walking, bus, tube and rail routes, ensuring you always know where you're headed.
" Even as a UK local, I use the Citymapper app and recommend it to anyone coming to London. It can provide accessible route information which is also helpful if you have luggage with you, has live tube and bus information, and is perfect for walking around and exploring without wifi. London has so many great spots to visit before and after the Colloquium - including the Bartholomew Fair events - and I hope having this app will give you the confidence to go out and explore! "

- Sarah Chapman, Cochrane UK
3. Pack your walking shoes for the Anne Anderson Walk
The Anne Anderson Walk is about 4.5km long and can be completed at your own pace. It will take you past some of the city's most iconic landmarks, give you stunning views of London, and educate you about close-by historical and medical points of interest. Be sure to bring comfortable walking shoes and take advantage of the opportunity to explore London's surroundings while connecting with fellow attendees.
"As the recipient of the 2021 Anne Anderson Award, this walk holds a special place in my heart. It's also a cherished highlight for many Colloquium attendees. While conferences often keep you indoors, the Anne Anderson Walk ensures you truly experience the location. This year, the venue is surrounded by historical sites that showcase London's medical legacy and the significant role of women. Don't forget to bring your walking shoes, contribute to the Anne Anderson Award, and prepare yourself for an enriching experience!"

- Jackie Ho, Cochrane Malaysia
4. Smart casual plus one posh outfit
There isn't a dress code at the Colloquium but many people will likely be wearing what is described as 'smart casual' wear;  professional but relaxed. The most important thing is to be yourself and be comfortable! The social event is one night where people dress up a bit more - so pack one posh outfit! 
"The Cochrane Community is so varied and so welcoming that it really doesn't matter what you wear. Be comfortable and be true to yourself - for some that may be a t-shirt and for others it may be a three-piece suit.  The social night is one event where you can turn the notch up for the dressy-ness! Bow ties, ties, a dress shirt, dresses, traditional cultural outfits...Have some fun with your outfit! If you have a deerstalker hat or a fascinator, you can totally wear it for the social night!"

- Muriah Umoquit, Canada

5. Get your official #CochraneLondon merchandise from the Cochrane Store
Select and purchase your limited-edition #CochraneLondon items beforehand. The print-on-demand store offers an exciting range of items, including tote bags, t-shirts, and mugs, which you can choose to purchase for use during the conference or as cherished souvenirs of the event. Please note that these items will not be available for purchase at the Colloquium itself and must be acquired in advance.
"Cochrane is prioritizing sustainability and the environment with this event. Rather than traditional conference swag bags of items you'll never use again, we've taken an eco-conscious route by introducing a print-on-demand store. This not only reduces unnecessary waste but also ensures that participants receive merchandise they truly value and intend to use. I love my Cochrane t-shirt and mug and am excited to see the new items added to the store! Alongside #CochraneLondon items, there are also ones to celebrate Cochrane's 30th Anniversary items, as we will be celebrating this milestone at the colloquium."

- Sabrina Khamissa, UK
6. Use the #BetterPoster and #BetterPresentation templates
We worked with the leading research team investigating the accessibility of presentations at academic conferences to create templates for those presenting a poster or doing an oral presentation. Both presenters and attendees will benefit from the use of these templates!
"I love how evidence-based Cochrane is in so many aspects of their work. Based on the latest research, #CochraneLondon templates makes creating posters and PowerPoint slides so much easier. By adopting these templates, researchers can elevate the impact of their findings, facilitate knowledge transfer, and foster inclusivity within academic conferences. It's going to be exciting to attend a Colloquium with so many using them; attendees will be able to swiftly identify the presentations that align with their interests and it will make it easier for those of us who have English as a second language."

- Xun Li, Cochrane China

7. Explore the full programme and curate your own Colloquium experience
Take the time to look through the full Colloquium programme and plan your schedule. Immerse yourself in a captivating lineup of plenary talks, workshops, posters, oral presentations, and meetings that encompass a vast spectrum of topics and issues in evidence-based health care. You can personalize your experience to match your interests and goals!
"The Cochrane Colloquium is more than just a typical academic gathering! It has posters, oral presentations, and a lineup of plenary talks but it goes beyond just academic content! Cochrane Colloquiums are also about building connections and creating unforgettable memories. Be sure to check out all the 'take a break' fun activities and the social gathering at the Natural History Museum! I encourage all attendees to delve into the comprehensive programme and strike a balance between planned engagements, networking, and enjoyable moments."

- Andrea Moreno, Cochrane France
8. Unite and connect with fellow book lovers!
Finished a book on the way to the Colloquium and want a new one for the trip home? Have piles of books that could use a loving home? Bring a book for the #CochraneLondon book exchange! You can also 'sign out' a human book at our Library of People!
"The love for books at Cochrane extends beyond the Cochrane handbooks! The Cochrane Book Club is hosting a book exchange at the Colloquium. Bring in a book, write your recommendation and a note on a bookmark, and leave with a new book! The book exchange is happening on level 1 over the three days. Book Club members will also be librarians at the Library of People happening in the same area on Wednesday at lunch. We're looking forward to connecting with you over some good books! "

- Anne-Catherine Vanhove, Cochrane Belgium
9. Mix and Mingle!
Beyond catching up with colleagues and friends, this event is an opportunity to engage with newcomers interested in our work and potential future collaborators. Embrace the chance to expand your network and foster meaningful connections that could shape exciting collaborations. Stay open to new encounters and the possibilities they bring!
"My best advice: meet and talk to as many people as you can. It's nice to meet colleagues, but everyone at the Colloquium will have an interest in Cochrane's work and will welcome the chance to share their thoughts and ideas. They may be just the person you are looking for! For me, this approach has given me friends for life spread across the organisation."

- Elizabeth Royle, UK

10. Harness the power of social media
While we're meeting in-person, you can also embrace the digital buzz by actively using the event's hashtag; #CochraneLondon. Through social media, you can connect with other attendees, follow up with presenters, and share your insights with your followers.
"You can get ready for Colloquium by sharing the fun badges on your social media to announce to everyone that you will be there! Also, look through the official #CochraneLondon Social Media Ambassadors and give some a follow. Once you're at the Colloquium, be sure to use the official #CochraneLondon hashtag and share your highlights! "

- Georg Rüschemeyer, Cochrane Germany
11. Make your well-being a priority!
Cochrane recognizes that conferences can be busy and overwhelming at times. We want to ensure that Cochrane London attendees have the opportunity to prioritize their well-being while also engaging in some fun and social activities. Some people take a break by connecting with others and some people need time to themselves - the colloquium offers space and activities to help meet both of these needs!

"My advice is to treat #CochraneLondon like a marathon, and not a sprint. Every day will be busy, filled with sessions to attend, and people to meet, and it's important to make the most of this opportunity. But it's also important to pace yourself and give yourself permission to schedule in proper breaks each day. Take time out for yourself in the Colloquium's 'Quiet Corner', go for the Anne Anderson Walk, or even take some time to go back to your hotel room - especially if it means you are then able to return to the main sessions refreshed and recharged!


- Nuala Livingstone, Northen Ireland
Have other suggestions and tips? Let us know by using the hashtag #CochraneLondon on social media.

As you embark on your Cochrane Colloquium journey, we hope that these valuable tips will equip you with the knowledge and confidence to make the most of this enriching experience. We are looking forward to welcoming you to London and uniting the community once again! Don't miss out on this transformative event, where trusted evidence takes centre stage and lasting connections flourish.
Find out more:
Get in touch: colloquium@cochrane.org
Thursday, August 17, 2023