Meet our #CochraneLondon Social Media Ambassador volunteers who will be helping to share the content of the London Colloquium and their experience at the colloquium on social media. They will be sharing content across all your favourite social media platforms.
Cochrane UK is hosting Cochrane's Colloquium taking place in London, UK from 4-6 September 2023. With the theme "Forward together for trusted evidence", the 2023 Cochrane Colloquium is set to be a groundbreaking event with a mix of learning, networking, plenary speakers, events, and more! 
The #CochraneLondon Ambassadors are attending the colloquium and will be sharing the exciting experience before, during, and after the event. They will not act as spokespersons for Cochrane but will share their own take on the experience. The Ambassadors will use their social media platforms to provide insights into the Colloquium's discussions, key takeaways, their favourite keynotes, and provide some behind-the-scenes posts about what it's like to attend and who from the Community they meet. 
You can find Cochrane on X, Facebook, YouTube, and Instagram. Follow the #CochraneLondon platform on all your favourite platforms or give your favourite ambassadors a follow.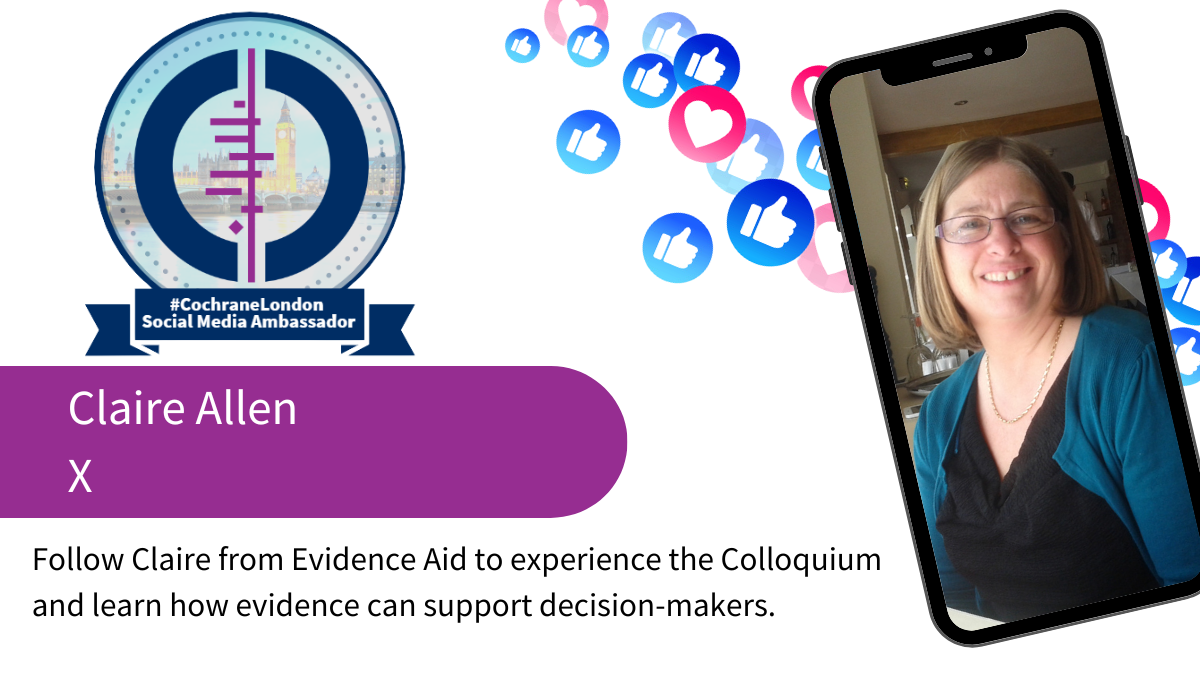 Claire Alllen
Social Media: X

Claire Allen worked with Cochrane from 1997-2014, during which time Evidence Aid was created (in 2004) with Cochrane colleagues. Evidence Aid aims to save lives and livelihoods in disasters by providing decision-makers with the best available evidence and by championing its use. In 2014 she moved over to being staff at Evidence Aid and has since managed the day-to-day operations of the independent charity.

Claire Allen has attended 18 Colloquiums in the past! She will be joining the Library of People on Wednesday's lunch break where she will be an "open book". She is looking forward to chatting with attendees about translating evidence to support disaster settings as well as catching up with Cochrane colleagues, attending plenaries, and workshops – and sharing insights along the way on social media.
Claire will be sharing takeaways from her Cochrane London experience on the main Evidence Aid X account. Follow Evidence Aid and experience the Colloquium alongside Claire and learn more about how evidence can support decision-makers!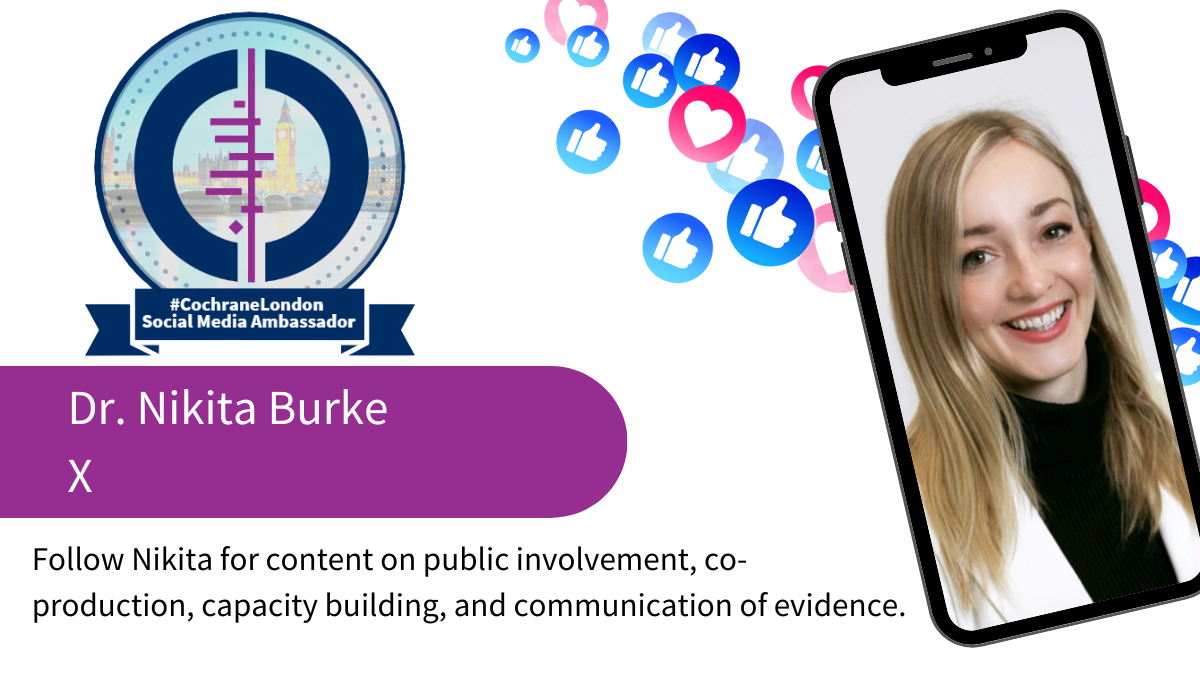 Dr. Nikita Burke
Social Media: X accounts for Evidence Synthesis Ireland, Cochrane Ireland, and Nikita's personal X account

Dr. Nikita Burke is the Programme Manager for Evidence Synthesis Ireland, which aims to build knowledge, awareness and capacity in evidence synthesis on the island of Ireland and beyond. She is also the Associate Director for Cochrane Ireland. 
Nikita has a curiosity and commitment to public involvement and engagement in health research, and knowledge translation and communication of evidence. She has worked with Cochrane Crowd to develop educational modules for the public on key steps in a systematic review and study designs.
This is Nikita's first Cochrane Colloquium! She is looking forward to meeting colleagues and public partners, many in person for the first time! Follow her on  @EvidSynIrl, @CochraneIreland, or @nikitanburke for public involvement, co-production, capacity building and communication of evidence content.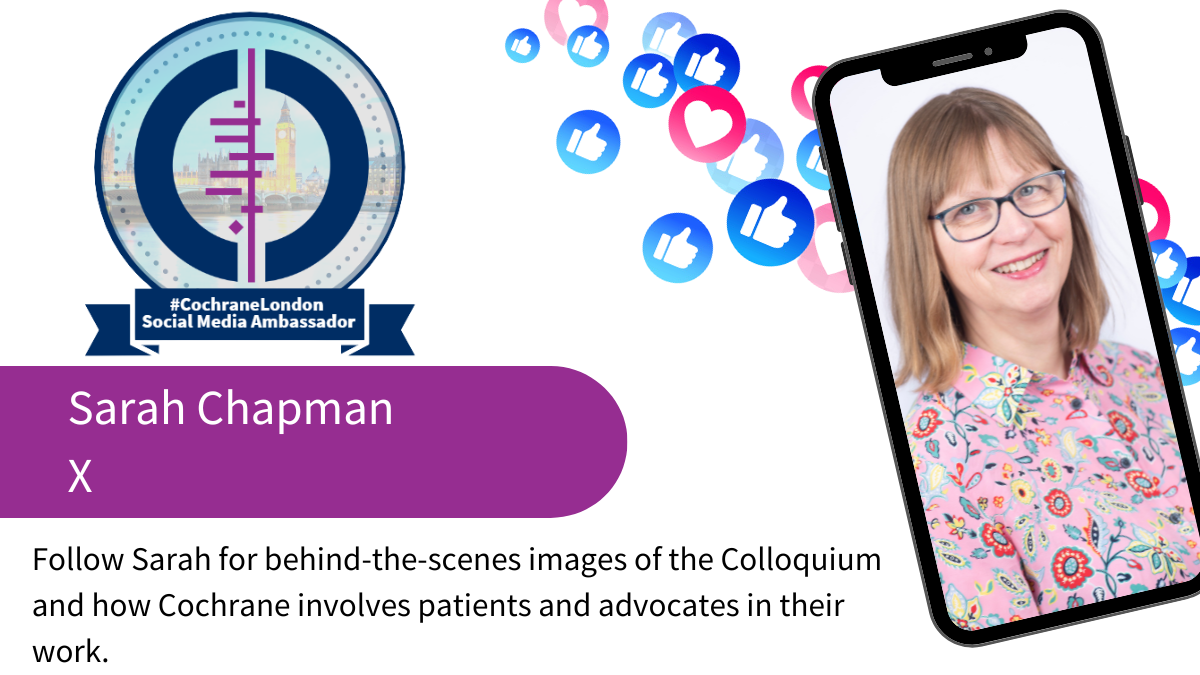 Sarah Chapman
Social Media: X
Sarah Chapman is a Knowledge Broker at Cochrane UK and she is an editor a writer for the Evidently Cochrane Blog. She also has a personal blog, From Ear To Eternity, where she writes about her cochlear implant journey and about life with hearing loss. Her interests include best practices for sharing health evidence on social media and patient involvement in health research. 

This is Sarah's seventh Colloquium and the second time being part of the Local Organizing Committee. She is looking forward to welcoming everyone to London and dancing under the dinosaurs at the social night. 
Sarah will be sharing behind-the-scenes images of the Colloquium and all the extra bits beyond the main content events. Follow Sarah to also learn more about how Cochrane involves patients and advocates in their work.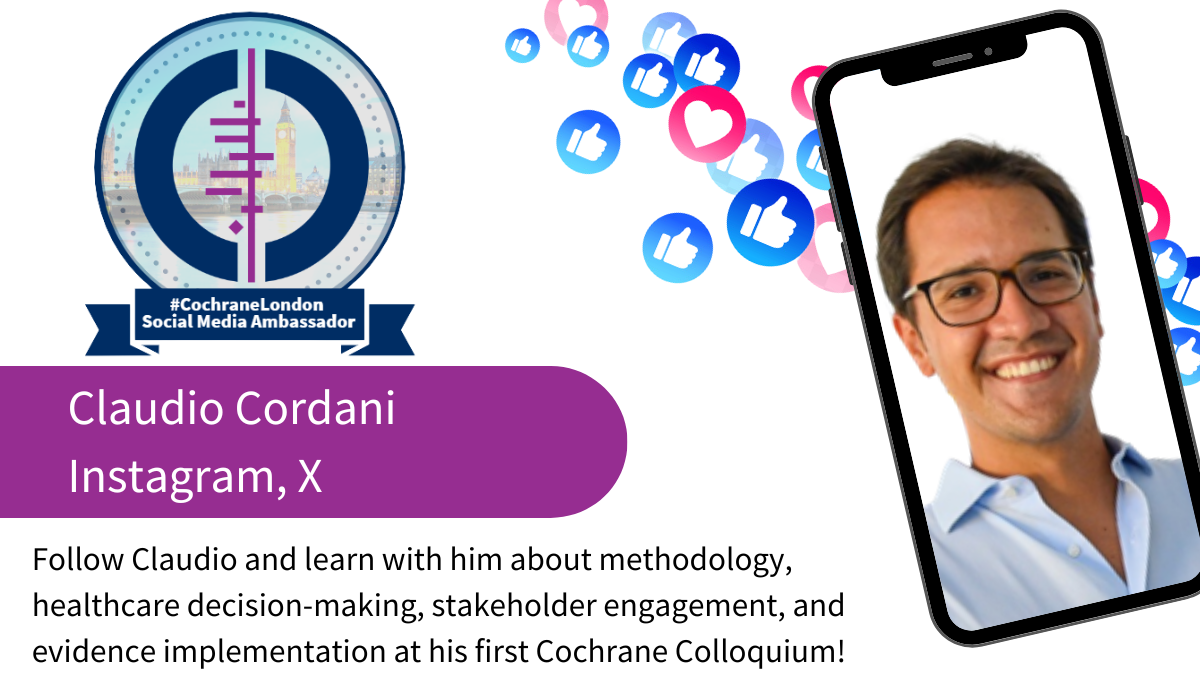 Claudio Cordani
Social Media: Instagram, X

Claudio Cordani is a Physiotherapist from Italy. He completed a Master of Science in 2019 and is now attending a Ph.D. in Clinical Research. Since 2021, he has been a member of Cochrane Rehabilitation, following special projects on evidence synthesis in the rehabilitation field. Claudio is passionate about neurological and musculoskeletal rehabilitation as well as clinical research.
This is Claudio's first Cochrane Colloquium and he is looking forward to meeting some research peers in the unique and historical background of London. He is excited about the opportunity to learn more about methodology, healthcare decision-making, stakeholder engagement, and evidence implementation. Claudio has contributed to the oral communication entitled "The concept of "evidence relevant to" in the rehabilitation field: post COVID-19 condition mapping for the World Health Organization Guidance", which will be presented by Prof. Stefano Negrini on September 4th at "Mapping evidence" session. 
Claudio will be posting about his experience on his personal Instagram and his personal X account and will be tagging Cochrane Rehabilitation on Instagram and Cochrane Rehabilitation on X, so you can also follow the official account for his reposts.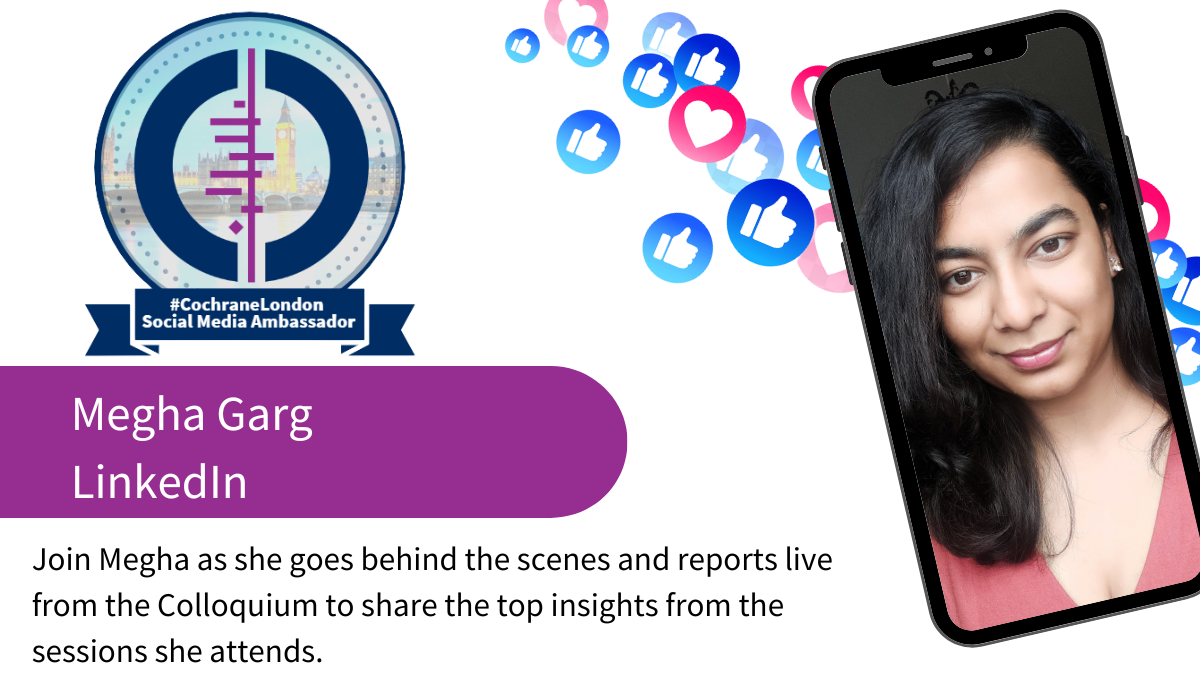 Megha Garg
Social Media: LinkedIn

Megha works as Systematic Review Scientist and is the editor-in-chief of a renowned journal along with being the editorial team member for many others. Her interests include best practices and methods behind evidence synthesis, with a focus on quality and bias assessment in published literature.

This is Megha's first Cochrane Colloquium! She is looking forward to engaging with healthcare decision-making experts to explore the challenges in healthcare data and working 'forward together for trusted evidence' while enjoying the stunning views across the London skyline to prominent historic landmarks.

Follow Megha on LinkedIn and go behind the scenes! She will be reporting live from the Colloquium to share some of the insights from each day and take you through the talks, workshops, and other activities and presentations.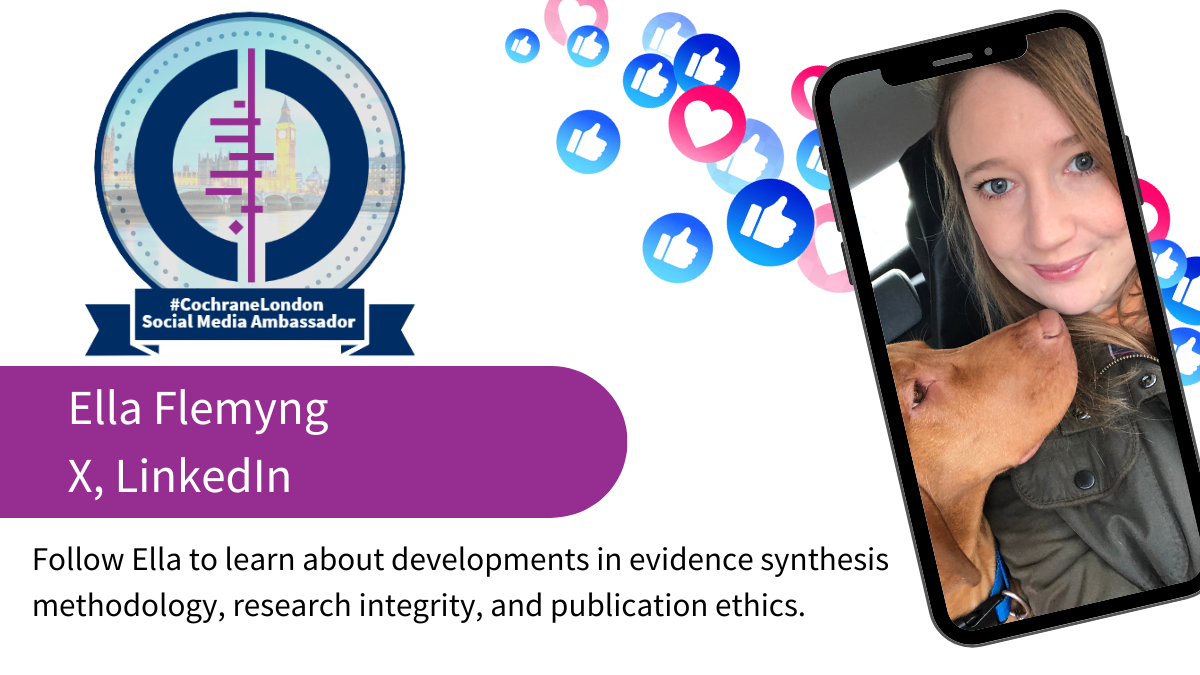 Ella Flemyng
Social Media: X, LinkedIn

Ella is Cochrane's Interim Head of Editorial Policy and Research Integrity and is on the Editorial Board of Cochrane's new, open access journal, Cochrane Evidence Synthesis and Methods. She is interested in research integrity, reliability, and the methods behind evidence synthesis.

She is looking forward to immersing herself in research integrity and methodology topics and networking with experts at the Colloquium. She is particularly excited about the 2023 Cochrane Methods Symposium.

Ella shares developments in evidence synthesis methodology, research integrity and publication ethics on social media. Follow Ella and learn from all the posters and presentations she will be attending and sharing.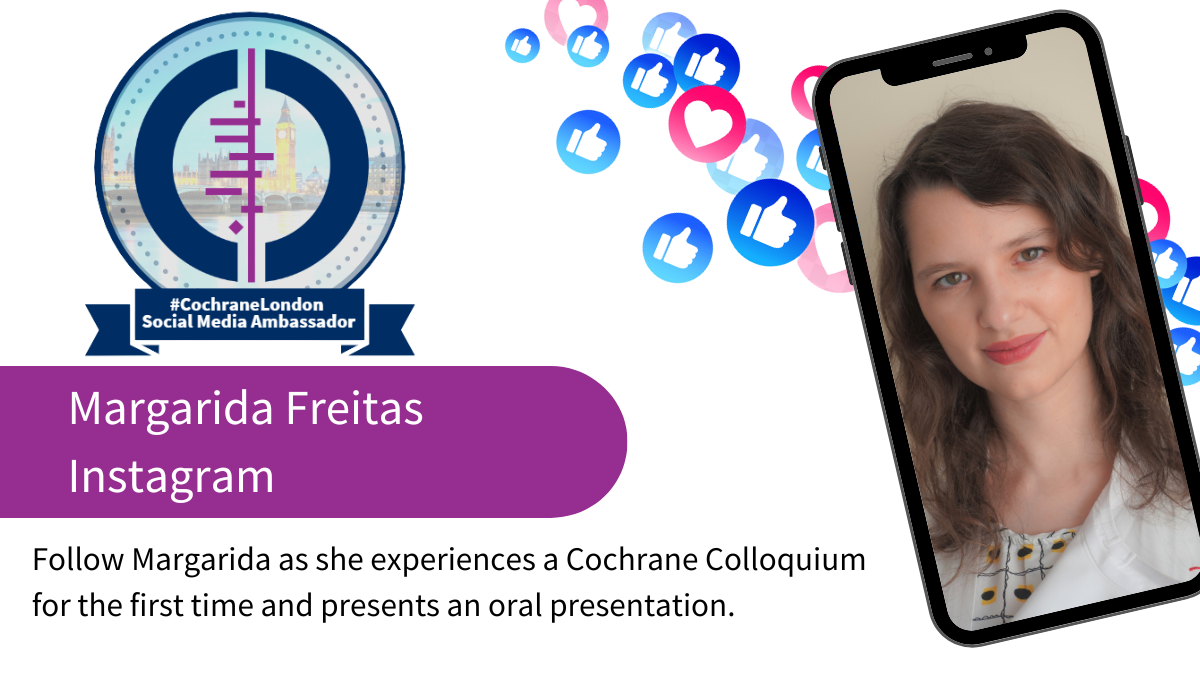 Margarida Freitas
Social Media: personal Instagram and Cochrane Rehabilitation Instagram

Margarida Freitas is a Medical Doctor and Physical and Rehabilitation Medicine specialist from Portugal. She has been involved with clinical research and team managing and development since Medical School. Since 2020, she has been Cochrane Rehabilitation's Translation Manager, managing a team of translation partners who speak a total of 13 languages. Margarida is passionate about Rehabilitation, Dance Medicine, and clinical research and she is about to start her PhD journey. 
This is Margarida's first Cochrane Colloquium! She is looking forward to meeting some research peers in the vibrant, yet historical London city. She is thrilled to return to the UK, where she has spent some months in observational clinical rotations. She won't miss the opportunity of learning more about healthcare decision-making, statistics and methodology. Margarida will present an oral communication about the cooperative framework of Cochrane Rehabilitation's blogshot translation, so make sure you don't miss the "Building partnerships and implementing evidence" session.
She will be posting as much as she can on her personal Instagram account – @margarida_mota_freitas - and she will be tagging @cochrane.rehabilitation, so you can also follow the official account.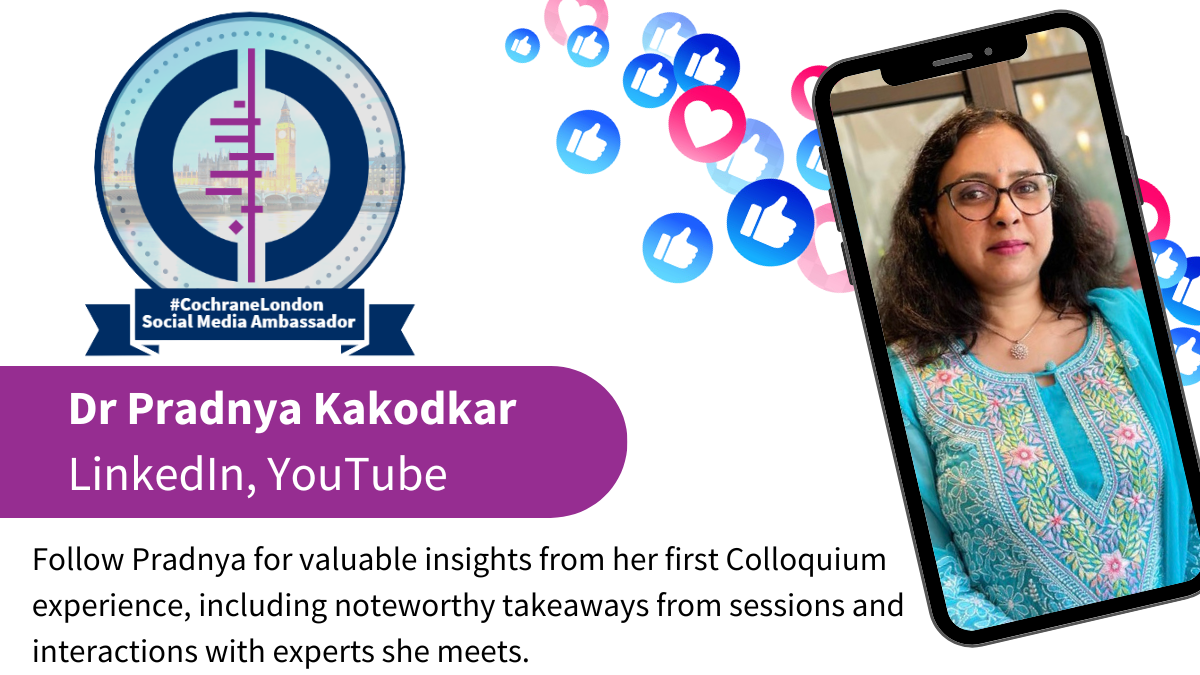 Dr Pradnya Kakodkar
Social Media: LinkedIn, YouTube 

Meet Dr Pradnya Kakodkar; an independent Education and Research Consultant from India. She is a dedicated Cochrane member and passionately conducts webinars to promote the findings of Cochrane systematic review in dental practice. These webinars aim to bridge the gap between research and clinicians, facilitating effective knowledge translation and benefiting the general public in dental practice.  

This is Pradnya's first Colloquium! She is extremely excited to present her work in poster form and share her Colloquium experiences with you.
Stay connected with Pradnya on LinkedIn and YouTube as she will be sharing personal insights from the experience of presenting at the Colloquium and attending for the first time,  valuable perspectives from experts, and noteworthy takeaways from sessions she will be attending.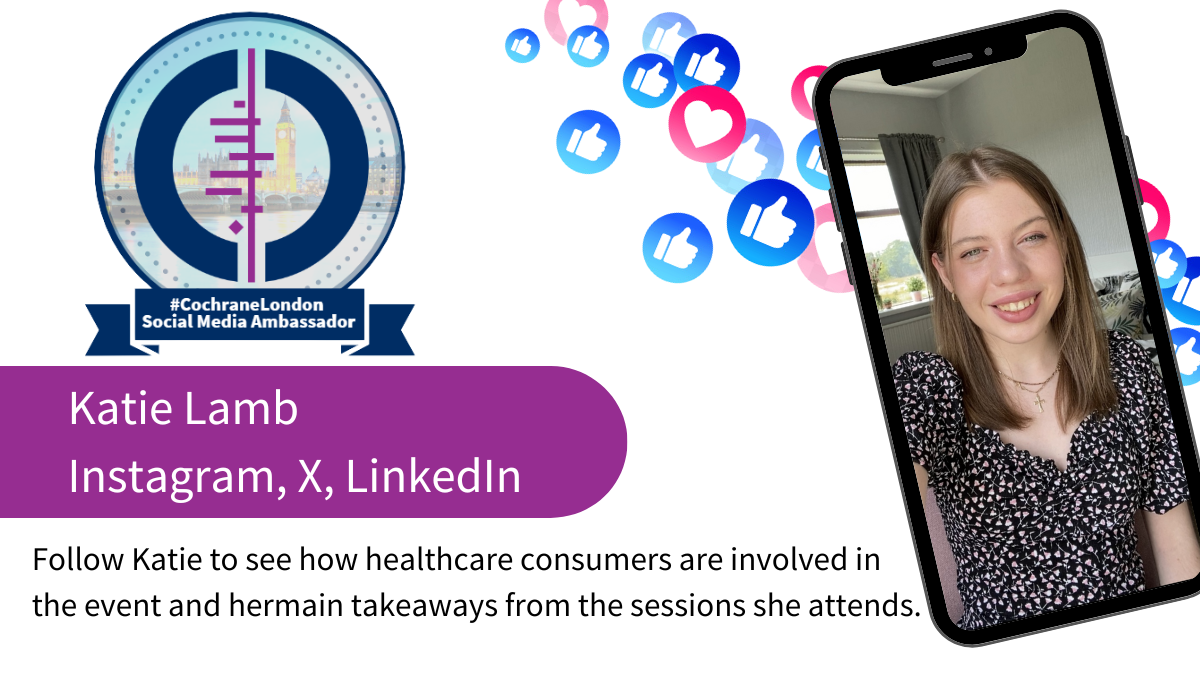 Katie Lamb
Social Media: Instagram, X, LinkedIn 
Katie is an artist and advocate for children and young people living with diabetes and has lived with type one diabetes for twenty years. Her interests include ensuring the voices of young people are heard in research, and using arts and creativity to share lived experiences. Katie is an Expert by Experience for the Diabetes UK Research Steering Group for children and young people and a diabetes advocate with the Dedoc Voices programme.
This is Katie's first Cochrane Colloquium! She is looking forward to meeting researchers and consumer volunteers, and the opportunity to learn from experts. Katie is most excited about sessions focused on co-design and communicating evidence.
Follow Katie to see how healthcare consumers are involved in the event and the main takeaways from the sessions she attends. Katie uses Instagram to share event highlights through art and creative summaries.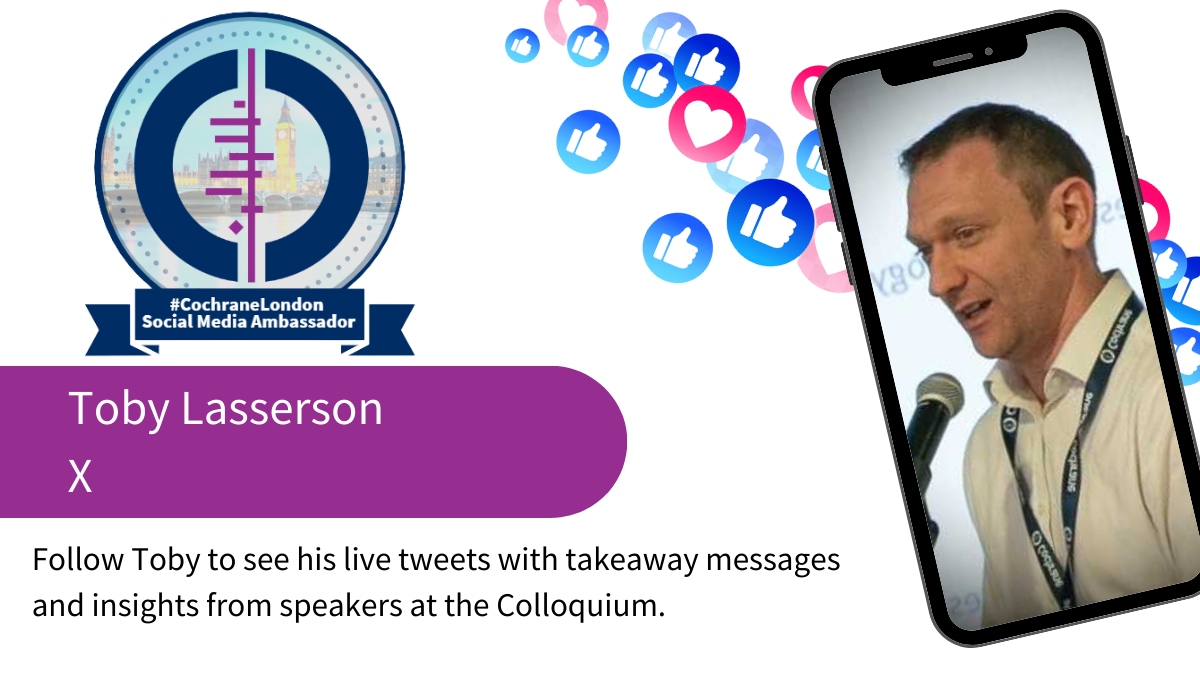 Toby Lasserson
Social Media: Twitter

Toby is the Deputy Editor in Chief of the Cochrane Library and Cochrane's Head of Methods & Evidence Synthesis. 
This is Toby's 18th Colloquium! He is especially excited to attend the Methods Symposium happening the day before and the Annual General Meeting.
Follow Toby as he shares witty and pun-filled tweets about Cochrane evidence, the methodology behind meta-analysis and systematic reviews, and live tweets with takeaways from plenary speakers at the Colloquium.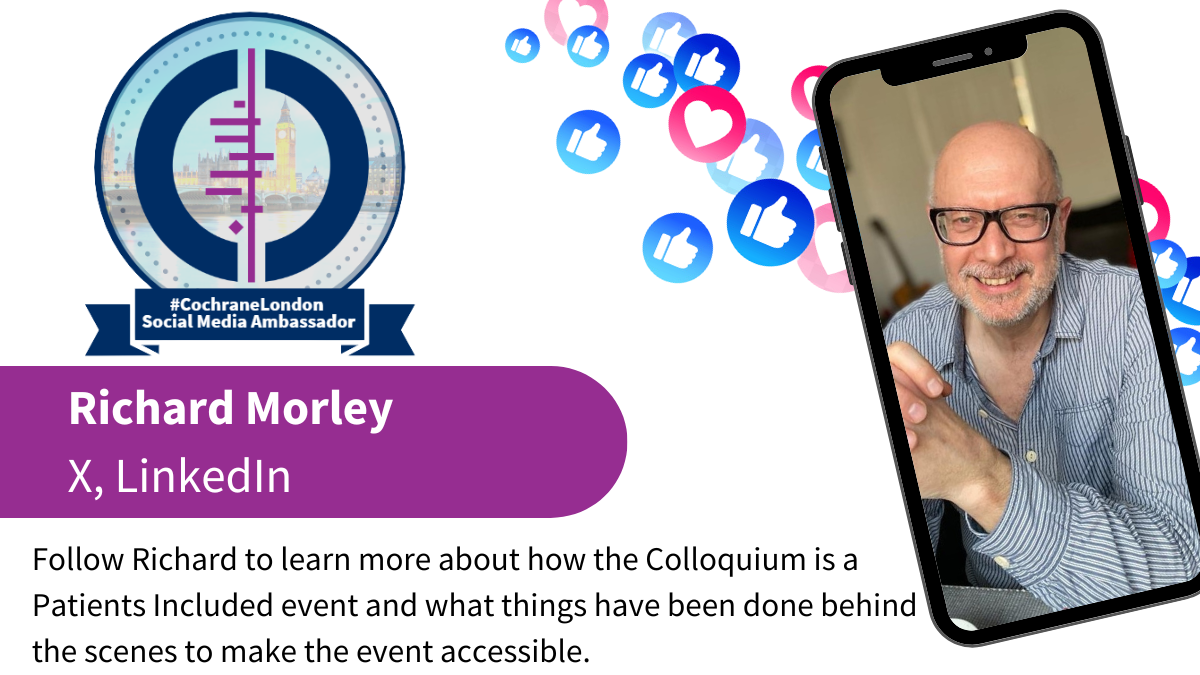 Richard Morley
Social Media: X, LinkedIn 

Richard works for Cochrane as the Consumer Engagement Officer, supporting the engagement and involvement of healthcare consumers (patients, carers, and the public) in Cochrane's work.  

This is Richard's fourth Colloquium experience. He is part of Cochrane London's  Local Organizing Committee and is chair of the Consumer Stiped Committee. He is especially looking forward to meeting with some of the consumer volunteers in-person and the meetings before the Colloquium begins. 
Follow Richard to learn more about how the Colloquium is a Patients Included event and what things have been done behind the scenes to make the event accessible.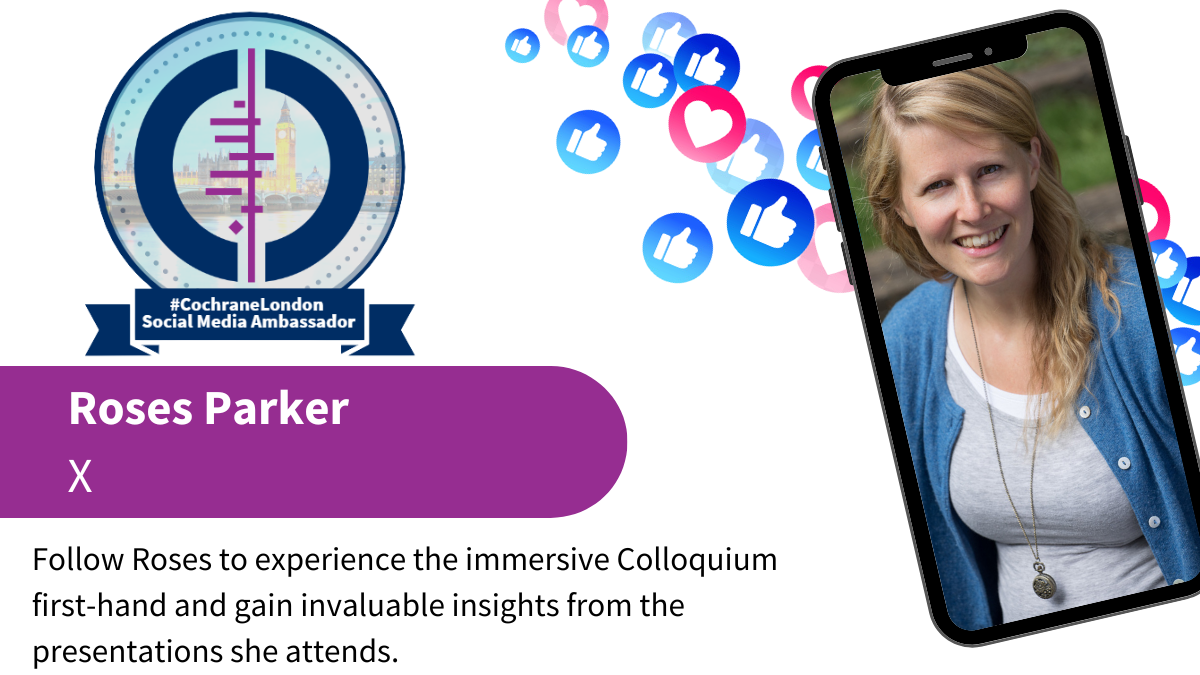 Roses Parker
Social Media: X
Meet Roses Parker, Cochrane's Commissioning Editor who possesses a wealth of knowledge and experience. With a PhD in Nursing focusing on pain management in children with cancer, Roses has made significant contributions to Cochrane in various capacities. Her involvement spans a wide range of crucial tasks, from coordinating priority-setting work, using data to commission updates, and being an author on the updated 'Cochrane logo review'.
Roses eagerly anticipates attending her second Colloquium! She is particularly excited about the Methods Symposium preceding the main event, as it promises to delve into the latest advancements in equity in evidence synthesis. Roses will also be giving a presentation at the Colloquium about Cochrane's important role in improving health equity and how others can get involved. Roses aims to provide some real-time updates through her X account, capturing the essence of the workshops, plenaries, and other noteworthy events she will be attending.
Join Roses on an inspiring journey through her live tweets, as she takes you along to experience the immersive Colloquium first-hand and unveils invaluable insights from the captivating presentations she attends.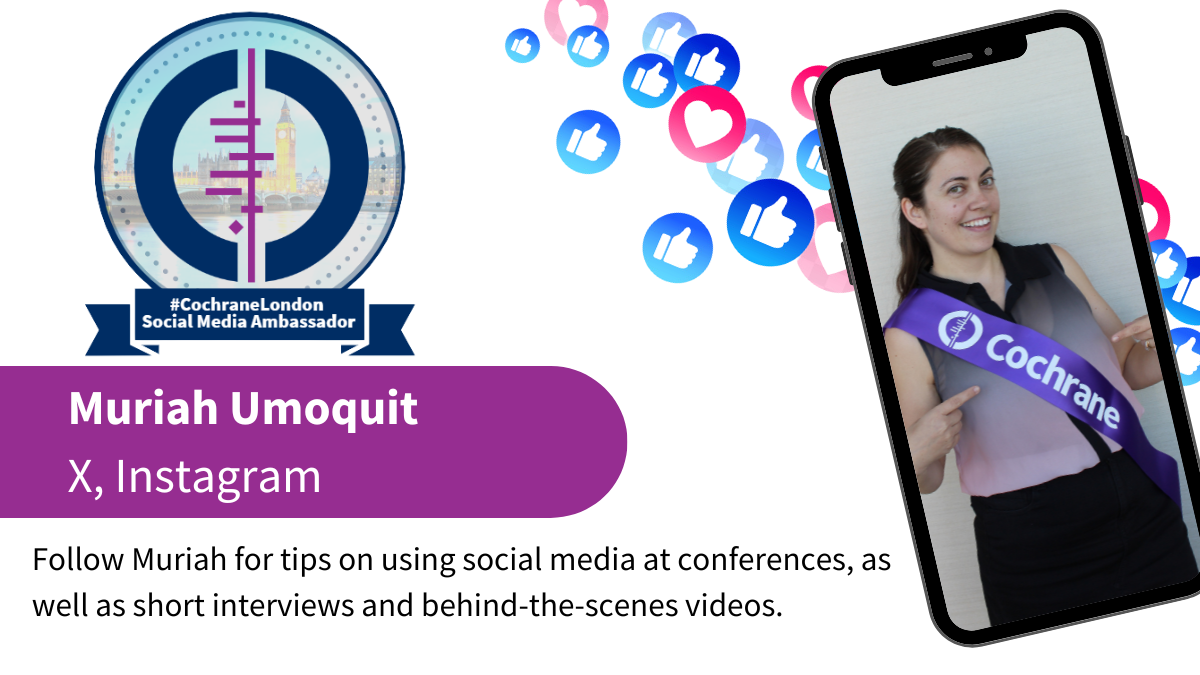 Muriah Umoquit
Social Media: X, Cochrane Instagram Stories

Muriah is Cochrane's Senior Communications Officer and runs the social media for Cochrane and Cochrane Library. 
This is Muriah's fourth Colloquium. She is looking forward to seeing everyone use the wonderful #BetterPoster templates and connecting with the community through Colloquium social events,  such as the book exchange, the Anne Anderson Walk, and the Gala night. 
Follow Muriah for tips and best practices for making the most of attending a conference on social media. She will also be sharing short interviews and behind-the-scenes videos on Cochrane's Instagram stories during the colloquium.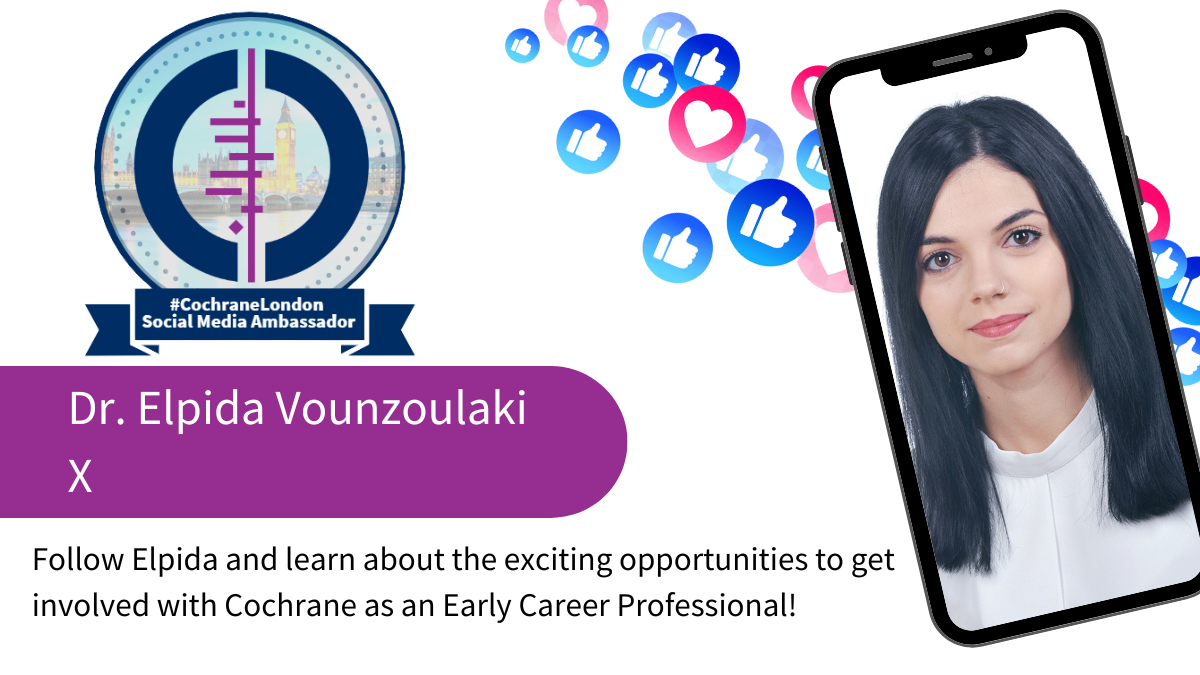 Dr. Elpida Vounzoulaki
Social Media: X
Elpida Vounzoulaki is a Postdoctoral Epidemiologist at the Leicester Real World Evidence Unit, Diabetes Research Centre, University of Leicester and Chair of the Cochrane Early Career Professionals (ECP) Steering Group. She is also the host of Cochrane ECP's first podcast, Conversations with Cochrane.
This is Elpida's first time attending a Cochrane event and she is really excited to meet Cochrane members and volunteers, as well as speakers attending the event!
Follow Elpida on X and learn about what is going on at ''Putting evidence into practice'' on Sunday 3 September and the exciting opportunities to get involved with Cochrane as an Early Career Professional!
---
Find out more about the Colloquium:
Thursday, August 24, 2023