Cochrane UK is proud to host Cochrane's Colloquium at the Queen Elizabeth II Centre (QEII) in London, UK from 4-6 September 2023. The countdown has begun, but there is still time to register and be part of this enriching experience! 
We spoke with Sabrina Khamissa, Cochrane's Event Support Officer, who shares the measures taken to create an environmentally responsible Colloquium. 

A central location with many transportation options
Hi Sabrina, we're thrilled about Cochrane's upcoming in-person event in London, UK, and the central location you've chosen is truly exciting. Can you share some insights into how the location was selected and its significance in terms of environmental considerations?
"Certainly! When deciding on the location for #CochraneLondon, we took several factors into account, including our community's geographical distribution. Since a substantial portion of our attendees are based in Europe, hosting the conference in the UK made sense as it encourages participants to opt for more sustainable travel options, particularly trains, which can significantly reduce the event's overall carbon footprint.

London was an ideal choice for its vibrant atmosphere and outstanding public transportation links. By placing the conference at the heart of the city, we aimed to minimize the need for private vehicles and promote the use of eco-friendly transportation alternatives. The venue's close proximity to multiple tube stations and pedestrian-friendly surroundings provides attendees with ample opportunities to choose greener commuting options. We invite all attendees to participate in the Anne Anderson Walk and see the many spots of medical history and London landmarks that are just steps away from the venue."
Sustainability at the heart of the venue choice
The Queen Elizabeth II Centre, where the Colloquium is set to take place, indeed appears to be a fantastic location. Can you elaborate on what specifically drew you to this venue and how its commitment to sustainability aligns with Cochrane's environmental goals?
"When looking at venues we had a checklist of specific requirements, placing a strong emphasis on environmental stewardship and a formal sustainability policy. The Queen Elizabeth II Centre stood out as an exceptional choice, impressing us with its diverse green initiatives aimed at ensuring minimal ecological impact. These initiatives encompass responsible waste management, energy-efficient systems, water conservation efforts, and even hosting 10,000 bees on the fourth-floor area—an inspiring commitment to urban biodiversity.
Attendees will see our venue choice play out in very practical ways. The Centre's strategic location allows easy accessibility, with the majority able to walk or use public transportation from their hotels. Moreover, we are dedicated to reducing single-use plastic, eliminating items like cups and straws during the event. By incorporating LED motion-sensitive lighting and maximizing natural light, energy conservation is prioritized. In our efforts to minimize paper usage, we will be using lots of digital signage ver printed signs, contributing to a more sustainable and eco-conscious conference experience for everyone at #CochraneLondon."
Delicious and environmentally friendly food choices
No matter the event, food selection and taste is always something attendees comment on afterwards. Is this something that was considered?
"It was! We understand that the dining experience is a significant aspect of any in-person event, and we wanted to ensure that attendees not only enjoyed delicious meals but also made environmentally conscious choices. The venue has a British-first policy for sourcing ingredients, to support local farms and growers but also to make sure they are using seasonal produce and are reducing carbon footprints.  Only fair-trade coffee and teas are served. And we have taken a step further by selecting a menu that emphasises plant-based meals and are going with 'bowl food' which helps reduce waste.

Rest assured, the taste and quality of the meals served at #CochraneLondon are of paramount importance to us, and we have thoughtfully selected food options that not only delight the taste buds but also align with our commitment to environmental responsibility."
A shift from traditional swag bags and branded items
It's really reassuring that a lot of thought has gone into many aspects of the venue and experience that are environmentally conscious. One typical aspect of an academic conference is swag or branded items that they get at the start of the conference. What can attendees expect?

"Rather than traditional swag bags, we've taken an eco-conscious route by introducing a print-on-demand store. This innovative approach allows attendees to curate their own experience by selecting and purchasing limited-edition Cochrane items beforehand. This not only reduces unnecessary waste but also ensures that participants receive merchandise they truly value and intend to use. The print-on-demand store offers an exciting range of items, including tote bags, t-shirts, and mugs, which attendees can choose to purchase for their convenience during the conference or as cherished souvenirs of the event.
Even the smallest details have been thoughtfully considered from an environmental perspective. When attendees arrive at the registration desk, they will receive a lanyard and name badge. Here, too, we have opted for a sustainable approach, providing recyclable name badges that will be printed on location. This decision further minimizes our ecological footprint while ensuring that attendees can proudly display their identification throughout the conference in an eco-friendly manner."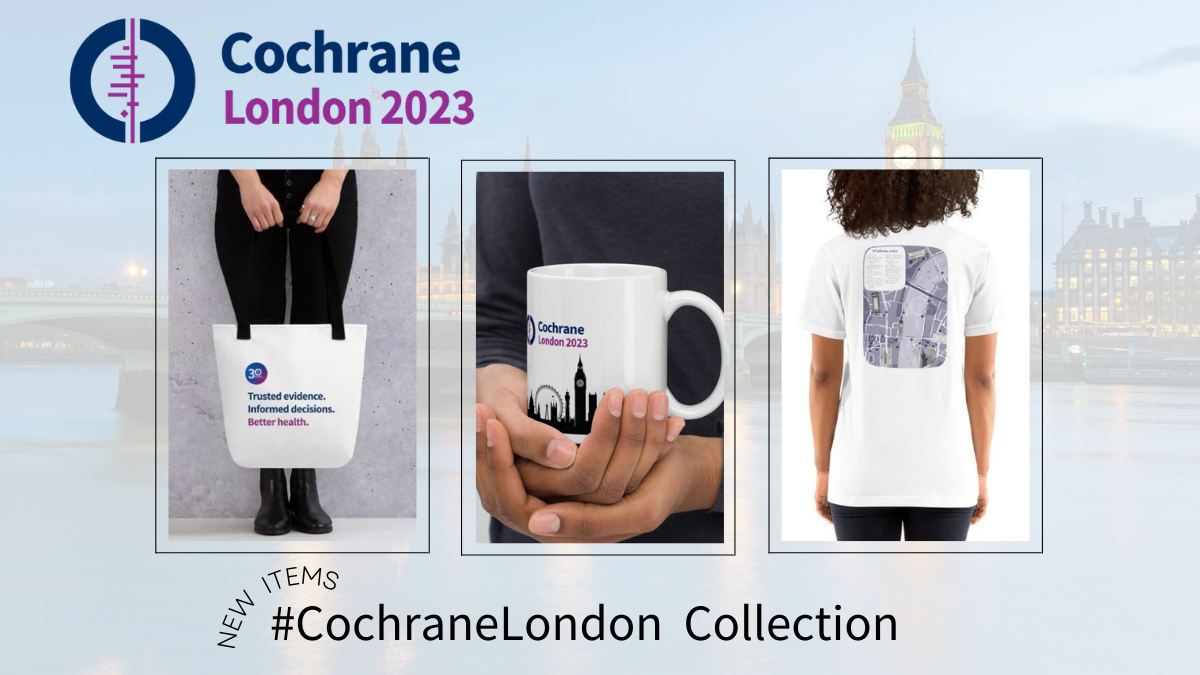 We hope you enjoyed this insightful glimpse into #CochraneLondon's integration of sustainability. By showcasing how even the simplest choices can culminate in a profound impact, the Cochrane Colloquium sets a noteworthy example for fostering greener and more responsible event experiences worldwide. 

Join us at #CochraneLondon as we unite to propel our shared vision and build a more sustainable world, advancing together for trusted evidence. See you there!