Cochrane is made up of 13,000 members and over 50,000 supporters come from more than 130 countries, worldwide. Our volunteers and contributors are researchers, health professionals, patients, carers, people passionate about improving health outcomes for everyone, everywhere.
Cochrane is an incredible community of people who all play their part in improving health and healthcare globally. We believe that by putting trusted evidence at the heart of health decisions we can achieve a world of improved health for all. 
Many of our contributors are young people working with Cochrane as researchers, citizen scientists, medical students, and volunteer language translators and we want to recognize the work of this generation of contributors as part of this series called, Cochrane's "30 under 30." 
In this series, we will interview 30 young people, 30 years old or younger who are contributing to Cochrane activities in a range of ways, all promoting evidence-informed health decision making across the world. 
We will be hearing from them in a series of interviewees published over the coming months.
We're keen to hear from you. Would you like to take part in this series? Do you know someone you'd like to see interviewed? Contact lparsonson@cochrane.org.  Or if you want to know more about Cochrane's work contact membership@cochrane.org where our community support team will be happy to answer your questions.

Names: Chunli Lu, Jing Li, Yuqi Li, and Xun Li
Age: 25, 23, 25, and 34
Occupation: Postgraduate students (Chunli Lu, Jing Li, and Yuqi Li) and staff (Xun Li) of Centre for Evidence-Based Chinese Medicine
Program: Cochrane Cochrane translation project of simplified Chinese
How did you first hear about Cochrane?
We got to know Cochrane via the translation project (CENTRAL and Cochrane Translation Project) once we entered the Centre.

How did you become involved with Cochrane? What is your background?
We are all from an Evidence-Based Chinese Medicine background and all became involved with Cochrane via the translation project.

What do you do in Cochrane?
We translate and edit Cochrane reviews into Simplified Chinese. We also help Cochrane Review Groups to translate and extract data from Chinese publications.

What specifically do you enjoy about working for Cochrane and what have you learnt?
As a team, we enjoy disseminating and sharing best evidence to the world. From Cochrane, we learn useful methodology, the idea of knowledge translation, patterns of organized activities as well as effective communication.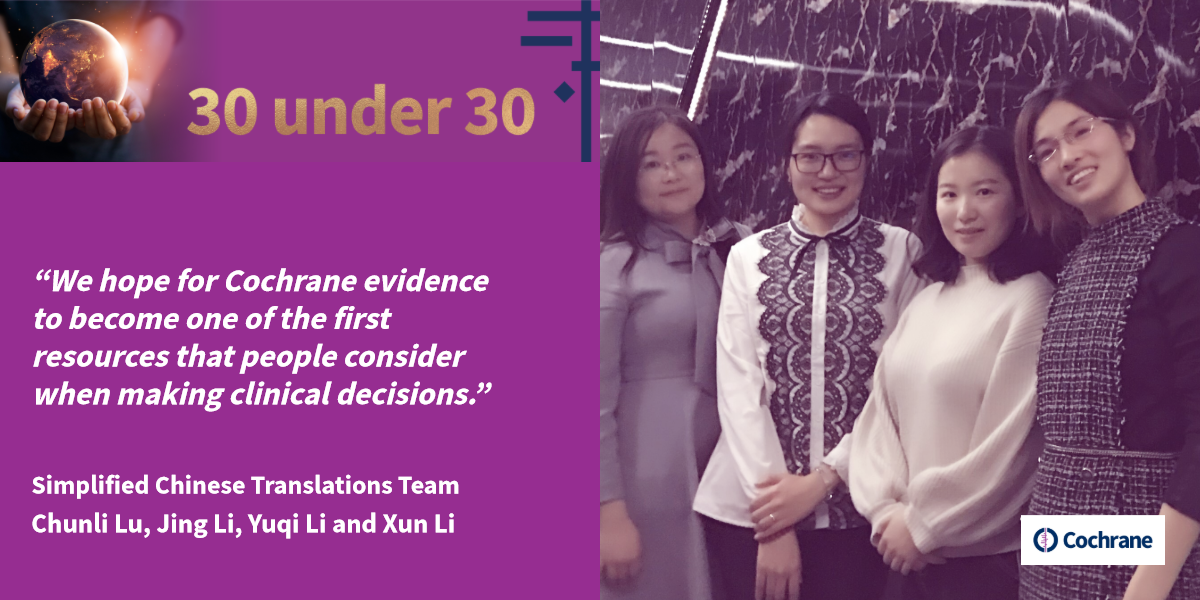 What are your future plans?
We wish to get more involved with Cochrane, including helping to generate and disseminate more Cochrane evidence with simplified Chinese translation, and more Cochrane systematic reviews. Altogether we would like to help more people with good clinical evidence.

In your personal experience, what one thing could Cochrane do better to improve its global profile?
Cochrane is dong very well in the academic area, yet not that well-known among larger populations in China. Multimedia dissemination is very important for Knowledge Translation and we think informing the general population of Cochrane evidence and making Cochrane a habit, is very important.
What do you hope for Cochrane for the future?
We hope Cochrane evidence could become one of the resources that people first consider looking at when making clinical decision. It would be fantastic for Cochrane to become more accessible to every one, such as much more free full text.
How important is it that young people get involved in Cochrane? Why is this, do you think?
Young people are essential for forming the habit of the generation during the next decades, in practice, training as well as knowledge searching.
Why is this, do you think?
The young people are currently students or starting with their research. On one hand they are the future of research and practice area with more open views, on the other hand, they will be handing over the skill and habits to the next generation.
What would your message be to other young people who want to get involved with Cochrane's work but not sure where to start….?
We suggest they start with translation as during translation and task exchange, they can learn the methodology and get familiar with Cochrane styles. There are also people working together with them so they are always able to seek help and advice. Cochrane evidence can influence the clinical decision and their own decision in the future.