Many adults in high-income countries will have had a 'scale and polish' when they go to the dentist, and some will be offered this routinely. But, is it worthwhile? The latest evidence is in the third update of the Cochrane Review, published in December 2018 and lead author, Thomas Lamont from the University of Dundee in Scotland tells us more.
"A 'scale and polish', or 'professional mechanical plaque removal', is done with specially designed dental instruments or ultrasonic scalers, followed by polishing with special pastes. It's intended as a supplementary form of plaque removal to the oral hygiene that patients do at home. The aim is to reduce the risk of gum disease and many dentists or hygienists provide scaling and polishing for most patients at regular intervals, even if the patients are considered to be at low risk of developing gum disease. 
However, there is debate about whether scaling and polishing treatment  is effective and how often it should be done. Scaling can be an invasive procedure and has been associated with negative side effects, including damage to tooth surfaces and tooth sensitivity. We've updated the Cochrane Review, which was last published in 2013, and now have high certainty evidence that routine scaling and polishing does not, in fact, reduce gum disease in low-risk adults.
We included two studies, with a total of just over 1700 participants. Both studies involved adults without severe gum disease who were regular attenders at general practices in the UK. These types of practices are the most appropriate setting for evaluating 'routine scale and polish' treatments; and although both included studies were done in the UK, it would be reasonable to assume that the findings would be the same in other high-income countries.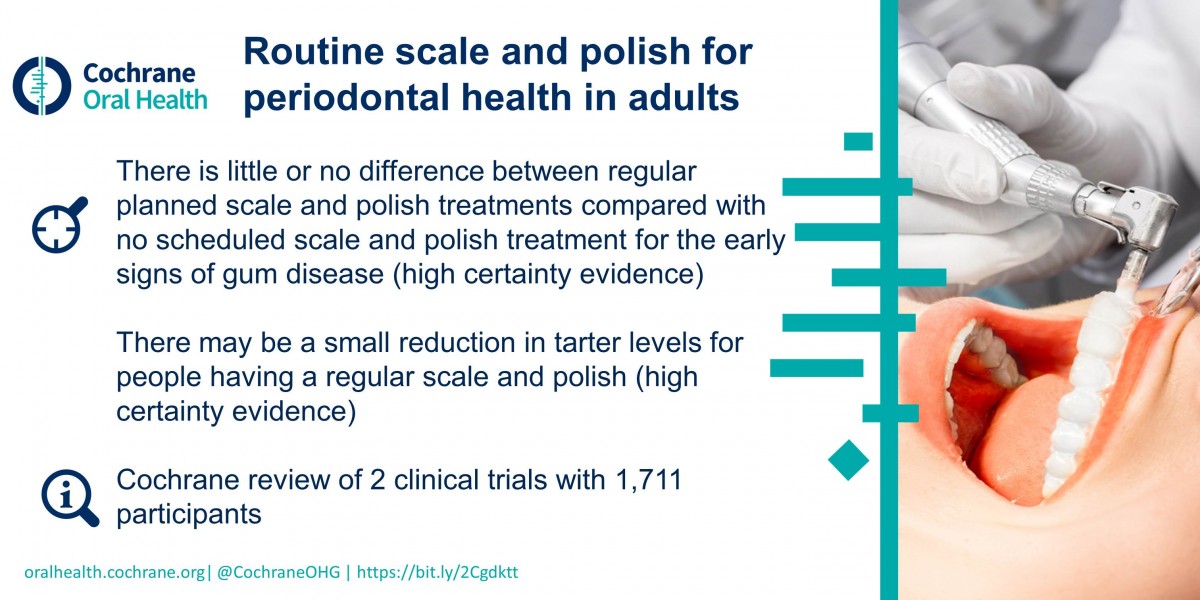 One study measured outcomes at 2 years, and the other at 3 years. Both found that regular planned scale and polish treatments did not reduce the early signs of gum disease more than scale and polish delivered only when the dental professional judged it necessary or it was requested by the patient. The tartar levels were slightly more reduced with scheduled treatments, but it's uncertain if this small difference would be considered important by patients or their dentists.
Participants in the trials who had scale and polish treatments at 6 and 12 month intervals reported feeling that their teeth were cleaner than those not scheduled to receive treatment, but this evidence is of low quality, and the studies didn't find any benefits on quality of life. Neither study measured side effects, such as damage to tooth surfaces or tooth sensitivity, changes in attachment level, tooth loss or bad breath, and the available evidence on the costs of the treatments is uncertain.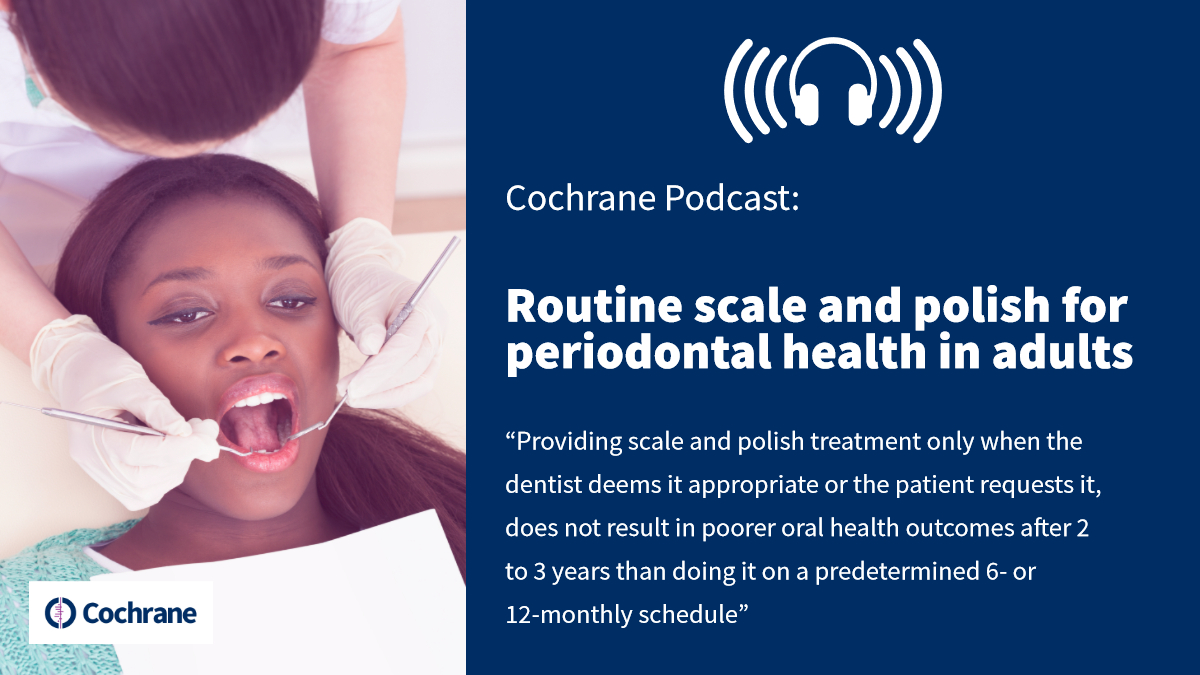 In summary, our review casts doubt on whether it is necessary for scale and polish to be delivered routinely, on a standard schedule of every 6 or 12 months. Many people like the clean feeling that they get from a scale and polish treatment, but it's not clear that there is any real clinical benefit on gum disease. The updated review shows that providing scale and polish treatment only when the dentist deems it appropriate or the patient requests it, does not result in poorer oral health outcomes after 2 to 3 years than doing it on a predetermined 6- or 12-monthly schedule."