Wrist fractures are the most common bone injury in children, causing much pain, distress and life impact for them and their families. In a comprehensive Cochrane Review from December 2018, Joanne Elliott, Managing Editor of the Cochrane Bone, Joint and Muscle Trauma Group based at the University of Manchester in the UK and colleagues, also based in the UK, look at a variety of interventions that are used for these fractures and she outlines the findings in this podcast.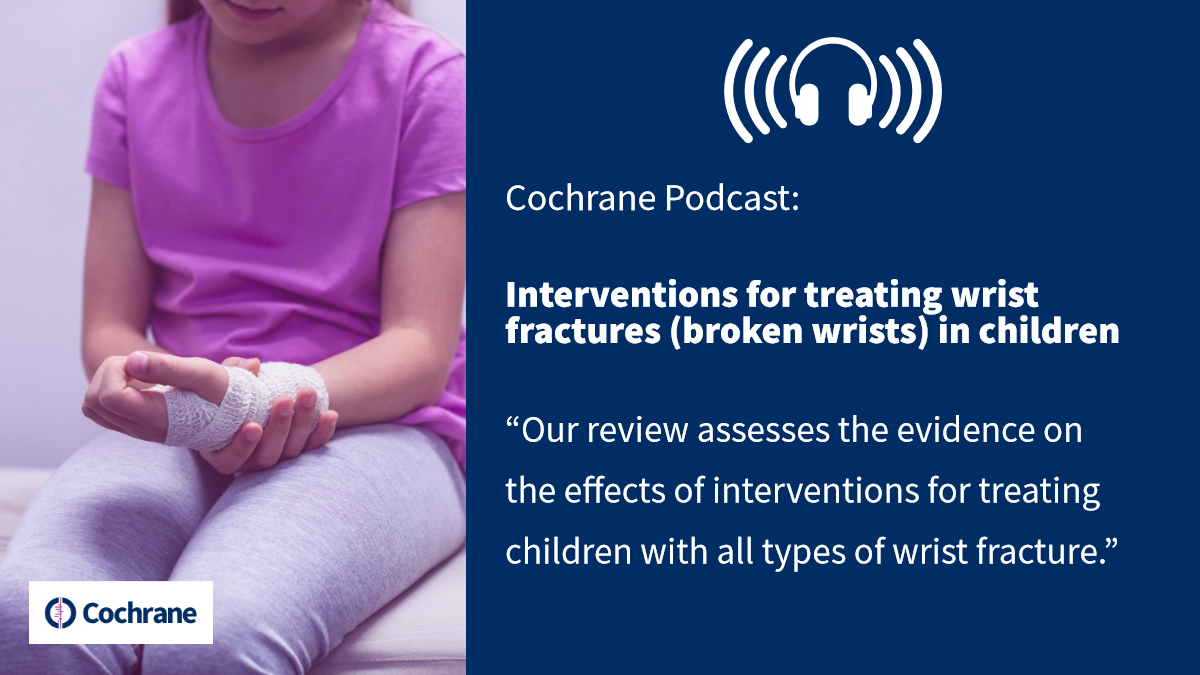 "Most wrist fractures in children are buckle fractures, also called torus fractures, where the bone surface bulges out. These minor fractures heal well, often with the child needing to wear a wrist splint or a below-elbow plaster cast for two or three weeks. More serious fractures will generally result in bits of the bone being displaced. A process called reduction might then be used to manipulate the pieces of bone back into place and the wrist and, often the elbow, would then be immobilised in an above-elbow cast. When surgery is considered, it generally involves putting pins through the skin and into the repositioned bone, again followed by cast immobilisation.
Our review assesses the evidence on the effects of interventions for treating children with all types of wrist fracture. We reviewed information on nearly 3000 children in 30 randomised or quasi-randomised trials, which had included a total of 14 different comparisons. The average ages of the children in these trials ranged between 8 and 10 years. However, most of these comparisons were made in one trial only, making it difficult for us to be confident in the findings.
Instead, we focused on five key comparisons that we had specified at the start of our work but, unfortunately, we were still faced with evidence of low or very low quality or certainty.
Three of the comparisons involved children with buckle fractures; with six trials comparing a removable splint with a below-elbow cast; four trials comparing a soft or elasticated bandage with a below-elbow cast; and two trials comparing cast removal at home by parents versus at a hospital fracture clinic by clinicians, in which the home casts could be removed without a special cast saw.
Our other two comparisons involved children with displaced fractures. Four trials compared below versus above-elbow casts, and five trials compared pinning and above-elbow cast immobilisation versus above-elbow cast immobilisation alone.
We wanted to focus on the impact on physical function, treatment failure, adverse events, recovery time, wrist pain and child or parent satisfaction, but the small amount of data and the lack of certainty in the studies means, disappointingly, that our overall conclusion is that "There is not enough evidence to determine the best ways of treating different types of wrist fractures in children".
There are some important positives, though. We found reassuring evidence of a full return to previous function with no serious adverse events, including subsequent breaks of the wrist, for correctly-diagnosed buckle fractures, whatever treatment was used. This supports the move away from cast immobilisation for these non-serious injuries. And, when considering the implications for future research, we are encouraged that some priority topics, such as the comparison of bandage versus removable splints for buckle fractures, are already being tested in large multicentre trials."
Monday, February 11, 2019