A common consequence for people who have a stroke is a reduction in their arm function. Various approaches are available to try to help and, in September 2018, the Cochrane Review for one of these, electromechanical and robot‐assisted arm training, was updated by a team of researchers from Germany. We asked lead author, Jan Mehrholz from Dresden Medical School, to tell us about the latest findings in this podcast.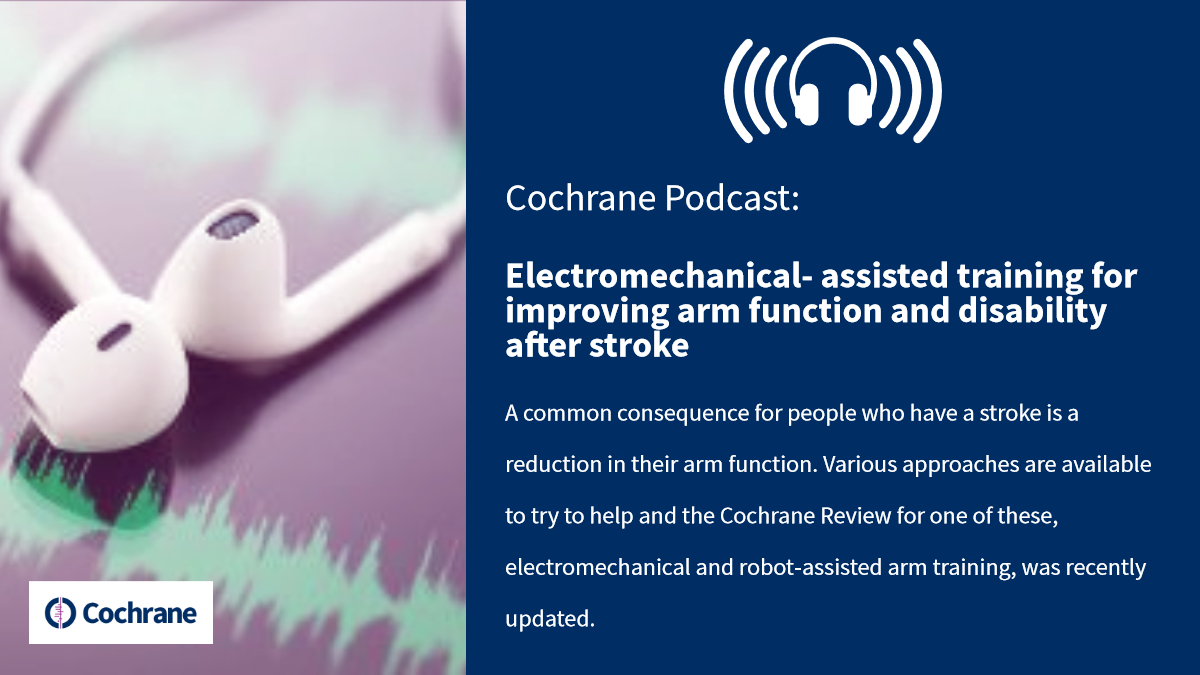 "More than two‐thirds of people who have had a stroke have difficulties with reduced arm function. This can limit their ability to perform everyday activities and electromechanical and robot‐assisted arm training might help by using specialised machines to support shoulder, elbow and hand movements. Our review looks at the effects on arm function and muscle strength, and whether patients find it acceptable.

We identified 45 trials, involving a total of approximately 1600 participants; ranging from a trial with just eight participants to a US study with nearly 130. The trials assessed 24 different electromechanical devices, which were tested for between two and 12 weeks, and compared to a variety of other interventions.


Although the trials also used a variety of outcome measures, we can say that, on average, electromechanical and robot‐assisted arm training improves daily living for people after stroke, and improves the function and muscle strength of the affected arm. However, the effects were relatively small and might not be big enough to be seen as clinically important. Adverse events, such as injuries and pain, were seldom described, and so it does seem reasonable to include these devices in the rehabilitation of patients after a stroke but with some uncertainty about when and how often they should be used.

In summary, people who receive electromechanical and robot‐assisted arm training after a stroke might improve their activities of daily living, arm function, and arm muscle strength. However, although the quality of the evidence was high, we still need to be cautious because the benefits are small and there were substantial differences between the trials in the intensity, duration, and amount of training; and the types of treatment, participants and outcomes measurements used."
Wednesday, January 30, 2019