Jheng-Yan Wu shares how Cochrane has impacted his professional development and his clinical practice. 

A dietitian from Taiwan, Jheng-Yan Wu, has made waves in the global medical community by proudly displaying a permanent Cochrane logo tattoo on his forearm. Wu's decision to immortalize the iconic symbol in a tattoo signifies his unwavering dedication to evidence-based healthcare and the application of systematic reviews and meta-analysis in his clinical practice.
Wu's journey with Cochrane began in 2018 when he was first introduced to evidence-based medicine. Captivated by Cochrane's emphasis on global collaboration and its mission to enhance healthcare, Wu worked with Cochrane Taiwan, volunteering his time to translate six plain language summaries from English to Traditional Chinese. These translations aim to improve accessibility and knowledge dissemination, ensuring that evidence-based resources reach a global audience.
The year 2022 marked a significant turning point for Wu, as he took on the challenge of learning about the methodology behind writing systematic reviews and meta-analyses. Immersing himself in the wealth of techniques outlined in the Cochrane Handbook of Systematic Reviews of Interventions and other resources on Cochrane Training, Wu deepened his understanding of evidence synthesis and further fueled his passion for incorporating rigorous research into their daily clinical practice.
It was during this period that Wu decided to permanently ink the Cochrane logo onto his arm, a testament to his commitment to evidence-based healthcare. The logo, displaying the forest plot of an iconic systematic review, serves as a constant reminder for Wu to apply the knowledge and insights gained from Cochrane's resources when making clinical decisions.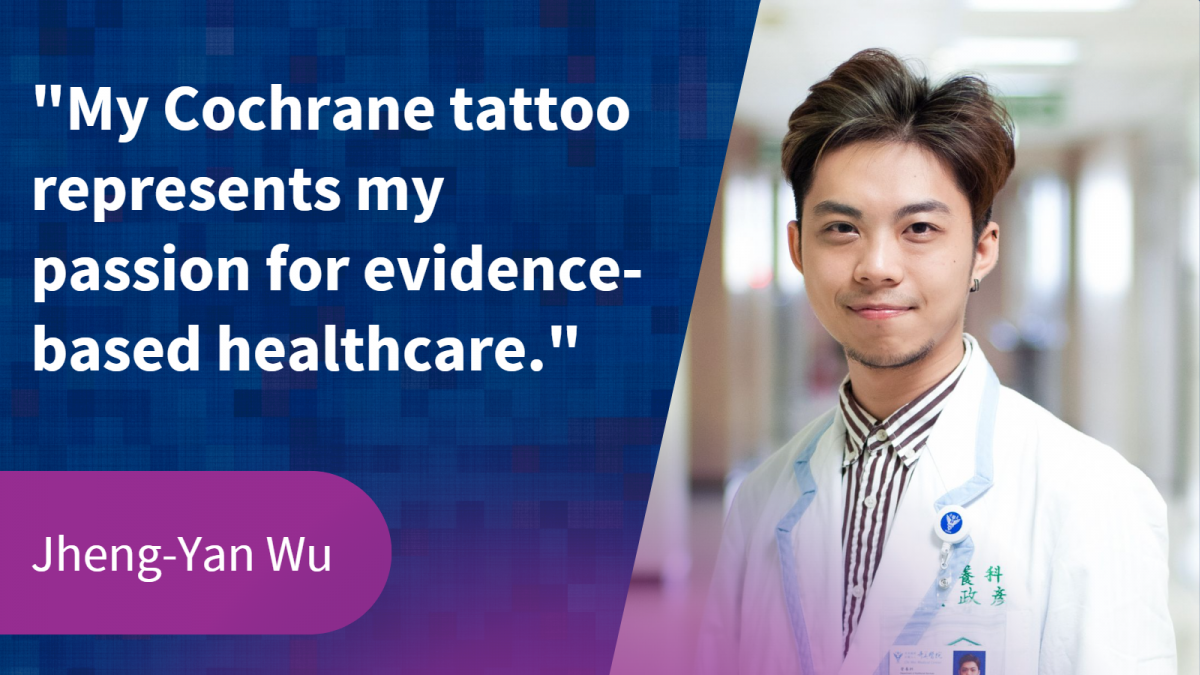 Reflecting on the significance of his tattoo, Wu expressed, "My Cochrane tattoo represents my passion for evidence-based healthcare. It serves as a constant reminder to strive for excellence in my clinical practice and to rely on high-quality evidence synthesis rather than individual studies when making clinical decisions. My ultimate aspiration is to work on a review published in the Cochrane Library and make a tangible impact on patient care."
Wu's tattoo is the second known instance of someone getting a Cochrane logo. The first is a parent who chose the Cochrane logo as an expression of gratitude and hope, as their premature baby's life was saved through an intervention supported by Cochrane evidence. These tattoos represent the tangible and lasting impact that Cochrane's work can have on clinicians, individuals, and families.