Cochrane's strength is in its collaborative, global community.  Our 82,000 members and supporters from more than 130 countries work together to produce credible, accessible health information and help inform health decision making. Though we are spread out across the globe, our shared passion for health evidence unites us. 
We want to come together and tell our collective and individual Cochrane stories! To share your #MyCochraneStory please contact  Rachel Klabunde - rklabunde@cochrane.org - with the following:
A photo: At your desk, at Cochrane event, something beyond a headshot.
Your country of residence: Our community is diverse and we want to celebrate this!
Your Cochrane Story: We want to hear about what Cochrane work and achievements you are most proud of! 3-4 sentences about yourself and your story and any URLs that could be included.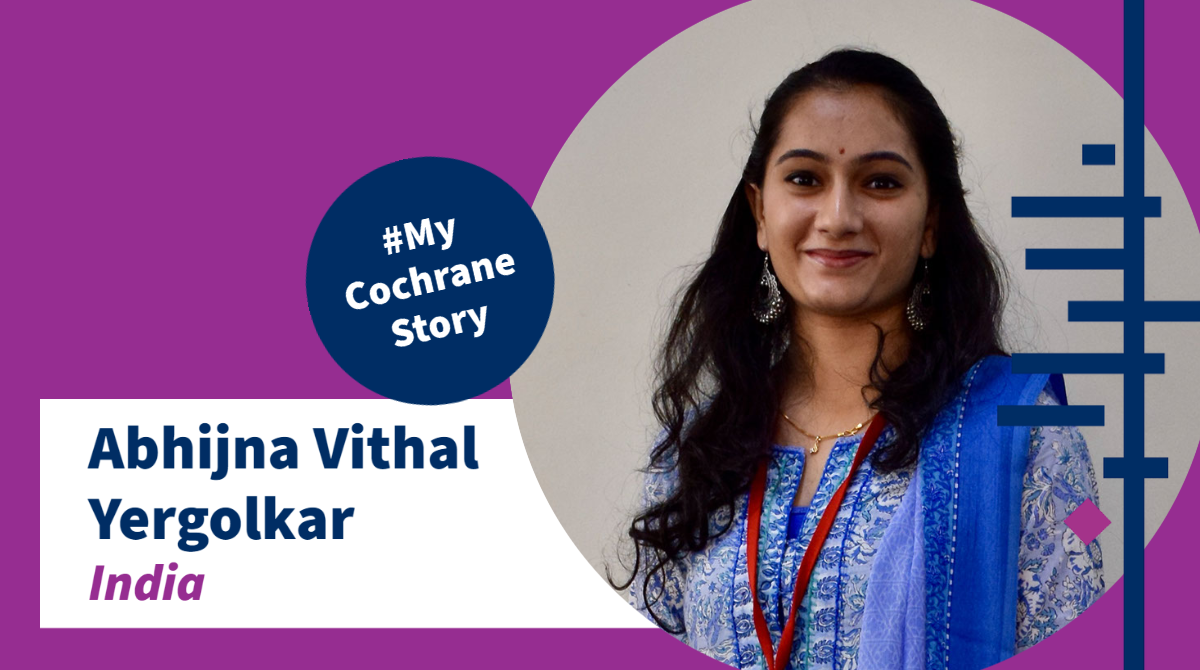 Abhijna Vithal Yergolkar, from India, is a pharmacy student who learned about Cochrane from a teacher. She joined Cochrane in September 2019 when she started screening RCTs on Cochrane Crowd. To date, she has done more than 31,000 classifications and earned 6 badges, with 92-99% accuracy for RCT identification. She has taken part in 10 global challenges and completed 8 Screen 4 Me tasks, and she was one of the top three screeners in the Chile Challenge 2019. Abhijna is also a part of Cochrane TaskExchange, where she has contributed to 20 tasks and has learned a lot from participating in systematic reviews. She is currently working on a Cochrane Review for the Lung Cancer group, and she looks forward to contributing more to evidence-based medicine through this and future research. Being a part of Cochrane completely changed the way she sees evidence-based medicine and helped her to connect with researchers all around the world. She feels very fortunate and is thrilled to be a part of Cochrane!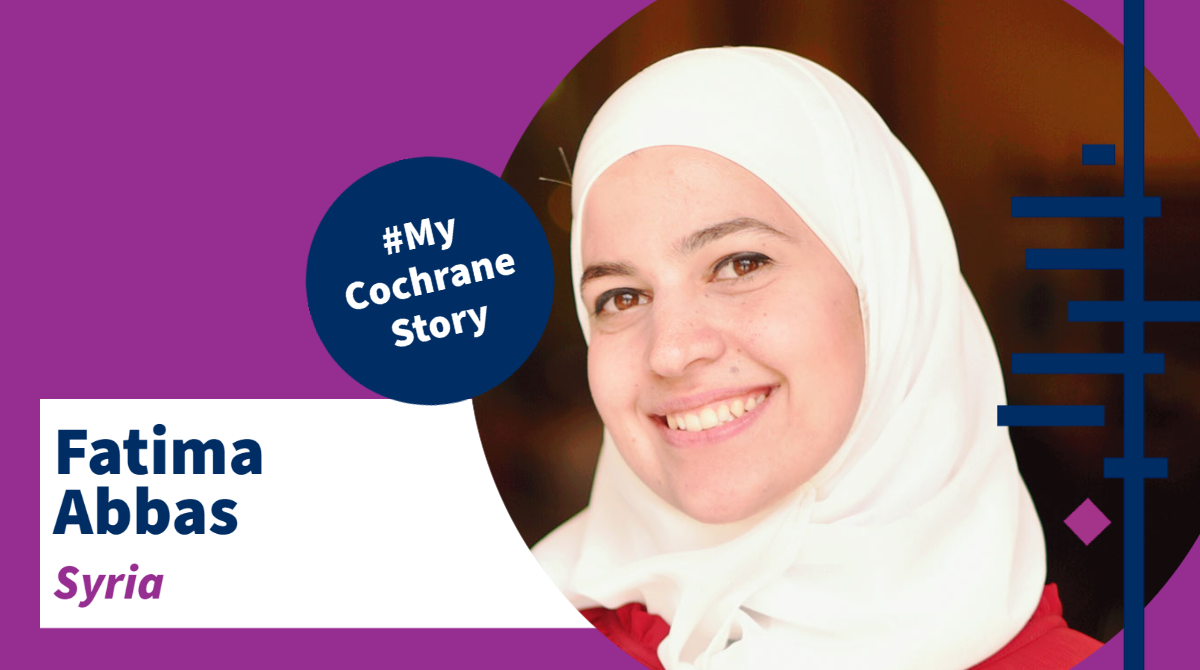 Fatima Abbas, from Syria, is a doctor, recently graduated from Damascus University. She has been a member of the Cochrane Community since 2014, when she joined the group now called Cochrane Gut with a group of fellow medical students from Syria, publishing a Cochrane Review protocol and working on the full Review. She later joined the Cochrane Trainers' Network and became a Cochrane champion in Syria by leading and coordinating 4 training workshops to introduce medical students and young career professionals to Cochrane, help them learn the flow of Cochrane work, how to write a systematic review protocol, and share basic knowledge about systematic reviews and meta analysis. More than 7 publications resulted from these workshops during the time of crisis in Syria, with very limited resources and a great passion to work among the working group members. She founded an educational research group in Syria through which she was promoting evidence-based medicine practice, sharing the latest evidence among residents and peer-teaching her colleagues on how to use evidence in practice. She is now in an internship program in France. She feels privileged to be a part of the Cochrane community, and hopes to connect with other colleagues in person to exchange ideas, experiences and learn from all.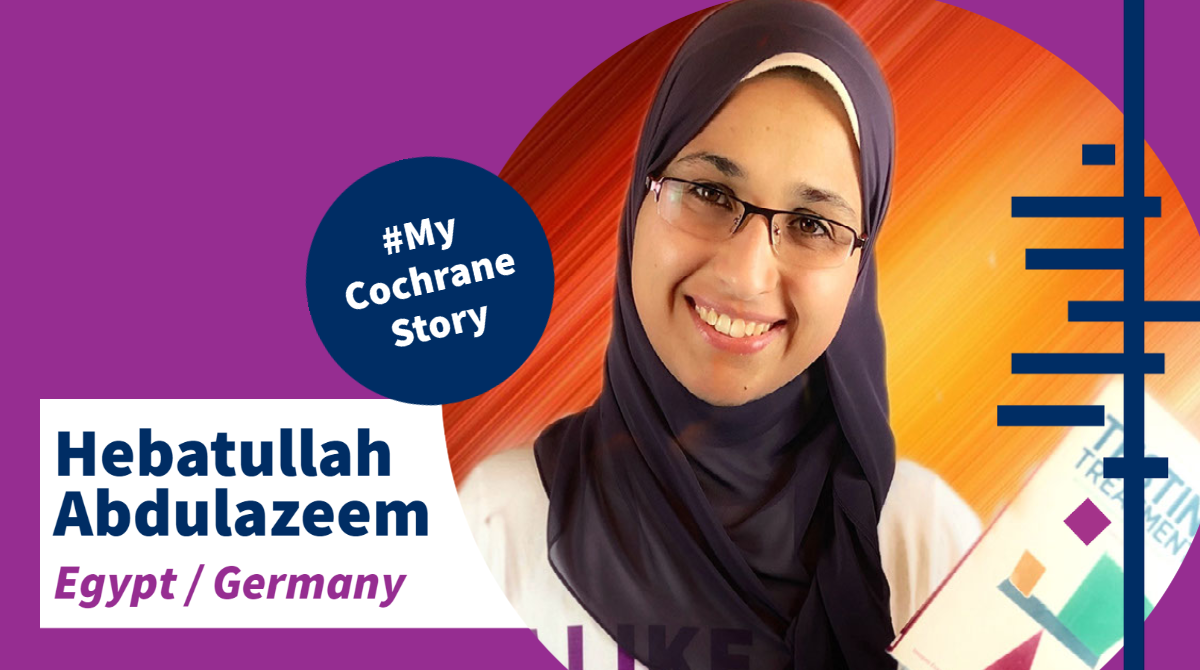 Hebatullah Abdulazeem, from Egypt and living in Germany, is a family physician with great interest in scientific research. She first joined Cochrane Crowd in March 2018, and within 3 months, she had classified more than 5,000 records, which were part of Crowd's 2nd birthday total of 2 Million classifications! After that very enthusiastic start, she has now completed more than 25,000 classifications, and she received her 5-year Cochrane membership with excitement. Via the Cochrane Task Exchange platform, she has been involved with more than 20 systematic reviews, and has worked with extraordinary people from all over the world. She has even tried to help other people learn about TaskExchange in her native language, Arabic. She also participated with the PICO annotators and in the QA Dashboard. She is thrilled that joining Cochrane is possible for experts or citizen scientists!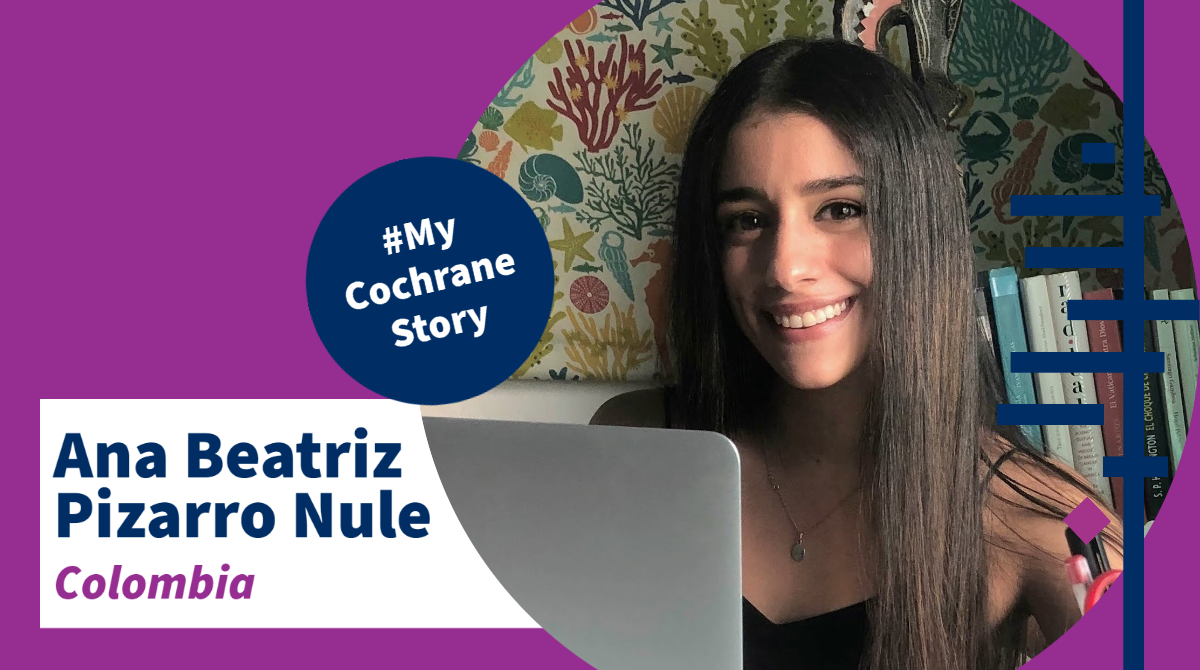 Ana Beatriz Pizarro Nule, from Colombia, first earned her Cochrane Membership in 2018 as a Cochrane Crowd citizen scientist supporting screening challenges and by offering her skills on Cochrane Task Exchange. She represented Colombia as a content creator for the 2019 Virtual Cochrane Colloquium, has written blogs for Students for Best Evidence (S4BE), and collaborated with the Cochrane-Wikipedia partnership. This year, she became part of Cochrane Interantional Mobility with Cochrane Sweden, and shared her experience in June at the Early Career Professionals online meet-up about research collaborations. She is the Consumer Network Coordinator for Cochrane Colombia and author of an ongoing Cochrane review. She is currently serving as dissemination and outreach coordinator of the upcoming Spanish version of S4BE "Estudiantes x La Mejor Evidencia". What she values most about being a Cochrane member is that it allows her to be part of an international community that shares her passion for improving health evidence.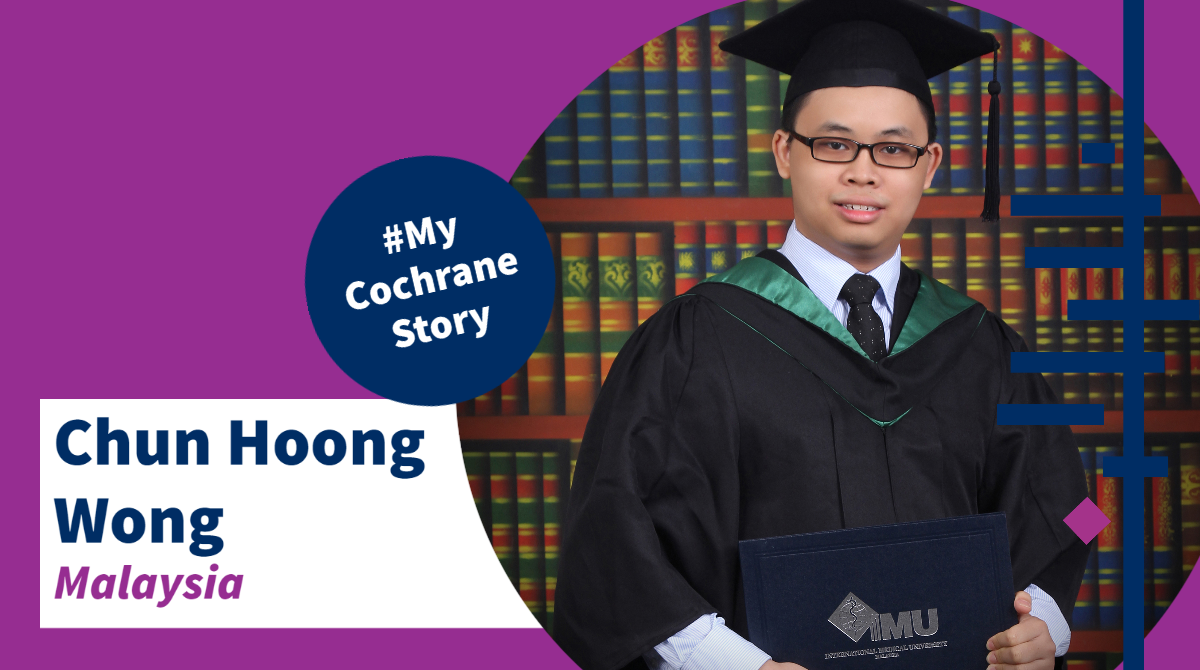 Chun Hoong Wong, from Malaysia, joined Cochrane in 2017 as a volunteer translator for Cochrane Malaysia. As an outpatient pharmacist at a government health clinic, Chun Hoong believes that health information should not be restricted to healthcare professionals, but needs to be accessible and comprehensible in languages that people understand. He started with the translation of podcasts and Plain Language Summaries (PLS)  from English to Malay and has now success-fully performed over 700 translations to Malay. In 2018, he expanded his translation activities to Simplified Chinese and Traditional Chinese with Cochrane China  and Cochrane Taiwan  for the translation of abstracts and/or PLS. He became the first volunteer at Cochrane First Aid in 2019, only days after the Field's launch, and is now active as a knowledge translation product generator and translator for them, creating blogshots in English and then translating  them to the other languages in which he is fluent. More details on Chun Hoong's Cochrane story can be found in his recent blog  for Cochrane First Aid.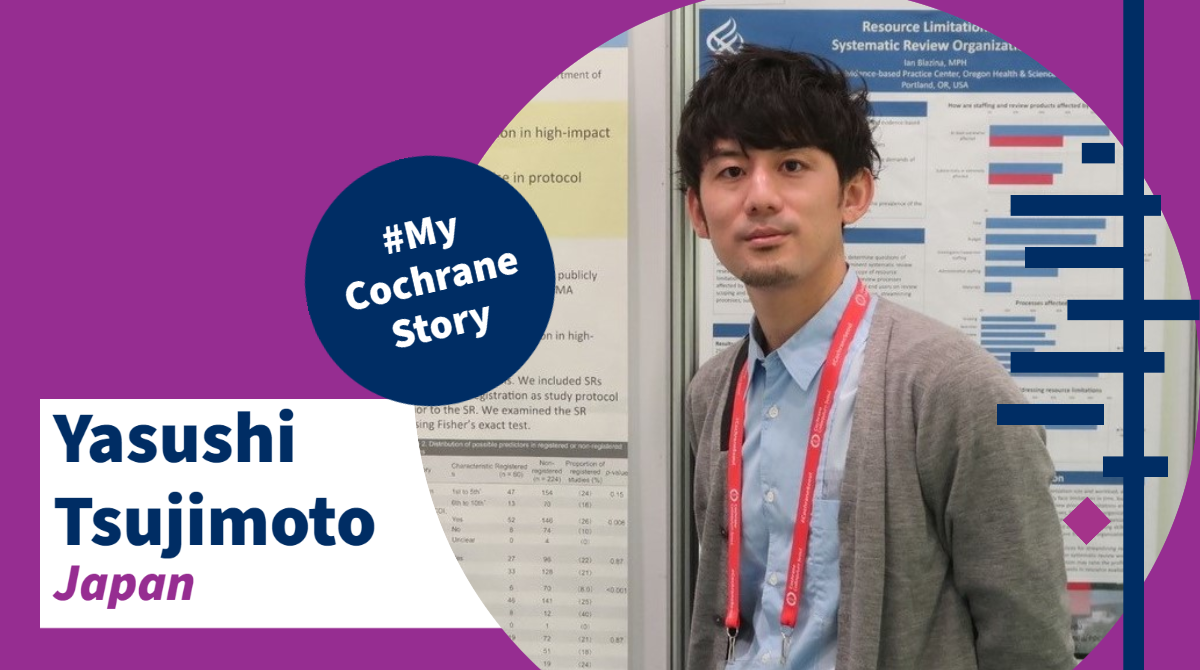 Yasushi Tsujimoto, from Osaka City, Japan, joined Cochrane in 2019 as a part of Cochrane Japan. He is a full-time nephrologist and has been involved in more than 10 Cochrane reviews, including in Cochrane Kidney and Transplant. He has been working to promote Cochrane's activities with social media such as Twitter or Facebook in Japan. Since he became the PR manager, Cochrane Japan's Twitter following has increased enormously. He credits the Japanese translation team for the great job they are doing, which has led to an increase in outreach and widespread awareness. He is also interested in building on-line education system that allows health care workers to learn more effectively.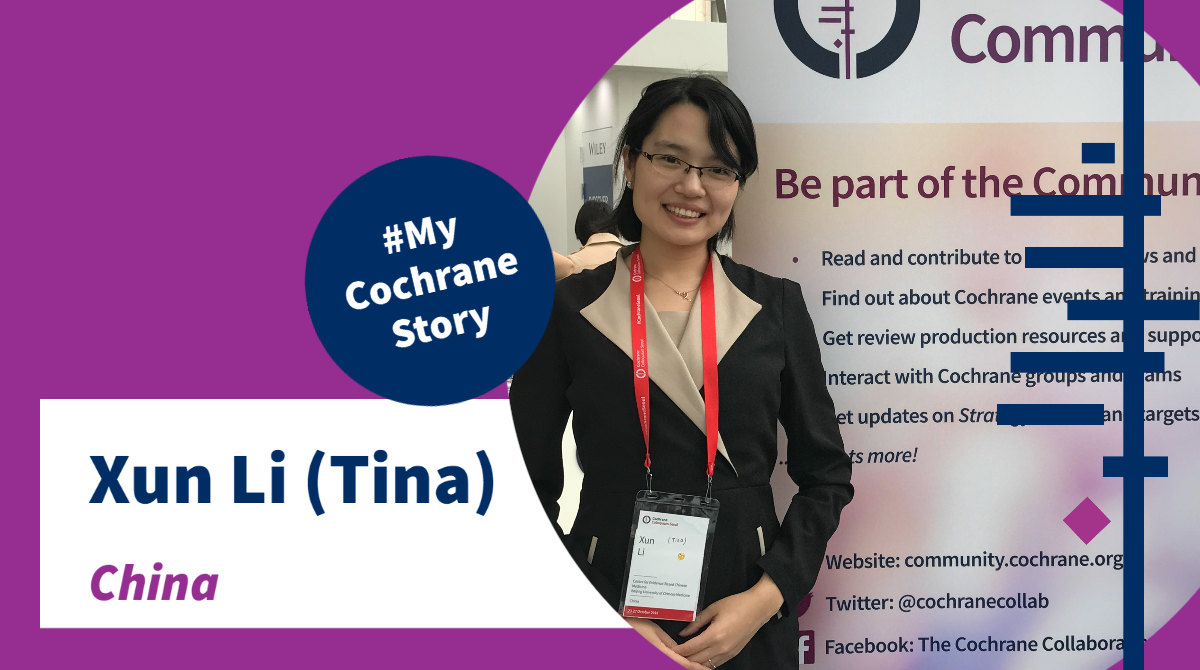 Xun Li (Tina), from Beijig City, China, first joined Cochrane China back in 2007 as an undergraduate student and began to translate abstracts of Cochrane reviews. She translated more than 10 of the Cochrane review abstracts in the CAM field and published them in Chinese journals. At the same time, she joined CENTRAL database establishment by translating the citations of trials about traditional Chinese medicine that were published in Chinese. Since 2014, she has coordinated the simplified Chinese translation and dissemination of Cochrane evidence. Currently, her team has submitted more than 25000 citations to CENTRAL, and 1240 abstracts and plain language summaries of Cochrane reviews have been translated into simplified Chinese. More than 500 of these have been disseminated with China social media WeChat. She is proud to see how researchers in China have progressed in recent years; there are now more than 400 volunteers in China working for the translation and dissemination of Cochrane knowledge.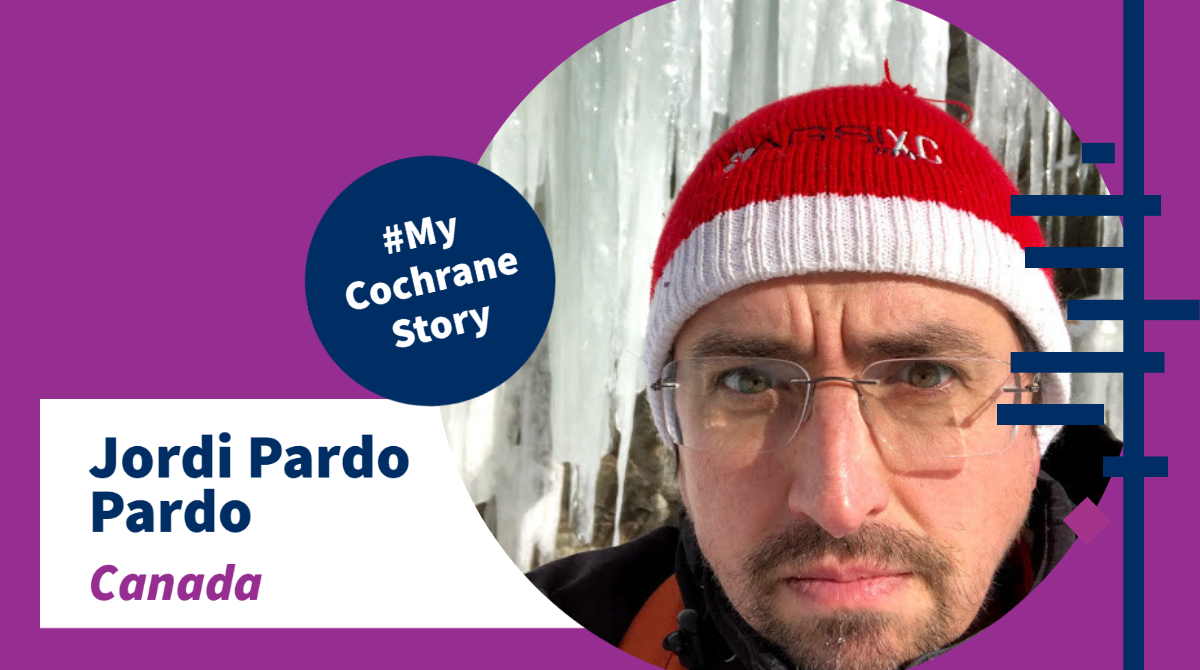 Jordi Pardo Pardo, born in Barcelona but living in Quebec, is currently Co-Managing Editor of Cochrane Musculsokeletal. Jordi joined Cochrane in November 1997. He came in as a young journalist that had no idea about health research, but he fell in love with the organization and has played many roles in it, from the Iberoamerican Cochrane Centre, the Lung Cancer Group, the Campbell and Cochrane Equity Methods Group and Cochrane Musculoskeletal. Jordi really enjoyed contributing with the first steps of the Spanish translation of reviews, and how they experimented with different processes to make the dream of having all Cochrane reviews in Spanish a reality. Jordi enjoys Colloquia so much that he helped to organize two and provided countless hours in committees for several others. Jordi also enjoyed contributing on the two waves of the Capacity Building for Managing Editors Survey. Getting an insight of the needs of those who oil the process of editing a review to get it out with the level of quality that Cochrane expects was a great opportunity to see how differently we all work, a challenge to find common ways to improve and a pleasure to see the amount of talent we have in the organization.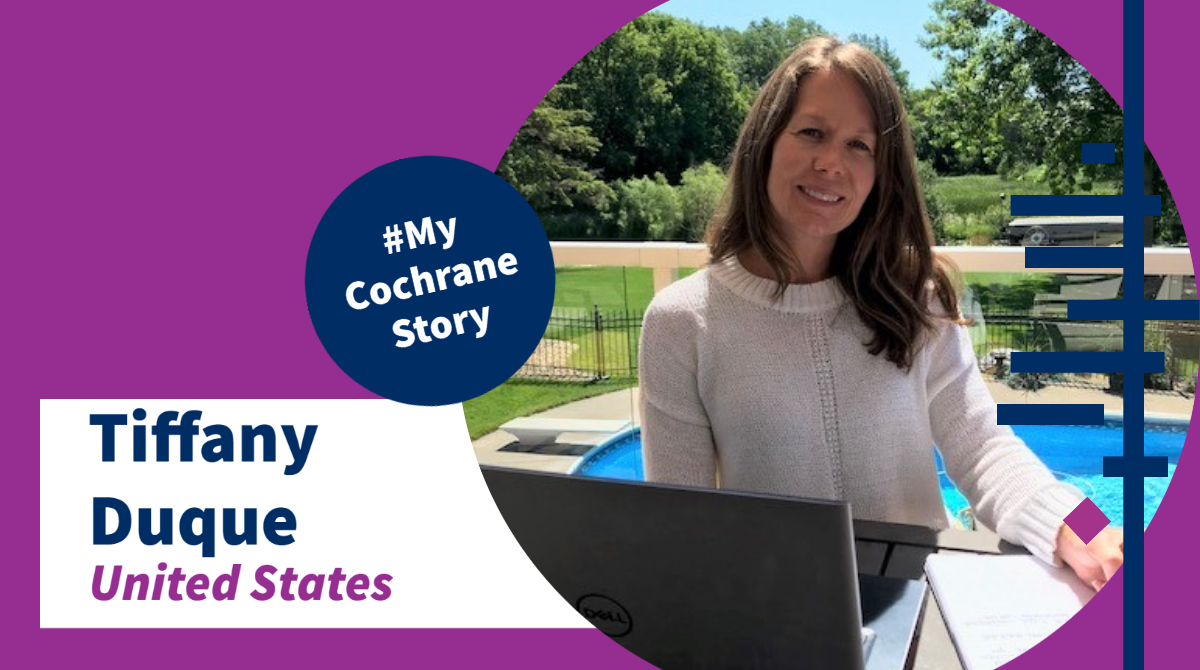 Tiffany Duque, from the United States, joined Cochrane this year as the Coordinator for the Cochrane US Network (@Cochrane_US).  She has worked in global public health for 20 years and currently lives with her family in the Los Angeles area of California.  She joined Cochrane in June and has been very impressed with the dedication, warmth, and positivity from all of the US Network members as well as from Cochrane staff.  She is thrilled to join such a reputable organization and looks forward to the opportunity to grow, create collaborations, advocate for, and promote sustainability within both the US Network and Cochrane as a whole.  If you haven't had the chance to connect with Tiffany, she'd love to hear from you.  Here's hoping for in-person meetings in 2021 so she can meet all of her colleagues!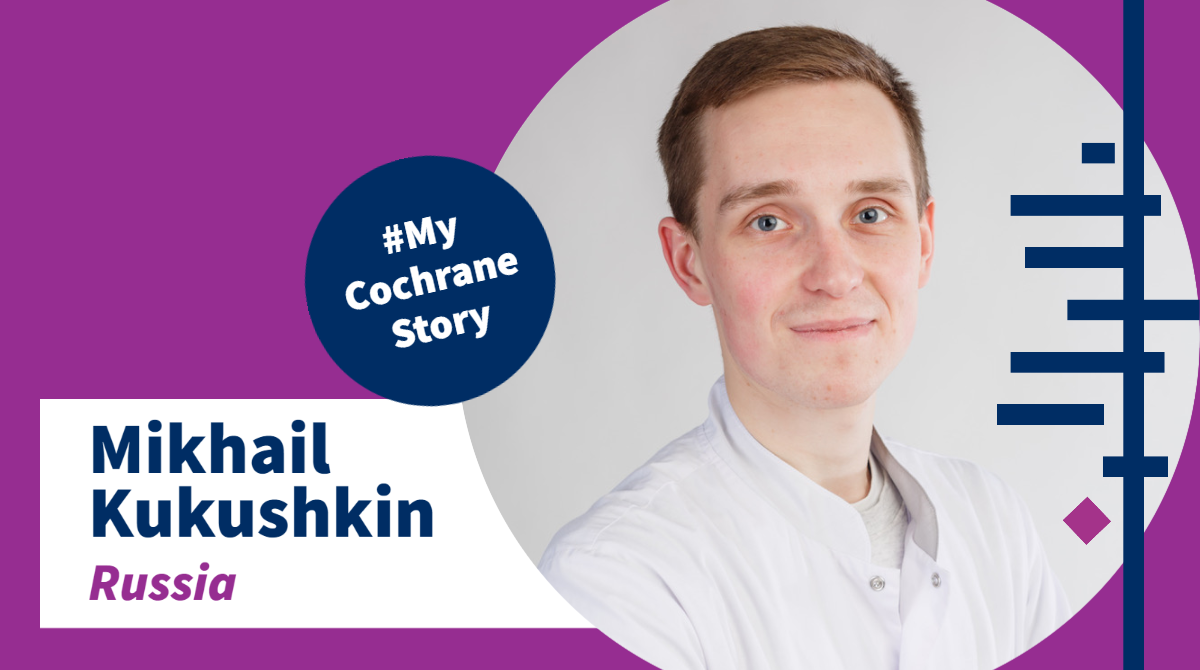 Mikhail Kukushkin, from Russia, joined Cochrane in 2016. He started off contributing to Cochrane's Russian Translation Project as a volunteer translator and then as a volunteer editor, successfully reaching nearly 600 translated/edited Cochrane Plain Language Summaries. It has been a great pleasure and honor for him to work at Cochrane Russia and contribute to Russian Translations of Cochrane Evidence and to Cochrane Russia's evaluation of quality of machine translators in Memsource. He noticed that during the last 3-4 years, Cochrane's publicity in Russia increased substantially, and he is very happy and proud of this. He hopes that in future, Cochrane's work won't face significant obstacles, both in Russia and globally, because now is not the time for misunderstanding between the participants of health care systems.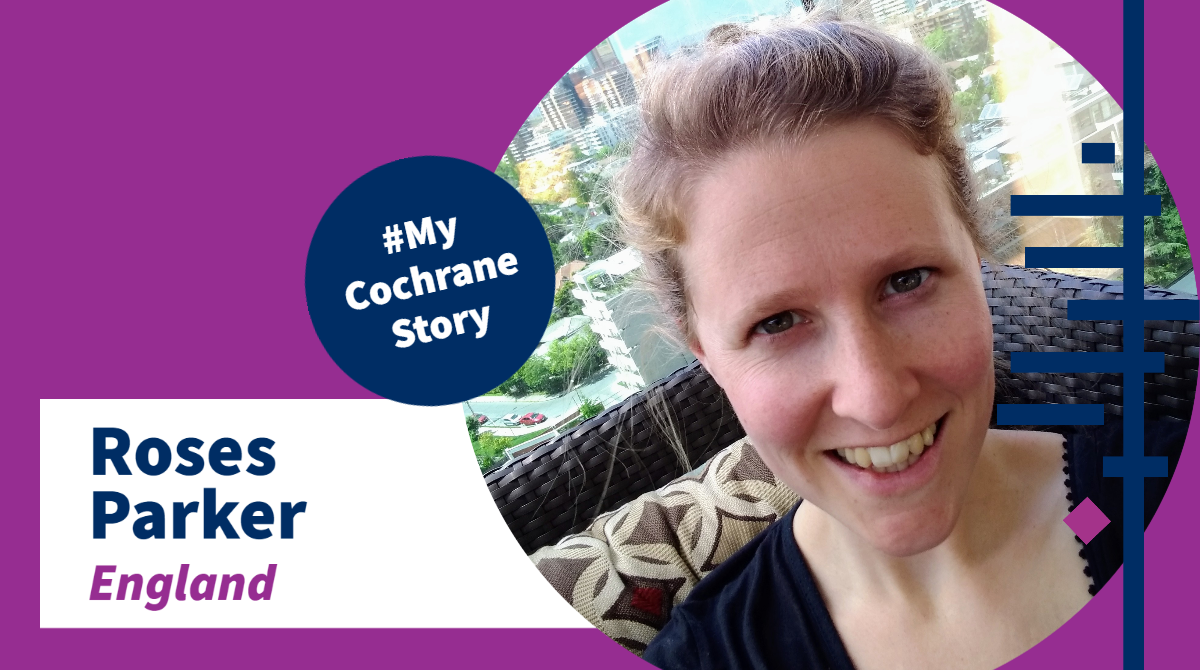 Roses Parker, from England, joined Cochrane in September 2019 after completing her PhD in December 2018 and having a baby in January 2019. She is the Network Support Fellow for the MOSS Network. She has enjoyed working on the Plain Language Summaries project, and completing an audit of MOSS prioritisation work. Roses is particularly proud of the citation rates for MOSS Reviews in Wikipedia and setting up the SoMe Cuppa Club for MOSS members to discuss and encourage each others' social media use. New projects she's looking forward to include a stakeholder engagement project, increasing collaboration with Cochrane Methods and Fields, and a Network Innovation Fund project to investigate the optimal methods for the use of 'pain' as an outcome in systematic reviews of post-operative pain management.
Rachel Klabunde, from Chile, joined Cochrane in 2019 helping the Cochrane Chile team to plan the 2019 Cochrane Colloquium in Santiago. She now works as part of the Community Support team in People Services and as a Communication Officer in the Knowledge Translation Department of the Cochrane Central Executive Team. Due to widespread violence and civil unrest in Santiago, the Cochrane Colloquium was canceled. Our annual event would have featured a four-day, wide-reaching scientific programme entitled 'Embracing Diversity' as well as a Gala Dinner open to all delegates. Due to the cancellation, all the pre-ordered food including catering provisions for a three-course Gala dinner was donated to a local charity in Santiago. Turning this negative moment into something positive is definitely something to be proud of!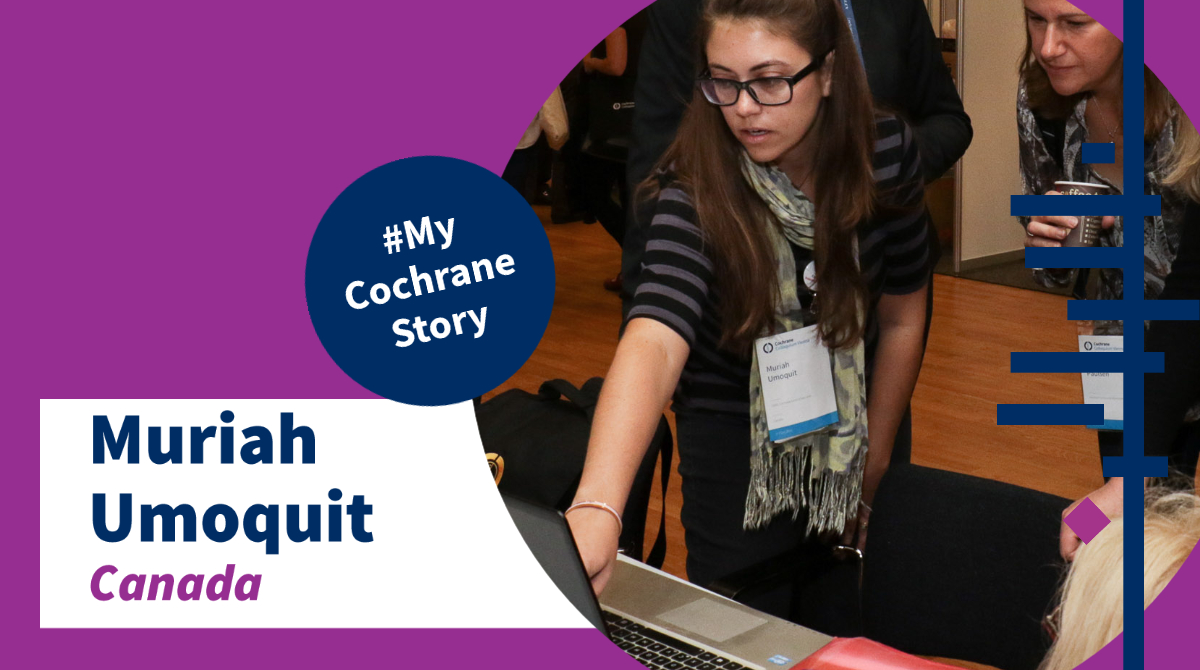 Muriah Umoquit, from Canada, joined Cochrane in 2015. Working in the Knowledge Translation Department of the Central Executive Team, she  is a self-proclaimed 'Cochrane Fangirl'. Knowing how daunting rows of academic posters can be, she was thrilled to work on a project bringing branded #BetterPoster templates to disseminate Cochrane work at Colloquia and other academic conferences.  You can view many of these posters from our virtual 2019 Colloquium - including hers!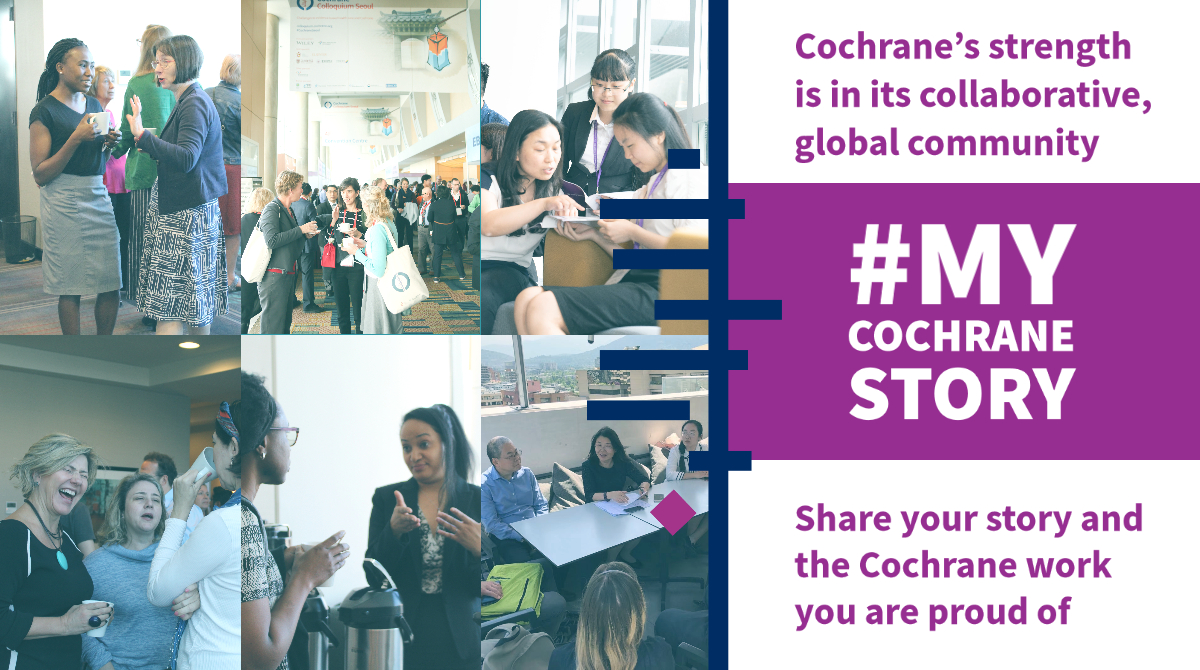 We want to come together and tell our collective and individual Cochrane stories! To share your #MyCochraneStory please contact  Rachel Klabunde - rklabunde@cochrane.org - with the following:
A photo: At your desk, at Cochrane event, something beyond a headshot.
Your country of residence: Our community is diverse and we want to celebrate this!
Your Cochrane Story: We want to hear about  what Cochrane work and achievements you are most proud of! 3-4 sentences about yourself and your story and any URLs that could be included.
Tuesday, September 29, 2020