Cochrane is made up of 13,000 members and over 50,000 supporters who come from more than 130 countries, worldwide. Our volunteers and contributors are researchers, health professionals, patients, carers, people passionate about improving health outcomes for everyone, everywhere.
Cochrane is an incredible community of people who all play their part in improving health and healthcare globally. We believe that by putting trusted evidence at the heart of health decisions we can achieve a world of improved health for all.

Many of our contributors are young people working with Cochrane as researchers, citizen scientists, medical students, and volunteer language translators and we want to recognize the work of this generation of contributors as part of this series called, Cochrane's "30 under 30."

In this series, we will interview 30 young people, 30 years old or younger who are contributing to Cochrane activities in a range of ways, all promoting evidence-informed health decision making across the world.

We will be hearing from them in a series of interviewees published over the coming months.

We're keen to hear from you. Would you like to take part in this series? Do you know someone you'd like to see interviewed? Contact kabbotts@cochrane.org.  Or if you want to know more about Cochrane's work contact membership@cochrane.org where our community support team will be happy to answer your questions.

Name: Emma Persad
Age: 23
Occupation: Part-time student researcher at the Department of Evidence-based Medicine and Clinical Epidemiology at Danube University Krems and Cochrane Austria
Program: Bachelor of Science Honours in Molecular Biology (Canada), Medicine (Austria)
How did you first hear about Cochrane?
Cochrane Austria is fortunately located on campus at the Department of Evidence-based Medicine and Clinical Epidemiology at Danube University Krems. Due to the convenience of having the Centre so close and the importance of teaching evidence-based medicine to medical students, Cochrane's methods, work, and strict standards have been taught extensively since the first year of the program.

How did you become involved with Cochrane? What is your background?
My background is more in molecular biology and laboratory research, but after starting my medicine program I got introduced to Cochrane's work and was lucky enough to get a job working alongside Cochrane Austria. I have always been passionate about public health and international affairs, so working for an international organization like Cochrane really fits my profile.

What do you do in Cochrane?
I've been involved in a variety of Cochrane reviews, with research and outreach for the Rapid Reviews Methods Group, and am currently leading an update of a Cochrane Review alongside my thesis.

What specifically do you enjoy about working for Cochrane and what have you learnt?
I really enjoy working for such a tight-knit community that is so determined to reach out with the best available evidence to both professionals and the general public. A great example of this is the plain language summaries of reviews to make the major points understood by lay people. As a future doctor, I have personally learned the importance of evidence-based medicine in my future career, and I can now appreciate that most people, especially doctors, don't have time to read and synthesize all of the studies that are published. Thus, it is reassuring to have a set place to find the most trustworthy, all-inclusive, and up-to-date evidence.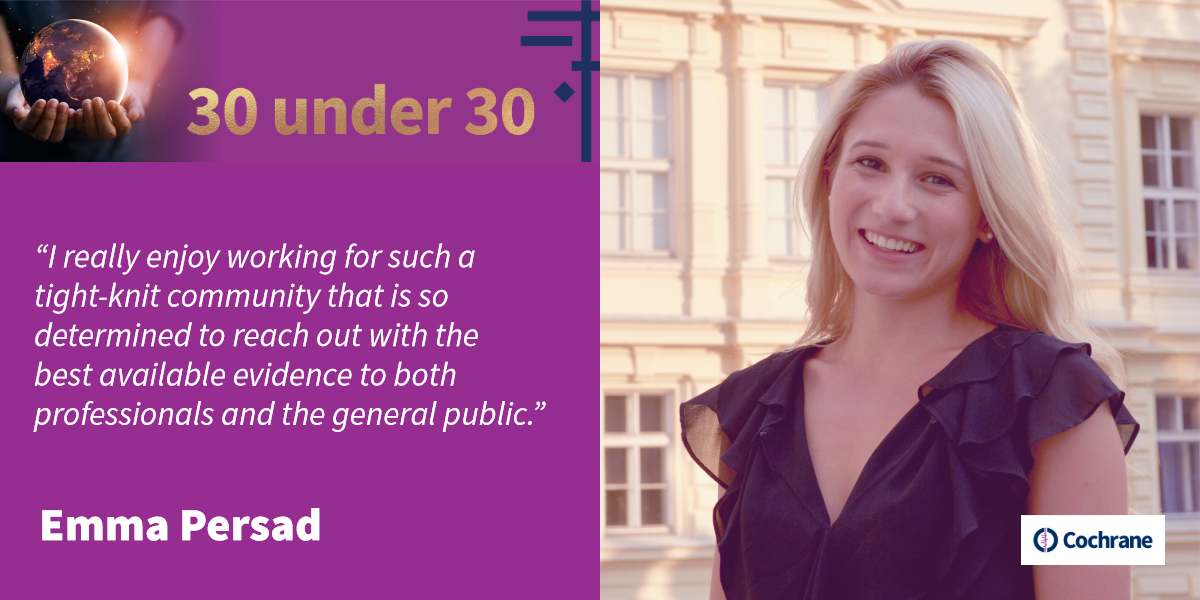 What are your future plans?
I hope to work in the medical field while combing my passion for evidence-based medicine and public health into my career. I would like to stay involved in Cochrane's work as much as possible and continue to be involved in reviews, when presented with the opportunity. I would eventually like to work with the WHO, and I'm sure my background with Cochrane will be a great asset for me there.

In your personal experience, what one thing could Cochrane do better to improve its global profile?
I think Cochrane could do a better job with student outreach and involvement. My university is lucky to have Cochrane so close and so involved in the curriculum, but I think many students in science and research-related disciplines unfortunately graduate without knowing what Cochrane even is. If Cochrane can be more present in universities, then people worldwide will know Cochrane's work and take that knowledge into their careers with them. This could be made possible by country Centres offering internships to interested students or by holding lectures on Cochrane and how to get involved in relevant faculties at universities, for example.

What do you hope for Cochrane for the future?
I hope that the country Centres will continue to grow and expand so that Cochrane's high-quality research can be done around the world and influence the public health and medical practices in each country. 

How important is it that young people get involved in Cochrane?
Very important!

Why is this, do you think?
I believe that youth involvement is needed to continue Cochrane's work in the future and that people planning to work in this field should be exposed to Cochrane as early as possible. This way, proper recognition and respect for evidence-based medicine can be taught, passed-on, and used throughout their whole careers.

What would your message be to other young people who want to get involved with Cochrane's work but not sure where to start….?
First of all, check out Cochrane's website to find out the ways that you can get involved. Translating Cochrane reviews or becoming a Cochrane citizen scientist are good ways to start. You can also contact your country Cochrane Centre to see if you can do an internship or get involved in their work.