Cochrane is for anyone interested in using high-quality information to make health decisions. Whether you are a doctor or nurse, patient or carer, researcher or funder, Cochrane evidence provides a powerful tool to enhance your healthcare knowledge and decision making. Our mission is to promote evidence-informed health decision-making by producing high-quality, relevant, accessible systematic reviews and other synthesized research evidence.
April to June 2019, was a busy quarter for Cochrane! Here we provide some highlights of the second quarter of the year.

Cochrane produces high-quality, relevant, up-to-date systematic reviews, and other synthesized research evidence to inform health decision making. This quarter we released a new video that helps to explain the work of Cochrane.
David Tovey, our Cochrane Editor in Chief stepped down after 10 years of service. He shared his reflections on his time with Cochrane  and also wrote a Cochrane Library Editorial. We warmly welcomed the  appointment of a new Editor in Chief for the Cochrane Library; Dr. Karla Soares-Weiser.
This quarter, we also released a Cochrane Library Special Collection: Reducing pain in infants, children, and adolescents. The Collection, brought together the latest evidence for paediatric treatments for acute and chronic pain, to guide practice, policy, and funding. Along with the related Cochrane Editorial, it highlighted the need for more research in this area.  

Cochrane strives to produce evidence that is accessible and useful to everybody, everywhere in the world. We create Plain Language Summaries,  provide podcasts from Cochrane Review Authors, translate our work into 15 languages, and provide  Cochrane Clinical Answers.
The reach of Cochrane expanded in Q2 2019 with the  launch of Cochrane First Aid and the launch of  the Cochrane US Network. We shared Cochrane methods and evidence at the 11th Croatian Cochrane Symposium,  the first Cochrane Hong Kong Symposium and at other topic-specific academic conference such as the World Confederation for Physical Therapy. 

 Cochrane is  the 'home of evidence' to inform health decision making. We are building greater recognition of our work and becoming the leading advocate for evidence-informed health care.
In Q2 we were  delighted to announce that Cochrane Database of Systematic Reviews Journal Impact Factor was  7.755. This means that, in 2018, a Cochrane Review was cited on average, once every 8 minutes!
Our evidence was cited and informed several guideline including the World Health Organisation Guideline on digital healthcare, the updated European Consensus Guidelines on Respiratory Distress Syndrome in preterm babies, the Wold Health Organization's cognitive decline and dementia guideline, and the Belgian Red Cross' First Aid Guidelines for Sub-Saharan Africa. We also highlighted 7 important and impactful Cochrane Reviews with a feature on our website, an interview with the author, or a press release.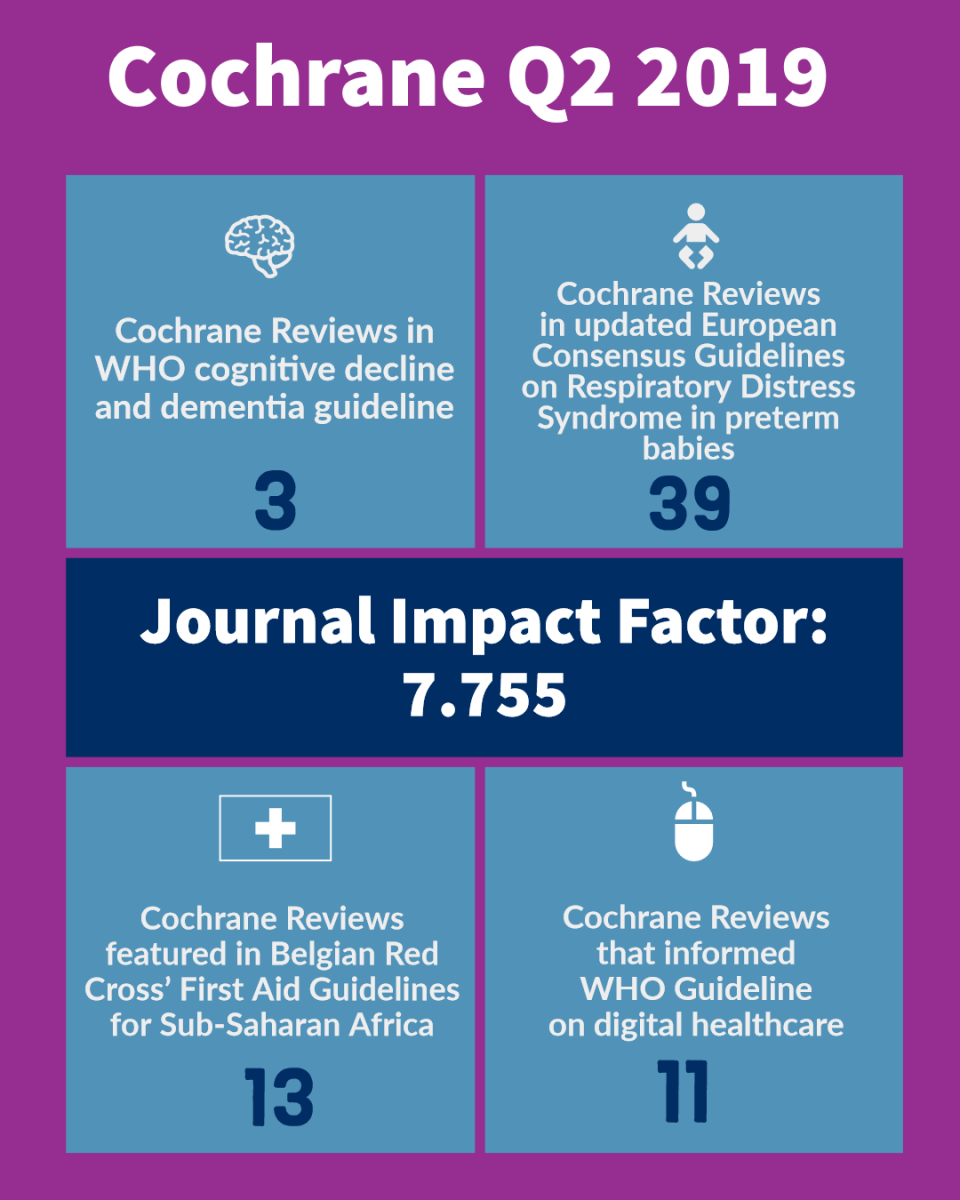 Cochrane strives to a be a diverse, inclusive, and transparent international organization that effectively harnesses the enthusiasm and skills of our contributors, is guided by our principles, governed accountably, managed efficiently, and makes optimal use of its resources.
Cochrane has created eight new Networks of Cochrane Review Groups  responsible for the efficient and timely production of high-quality systematic reviews that address the research questions that are most important to decision makers. In Q2 we started a video series to introduce these each team, what has happened so far and the ambition for what is to come.
Planning is well underway for the Cochrane Santiago 2019 Colloquium, with the Scientific Programme being announced. This year's scientific program is highly focused on the over-arching Colloquium theme, 'Embracing Diversity', which will be carried out through plenaries from global speakers, special sessions, oral presentations, and workshops. Registration is open with early bird prices until 25 July!