Cochrane Hong Kong is celebrated it's first Symposium on 23-24 May, with workshops following on 27-28 May. The theme of the Cochrane Hong Kong Symposium was 'Paving the Way for and Achieving Excellence in Evidence-informed Health Care in the Belt and Road Regions'. The symposium aimed to provide an international multidisciplinary platform for discussion and debate among health care providers, policy makers, academics, and researchers on contemporary strategies and issues in evidence-informed health care and policy formulation.
Co-Directors of Cochrane Hong Kong, Professor Wai Tong Chien and Professor Professor Pak Chun Janita Chau were joined by Mark Wilson, Chief Executive Officer to open the Symposium. Professor Martin Burton, Co-Chair of the Cochrane Governing Board, gave the Keynote Address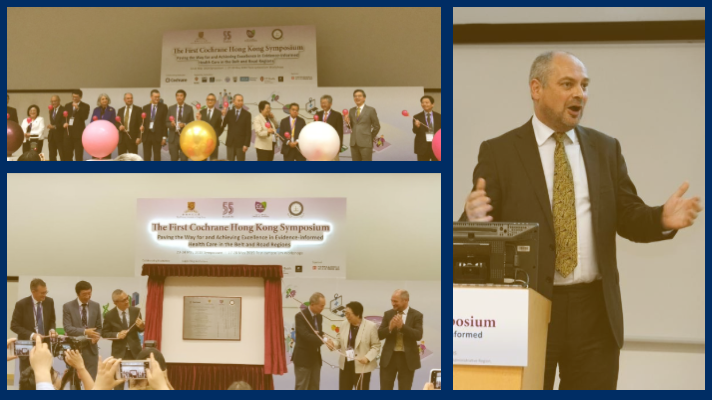 Professor Sek Ying Chair, Director and Professor at The Nethersole School of Nursing, Faculty of Medicine, the Chinese University of Hong Kong said: "Over the past two decades, Cochrane has significantly contributed to the promotion of evidence-informed health care decision-making through producing high quality and accessible systematic reviews and other synthesised research evidence. Cochrane evidence is internationally regarded as a powerful tool to enhance health care knowledge and practice. With the establishment of Cochrane Hong Kong, our School is committed to working hand in hand with other Cochrane centres around the world especially those in Asia and the Belt and Road regions towards a shared vision for better health."