An updated Cochrane Review, published in the Cochrane Library, suggests that yoga may lead to a small reduction in pain in people with chronic non-specific lower back pain over the short term, and that improvements in back function may be similar to those seen with other types of back-focused exercise. However, researchers advise that more studies are needed to provide information on long-term effects.
What is non-specific low back pain?
Low back pain is a common health problem. In many cases, there is no known cause for the pain and it is termed 'non-specific' back pain. For some people, the pain may last for three months or more and at this point it is termed 'chronic.' Non-specific low back pain is usually treated with over-the-counter pain medicines and exercise and does not require surgery or other invasive procedures. Yoga is sometimes used to help treat or manage low back pain.
What did we want to find out?
We wanted to find out if yoga improves function (for example, ability to walk, do jobs around the house, getting dressed), pain and quality of life associated with low back pain.
What did we do?
We searched medical databases for clinical trials comparing yoga practices using physical postures (often called 'hatha yoga') to any other treatment, sham (pretend) yoga, or to no treatment in adults (aged 18 years or older). We also included trials comparing yoga added to other treatments, versus those other treatments alone. 
What did we find?
We included 21 trials with 2223 participants. Ten trials were carried out in the USA, five in India, two in the UK, and one each in Croatia, Germany, Sweden, and Turkey. Most participants were women in their 40s or 50s.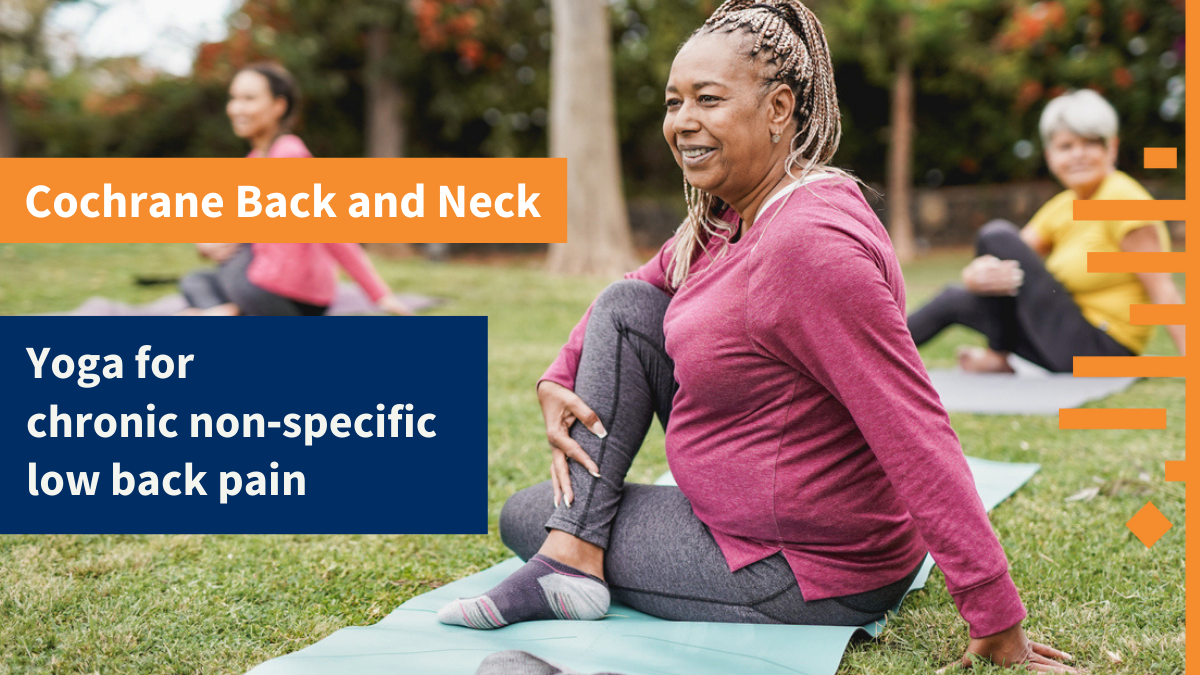 Key results
For people with long-lasting low back pain without a known cause (chronic non-specific low back pain), after three months of doing yoga or not doing yoga, yoga is probably better than not doing exercise for improving pain and back-related function, although the improvements are small.
There is probably little or no difference between yoga and other types of back-focused exercise in improving back-related function, but we are uncertain about differences between yoga and other exercise for improving pain.
Back pain was the most common harm reported in yoga trials. Risk of harms was higher with yoga than with no yoga, but similar for yoga and other exercise. There was no suggestion that yoga was associated with a risk of serious harms.
What are the limitations of the evidence?
Because we did not find any trials comparing yoga to sham yoga, we cannot say how yoga would affect low back pain if people did not know they were doing yoga. Participants in all the trials were aware of whether they were practicing yoga or not, and this may have influenced their interpretation of whether their back pain had changed. In addition, some trials were very small, there were few trials in some comparisons, and the trials in some comparisons had inconsistent results. Therefore, we downgraded the quality of the evidence to moderate, low, or very low.
Lead Cochrane author Susan Wieland from Cochrane Complementary Medicine at the Center for Integrative Medicine, University of Maryland School of Medicine, Maryland, commented,
"Our findings suggest that yoga exercise may lead to improving back-related function and reducing back pain by a small amount. Our findings also suggest that there may be little or no difference between yoga and other back-focused exercise when looking at improvements in back-related function at three and six months. At the moment we have very limited information on comparisons between yoga and other back-focused exercise with respect to improving back pain and for longer term effects beyond six months. Readers should remember that in each of the studies we reviewed, the yoga exercises were developed to treat low back pain and the yoga classes were led by experienced practitioners. The findings of this Cochrane Review will help people make more informed choices about their future treatment options."

Full citation: Wieland LS, Skoetz N, Pilkington K, Harbin S, Vempati R, Berman BM. Yoga for chronic non‐specific low back pain. Cochrane Database of Systematic Reviews 2022, Issue 11. Art. No.: CD010671. DOI: 10.1002/14651858.CD010671.pub3. 
About Cochrane
Cochrane is a global independent network of researchers, professionals, patients, carers, and people interested in health. Cochrane produces reviews which study all of the best available evidence generated through research and make it easier to inform decisions about health. These are called systematic reviews. Cochrane is a not-for profit organization with collaborators from more than 130 countries working together to produce credible, accessible health information that is free from commercial sponsorship and other conflicts of interest. Our work is recognized as representing an international gold standard for high quality, trusted information. https://www.cochrane.org/
About Wiley
Wiley, a global company, helps people and organizations develop the skills and knowledge they need to succeed. Our online scientific, technical, medical, and scholarly journals, combined with our digital learning, assessment and certification solutions help universities, learned societies, businesses, governments and individuals increase the academic and professional impact of their work. For more than 200 years, we have delivered consistent performance to our stakeholders. www.wiley.com.
If you are a journalist or member of the press and wish to receive news alerts before their online publication or if you wish to arrange an interview with an author, please contact the Cochrane press office: pressoffice@cochrane.org
Friday, November 18, 2022