New Cochrane Library Special Collection
20 November 2019 is the Global Initiative for Chronic Obstructive Pulmonary Disease's World COPD day. Chronic obstructive pulmonary disease (COPD) is a chronic lung disease. The main symptoms are shortness of breath, cough, and sputum production. COPD is caused by breathing in noxious particles or gases from either tobacco smoking or environmental factors such as exposure to biomass fuel or air pollution. Diagnosis of COPD is considered when a person has appropriate symptoms and decreased lung function (measured by spirometry). People with COPD experience exacerbations (or flare-ups) of symptoms. Exacerbations occur with increasing frequency as the disease progresses, leading to increased risk of hospitalization or mortality (or both). Despite optimization of treatments, people with COPD experience debilitating symptoms, which can have an impact on their functional status, access to health services, and quality of life. There is also a burden on 'informal' carers as they are the main providers of long-term hands-on care, which can have a physical, emotional, and financial impact on the carer.
The Global Burden of Disease study shows that COPD is the third leading cause of death claiming an estimated three million lives from 2005 to 2015, with a prevalence of 251 million cases of COPD globally during this time period.[1] Although most information about COPD deaths comes from high-income countries, 90% of COPD deaths occur in low- and middle-income countries. COPD represents 2.6% of the entire global burden of disease, and it is a growing global epidemic, as people suffer as a result of under-recognition, under-diagnosis, and under-treatment. COPD costs 6% of the total healthcare budget in the European Union, and it accounts for more than half of the overall costs for respiratory diseases.[2]
Cochrane Airways has curated this Special Collection for people who live with COPD, for those caring for people with COPD, and for healthcare professionals. The Collection brings together a series of Cochrane Reviews addressing COPD, aligned with the theme of World COPD Day 2019: 'All together to end COPD'. The reviews have been selected to address COPD care and management proactively, and they are organized in sections on 'Helping people support themselves' and 'Exercise for life', where interventions address self-care via exercise and a mind-body approach. Breathlessness is a major symptom of COPD, which the Collection also addresses under 'Medical treatments and devices', including treatments with inhalers.
This Special Collection brings together Cochrane Reviews from Cochrane Airways and Cochrane Common Mental Disorders.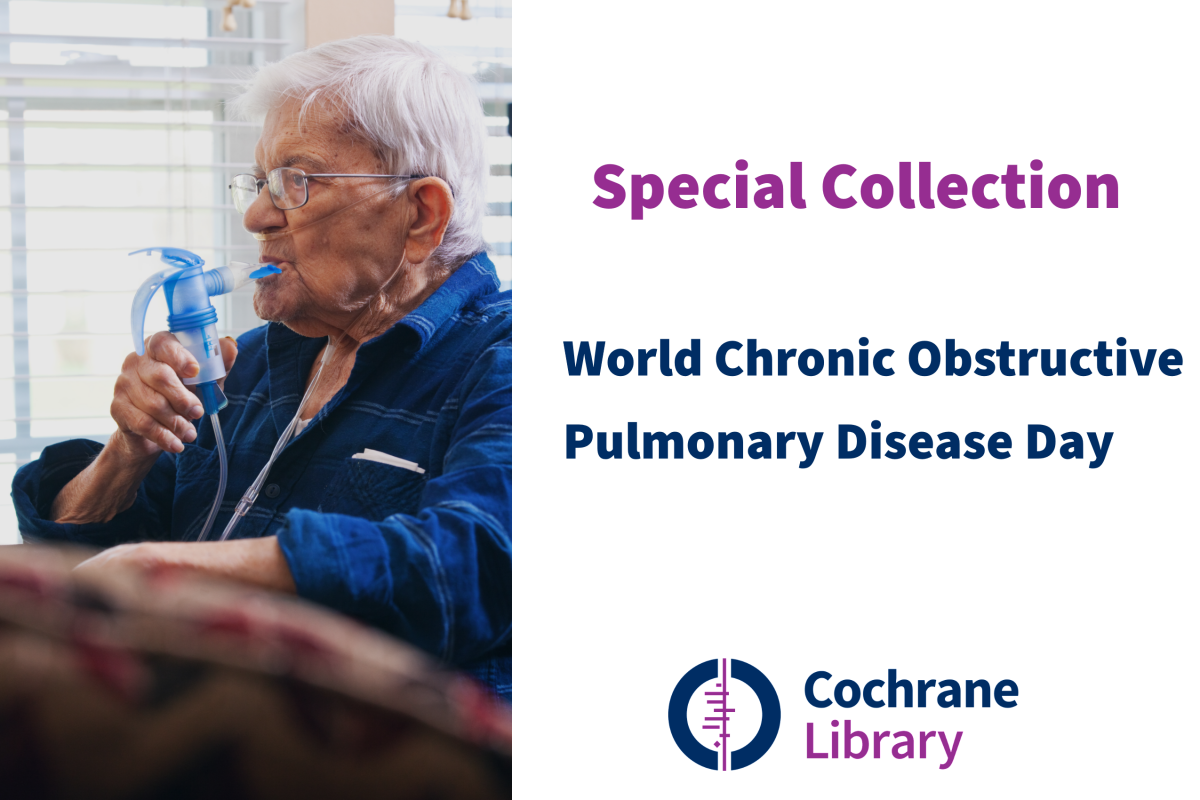 Related Evidently Cochrane blog posts:
Tuesday, November 19, 2019