Cochrane appoints new Governing Board interim Chair, Jordi Pardo Pardo and says farewell to two outgoing Trustees, Catherine Marshall and Tracey Howe
Cochrane is an international non-profit network, which sets the gold standard for synthesizing health research findings  to facilitate evidence-based health care.  Cochrane Reviews, found in the Cochrane Library, are up-to-date, follow a rigorous scientific methodology, and are free from commercial conflicts of interest. Health professionals, patients, and policy makers trust Cochrane Reviews for their healthcare decision-making. Cochrane works with researchers, health professionals, patients, policy makers, and media representatives from around the world to make Cochrane Reviews relevant and usable.
Cochrane's Governing Board is responsible for setting Cochrane's strategic direction and overseeing the work of the Chief Executive Officer, Editor in Chief, and Central Executive Team.
Cochrane's Governing Board has appointed Jordi Pardo Pardo as new interim Chair. He will be taking over from Catherine Marshall and Tracey Howe who have been serving as Co-Chairs of the Board. Catherine's maximum four-year term will conclude in September 2023, and Tracey, whose term was set to end September 2024, has decided to step down this September due to personal circumstances.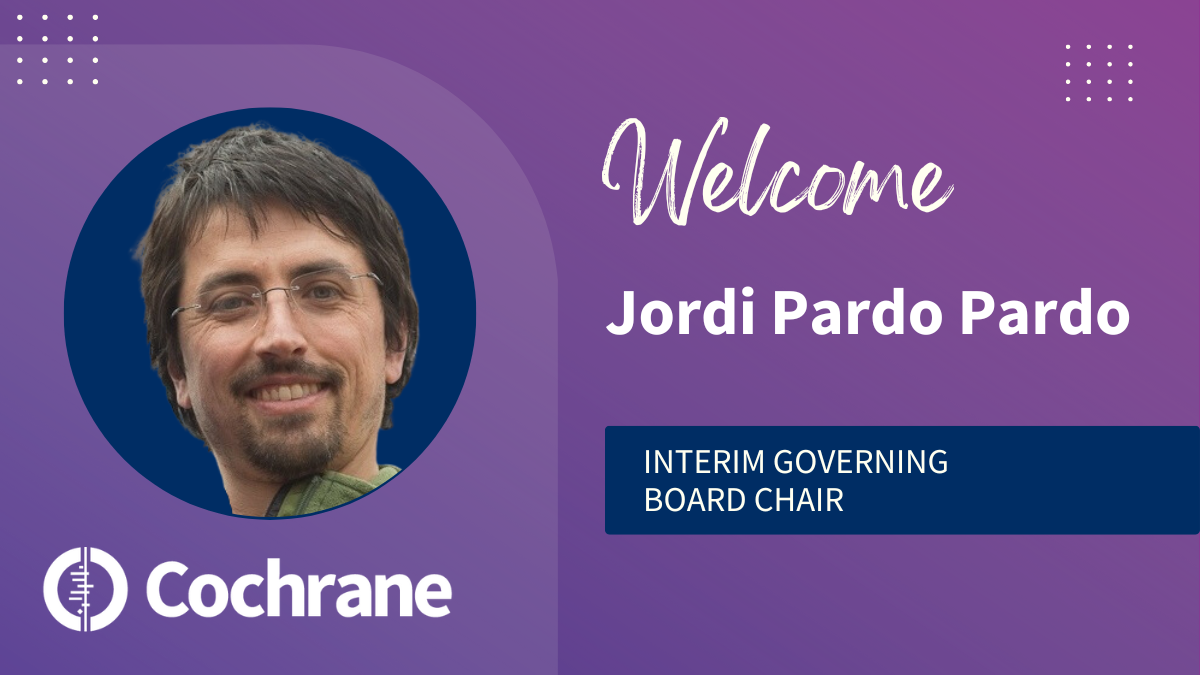 Jordi Pardo Pardo, a longstanding member of the Board, former Managing Editor of Cochrane Musculoskeletal and current senior advisor with the Health Equity Thematic Network, will be taking over as interim Chair, effective from 5th September 2023. His appointment was made by the Governing Board during their May meeting. Jordi will serve in this role for a period of up to one year while a permanent Chair is recruited. The Governance and Nomination Committee will oversee the recruitment process and make a recommendation to the Board of Trustees.
Jordi's tenure with Cochrane dates back to 1997 when he joined the Iberoamerican Cochrane Centre and contributed to the expansion of the Iberoamerican network. He has been part of the Lung Cancer group, the Equity Methods Group, Cochrane Canada and Cochrane Musculoskeletal, before joining the newly created Equity Thematic Network.
"I'm humbled by the opportunity to expand on the work that Tracey and Catherine have led to transform our organization. As we navigate into a new structure, I'm excited to explore the opportunities that a move to open access could bring to Cochrane and the world. I'm looking forward to working with our talented community to grow our reach and impact."

- Jordi Pardo Pardo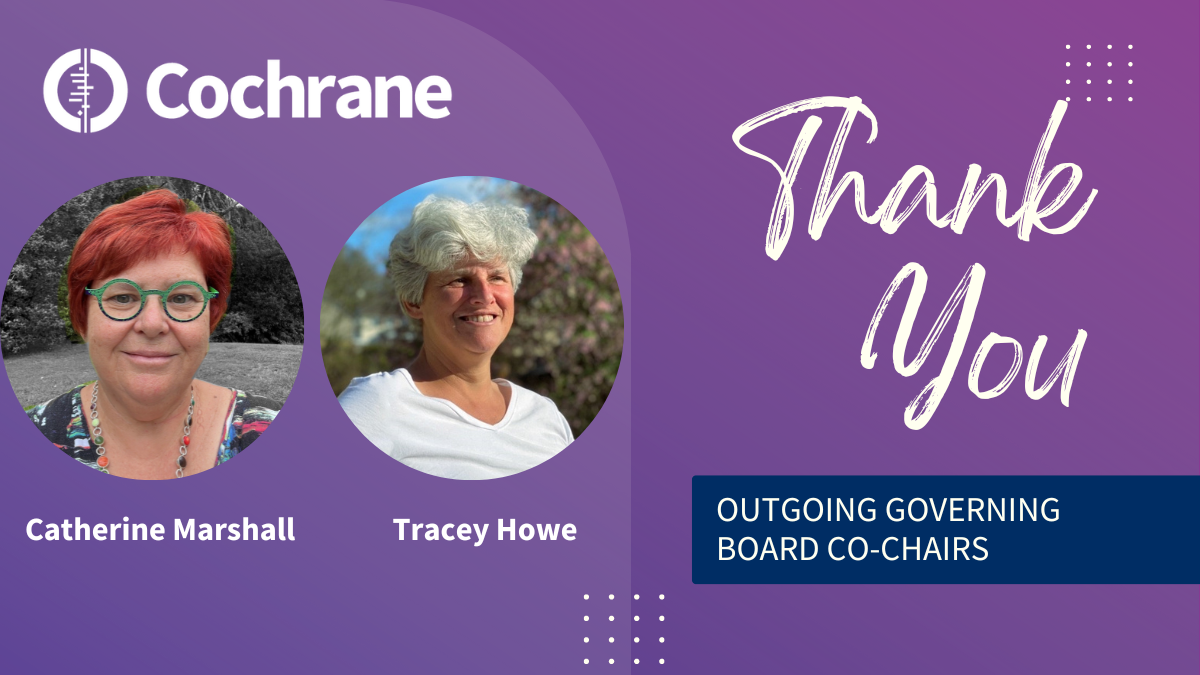 Catherine Spencer, Cochrane CEO, extended a warm welcome to Jordi as interim Chair observing: "Jordi Pardo Pardo has an excellent understanding of both the workings of the Governing Board and the purpose of Cochrane. His appointment is welcomed by the Central Executive Team to ensure continuity as Catherine Marshall and Tracey Howe's time comes to a close."
She further expressed sincere gratitude to Catherine and Tracey for their unwavering dedication, leadership and invaluable contributions to Cochrane while wishing them all the best in their future endeavours.