Swiss illustrator explains his motivation for creating the comic and what he hopes it shows.
The World Health Organization (WHO) has issued new recommendations to establish global care standards for healthy pregnant women and reduce unnecessary medical interventions. The new WHO guideline includes evidence from 17 Cochrane Reviews and has 56 evidence-based recommendations on what care is needed throughout labour and immediately after for the woman and her baby.
Swiss illustrator, Martin Vuillème from The Science of Cookies (an online French-English comic about the health and social sciences, research, and news) created a comic about the many steps involved in updating the WHO guidelines on the childbirth experience. Here he explains his motivation for creating the comic and what he hopes it illustrates:
"Pregnant women all over the world are keen to make the best decisions for their children and for the future of their families. This may lead them to hear various advice and suggestions from doctors, nurses, midwives, friends and relatives, or even from people they meet on the streets. But where do reliable recommendations come from?  What are they based on? And why should we trust them?
In this illustration I wanted to point out the tremendous work of WHO and the extreme care that was put into formulating trustworthy health recommendations. From the selection of a diversity of unbiased guideline authors, the prioritization of the most important questions and outcomes for pregnant women (such as a "positive childbirth experience"), the search of the most reliable evidence (often coming from Cochrane, an important partner of the WHO) up to the formulation of the final recommendations and their dissemination I hope to have captured the essence of key steps involved in the creation of helpful, informative and reliable international recommendations.
While I may have decided to summarize the guideline making process to a couple pages, care should be taken not to forget that the WHO recommendations and Cochrane review that inspired the creation of this illustration are the culminations of years of efforts invested by dozens of international experts (among which the critically important pregnant women representatives!)...But most importantly, they are the fruit of respectful discussions informed by values and based on research involving thousands of pregnant women, who often volunteered their time and sometimes even risked their lives in the process with no direct rewards. The WHO and Cochrane authors couldn't have done their work without them.
The care, consideration towards pregnant women and rigor that were shown in the making of those recommendations are the reasons why I put my trust in Cochrane and the WHO...And the reasons why I plan to continue doing so in the future."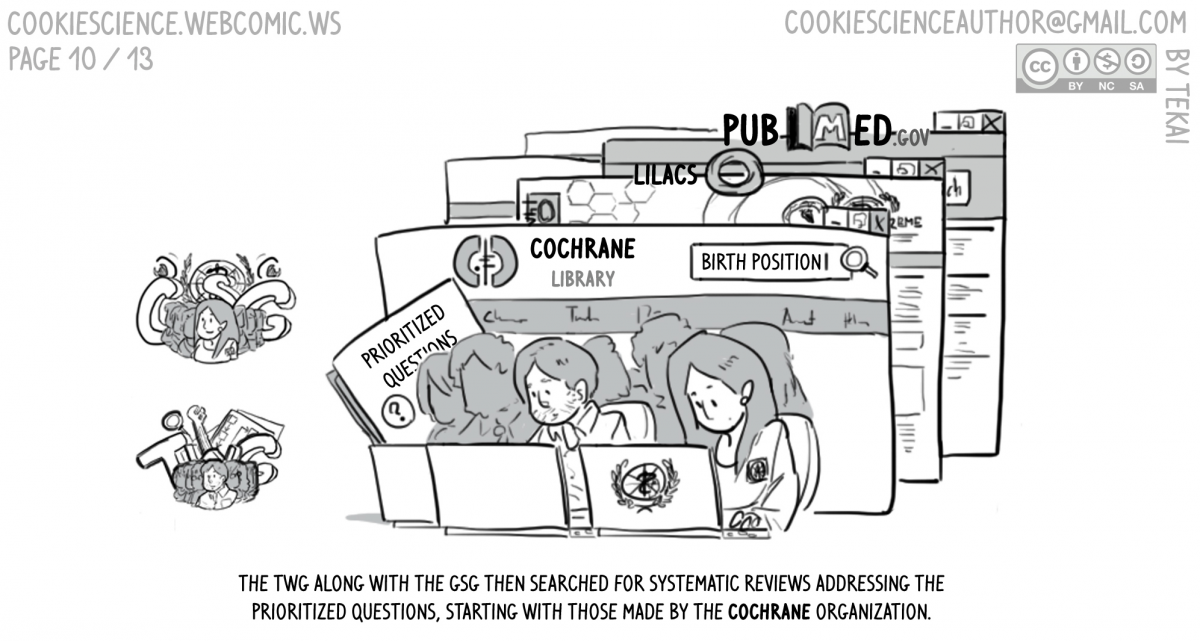 The comic had input from many contributors, including Cochrane - a  special thank you to Anna Mikelsone for her generous input to help edit the comic.
Thursday, October 11, 2018