Cochrane is made up of 13,000 members and over 50,000 supporters come from more than 130 countries, worldwide. Our volunteers and contributors are researchers, health professionals, patients, carers, people passionate about improving health outcomes for everyone, everywhere.
Cochrane is an incredible community of people who all play their part in improving health and healthcare globally. We believe that by putting trusted evidence at the heart of health decisions we can achieve a world of improved health for all. 
Many of our contributors are young people working with Cochrane as researchers, citizen scientists, medical students, and volunteer language translators and we want to recognize the work of this generation of contributors as part of this series called, Cochrane's "30 under 30." 
In this series, we will interview 30 young people, 30 years old or younger who are contributing to Cochrane activities in a range of ways, all promoting evidence-informed health decision making across the world. 
We will be hearing from them in a series of interviewees published over the coming months.
We're keen to hear from you. Would you like to take part in this series? Do you know someone you'd like to see interviewed? Contact kabbotts@cochrane.org.  Or if you want to know more about Cochrane's work contact membership@cochrane.org where our community support team will be happy to answer your questions.

Name: Theresa Schmalfuß
Age: 26
Occupation: Medical Student (Year 5)
Program: Student Researcher at the Department of Evidence Evidence-based Medicine and Clinical Epidemiology at Danube University Krems, Cochrane Austria. Assistant Project Manager at the "doctors information centre" www.ebminfo.at
How did you first hear about Cochrane?
I first heard about Cochrane whilst studying in the UK. In my second year as a medical student there I underwent a schooling as "learning resource leader", where I was taught to effectively search various databases for high quality evidence. Through this work, I read many Cochrane reviews and soon became a big fan of the Cochrane Collaboration as an excellent source for high quality evidence-based medicine.

How did you become involved with Cochrane? What is your background?
Cochrane Austria is involved in teaching medical students at my University in Austria at a very early stage in their degree about Epidemiology. During my studies, I chose the elective "evidence-based medicine" which is taught by members of staff of Cochrane Austria. This allowed me to get some firsthand information on their work and I quickly grew fond of their projects. After successful completion of the elective, I applied as a student researcher and shortly after got involved in my very first project. 
My background is medicine. I studied for 3 years in the UK and switched University to Austria. Prior to my work with Cochrane I have worked with international organizations, such as "Médecins du Monde" (Doctors of the World), "Oxfam" and "HOPE International" and thus really enjoy working together with motivated people that try to make a difference – even if it's just a small one.

What do you do in Cochrane?
At Cochrane I am involved in various research tasks throughout various projects. However, my main focus lies in the "Evidence Based Medicine, Medical Information Centre"; a project which creates rapid reviews to various medical queries. Each review is published on the project's website (www.ebminfo.at) and can be freely accessed. The great thing about rapid reviews is that evidence is synthesized more quickly than a systematic review, since certain methodological aspects of systematic reviews are abbreviated, and all the important knowledge is compressed in a short and understandable matter. I am also writing my doctoral thesis under the supervision of the director of Cochrane Austria.

What specifically do you enjoy about working for Cochrane and what have you learnt?
Specifically, in my work, I enjoy the fact that I am confronted with so many various medical topics (rare diseases, new procedures and new drugs) that I would normally not encounter throughout my studies. I love how at Cochrane Austria my collogues are very passionate about their work and their mission. I work alongside very inspiring people that think outside the box and critically assess the research and evidence that is presented to them.
Throughout my career, I have noticed that either as medical professional or patient it can be very challenging to find good and solid evidence in a myriad of research in today's society that is pressured to constantly publish new data and information. Cochrane brings light into the dark and stands for trusted evidence that allows anyone searching for guidance to make informed decisions.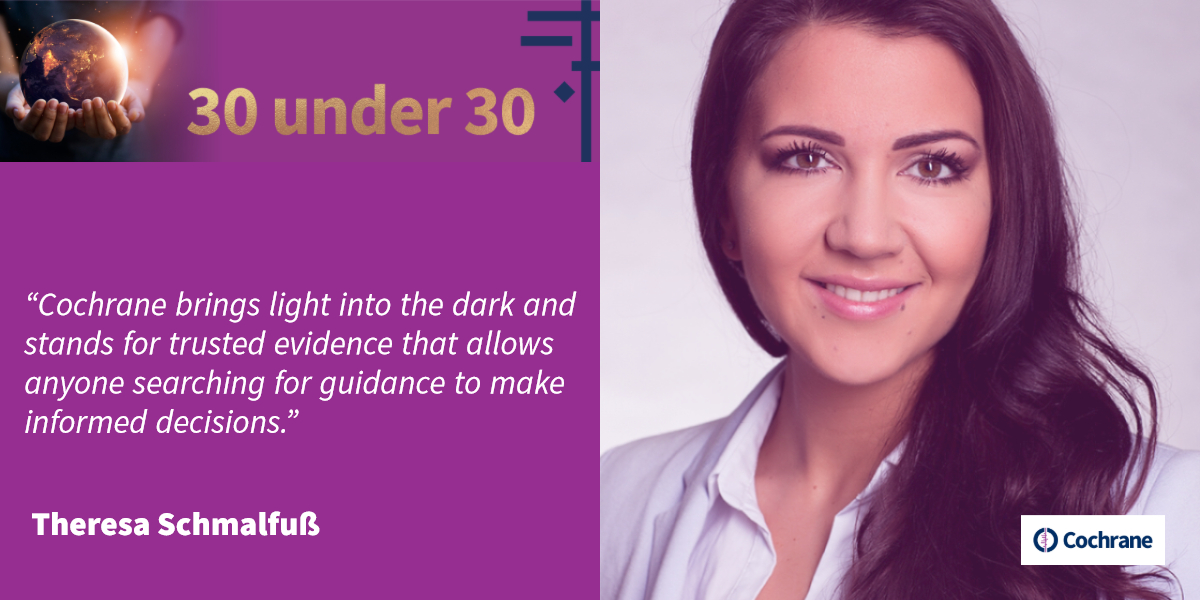 What are your future plans?
After graduating medicine, I hope to continue my passion for evidence-based medicine and continue to be involved in research projects. As a medical professional, Cochrane has taught me how to integrate clinical experience, patient values and the best research information in my decision making.

In your personal experience, what one thing could Cochrane do better to improve its global profile?
I feel that Cochrane should try to motivate students more to have an interest in evidence-based medicine. Many students feel that it can be very "dry". However, if more students had the chance to participate in projects, colloquiums or workshops their perception on Epidemiology might change. 

What do you hope for Cochrane for the future?
I hope that the Cochrane Network will constantly grow and that more and more people, especially students, contribute to promoting good and trustworthy evidence. I also think it is very important to make complex knowledge more understandable. Cochrane should continue its great work in breaking down research into plain and simple statements and making these accessible to the public.

How important is it that young people get involved in Cochrane?
I think this is very important!

Why is this, do you think?
Young people are the future, and it is extremely important for an Organization like Cochrane, that promotes independent research and trustworthy evidence, to further exist. Any young person interested in being part of a fantastic international network of inspiring people that all promote trusting and accessible evidence should consider getting involved with Cochrane's Projects. This might be a great opportunity, especially for someone interested in working in the field of Epidemiology, Medicine or Public Health, to get some great work experience.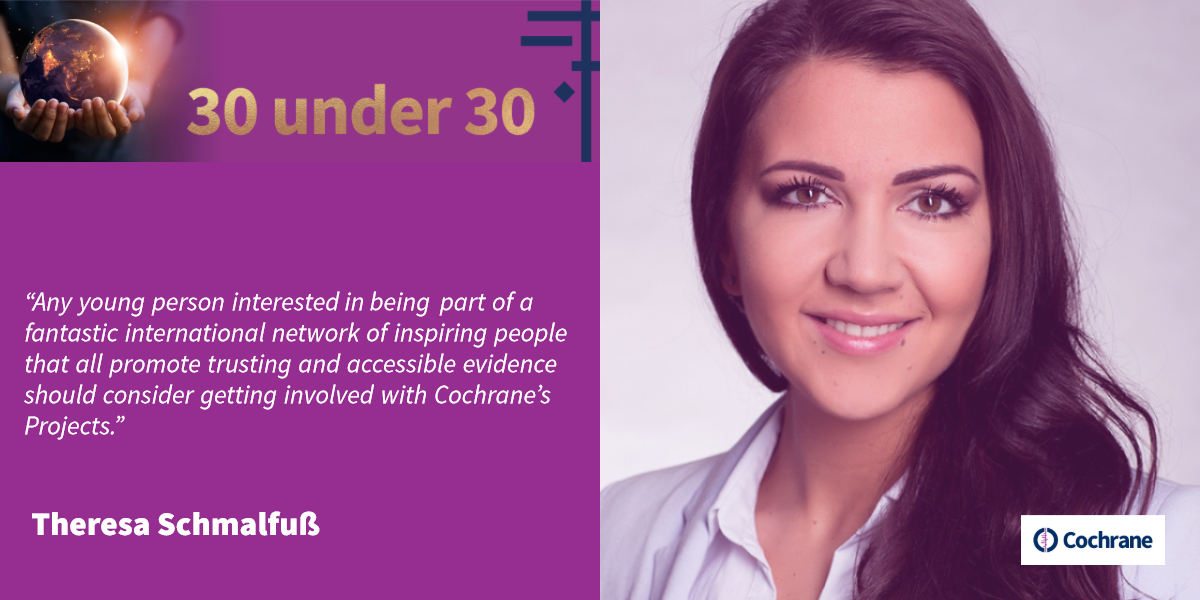 What would your message be to other young people who want to get involved with Cochrane's work but not sure where to start….?
Don't be shy and contact your local Cochrane Centre and ask how you can get involved. Everyone who is motivated is welcome to join. It might be a good Idea to start by becoming a Cochrane Citizen Scientist or to visit Cochrane Task Exchange and contribute to tasks that interest you.