Cochrane is made up of 13,000 members and over 50,000 supporters come from more than 130 countries, worldwide. Our volunteers and contributors are researchers, health professionals, patients, carers, people passionate about improving health outcomes for everyone, everywhere.
Cochrane is an incredible community of people who all play their part in improving health and healthcare globally. We believe that by putting trusted evidence at the heart of health decisions we can achieve a world of improved health for all. 
Many of our contributors are young people working with Cochrane as researchers, citizen scientists, medical students, and volunteer language translators and we want to recognize the work of this generation of contributors as part of this series called, Cochrane's "30 under 30." 
In this series, we will interview 30 young people, 30 years old or younger who are contributing to Cochrane activities in a range of ways, all promoting evidence-informed health decision making across the world. 
We will be hearing from them in a series of interviewees published over the coming months.
We're keen to hear from you. Would you like to take part in this series? Do you know someone you'd like to see interviewed? Contact kabbotts@cochrane.org.  Or if you want to know more about Cochrane's work contact membership@cochrane.org where our community support team will be happy to answer your questions.

Name: Tahira Devji (on Twitter @TahiraDevji)
Age: 28
Occupation: PhD Candidate, Health Research Methodology Program
Program: Department of Health Research Methods (formerly Clinical Epidemiology & Biostatistics), Evidence and Impact, McMaster University
How did you first hear about Cochrane?
I first heard about Cochrane in a course I took on systematic review methods while completing my Masters training in the Health Research Methodology program at McMaster University. The course covered fundamentals of rigorous review methods based on the guidance offered in the Cochrane Handbook for Systematic Reviews of Interventions, and the Grading of Recommendations, Assessment, Development and Evaluation framework for evaluating certainty of estimates, and presenting and interpreting evidence.

How did you become involved with Cochrane? What is your background?
Early in my doctoral studies at McMaster University under the supervision of distinguished Professor, and leader in evidence-based medicine, Dr. Gordon Guyatt, I took a keen interest in the use, analysis and presentation of patient-reported outcomes (PROs) – specifically, questionnaires addressing patients' health status (e.g. quality of life, symptoms, functional abilities) – in clinical research. Despite the increased use of PROs in the evaluation of health care interventions in clinical trials and systematic reviews, interpretation of their results remains challenging. My doctoral research aims to improve methods for enhancing the interpretation of PROs, with a focus on the concept of the minimal important difference (MID) – the smallest change in an outcome, either positive or negative, that patients perceive as important – which has proved invaluable in facilitating the interpretation of PRO results.

Given my research interests and Dr. Guyatt's role as the co-chair of the Cochrane PRO methods group, I was encouraged to join the PRO methods group to broaden my research network, share my research interests and ideas with other members, and potentially collaborate on projects that contribute to the objectives and efforts of the group.

What do you do in Cochrane?
The Cochrane PRO methods group offers a workshop at the annual Cochrane Colloquium addressing issues in using, interpreting and presenting PROs in Cochrane reviews. I first attended the PRO workshop in Seoul, South Korea in 2016 as an attendee, and have since helped facilitate the workshop at the last two Colloquia (Cape Town, SA and Edinburgh, UK).

Together with my colleagues from McMaster University, we are leading an emerging program of research on MID methods. Based on this work, at the last two Cochrane Colloquia, we created and offered a second workshop that focuses on the methods for evaluating credibility of MID estimates and their application in meta-analysis to make PRO results more interpretable in systematic reviews and guidelines.

I have also co-authored the new PROs chapter for version 6 of the Cochrane Handbook. This chapter illustrates key risk of bias issues that systematic reviewers should consider when including results from PROs in meta-analysis and provides guidance on approaches to meta-analysis that will improve the interpretability of PROs to enhance decision-making.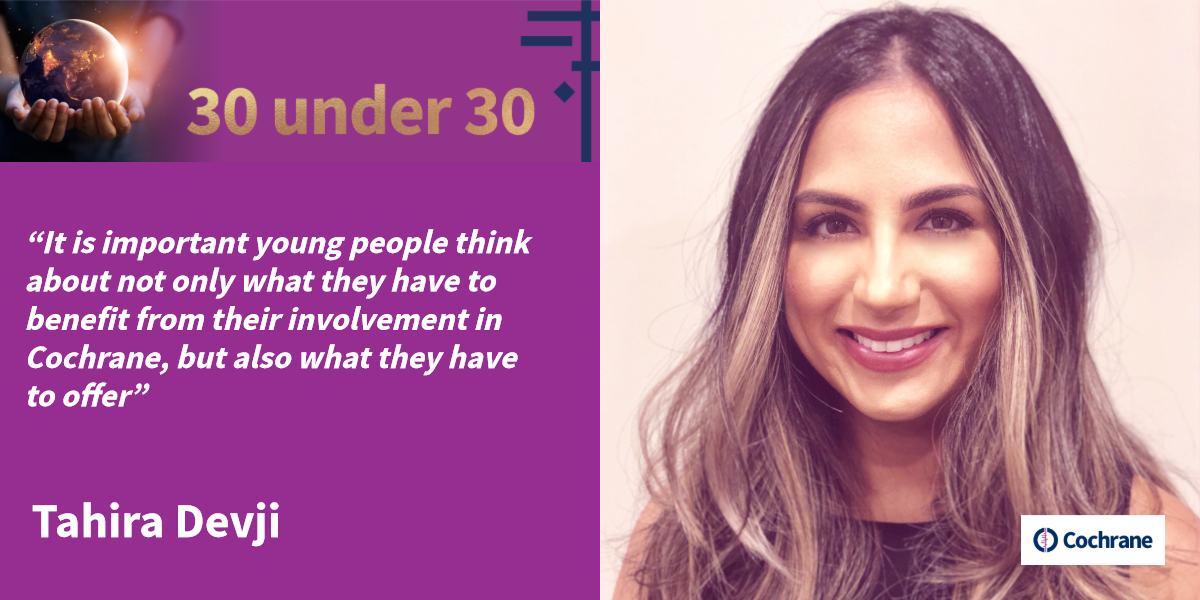 What specifically do you enjoy about working for Cochrane and what have you learnt?
Cochrane remains a world leader in promoting evidence-informed health decision-making by producing trustworthy, relevant and up-to-date synthesized research evidence. What is most impressive is the collaborative culture instilled in Cochrane's ethic, evidenced by a network of 37,000 contributors from more than 130 countries, united through a common vision to produce credible evidence and improve health outcomes. I have experienced first-hand, the diversity, inclusivity and openness in the Cochrane community, which, for me, has led to important collaborations on innovative projects.

What are your plans?
In the immediate future, I plan to continue my work in MIDs and PROs during my post-doctoral fellowship with Dr. Guyatt. In response to a continually expanding field, both in terms of the number of published studies estimating MIDs and the increasing uptake of these estimates for PROs interpretation in clinical trials and systematic reviews, our research group has developed resources for facilitating identification and appraisal of MID estimates. We have created a comprehensive inventory of all published MIDs for PROs and created a novel instrument to evaluate the credibility of these estimates. Future work will focus on maintaining updated records of latest evidence and making this inventory of MID estimates easily available to users, such as Cochrane reviewers and guideline developers, through implementation in authoring platforms, such as RevMan Web, GRADE Pro and MAGIC app.

In your personal experience, what one thing could Cochrane do better to improve its global profile?
I believe there is an opportunity for Cochrane to bolster engagement with practitioners, consumers and the public, as well as researchers, funding agencies, and policy-makers to improve mechanisms for identifying critical research gaps, prioritizing health care questions, co-producing Cochrane reviews, and co-developing knowledge translation (KT) plans.

What do you hope for Cochrane for the future?
With the mounting body of research evidence in the published medical literature, an enormous pressure exists for decision-makers to remain informed of best current evidence. The most important facilitator for the uptake of Cochrane evidence is effective knowledge translation to consumers. Cochrane has recognized this as a priority and is developing a KT strategy/implementation plan for 2019.

For the future, it is critical that evidence produced by Cochrane responds to the needs of key stakeholders and is presented in a format that decision-makers can easily digest. Optimal presentation of evidence will require creative efforts that extend beyond traditional forms of publishing (i.e. stagnant journal publications), such as the development of interactive and dynamic electronic resources to facilitate rapid access to evidence summaries of systematic reviews, as well as implementation of these summaries in health care systems at the point of primary care. Certainly, as an advocate and producer of high-quality and up-to-date evidence syntheses, Cochrane has a unique and important opportunity to act as a key player within the vision for a Digital and Trustworthy Evidence Ecosystem.
How important is it that young people get involved in Cochrane, why is this, do you think?
Young people, in particular graduate trainees and those early in their independent research career, should certainly seek opportunities to get involved in Cochrane, as both the organization and such individuals are very likely to benefit. Cochrane's global reach and diverse network of researchers and health professionals provides a nurturing environment for international and interdisciplinary research, professional development and training. Young people may benefit from access to global networks to broaden their own collaborative network and opportunities to work with renowned experts in evidence-based care. It is important young people think about not only what they have to benefit from their involvement in Cochrane, but also what they have to offer. Even if one is considered a novice on a particular topic, they may offer different or fresh perspectives and identify important research issues and questions that may not have previously been considered. Given we are living in a digital age, young people who tend to be more tech savvy, may be able to harness technology to drive innovation in Cochrane.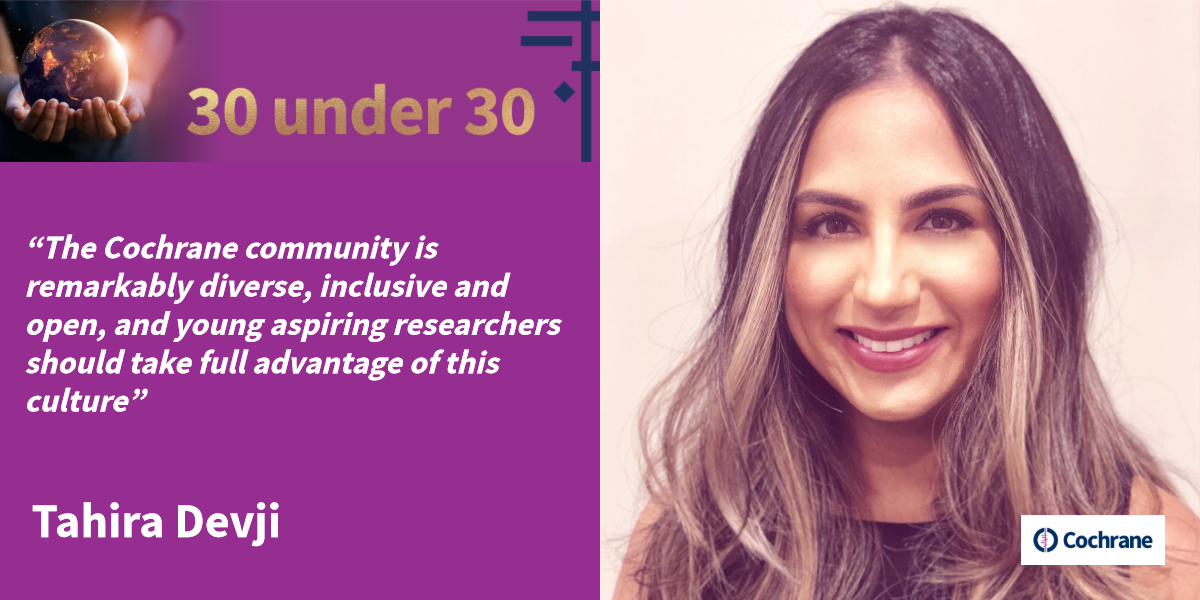 What would your message be to other young people who want to get involved with Cochrane's work but not sure where to start….?
The Cochrane community is remarkably diverse, inclusive and open, and young aspiring researchers should take full advantage of this culture. Some tips that worked for me and others may find useful: 1) become a Cochrane member, 2) join a Review, Geographic or Methods group; 3) attend and network at the Cochrane Colloquium (present your research, sign-up and attend workshops and open business meetings for groups of interest).