Cochrane is made up of 11,000 members and over 67,000 supporters come from more than 130 countries, worldwide. Our volunteers and contributors are researchers, health professionals, patients, carers, people passionate about improving health outcomes for everyone, everywhere.
Cochrane is an incredible community of people who all play their part in improving health and healthcare globally. We believe that by putting trusted evidence at the heart of health decisions we can achieve a world of improved health for all. 
Many of our contributors are young people working with Cochrane as researchers, citizen scientists, medical students, and volunteer language translators and we want to recognize the work of this generation of contributors as part of this series called, Cochrane's "30 under 30." 
In this series, we will interview 30 young people, 30 years old or younger who are contributing to Cochrane activities in a range of ways, all promoting evidence-informed health decision making across the world. 
We will be hearing from them in a series of interviewees published over the coming months.
We're keen to hear from you. Would you like to take part in this series? Do you know someone you'd like to see interviewed? Contact lparsonson@cochrane.org.  Or if you want to know more about Cochrane's work contact membership@cochrane.org where our community support team will be happy to answer your questions.

Name: Meisam Abdar Esfahani (on Twitter @Meisam_esfahani)
Age: 27
Occupation: General Practitioner
Program: Isfahan Student Research Committee, Isfahan University of Medical Sciences, Iran
How did you first hear about Cochrane?
To be totally frank, I became familiar with Cochrane after a Cochrane Workshop that was held in my University in 2015 although I had thought "How to search on Medical Databases" and Cochrane was an example of "synthesis" in the pyramid of Evidence Based Medicine. Moreover, Cochrane Library was another title in my curriculum on that workshop.    
How did you become involved with Cochrane? What is your background?
After that workshop, a professor of gastroenterology gathered three skillful students and made a team. Next, our team registered a title in Upper GI and Pancreatic CRG and published the protocol. This systematic review is ongoing. Since Cochrane Center Iran was established in 2017, I have collaborated with them and translated many Persian articles to English for Cochrane systematic review.
What do you do in Cochrane?
It is my honor that not only am I a Cochrane author and referee for Cochrane systematic reviews, but I also managed a team for translating and collected data from Persian articles for tasks that introduced in Task Exchange website. I also have some activities on Cochrane workshops as a facilitator and recently I have been made a Cochrane trainer. 

What specifically do you enjoy about working for Cochrane and what have you learnt?
Cochrane has a strong discipline and people who are involved in Cochrane are polite and have strong credentials. This can be seen in all parts of the Cochrane system from websites that each CRG have, to RevMan, Covidence, Task Exchange, Crowds etc. 
I have learnt from Cochrane how to communicate and get involved with international teams. I have also learnt many scientific facts about methodology from webinars and online courses that were presented by Cochrane Training.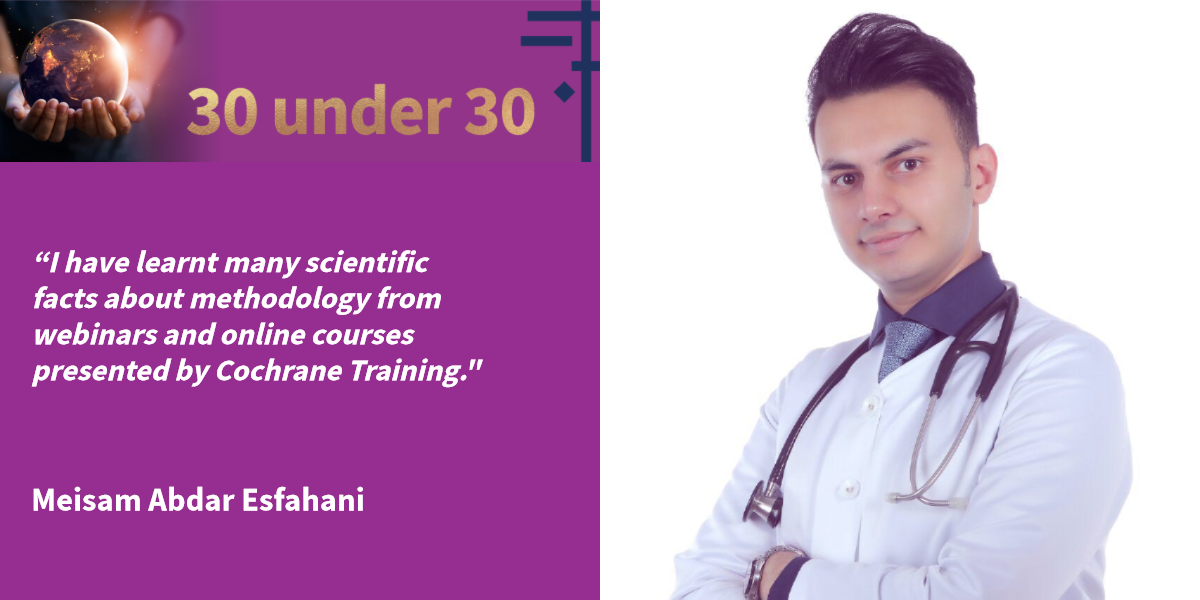 What are your future plans?
I have three goals; my short-term goal is to participate at the Cochrane Colloquium for the first time. My main goal is to improve my knowledge about Evidence Based Medicine and evidence synthesis in one prestigious university. My more ambitious goal is to be a member of an international guideline panel as a methodologist and specialist.  
In your personal experience, what one thing could Cochrane do better to improve its global profile?
In my opinion, Cochrane could invest in young people from LMIC-UMIC's that are good players and improve its network which will make strong scientists. 
What do you hope for Cochrane for the future?
I hope Cochrane produces more and more systematic reviews that help for guidelines. I hope the Cochrane network will grow and that every health care provider knows how to use the high quality evidence for their daily usage. 
How important is it that young people get involved in Cochrane? Why is this, do you think?
I think it can motivate young people to practice more and get involved with international scientific teams. That way, they can improve their skills and become a young EBM scientist in their field of research.  
Why is this, do you think?
In my mind, young people are so ambitious, and they can encourage other Cochrane members to open the door to better places in the world of medical researches. 
What would your message be to other young people who want to get involved with Cochrane's work but not sure where to start….?
Using Cochrane Crowd and Task Exchange can encourage you to select the specific field that you are interested in and help you to get to know the proper pathways for getting involved in Cochrane's work.