Cochrane is made up of 11,000 members and over 67,000 supporters come from more than 130 countries, worldwide. Our volunteers and contributors are researchers, health professionals, patients, carers, people passionate about improving health outcomes for everyone, everywhere.
Cochrane is an incredible community of people who all play their part in improving health and healthcare globally. We believe that by putting trusted evidence at the heart of health decisions we can achieve a world of improved health for all. 
Many of our contributors are young people working with Cochrane as researchers, citizen scientists, medical students, and volunteer language translators and we want to recognize the work of this generation of contributors as part of this series called, Cochrane's "30 under 30." 
In this series, we will interview 30 young people, 30 years old or younger who are contributing to Cochrane activities in a range of ways, all promoting evidence-informed health decision making across the world. 
We will be hearing from them in a series of interviewees published over the coming months.
The Cochrane 30 Under 30 series is now closed. However, we are keen to hear from early career professionals about their work with Cochrane for future series. If you would like to be added to our waitlist, please conact lparsonson@cochrane.org. Or if you want to know more about Cochrane's work contact membership@cochrane.org where our community support team will be happy to answer your questions.

Name: Jenna Patterson
Age: 26
Occupation: PhD Student
Program: Vaccines for Africa Initiative, University of Cape Town

How did you first hear about Cochrane?
I first heard about Cochrane through my MPH degree at the University of Cape Town. The Cochrane method was taught as the gold standard for systematic reviews in my 'quantitative research methods' course and I knew I had to get involved when I conducted my first meta-analysis.
How did you become involved with Cochrane? What is your background?
I am trained as an epidemiologist and am currently completing my PhD project considering evidence-informed vaccinology in South Africa. I decided to include a Cochrane review as one chapter of my PhD as it is the gold standard of synthesizing available evidence. I became involved with Cochrane on a consulting basis through connections made and the African Evidence Network Conference in 2018 conference and African Cochrane Indaba in 2019.
What do you do in Cochrane?
I am the first author of an ongoing Cochrane Hepato-Biliary Group review entitled "Hepatitis A immunisation in persons not previously exposed to hepatitis A" and also consult as a research assistant for the Cochrane Center South Africa.
What specifically do you enjoy about working for Cochrane and what have you learnt?
I really enjoy working under the Cochrane method. Completing reviews using Covidence and RevMan greatly empowers global collaboration and has allowed me to make many professional connections around the world.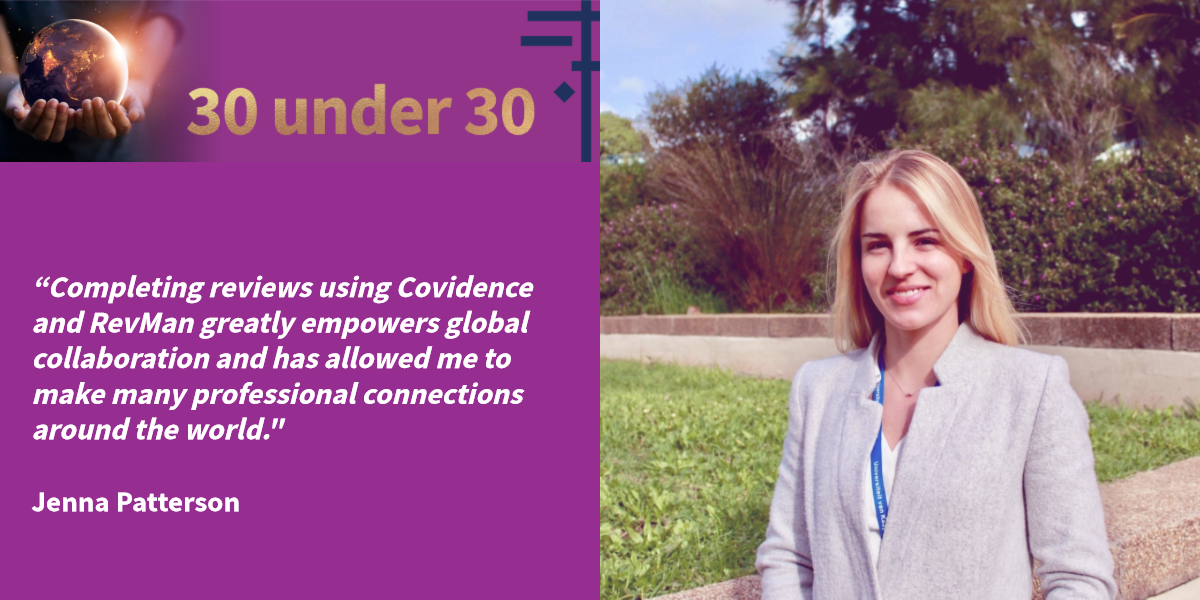 What are your future plans?
I would like to continue working in the evidence-based health care space. My professional goal is to contribute to work that attempts to close the "know-do" gap in public health policy and to increase the uptake of evidence in health care decision-making.
In your personal experience, what one thing could Cochrane do better to improve its global profile?
In order to improve its global profile, I believe that Cochrane should invest in training policy and/or decision makers in the art of conducting systematic reviews and meta-analyses.
What do you hope for Cochrane for the future?
My hope is that Cochrane continues to foster relationships with stakeholders in public health to increase the translation of findings into policy.
How important is it that young people get involved in Cochrane?
It is incredibly important that young people get involved with Cochrane and learn systematic review and meta-analyses methodologies.
Why is this, do you think?
In the future where "Big Data" rules, it will become more and more important for us to synthesize research findings in order to create evidence-based health policies.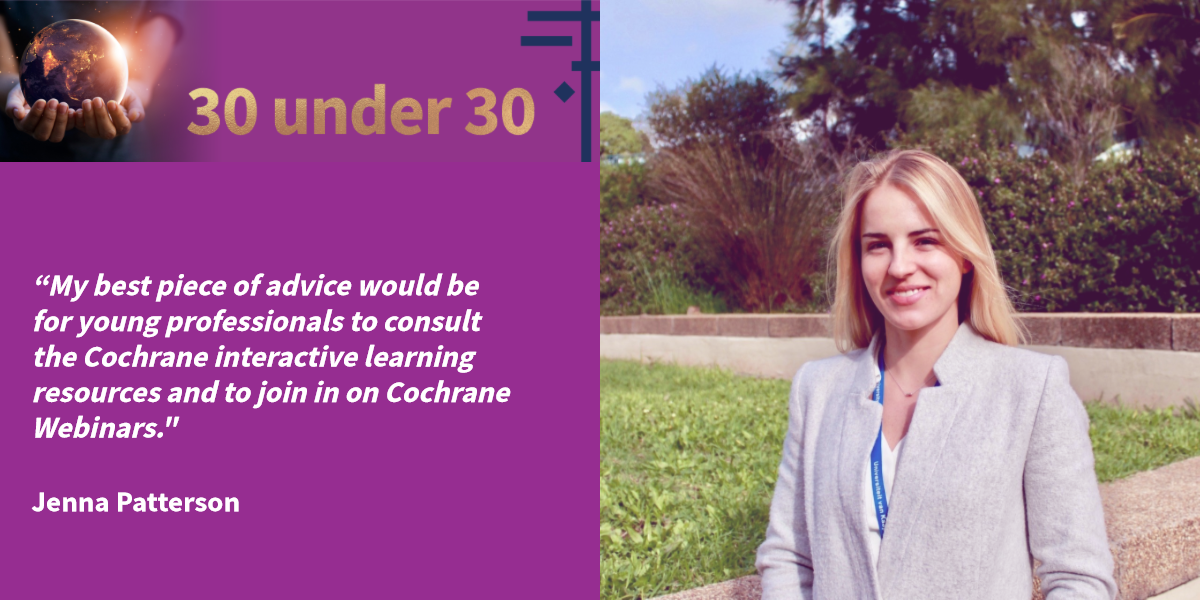 What would your message be to other young people who want to get involved with Cochrane's work but not sure where to start….?
My best piece of advice would be for young professionals to consult the Cochrane interactive learning resources and to join in on Cochrane Webinars. These are incredibly helpful resources and can enable researchers to learn about the Cochrane method.