Cochrane is made up of 13,000 members and over 50,000 supporters come from more than 130 countries, worldwide. Our volunteers and contributors are researchers, health professionals, patients, carers, people passionate about improving health outcomes for everyone, everywhere.
Cochrane is an incredible community of people who all play their part in improving health and healthcare globally. We believe that by putting trusted evidence at the heart of health decisions we can achieve a world of improved health for all. 
Many of our contributors are young people working with Cochrane as researchers, citizen scientists, medical students, and volunteer language translators and we want to recognize the work of this generation of contributors as part of this series called, Cochrane's "30 under 30." 
In this series, we will interview 30 young people, 30 years old or younger who are contributing to Cochrane activities in a range of ways, all promoting evidence-informed health decision making across the world. 
We will be hearing from them in a series of interviewees published over the coming months.
We're keen to hear from you. Would you like to take part in this series? Do you know someone you'd like to see interviewed? Contact kabbotts@cochrane.org.  Or if you want to know more about Cochrane's work contact membership@cochrane.org where our community support team will be happy to answer your questions.

Name: Javier Ortiz Orendain
Age: 27
Occupation: First year Resident Psychiatrist
Program: Mayo Clinic Psychiatry Residency Program
How did you first hear about Cochrane?
It was 2014; I just had finished my board exam on basic sciences of medicine, and I was about to start meeting patients for the first time. After some weeks of experience in the clinical setting, I was faced with uncertain territories given that my basic science knowledge was insufficient to provide patient care. Fortunately, my school had a class on evidence-based medicine, which was given by Netzahuapilli Delgado, at the time teacher, but now also friend and colleague. He was at the time one of the members of the local branch of Cochrane Mexico. He showed me the principles of EBM and during his lectures, he talked about Cochrane with much passion.

How did you become involved with Cochrane? What is your background?
Netzahuapilli Delgado invited me to become part of the local Cochrane branch. The local branch in the Hospital Civil de Guadalajara was run by young doctors who despite having busy clinical lives were all enthusiastic and helpful with young students. I was encouraged to reach out to the groups of my interest, Schizophrenia had been a long passion of mine, so I contacted Cochrane Schizophrenia. After exchanging many emails with the managing editor of Cochrane Schizophrenia, she trusted me with one systematic review and I started to embark on this journey with Cochrane.

I am a medical doctor training to become a psychiatrist in the United States. I have the fortune of having experience in clinical trials and in doing systematic reviews.

What do you do in Cochrane?
When I am in Mexico, my group and I am in charge of giving talks about Cochrane and EBM in general. Also, we translate articles in Spanish for the authors.
I participate with the Cochrane Schizophrenia group doing systematic reviews, and after visiting the Editor Base of Cochrane Schizophrenia in Nottingham, Professor Clive Adams decided to invite me to become part of the editorial base.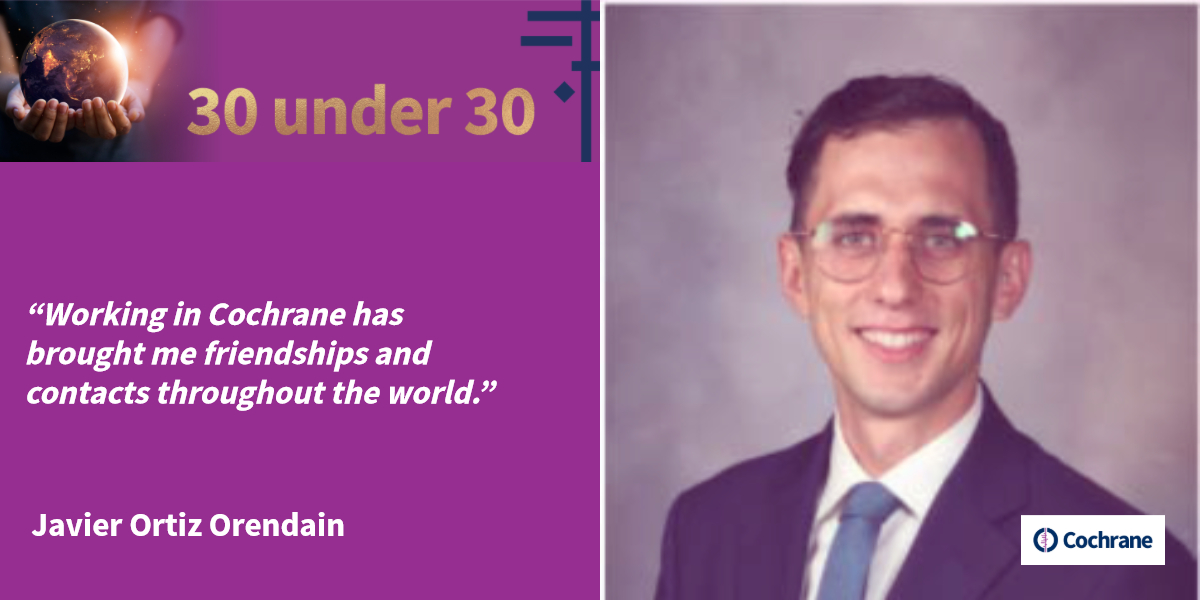 What specifically do you enjoy about working for Cochrane and what have you learnt?
Working in Cochrane has brought me friendships and contacts throughout the world. For example, a couple of years ago we were organizing a conference on evidence-based medicine, and through our contacts in Cochrane, we were able to bring a great researcher and entrepreneur to Mexico. Since her visit to Mexico, we have been good friends even though we live oceans apart. The sense of community and the shared goal of systematizing evidence to deliver better care to patients is what makes me proud of being part of Cochrane.

What are your plans?
I will finish my training as a psychiatrist in about three years. After my training as a general psychiatrist, I will pursue more training in psychosis research. I also plan to work towards the goal of the Cochrane Schizophrenia group of systematizing the evidence for the care of people with psychosis or other severe mental illnesses.

In your personal experience, what one thing could Cochrane do better to improve its global profile?
I have met many enthusiastic people from many parts of the world during my time with Cochrane. Many young people are interested and willing to give their time to Cochrane due to their innate passion. Supporting visits to their Cochrane groups of interest would help them understand the groups' vision better, learn about systematic reviews and it will help them make connections and relationships that are otherwise impossible to be made online.

What do you hope for Cochrane for the future?
Continuing with the traditional model of giving independence to groups to develop their systematic reviews with their own expertise. I would like to see Cochrane Thematic Groups establishing more communication with the regional groups, this way the network will expand. Also, allocating resources to librarians so that the process of systematic reviews is optimized.
How important is it that young people get involved in Cochrane, why is this, do you think?
It is one of the most important things for long-term sustainability. Building on the enthusiasm of young individuals is essential to maintain the innovative character of Cochrane. They have always been an important motor of Cochrane's way.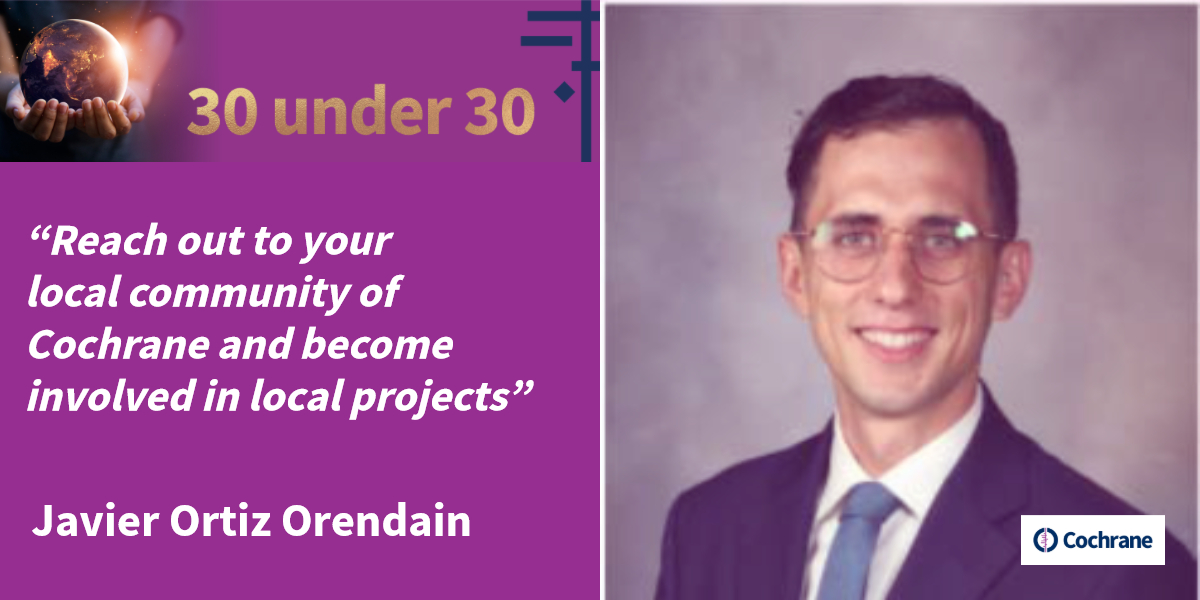 What would your message be to other young people who want to get involved with Cochrane's work but not sure where to start….?
Reach out to your local community of Cochrane and become involved in local projects. If someone from your regional group is doing a review, join them in the process. Doing systematic reviews is the best way to learn how to do them. After getting initialized in Cochrane, reach out to your group of interest and be specific about your skills and how can you be helpful.