Cochrane is made up of 13,000 members and over 50,000 supporters come from more than 130 countries, worldwide. Our volunteers and contributors are researchers, health professionals, patients, carers, people passionate about improving health outcomes for everyone, everywhere.
Cochrane is an incredible community of people who all play their part in improving health and healthcare globally. We believe that by putting trusted evidence at the heart of health decisions we can achieve a world of improved health for all. 
Many of our contributors are young people working with Cochrane as researchers, citizen scientists, medical students, and volunteer language translators and we want to recognize the work of this generation of contributors as part of a new series called, Cochrane's "30 under 30." 
In this series, we will interview 30 young people, 30 years old or younger who are contributing to Cochrane activities in a range of ways, all promoting evidence-informed health decision making across the world. 
We will be hearing from them in a series of interviewees published over the coming months.
We're keen to hear from you. Would you like to take part in this series? Do you know someone you'd like to see interviewed? Contact kabbotts@cochrane.org.  Or if you want to know more about Cochrane's work contact membership@cochrane.org where our community support team will be happy to answer your questions.

Name: Ibrahem Hanafi (on Twitter at @Ibrahem_Hanafi )
Age: 24
Occupation: Resident Physician
Program: Neurology Residency, Internal Medicine Department, Faculty of Medicine, Damascus University, Damascus, Syria
How did you first hear about Cochrane?
I first heard about Cochrane before being admitted to the faculty of medicine in a conference about medical information resources.  Since then, Cochrane left a lasting impression on me for being a collaboration aiming at improving healthcare services all over the world. It was not until my second year at med school, when I attended a workshop about evidence-based medicine and conducting systematic reviews, that I started applying for participations in Cochrane review groups. That was not just my entry to the Cochrane community, but also to the world of evidence-based medicine as a whole.

How did you become involved with Cochrane? What is your background?
The first time I applied to get involved with Cochrane was in my third year at the faculty of medicine. My application consisted of the few skills I learned through the 8-hour workshop and the huge motivation I had to join their elite researchers. In Damascus University and even in Syria, there is no geographic group for Cochrane, and it was hard for us to start an overseas project for the first time with people we have never met. Nevertheless, several friends and I succeeded to participate and publish with Cochrane. Initially, I had some difficulties catching up with the required tasks, however, I was promptly provided with all the assistance I needed by the review group I got involved in.
What do you do in Cochrane?
I am an author in Schizophrenia and Lung Cancer review groups and a referee in Common Mental Disorders and Pain, Palliative and Supportive Care groups. I am also a member of Cochrane Trainers' Network, which contributed greatly to my Cochrane experience. I have participated as a trainer in a Cochrane training workshop in Damascus, and organized a full workshop for conducting Cochrane systematic reviews for the first time in Aleppo. Furthermore, I had the honour to receive a stipend from Cochrane to attend GRADE CERQual Training in Modena, Italy in 2017, where I was the youngest trainee amongst a group of esteemed reviewers from all over the world.

What specifically do you enjoy about working for Cochrane and what have you learnt?
What I truly like about Cochrane is that it is not just a network for collaborative work, but also a pooled innovative learning spot. In Cochrane, I always feel active learning and applying new tools and techniques, as well as pumping and absorbing experience from peers. Fortunately, Cochrane also provides equal opportunities for individuals whether young or experienced to get involved in that collaborative community.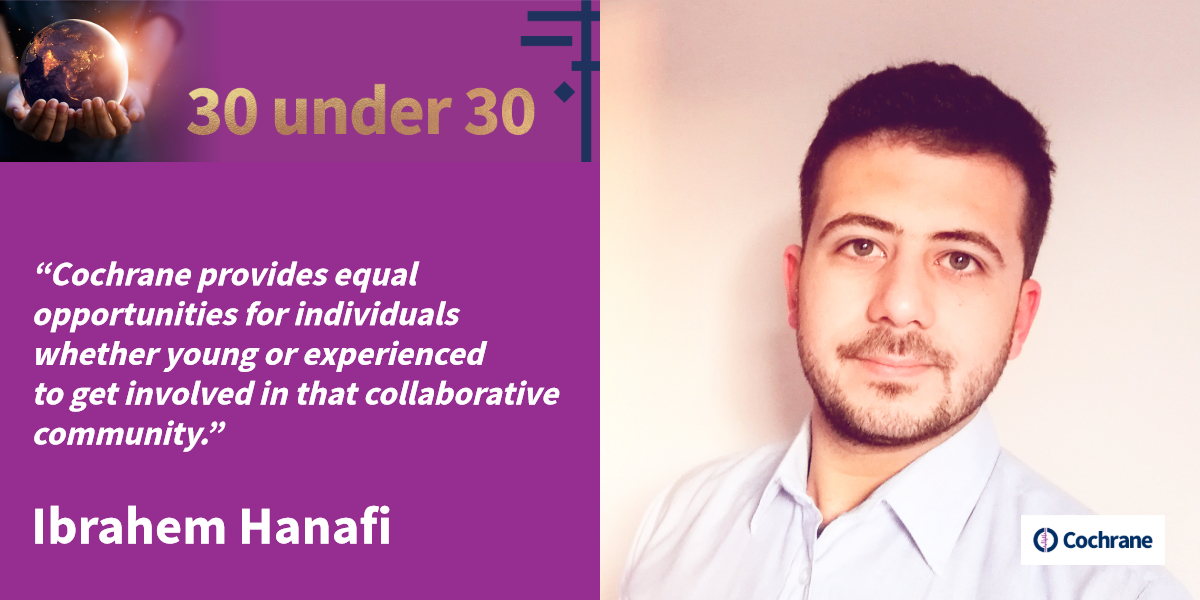 What are your future plans?
My plans start from completing my specialization in Neurology and getting trained to become a professional medical researcher with experience, ensuring high standards in exploring and investigating the edges of neuroscience. Then, I plan to start and lead my own research lab that will aim to further investigate the behavioural and cognitive neuroscience aspects of the people suffering from psychological stress in war-torn countries.
In your personal experience, what one thing could Cochrane do better to improve its global profile?
I think Cochrane is paying much attention to involving young people, however, it does not always reach them all, especially in countries with limited research productivity. I suggest creating groups for Cochrane supporting individuals in each country/city/med-school to encourage medical students and residents to get involved in Cochrane's various projects. These groups would facilitate contact with Cochrane, build review teams, and share previous experiences in the countries that do not have any Cochrane geographical centres.

What do you hope for Cochrane for the future?
I hope that Cochrane keeps its fresh projects up, as well as further facilitating the involvement of young individuals, in addition to getting them mentored and supported by experienced researchers. I also hope that Cochrane becomes more popular in third-world countries where medical research collaborations are being absent the most.

How important is it that young people get involved in Cochrane?
Since experience can sometimes have the side effect of narrowing the horizons of creativity, young unexperienced people have the ability to make new innovative projects out of very little supplies. Although Cochrane has much power in the fields of medical research, I think young medical personnel are its main and constant mean to spin the wheel of boosting the quality of healthcare systems worldwide in the near future.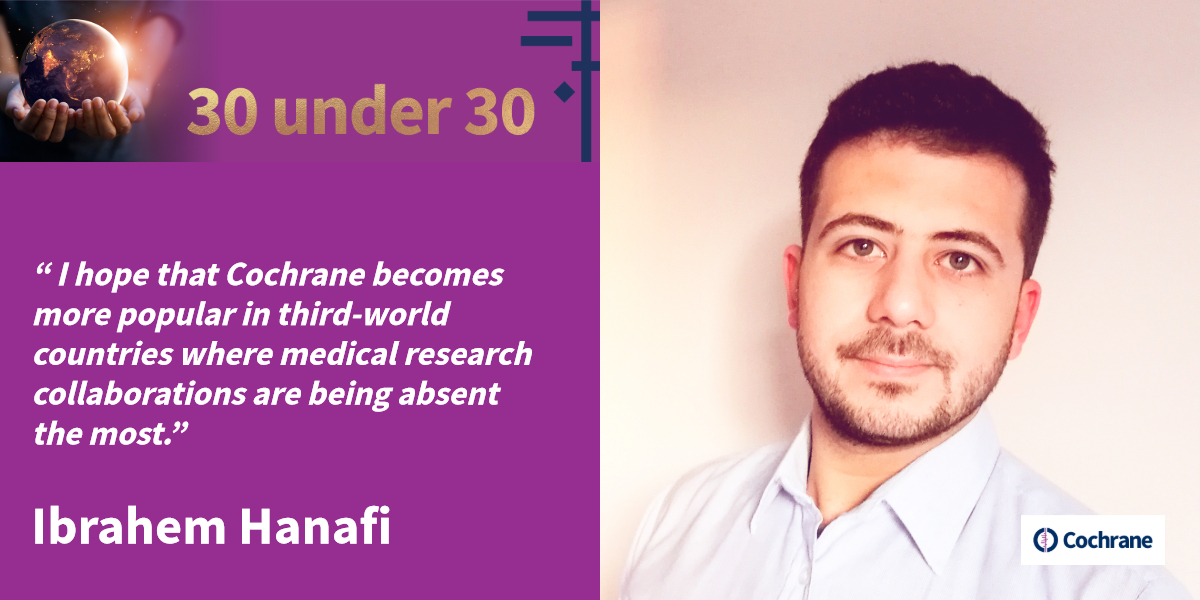 Why is this, do you think?
People who get involved in high quality medical knowledge synthesis while young, will always stick to evidence during their practice and will also give medicine a great push towards evidence-based practice in a not so far future.
What would your message be to other young people who want to get involved with Cochrane's work but not sure where to start….?
Never hesitate! Many experienced Cochrane reviewers now were as young and unexperienced as you when they decided to take the initiative themselves! You will be supported with facilitating resources and courses throughout your probable interesting journey with Cochrane. All you need is an open-mind, flexible skills, and some of your time.