Cochrane is made up of 13,000 members and over 50,000 supporters come from more than 130 countries, worldwide. Our volunteers and contributors are researchers, health professionals, patients, carers, people passionate about improving health outcomes for everyone, everywhere.
Cochrane is an incredible community of people who all play their part in improving health and healthcare globally. We believe that by putting trusted evidence at the heart of health decisions we can achieve a world of improved health for all. 
Many of our contributors are young people working with Cochrane as researchers, citizen scientists, medical students, and volunteer language translators and we want to recognize the work of this generation of contributors as part of this series called, Cochrane's "30 under 30." 
In this series, we will interview 30 young people, 30 years old or younger who are contributing to Cochrane activities in a range of ways, all promoting evidence-informed health decision making across the world. 
We will be hearing from them in a series of interviewees published over the coming months.
We're keen to hear from you. Would you like to take part in this series? Do you know someone you'd like to see interviewed? Contact kabbotts@cochrane.org.  Or if you want to know more about Cochrane's work contact membership@cochrane.org where our community support team will be happy to answer your questions.

Name: Emma Axon (née Mead) (on Twitter @Emma_L_Axon)
Age: 29
Occupation: Cochrane systematic review methodologist (Cochrane Skin)
Program: Cochrane Skin and the Centre of Evidence Based Dermatology at the University of Nottingham
How did you first hear about Cochrane?
I first heard about Cochrane during my Masters degree in 'Epidemiology and Biostatistics' at the University of Leeds where we learnt about systematic reviews and meta-analyses.

How did you become involved with Cochrane? What is your background?
I became involved in Cochrane as a review author. I started a PhD in public health and childhood obesity at Teesside University in October 2013 and quickly became involved in a series of six Cochrane systematic reviews assessing the treatment of obesity in children and adolescents, of which two formed part of my PhD thesis.

What do you do in Cochrane?
I'm currently working at the Cochrane Skin editorial base as a systematic review methodologist, based within the Centre of Evidence Based Dermatology at the University of Nottingham. My role is to provide support to authors who are conducting Cochrane Skin systematic reviews and peer review all Cochrane skin protocols and reviews to ensure they meet the MECIR standards. I also work for the Centre of Evidence Based Dermatology as a research associate and part of my role is to co-author a Cochrane systematic review assessing different strategies of using topical corticosteroids in the treatment of people with eczema.

What specifically do you enjoy about working for Cochrane and what have you learnt?
I really enjoy working for Cochrane because there are lots of opportunities to attend conferences and training events. There is a real community feel within Cochrane and lots of support and guidance available as both an author and an editor. When I first started my PhD in 2013, I knew very little about Cochrane systematic reviews, but over the last few years I have learnt so much and I am constantly learning about new methods and ways of working which is exciting.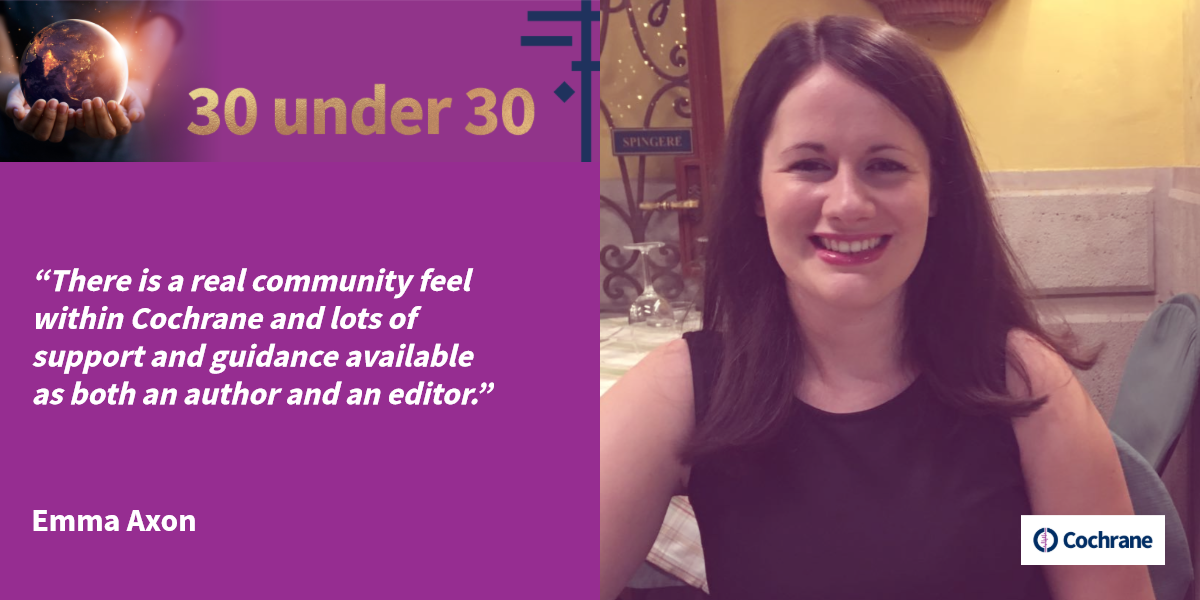 What are your future plans?
I still have a passion to learn more about conducting systematic reviews and would like to be involved in more reviews using complex methods such as network meta-analysis. I also still have a desire to work within the public health field, carrying on with the research I conducted during my PhD.

In your personal experience, what one thing could Cochrane do better to improve its global profile?
Link up more with relevant University educational courses worldwide, e.g. Masters courses in health, to ensure students know more about Cochrane and how they can get involved.
What do you hope for Cochrane for the future?
I hope Cochrane continues to produce relevant and high-quality systematic reviews on topics which are of interest to the public. Cochrane needs to ensure the key messages from each systematic review are communicated to as many people as possible using different ways of presenting evidence, ensuring what is expressed is accurate and useful to the public.
How important is it that young people get involved in Cochrane? Why is this, do you think?
It is obviously very important to involve young people in Cochrane to ensure there is a future for Cochrane in the next generation and so on.
Why is this, do you think?
Involving young people brings fresh and new ideas ensuring the future of Cochrane is relevant and engaging to everyone.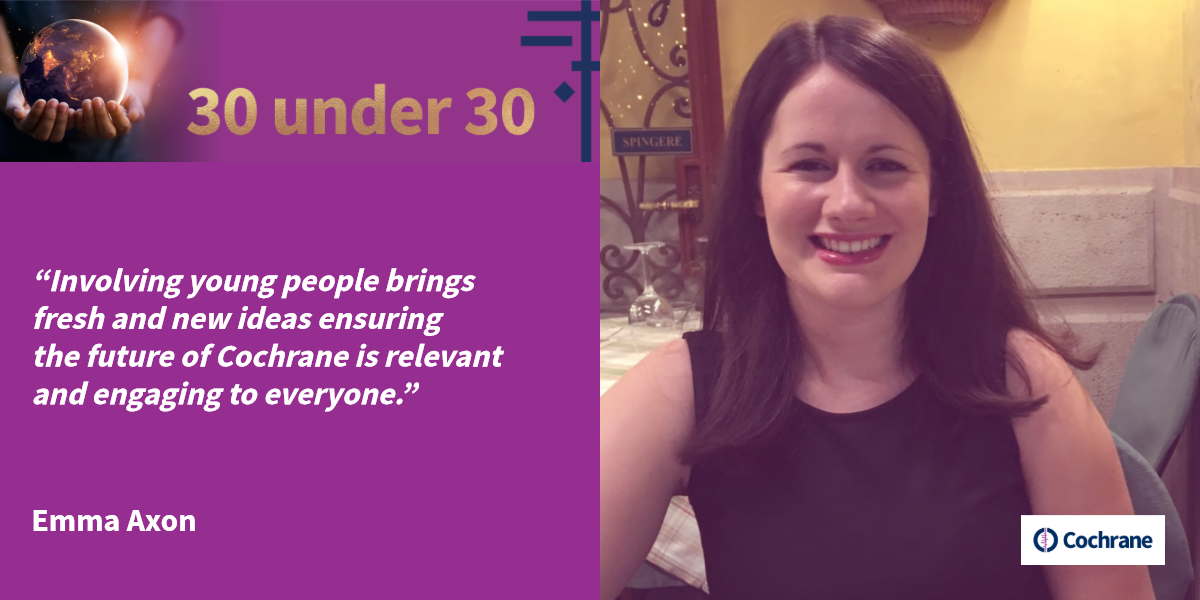 What would your message be to other young people who want to get involved with Cochrane's work but not sure where to start….?
Become a Cochrane member and explore the opportunities within Cochrane. Become involved in projects such as Cochrane Crowd and find available tasks at Cochrane TaskExchange. Take advantage of any available training opportunities either online or face-to-face and keep up to date by subscribing to the newsletter and following Cochrane on social media. I would also say that if you are given the opportunity to become an author on a Cochrane systematic review, it is important that you have the time and capacity to put the effort in as well as the support of co-authors who have experience conducting Cochrane systematic reviews. They are generally huge pieces of work and take a lot of hard work and perseverance to complete (but they are worth it in the end!).