Cochrane is made up of 11,000 members and over 67,000 supporters come from more than 130 countries, worldwide. Our volunteers and contributors are researchers, health professionals, patients, carers, people passionate about improving health outcomes for everyone, everywhere.
Cochrane is an incredible community of people who all play their part in improving health and healthcare globally. We believe that by putting trusted evidence at the heart of health decisions we can achieve a world of improved health for all. 
Many of our contributors are young people working with Cochrane as researchers, citizen scientists, medical students, and volunteer language translators and we want to recognize the work of this generation of contributors as part of this series called, Cochrane's "30 under 30." 
In this series, we will interview 30 young people, 30 years old or younger who are contributing to Cochrane activities in a range of ways, all promoting evidence-informed health decision making across the world. 
We will be hearing from them in a series of interviewees published over the coming months.
The Cochrane 30 Under 30 series is now closed. However, we are keen to hear from early career professionals about their work with Cochrane for future series. If you would like to be added to our waitlist, please conact lparsonson@cochrane.org. Or if you want to know more about Cochrane's work contact membership@cochrane.org where our community support team will be happy to answer your questions.

Name: Eve Tomlinson and Audrey Tan
Age: 26 and 24
Occupation: NIHR Network Support Fellows for the Cancer Network and Circulation and Breathing Network

How did you first hear about Cochrane?
Eve: I first found out about Cochrane during my BSc in Psychology. I came across a Cochrane review whilst searching for literature for one of my research projects and found it to be such a useful resource giving a thorough overview of the studies in the topic area I was exploring. I was struck by how robust the methods for the review were and found it a great base to work from to then delve into the individual studies further.

Audrey: I first heard about Cochrane during my MSc in Evidence-Based Social Intervention and Policy Evaluation. Cochrane was introduced to us as the gold-standard for evidence synthesis and the pre-eminent organisation for synthesis methodology.
How did you become involved with Cochrane? What is your background?
Eve: Prior to becoming involved with Cochrane I worked as a Clinical Trial Coordinator at the Royal United Hospital, Bath, in the Oncology and Haematology Department. I think it is the combination of my experience in Cancer clinical trials and in health research from my degrees that means I'm well placed in the role of Network Support Fellow for the Cancer Network.

Audrey: While my undergraduate background is in qualitative research methods, after my MSc I started working for the Royal College of Obstetricians and Gynaecologists as a Systematic Reviewer writing systematic reviews for NICE clinical guidelines. I jumped at the opportunity to work for Cochrane as a Network Support Fellow; having the chance to work for this pre-eminent organization in the field of evidence-based medicine at an early stage in my career seemed too good to pass up.
What do you do in Cochrane?
Eve: I am the Network Support Fellow for the Cancer Network. I am working alongside the Network Senior Editor and Associate Editor to aid the delivery of our Network Strategic Plan. One of my main focuses is to support the six Cancer Cochrane Review Groups with review prioritisation activities, in order to ensure that Groups are producing reviews relevant to end users such as patients, carers, health care professionals and decision makers. I am also working to improve collaboration and shared learning in the Cancer Network, recently setting up the Cancer Network Newsletter to facilitate this.

Audrey: Similar to Eve, I've been helping my Groups develop prioritisation plans. I've also undertaken a stakeholder mapping exercise to identify groups and organisations that can facilitate research dissemination, conducted a member profile survey of people within the Network to identify opportunities for collaboration, and joined the author team on several reviews. Another main component that's unique to my role is increasing Groups' capacities to perform network meta-analyses.
What specifically do you enjoy about working for Cochrane and what have you learnt?
Cochrane is a global organisation and between our Networks (Cancer and Circulation and Breathing) there are Review Groups based in the UK, France, The Netherlands, Germany, Australia, Canada, and America. We enjoy being able to work with people from all over the world that care about making a difference to health care. We've learnt early on that although the Review Groups are different geographically, with differing personnel structure, funders and resources, they are all exerting enormous effort to achieve the same overarching goal: to produce high-quality, accessible reviews of evidence to allow people to make accurate and informed decisions about their health and health care generally.
 What are your future plans?
Eve: I look forward to working more with the Review Groups in the Cancer Network on review prioritization, dissemination and the identification and development of stakeholder partnerships. I plan to learn more about the process of conducting a Cochrane review by joining a priority review author team.  

Audrey: My long-term goal is to transition my career into working in health policy so gaining the experience now "on the ground" in evidence-based research is an ideal starting place.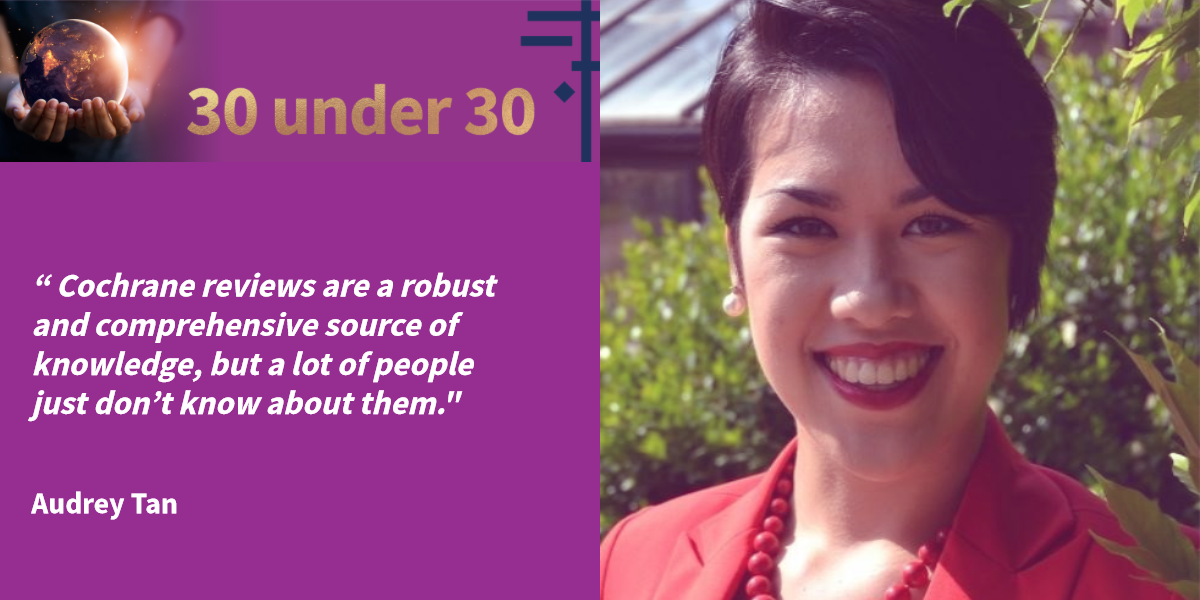 In your personal experience, what one thing could Cochrane do better to improve its global profile?
Cochrane should improve the ways it disseminates research in order to make sure it is being accessed and understood by those who need it most. Cochrane reviews are a robust and comprehensive source of knowledge, but a lot of people just don't know about them. The increase in the creation of working links with sites such as Wikipedia will hopefully help with this, as will the use of alternative methods of dissemination such as using BlogShots and social media. Cochrane should work with medical students and registrar doctors to engage them with Cochrane work and translate findings into best practice, to get involved with reviews and recommend Cochrane reviews to patient groups.
What do you hope for Cochrane for the future?
We hope that Cochrane will focus efforts to expand further into lower and middle-income countries, opening up more Centres and Review Groups in these countries to ensure that Cochrane evidence is applicable worldwide.
How important is it that young people get involved in Cochrane? Why is this, do you think?
It is important for Cochrane to have a diverse workforce, including younger voices that bring enthusiasm, new ideas and challenge current practice.
Involving young people in Cochrane's work has numerous benefits, including improving research and development by introducing young people's perspectives, facilitating research dissemination and achieving a wider impact, and enabling young people to improve their own research skills.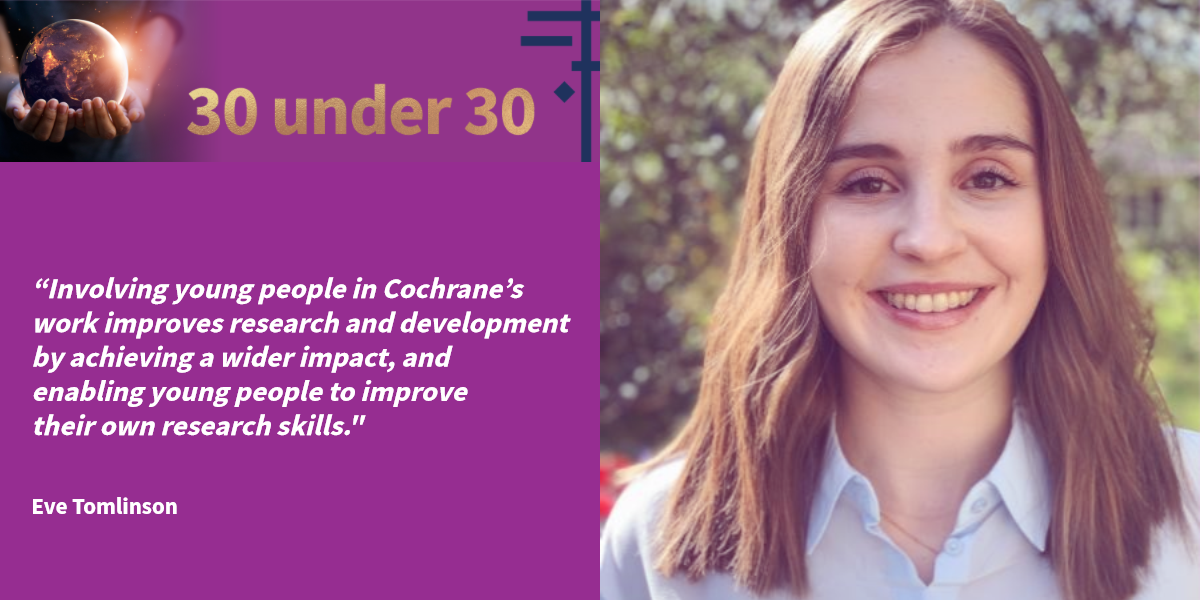 What would your message be to other young people who want to get involved with Cochrane's work but not sure where to start….?
There is so much you can be part of in Cochrane at the click of a mouse e.g. through accessing Cochrane TaskExchange and Cochrane Crowd. As there are so many different topics covered by Cochrane and departments within the organisation, it would be a good idea to check out the Cochrane Website to learn more and determine which part you want to get involved with, then contact your local Cochrane Centre for further information.