Cochrane is made up of 13,000 members and over 50,000 supporters who come from more than 130 countries, worldwide. Our volunteers and contributors are researchers, health professionals, patients, carers, people passionate about improving health outcomes for everyone, everywhere.
Cochrane is an incredible community of people who all play their part in improving health and healthcare globally. We believe that by putting trusted evidence at the heart of health decisions we can achieve a world of improved health for all. 
Many of our contributors are young people working with Cochrane as researchers, citizen scientists, medical students, and volunteer language translators and we want to recognize the work of this generation of contributors as part of a new series called, Cochrane's "30 under 30." 
In this series, we will interview 30 young people, 30 years old or younger who are contributing to Cochrane activities in a range of ways, all promoting evidence-informed health decision making across the world. 
We will be hearing from them in a series of interviewees published over the coming months.
 We're keen to hear from you. Would you like to take part in this series? Do you know someone you'd like to see interviewed? Contact kabbotts@cochrane.org.  Or if you want to know more about Cochrane's work contact membership@cochrane.org where our community support team will be happy to answer your questions.

Name: Andres Viteri Garcia
Age: 25
Program: Associate Researcher at Cochrane Ecuador - Iberoamerican Network and Lecturer of Biostatistics and Evidence-based practice at UTE University.
How did you first hear about Cochrane? 
It was 2016, I was doing a social service year in the Ecuadorian Amazon Jungle and my former mentor at the University told me about a research conference that was going to be held in Quito (Ecuador's capital). It was the XV Annual Meeting of the Iberoamerican Cochrane Network at UTE University, after attending the conference and some workshops I confirmed that besides practicing dentistry I wanted to become a researcher. 

How did you become involved with Cochrane? What is your background? 
After attending the conference of the Iberoamerican Network and showing my interest in systematic reviews and the methods involved in them I was offered a position as a junior researcher at the Ecuadorian Cochrane Centre in 2017. 

I am a first graduated dentist from Universidad Central del Ecuador, and a Master of Clinical Research Applied to Health Sciences at Autonomous University of Barcelona. I have been working in dentistry research since I was an undergrad and in methodology research for about two years. Further more, I had the chance to work as a research intern at the Iberoamerican Cochrane Centre (Barcelona-Spain) for one year and also doing a student elective at Cochrane UK (Oxford-UK) last summer. Currently I work as a lecturer of Evidence-Based Dentistry and Biostatistics at UTE University and as an associate researcher at the Ecuadorian Cochrane Centre (Quito-Ecuador) 

What do you do in Cochrane? 
My main role is to undertake systematic reviews; however, I am also involved in dissemination of evidence through the Wikipedia-Cochrane project, Students for Best Evidence initiative, and a new network of Iberoamerican's dentists interested in help to develop the "Oral Health Evidence Ecosystem" within the Cochrane Oral Health Group.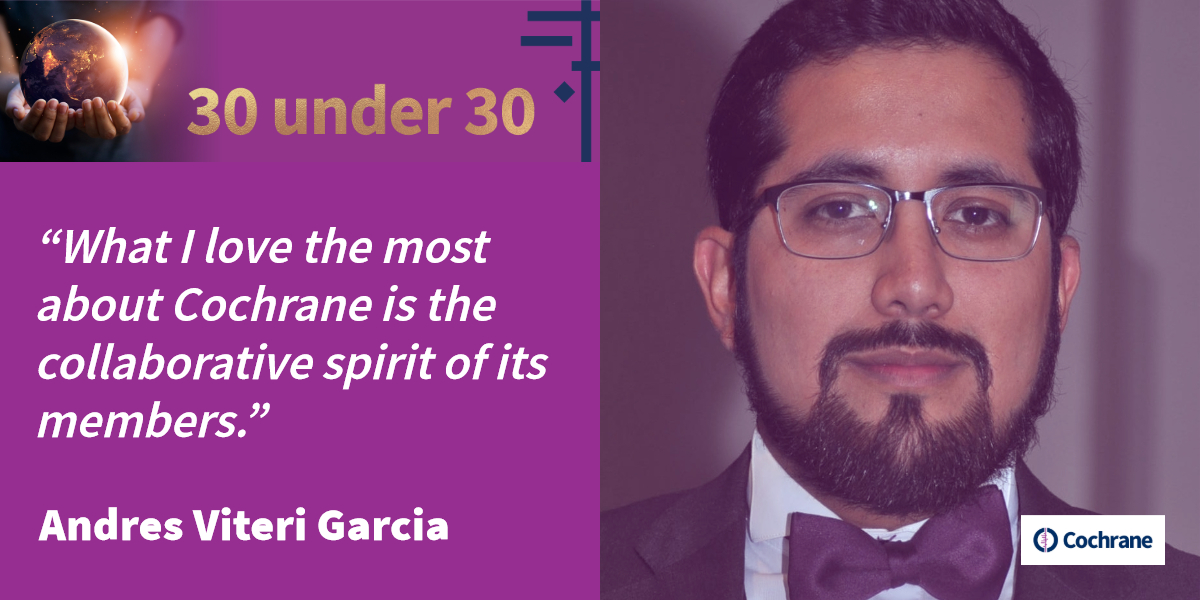 What specifically do you enjoy about working for Cochrane and what have you learnt? 
What I love the most about Cochrane is the collaborative spirit of its members. I can't think in any other research initiative where you can literally e-mail the leaders of your field, present yourself, propose projects and actually get a response and a lot of feedback. 
 
What are your future plans? 
I am planning to continue doing clinical research and also starting my PhD studies within the next year. 

In your personal experience, what one thing could Cochrane do better to improve its global profile? 
In my point of view, Cochrane could make more efforts to be known in the Universities that offer health related degrees, especially in developing countries. 

What do you hope for Cochrane for the future? 
I believe that even when Cochrane is doing a great job, we should be working better to translate evidence into clinical practice among all areas of knowledge, especially in the countries where Cochrane is not yet well known. 

How important is it that young people get involved in Cochrane 
It's crucial! Young people, even when inexperienced, can contribute a lot to the organization. Also, if we manage to attract more people in the early stages of their carriers its more likely that they will be willing to assess and apply the best evidence into their clinical practice. 

What would your message be to other young people who want to get involved with Cochrane's work but not sure where to start? 
You are welcome to join us! There is not "too little" contribution. Please think about your skills and look out for some tasks that fit your interests and skills in Cochrane Crowd  or Cochrane TaskExchange and if you are interested in further contributions you can contact your local Cochrane Centre.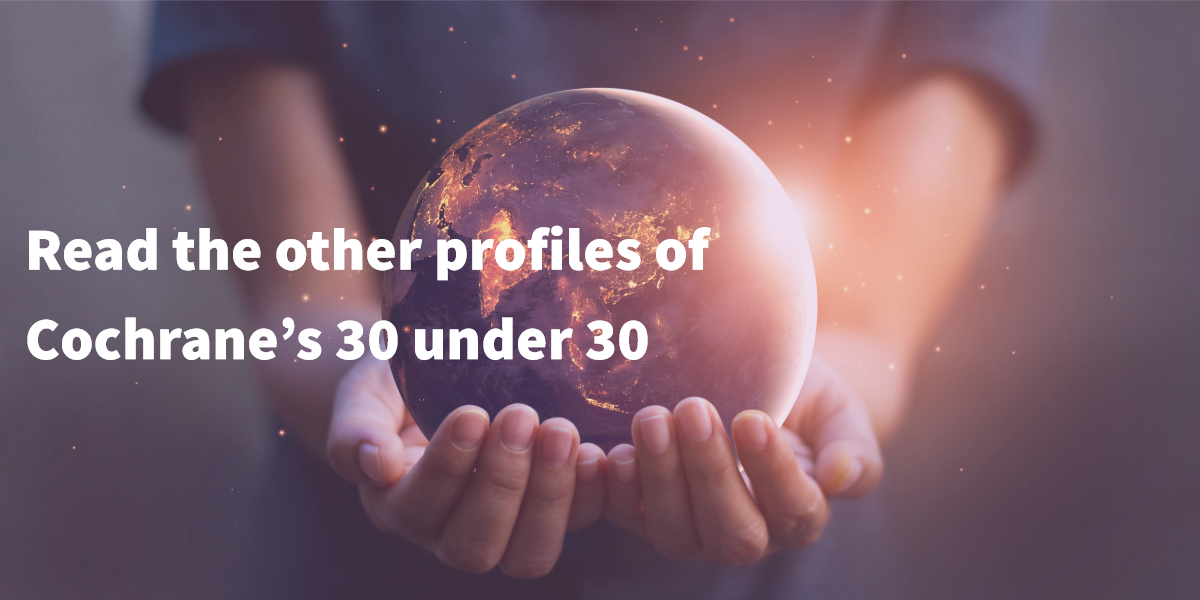 Tuesday, November 20, 2018