Cochrane does not make clinical recommendations, instead it provides unbiased and high-quality health evidence so that health decisions, policies, and clinical guidelines can be informed by the best available evidence. 'Cochrane in the workplace' series collects stories about how Cochrane evidence is being used in non-clinical settings - by teachers, by guideline makers, and by policy makers.
This collection will look specially at how researchers are using Cochrane evidence.
Jack's Story: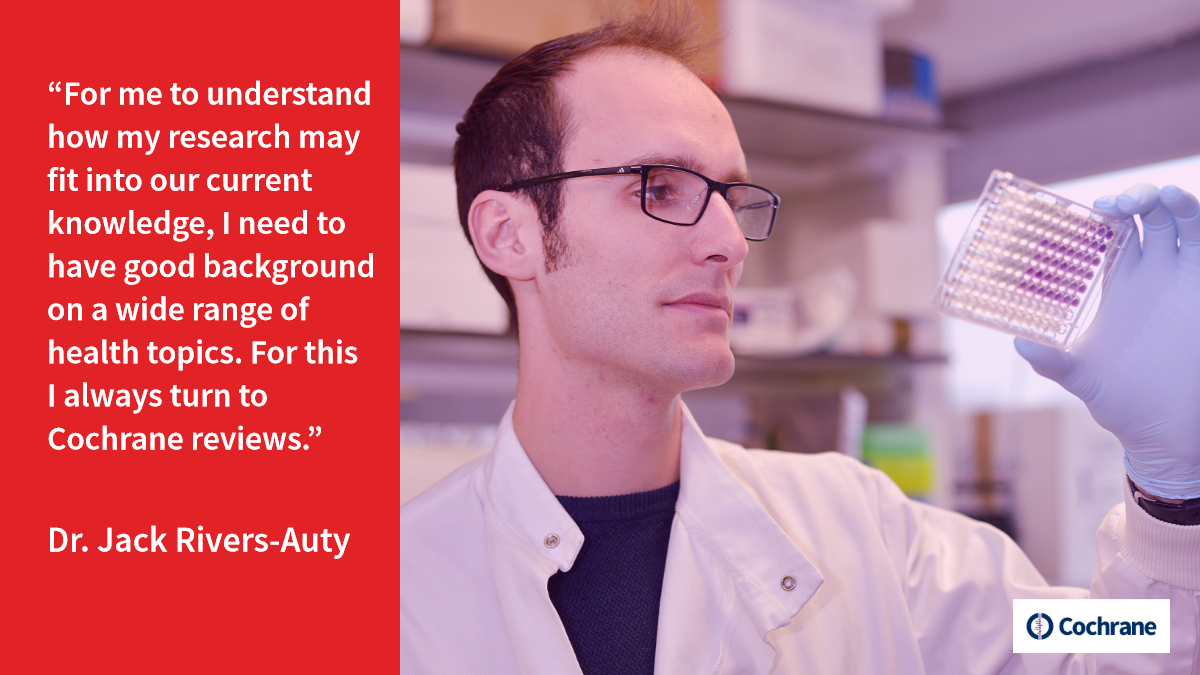 Name: Dr. Jack Rivers-Auty
Position:  BBSRC Research Fellow, Lydia Becker Institute of Immunology and Inflammation, The University of Manchester
Location: Manchester, UK
"My name is Dr. Jack Rivers-Auty and I am a scientist at the University of Manchester whose research focus is inflammation. I am a basic biologist, which means I work in a laboratory investigating the fundamental molecular mechanisms of inflammation. Inflammation is important in many diseases including heart disease, cancer, Alzheimer's disease, ageing, arthritis and stroke; so, for me to understand how my research may fit into our current knowledge of these diseases I need to have good background knowledge on a wide range of health topics. For this I always turn to Cochrane reviews, for me, they are an invaluable resource for finding the scientific consensus on our current understanding of diseases and how best to treat them.
In today's world of miss-information and alternative facts it seems harder than ever to distil out what research is there on a topic and how well it was performed. Cochrane reviews are brilliant. They do this for you and then state in a clear easy to read way, what we know and how sure are we. I really wish Cochrane reviews were a bigger part of day to day discussions."
Ellen's story: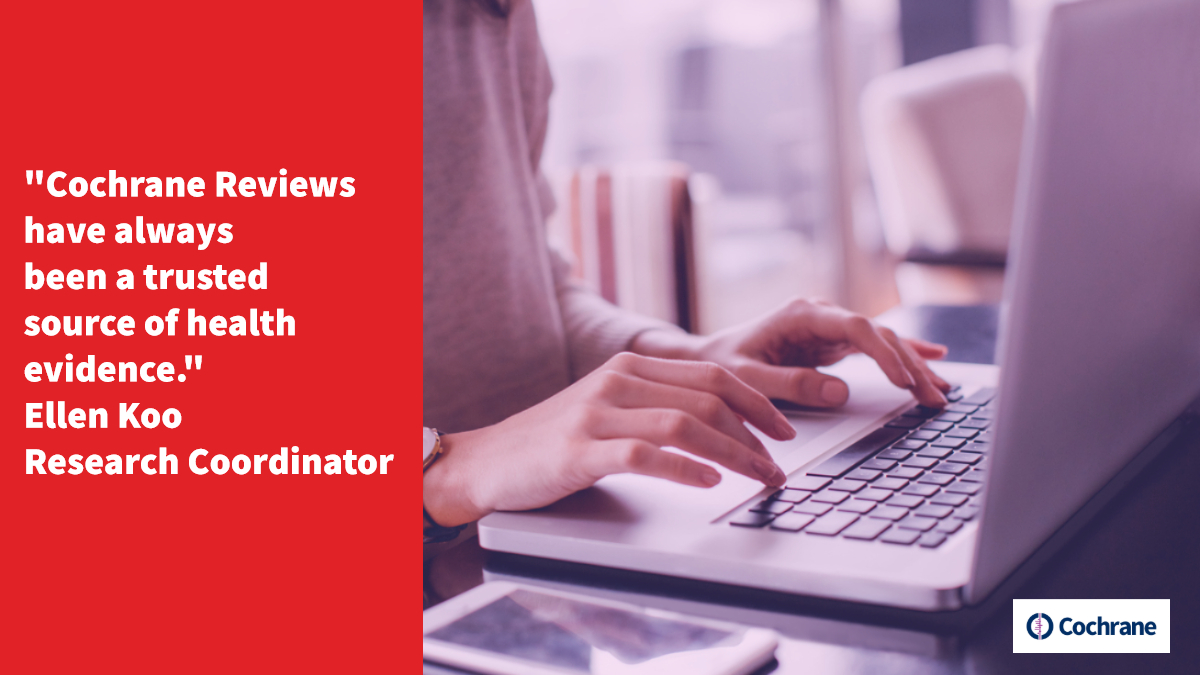 Name: Ellen Koo
Position: Research Coordinator
Location: Toronto, Canada

"I completed my Masters of Science, Physiology at the University of Toronto.  I have over 6 years of experience working in healthcare research, using both qualitative and quantitative analytic skills.  I have worked on everything from helping to conduct systematic reviews to collecting patient data for clinical studies. My passion for improving patient and caregiver experience has always been an important focus in my work.
I was first exposed to Cochrane Reviews in my graduate training.  Reading a Cochrane Review is helpful to get an overview of the all the available research on one research question and it's so helpful that the quality of that evidence is clearly graded.  Later as a Research Assistant helping with a systematic review, I learned the important processes that goes into developing a systematic review.  In my current role as a research coordinator, I have access to the Cochrane Library at my host institution.  I look to Cochrane Reviews for identifying research gaps for possible grant proposals and for using it in reports to summarize available evidence.  For me, Cochrane Reviews have always been a trusted source of health evidence."
Cochrane does not make clinical recommendations. 'Cochrane Evidence in the Workplace' series collects stories about how professionals are  using Cochrane evidence in non-clinical settings. Would you  like to add your story of using Cochrane evidence? Please contact mumoquit@cochrane.org to share your story.