New online learning is now freely available to anyone who is interested in an introduction to Evidence Based Medicine, Cochrane evidence and how to use it.
Cochrane is delighted to announce the launch of four, free, online learning modules, Cochrane Evidence Essentials. Written from the perspective of a healthcare consumer and co-created with patients and carers, this learning resource is perfectly pitched to give anyone an introduction to Evidence Based Medicine and Systematic Reviews. It will be especially valuable to the growing community of patients, carers and family members who work alongside researchers to co-create Cochrane evidence.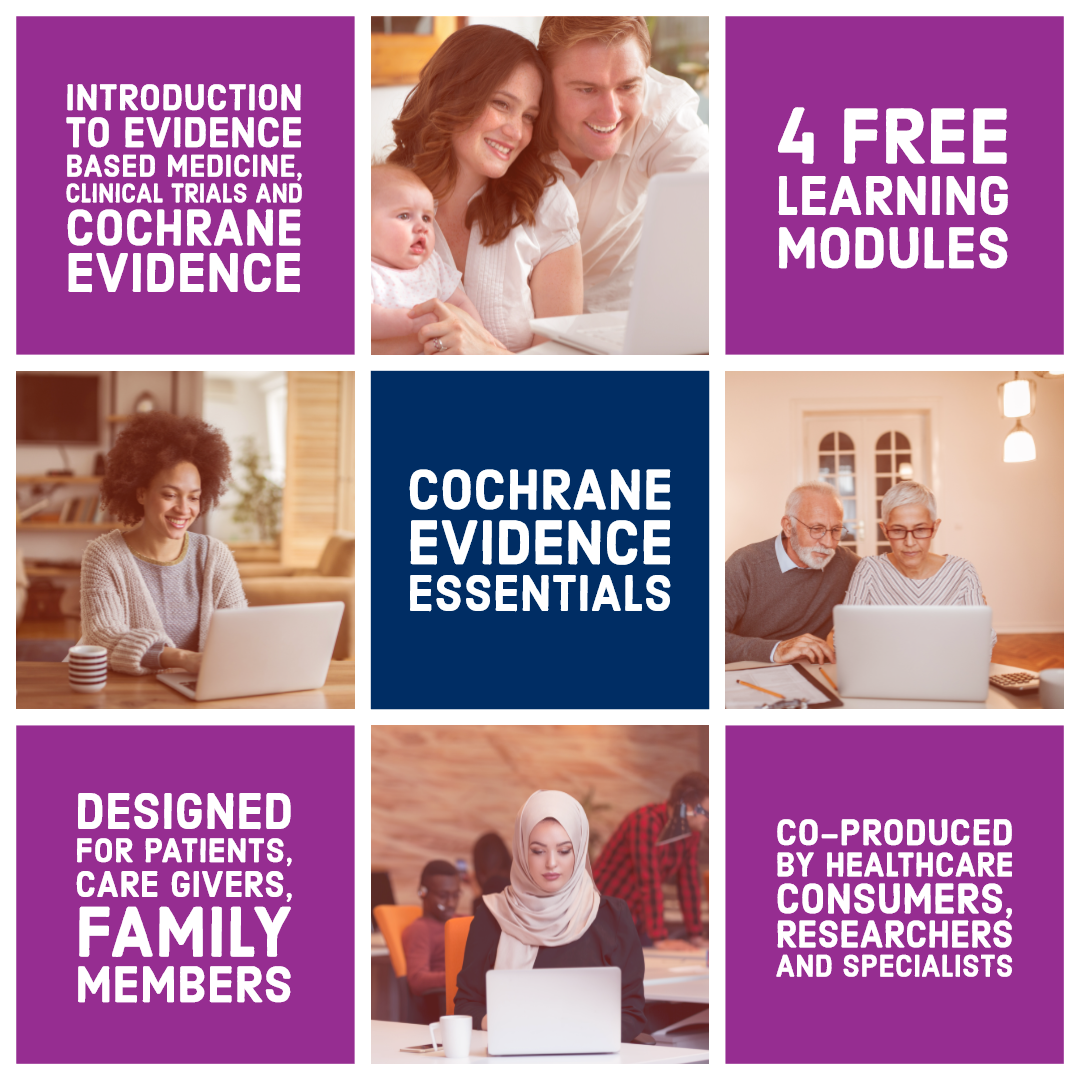 The journey through the learning is guided by "Eleni" a fictional character, who is looking for reliable evidence to help her make informed choices. By following Eleni's story, users can explore topics that include Evidence Based Medicine, clinical trials, systematic reviews, and how to find, understand and use Cochrane evidence. The learning is engaging and includes contributions from a wide range of subject matter experts, quizzes, short films, audio, interviews, interactive graphics, and links to further information for people who wish to learn more.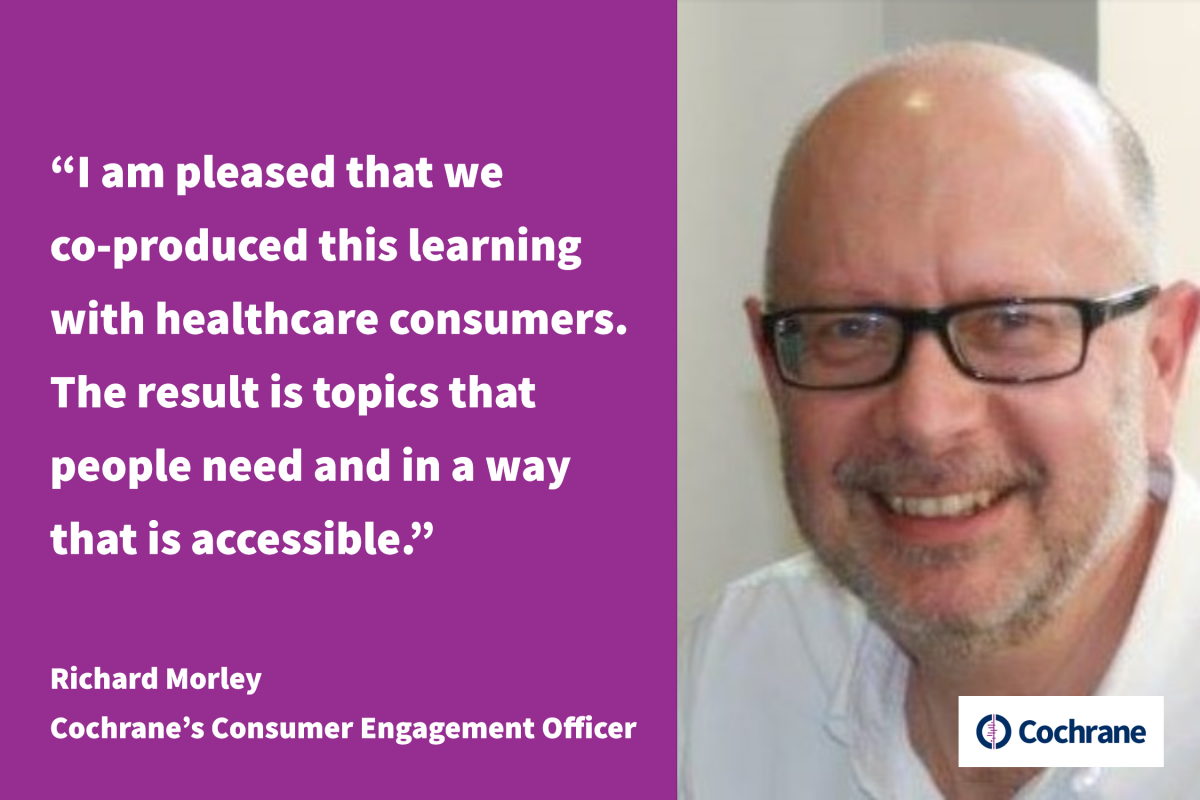 Richard Morley, Cochrane's Consumer Engagement Officer, said "In my role, I support healthcare consumers every day. I know how hard it can be to find good resources that introduce people to the unfamiliar concepts around Evidence Based Medicine and Systematic Reviews. It was this that led to us providing this highly accessible, new learning that will allow non-experts to learn all about our work and importantly will help more healthcare consumers make informed decisions about their health.
I am especially pleased that we co-produced this learning with healthcare consumers. The result is a learning resource that covers the topics that people need, and in a way that is accessible to all."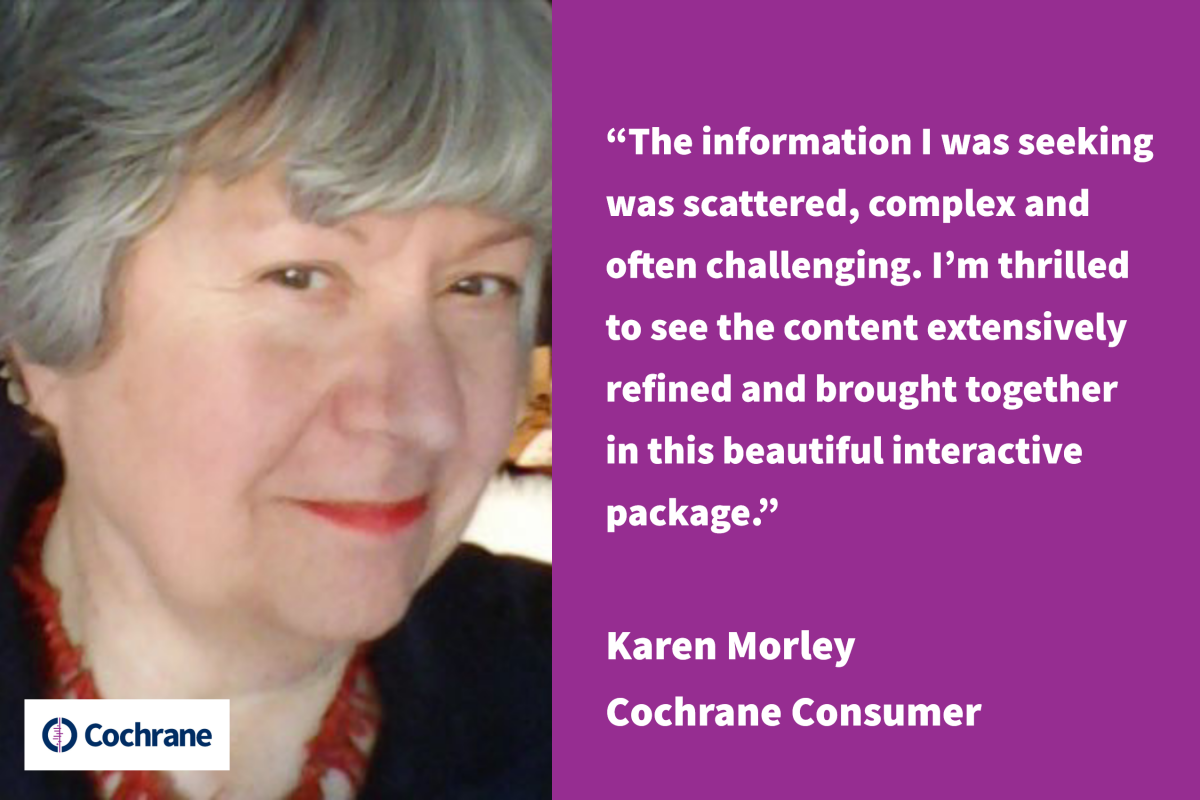 Karen Morley, Cochrane Consumer and co-author of the resources, said "As a consumer, there was so much I wanted to know and understand about Evidence Based Medicine and Cochrane systematic reviews. The information I was seeking was scattered, complex and often challenging. I'm thrilled to see our raw content extensively refined, tested and brought together in this beautiful interactive package. How exciting!"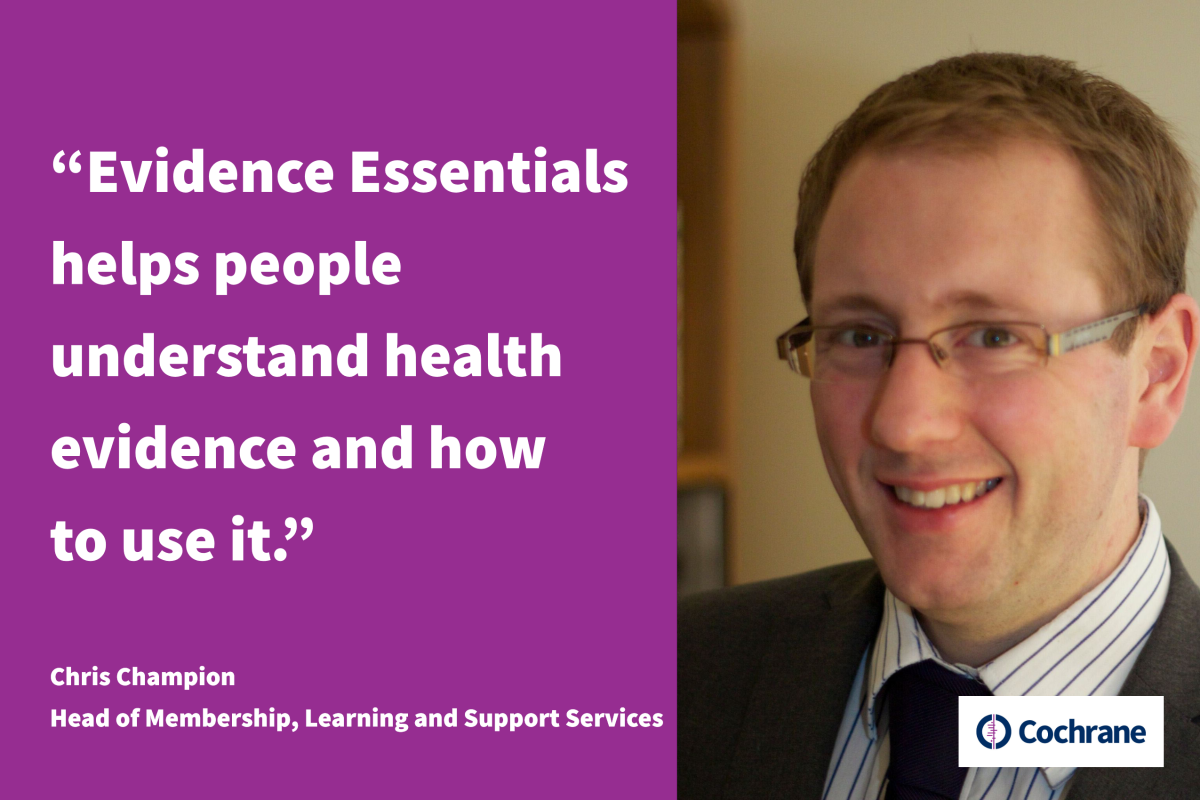 Chris Champion, Head of Membership, Learning and Support Services added "For Cochrane to achieve its vision, producing high quality reviews isn't enough, we aspire to a world where all health decisions are informed by that high-quality evidence, and so we need to help people understand evidence and how to use it. This approachable new suite of learning does exactly that by providing high quality, introductory learning about Evidence Based Medicine and systematic reviews, to allow more people to understand the role evidence has in health decisions and to provide them with the understanding to use that evidence. I hope that anyone new to the world of Evidence Based Medicine will find these indispensable."
The online modules can be accessed with a free Cochrane account at https://training.cochrane.org/essentials