In this short interview, Postdoctoral Researcher and lead author Tessa Reardon tells us about this recently published review. 
What does this Cochrane review tell us about the role of cognitive behavioural therapy for anxiety disorders in children and adolescents?
Our review shows the key role cognitive behaviour therapy (CBT) plays in the treatment of anxiety disorders in children and adolescents. CBT is the most frequently evaluated treatment for these disorders.  Indeed, this review includes 88 studies which is more than twice as many studies as the previous Cochrane review on this topic.  Encouragingly, our findings reinforce previous conclusions that CBT is more effective than no treatment for anxiety disorders in children and adolescents.  We didn't find evidence that CBT is superior to alternative treatments, but few studies have compared CBT to alternative treatments so we are still not sure about this.  The review also tells us most about the short-term benefits of CBT, and we still know relatively little about the extent to which these benefits continue in the medium to longer term.
 What can CBT practitioners take from this evidence?
CBT practitioners can be reassured by the evidence of an advantage of CBT compared to waiting lists and no treatment.  CBT can be provided in a range of different ways, for example, practitioners can work one-to-one with children, deliver group sessions, work with parents, deliver brief or longer treatments. Importantly, we did not find clear evidence that one way of providing CBT is more effective than another.  A particular challenge facing practitioners and services is the very limited access to CBT for children and adolescents with anxiety disorders, and our findings suggest that practitioners can deliver relatively brief CBT interventions, without a negative impact on short-term outcomes.
Nevertheless, CBT practitioners cannot be complacent. This review suggests that about half of children and adolescents will recover from their primary anxiety disorder following a CBT intervention and this means that the other half do not recover.  As researchers, we now need to focus on identifying how we can improve these recovery rates and what these children and young people who do not benefit from current CBT interventions need.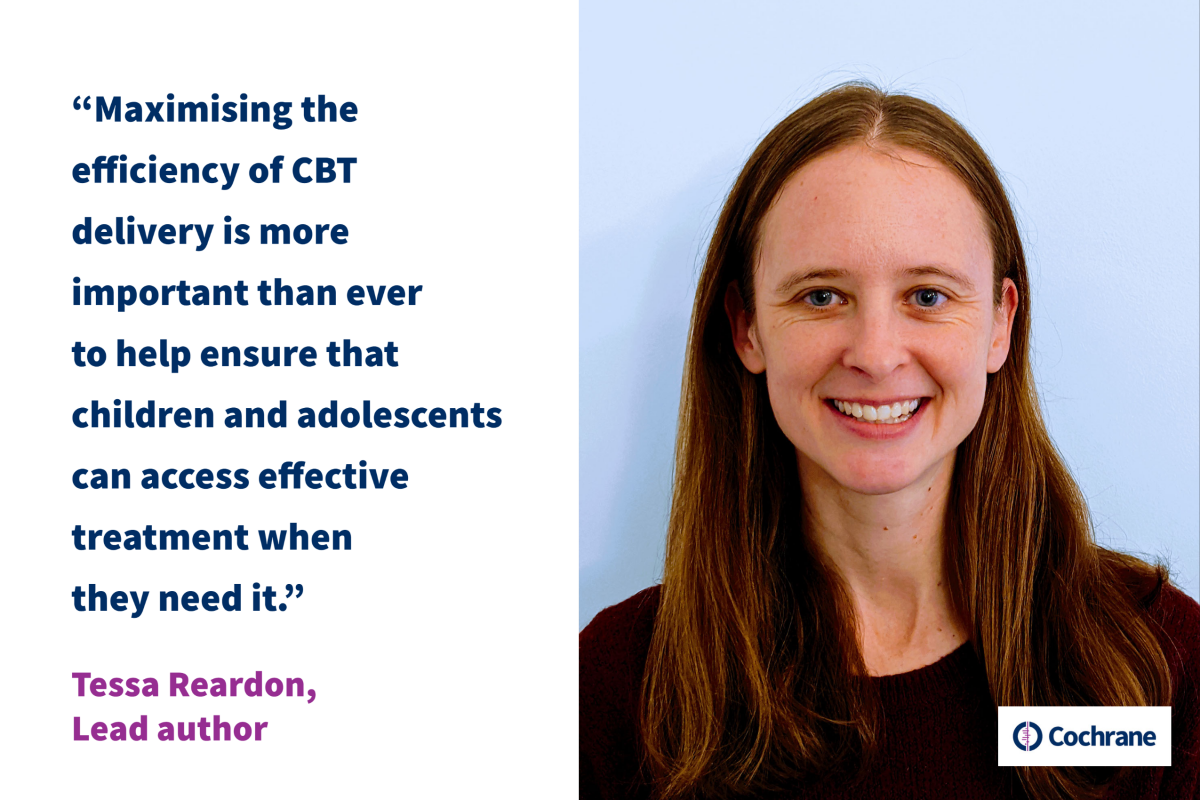 What can parents/carers of children and adolescents with anxiety disorders learn from this review?
Parents and carers can also be reassured that lots of studies have now evaluated CBT, and this review shows that CBT works well for many children and young people with anxiety disorders.  However, it is equally important that parents and carers are aware that not all children and adolescents benefit from CBT, and some may need alternative support.
The extent to which parents are involved in CBT programmes for children and adolescents varies considerably – from little to no involvement, through to parent-led approaches where therapists support parents to apply CBT skills and strategies in their child's daily life. We did not find evidence that one way of providing CBT is consistently better than another, but, not surprisingly, the parent-led approach has typically been tested with primary and preschool aged children, rather than teenagers.
The global pandemic has bought about concerns about increasing anxiety among children and adolescents - what can this review tell us about the role of CBT as treatment during this time?
Before the pandemic, anxiety disorders were common among children and adolescents, with concerns about increasing prevalence rates, particularly among adolescents.  The pandemic has increased these concerns even further.  Before the pandemic, we also knew that only a small minority of children and adolescents with anxiety disorders were accessing CBT, and the pandemic will have meant that even fewer children who may benefit from CBT are receiving it.  Maximising the efficiency of CBT delivery is more important than ever to help ensure that children and adolescents can access effective treatment when they need it.  Reducing the amount of therapist contact time involved in treatment and online delivery are both ways to potentially improve treatment efficiency.  Encouragingly, this review indicates that CBT involving less than 10 hours of clinical contact can achieve similar outcomes to much longer treatments.  Online delivery was beyond the scope of this review, but there is growing evidence that online CBT is also effective for children and adolescents with anxiety disorders. 
Thursday, December 3, 2020