Cochrane is made up of 13,000 members and over 50,000 supporters who come from more than 130 countries, worldwide. Our volunteers and contributors are researchers, health professionals, patients, carers, people passionate about improving health outcomes for everyone, everywhere.
Cochrane is an incredible community of people who all play their part in improving health and healthcare globally. We believe that by putting trusted evidence at the heart of health decisions we can achieve a world of improved health for all. 
Many of our contributors are young people working with Cochrane as researchers, citizen scientists, medical students, and volunteer language translators and we want to recognize the work of this generation of contributors as part of a new series called, Cochrane's "30 under 30." 
In this series, we will interview 30 young people, 30 years old or younger who are contributing to Cochrane activities in a range of ways, all promoting evidence-informed health decision making across the world. 
We will be hearing from them in a series of interviewees published over the coming months.
We're keen to hear from you. Would you like to take part in this series? Do you know someone you'd like to see interviewed? Contact lparsonson@cochrane.org.  Or if you want to know more about Cochrane's work contact membership@cochrane.org where our community support team will be happy to answer your questions.

Name: Sarah Tanveer
Age: 25 
Occupation: Clinical Trials Management Research Specialist at the National Institute of Health 
Program: Graduate student at Johns Hopkins Bloomberg School of Public Health (Baltimore, MD). I am completing a Master of Arts in Public Health Biology and a certificate in Pharmacoepidemiology and Drug Safety.
Tell us about your background?
I have a strong interest in clinical trial methodology, pharmacoepidemiology, and evidence synthesis with a specific aim of improving evidence-based health care for patients with neurological conditions, such as migraine and headache disorders. 
What do you do in Cochrane? 
I am a Cochrane Citizen Scientist, member of Students for Best Evidence, and a peer-reviewer for Cochrane migraine systematic reviews.
How did you first hear about Cochrane? 
I first heard about Cochrane as an Intern at the Patient-Centered Outcomes Research Institute (PCORI).  During my time there, I read many systematic reviews and was impressed at the rigor and methods used within Cochrane reviews. 
I chose to get involved with Cochrane because of the opportunities available to learn more about evidence synthesis and the process by which high quality information is made accessible to consumers. I look forward to future opportunities to stay engaged with the organization.
How did you become involved with Cochrane? 
I first became involved with Cochrane after I submitted a video for a trainee completion. Students were asked to submit a video explaining a concept within evidence-based practice or research. I took a course in comparative effectiveness research (CER) as a graduate student and thought it would be helpful for my fellow "visual learners" to learn about the PICO (Patient, Intervention, Comparator, Outcome) Framework in a video format! 
What has been most rewarding with working with Cochrane?  What do you enjoy about working for Cochrane? 
It has been incredibly rewarding to learn from my peers and other researchers involved with Cochrane. I am constantly inspired by the innovative and impactful work that is being done in the field to improve evidence-based research. 
What are your future plans? 
My future plans are to continue to work in the field of neurological disorders while combining my passion for evidence-based medicine. I look forward to applying to doctoral programs to receive advance training after I complete my master degree. 
What one thing could Cochrane do better to improve its global profile?
If I could change one thing about Cochrane, it would be to increase mentorship opportunities and professional development activities/ workshops at Cochrane annual meetings for students. I would also advocate for additional funding to allow more students to attend the colloquium.
What do you hope for Cochrane for the future? 
I hope that Cochrane continues to expand opportunities for students to be engaged with the organization. Moreover, I am looking forward to learning more about Knowledge Translation (KT) projects that Cochrane is undertaking to make findings from systematic reviews more accessible for patients and non-researchers interested in evidence-based findings from health care research.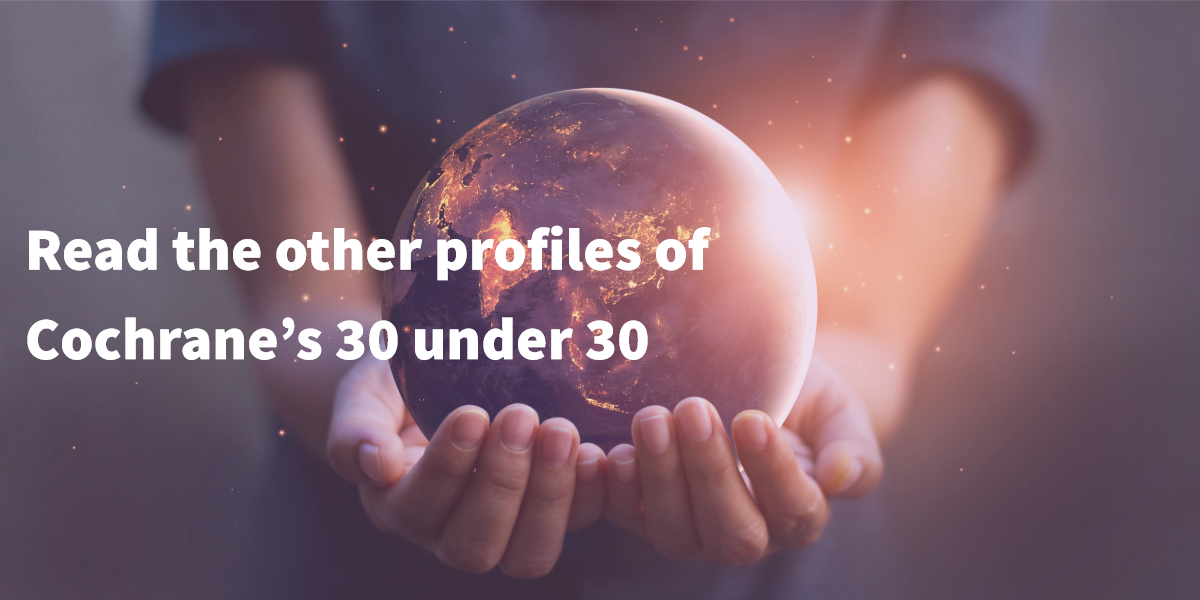 Thursday, November 8, 2018