Cochrane US and Lifeology hosted an International Women's Day themed #sciart challenge. The two winning designs have been selected and added to the Cochrane Store. 

For International Women's Day (IWD) on March 8th, Cochrane hosted several free events, including an art and graphic challenge with Cochrane US and Lifeology to illustrate the theme of IWD for 2022: #BreakTheBias. The art or graphic had to be related to healthcare and/or evidence synthesis.
Two amazing designs were selected and we spoke to the artists to learn more about the meaning behind the designs. 

This pen and ink piece has to do with the personal geographies of women navigating their own bodies, health science, and economic access within what seems at times like an ocean wave or radio wave of fluidity. It represents the collaborative of women, building on each other's successes, and rising to higher peaks of understanding.
Shauna Lee Lange is the founder of Steam Creatives. She is an artist, analyst, and advisor with over 30 years experience in creative industries and government regulatory oversight. In 2005, she combined work in both fields to concentrate on a range of activities from self-taught professional artist, curator, and show producer to inside art influencer in the global art market. The digital component of her expert art advisory services known as Metaverse Watchdogs tracks the NFT, NFT art, crypto art, and blockchain art spaces. Steam Creatives was born out of a need to find a home for art that centered on visual communication within science and technology. Lange makes her home on Central California's coast, a place of much untouched natural beauty. You can view more of Shauna's work on the Steam Creatives website:  https://steamcreatives.com/

Three women from diverse backgrounds strike the "Break the Bias pose". Each of the women are stacked on top of one another so their crossed arms form the crossings of a double helix. The rest of the DNA strands are filled with small science-themed doodles coloured in black.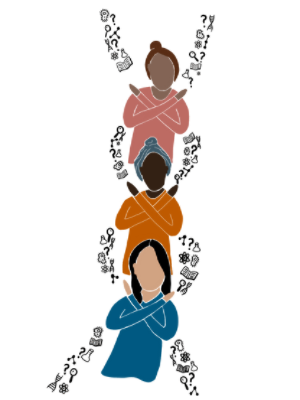 Abbey Morris is a recent graduate from the Master of Science Communication program at Laurentian University in Canada. She loves science communication because it allows her to bridge her interests in art, science, and social justice. Abbey strives to make scicomm a more equitable, diverse, and inclusive space for people to share their passion for science in creative and engaging ways. You can find more of Abbey's work on her website: https://abbeymor.wixsite.com/home 
Lina Cellante is a medical biotechnologist currently cutting her teeth in the medical writing world. In her previous life she was a researcher dealing with drug delivery and nanoparticles to fight brain cancer. During the years spent in the lab, she felt a growing need to better communicate her daily work and to find a way to interact more effectively with other scientists. After her Master's degree, she graduated in Journalism and Science communication and worked at the European Commission as a scientific communication officer. She has always been passionate about writing and her interests are nutrition, its positive influence on body health and mind, and how to make the most out of the technology we have to stimulate curiosity and convey positive messages. You can find more of Lina's work on her Lifeapp space: https://lifeapps.io/author/healthbites/

These designs are now available for a limited time in the Cochrane Store - on totes, t-shirts, and mugs!