'A QuESt for speed: rapid qualitative evidence syntheses as a response to the COVID-19 pandemic' published in BMC Systematic Review
In a recently published article, the research team of a Cochrane rapid qualitative evidence synthesis reflects on their experience and discuss the challenges they were faced with at each stage of the review.  The authors describe practical considerations and stress the level of methodological expertise and dedication needed to deliver a qualitative evidence synthesis rapidly and accurately during the COVID-19 pandemic.
Throughout the paper, the team praises the collaborative nature of Cochrane and its importance when working to extreme deadlines in a pandemic situation, as in the excerpts below:
"…We highlight the broader team of supporters, including the editors, peer reviewers, translators, healthcare workers, end-user stakeholders, and the broader Cochrane community. The membership of our immediate team and the support we received from the wider community was critical in completing and publishing our review within this timeframe. The core team had worked together previously and this also enhanced our completion trajectory. The merits of conducting rapid research with people who recognise each other's work ethic, skill sets and personalities receive almost no attention in the literature...

The generosity of everyone to answer this question played a role that cannot be underestimated. In addition, through the Cochrane structure, the team had access to an international network offering specialised methodological and practical support. Cochrane EPOC's editorial team maintains high levels of QES expertise providing essential guidance for sections of the review, as well as experience in dissemination and end-user input. The Cochrane community was quickly able to identify peer reviewers and copy editors, who contributed within the timeline…."
Kayleigh Kew, Cochrane's Senior Editor for Methods commented: "The rapid qualitative evidence synthesis described is a true success story. The quality achieved in COVID-19 rapid reviews with such unforgiving timelines show what is possible when dedicated authors come together with Cochrane's vast and experienced network of editors and experts. Reflections from Cochrane authors and contributors like those presented in this article help the organization to learn from what has been achieved to continue producing high-quality, relevant syntheses when they are needed most."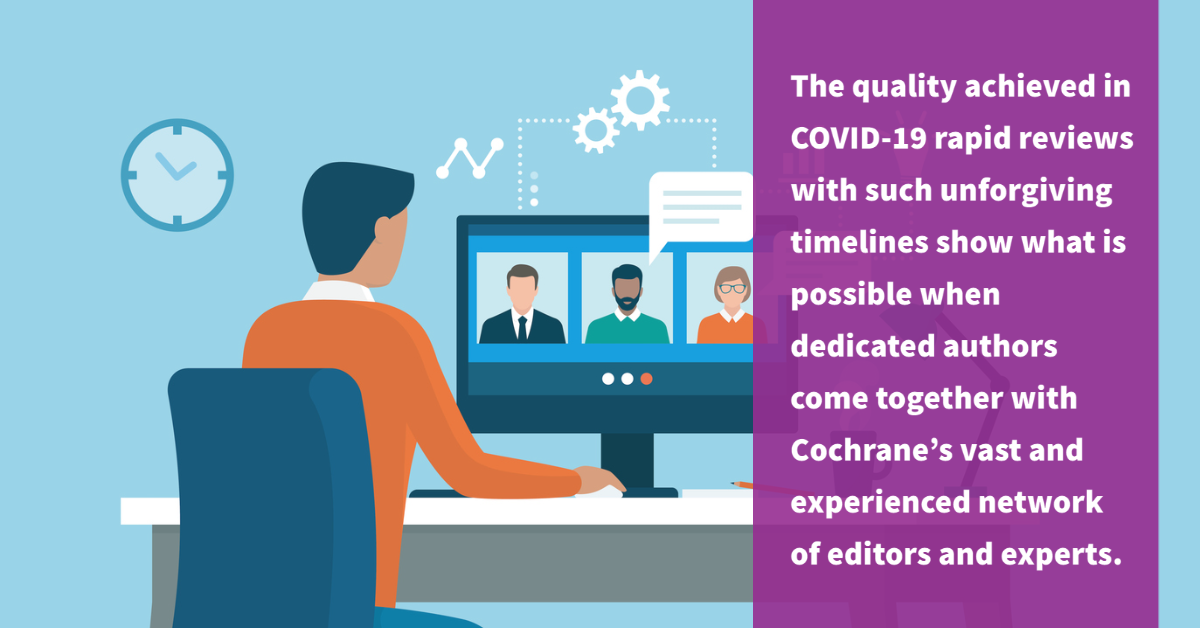 Thursday, November 12, 2020