Keen to get experience with systematic reviews, but not sure where to start? Or perhaps you're already experienced, and want to help out? Can you help with translation work, or would you like to find collaborators for your evidence synthesis project? 

TaskExchange is an online platform that connects people needing help with their systematic review with people who have the time and skills to help. A variety of tasks are posted on the platform, from literature searching, article screening and translation and data extraction, to statistical analysis, and consumer reviews. Whether you're a complete beginner or very experienced, you're bound to find a task that suits you! Any tasks completed count towards a Cochrane Membership. COVID-19 specific tasks are available.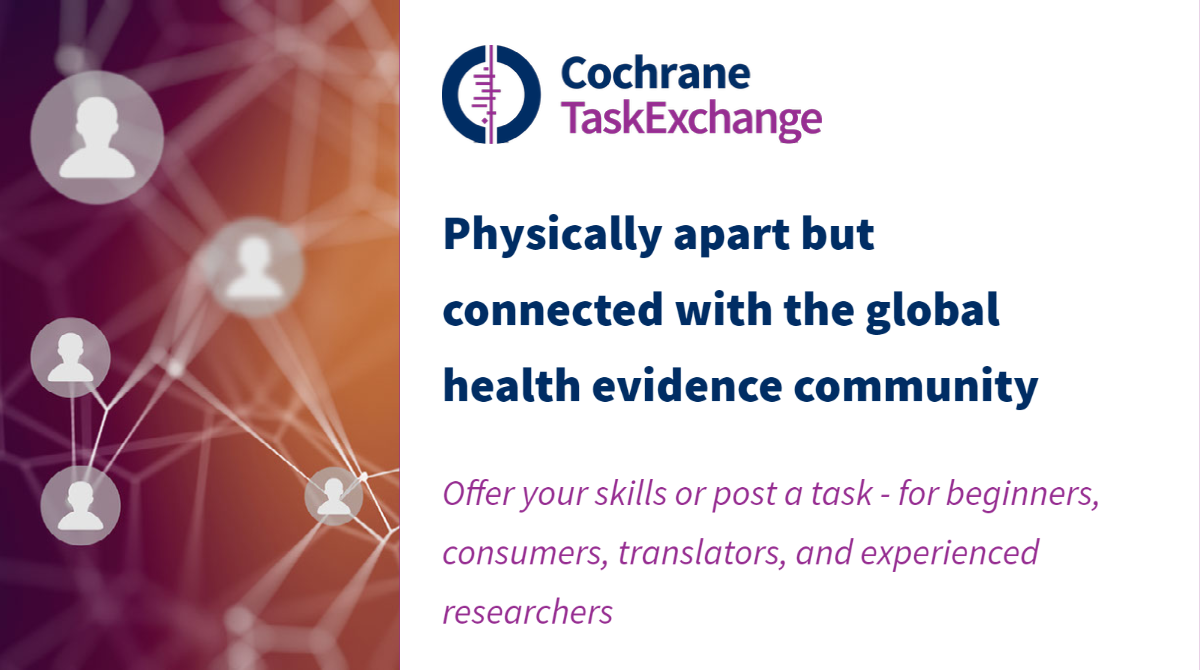 Help us rename TaskExchange! The name "TaskExchange" no longer reflects the broad range of opportunities on offer, so we need your help to choose a new name. Please visit our poll to vote for your favourite name by the end of May.
Posting tasks on TaskExchange to look for consumer, patient, or public input? Follow these top tips to make your task easier to understand and more likely to get a response. 
Explore tasks that are currently open! 
Are you interested in cancer research? Would you like to be part of a group and work with leading cancer researchers to shape the future of cancer prevention? The University of Bristol have been funded by Cancer Research UK to study cancer prevention  for the next 5 years, and they are looking for patients, carers, or members of the public to participate on their advisory group. Learn more to apply. 
Open translation tasks Task posters currently need translators for tasks in Chinese, Norwegian, Japanese, and Arabic, among others.  Explore open translation tasks and volunteer!
Consumer peer review Cochrane Review Groups are currently looking for consumers to provide feedback on reviews about remote care for people with COPD, fluid therapy for children hospitalised with bronchiolitis, anaesthesia for carotid endarterectomy, and many others. Explore open consumer peer review tasks. 
We invite you to get started today with TaskExchange - sign up, browse the tasks, and respond to the tasks that catch your eye! If you are working on health evidence projects, you can post a task and get help, or browse contributor profiles to look for someone to collaborate with.