Evidence Aid uses knowledge from systematic reviews to provide reliable, up-to-date evidence on interventions that might be considered in the context of natural disasters and other major healthcare emergencies. It was established after the Indian Ocean tsunami of 26 December 2004, with input from several members of Cochrane, Cochrane groups, and other individuals and became an independent charity in 2015. 
For the second year Evidence Aid has organised Humanitarian Evidence Week in collaboration with The Centre for Evidence-Based Medicine, University of Oxford, to promote a more evidence-based approach. Webinars, blogs, debates, and other activities are offered across the week of 18-24 November, 2018. 
Ben Heaven Taylor, CEO of Evidence Aid said, "In 2017 we bought together over 20 organisations to promote their initiatives and views on the generation, use and dissemination of evidence. It was a great success and we are building on what we learned for 2018 with more events, some which are taking place outside of the UK, including in the USA and Australia. We have a strong timeline of events across the week including involvement from the London School of Hygiene and Tropical Medicine, Red Cross, Save the Children, Centre for Evidence Based Medicine and the Karolinska Institutet."
Across the year Evidence Aid publishes special collections bringing together collections of evidence from systematic reviews, working with partners such as Cochrane, Action Against Hunger, MSF, Save the Children (to name but a few) and other contributors on issues relevant to natural disasters and other global healthcare emergencies. Recent joint Cochrane-Evidence Aid special collections include:
Evidence Aid also publishes collections with other partners, on topics such as: Windstorms, Zika, and Ebola.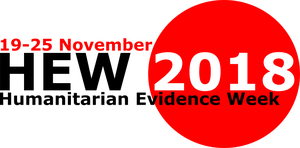 If you or your organisation would like to take part in Humanitarian Evidence Week 2019, contact Claire Allen at callen@evidenceaid.org.
Friday, November 16, 2018