The Cochrane Review, 'Interventions for hand eczema', addresses the effects of topical and oral or injected medicines that work throughout the entire body as treatments for hand eczema when compared against placebo (an identical but inactive treatment), no treatment, inactive ingredients that help deliver an active treatment, or another treatment. The study and its conclusions will be of interest to researchers, research funders, as well as people living with this condition and patient groups representing them.
Hand eczema is an inflammation of the skin that can be caused by an allergic reaction (such as rubber chemicals) but other external factors (irritants such as water or detergents) and atopic predisposition are often important triggers. Hand eczema can cause a reduction in quality of life and lead to many work‐related problems. Various types of hand eczema exist, and different treatments with unknown effectiveness are currently used. 
The review included 60 randomised trials published up to April 2018 comprising 5469 participants.
Twenty‐two studies were funded by pharmaceutical companies or were (co-)authored by employees of pharmaceutical companies. Most participants were hospital outpatients over 18 years of age with mild to severe chronic hand eczema. Treatment was usually given for a short duration, up to four months, and outcomes were mainly assessed after treatment.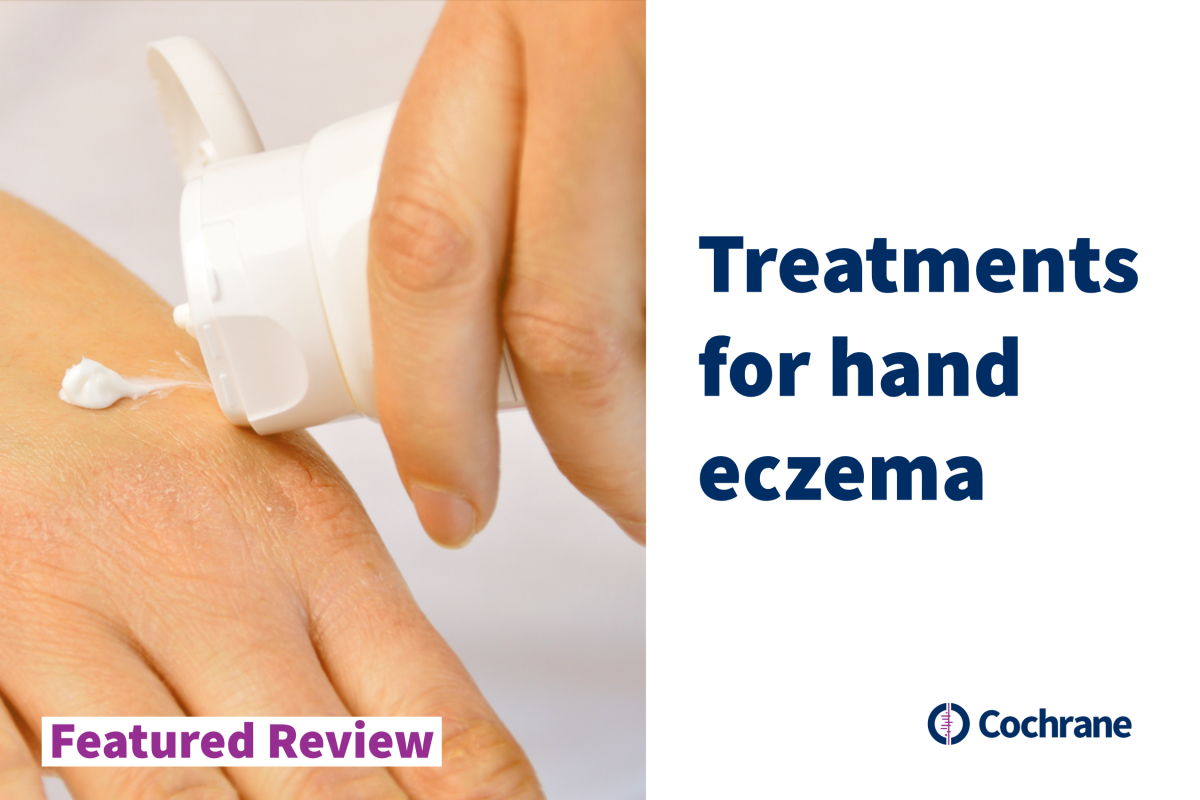 Limited data are available to support the best way of managing hand eczema due to varying study quality and inability to pool data from studies with similar treatments. Corticosteroid creams/ointments and phototherapy (irradiation with UV light) are the major treatment options, although comparisons between these options are lacking.
The quality of evidence was mainly moderate, with most analyses based on single studies that had small sample sizes; therefore, some results should be interpreted with care.
Lead author Wietske Andrea Christoffers, from the University Medical Center Groningen, in the Netherlands explains, "The results of this review cannot be used to inform clinical practice with regard to the best way of managing hand eczema, especially in the long term.  Most findings were from single studies with low precision, so they should be interpreted with caution. Topical corticosteroids and UV phototherapy were two of the major standard treatments, but evidence is insufficient to support one specific treatment over another. A relatively new systemic treatment (an oral retinoid called alitretinoin) for patients with severe chronic hand eczema showed clearance or almost clearance of about half the participants in three large RCTs (Fowler 2014; Ruzicka 2004, Ruzicka 2008). We found high-quality evidence that relative to placebo, people who are given alitretinoin were more likely to achieve good symptom control (investigator or participant rated). The benefit became more apparent with increased dosage (10 mg versus 30 mg).
Well-designed and well-reported, long-term, head-to-head studies comparing different treatments are needed. Consensus is required regarding the definition of hand eczema and its subtypes, and a standard severity scale should be established."