The findings of this Cochrane Review may challenge the prescribing of H1 antihistamines for patients with eczema.
This Cochrane Review assessed the effects of oral H1 antihistamines as 'add-on' therapy to topical treatment in adults and children with eczema. Are H1 antihistamines taken as tablets or liquid, effective and safe in people of any age with diagnosed eczema, if given in addition to creams and ointments, compared to treatment with an inactive substance (placebo) or nothing added to creams and ointments?
Eczema (also known as 'atopic eczema/dermatitis') is a skin disorder frequently affecting both children and adults. In developed countries, 10% to 20% of all people are affected by eczema during their lifetime. The main symptom is itch, which results in scratching and, together with skin inflammation, frequently produces reddening of the skin. The symptoms of eczema can lead to sleeplessness and fatigue, lowering quality of life. Antihistamines are frequently given for itch (specifically H1 antihistamines taken by mouth), and they may alleviate the symptoms of eczema when given in addition to conventional treatments directly applied to the skin (e.g. emollients, moisturisers, steroid creams), although they are not thought to cure it.
Many antihistamines are available without prescription, for instance, cetirizine or loratadine. Although H1 antihistamines are frequently prescribed for treating eczema, we do not know whether they are effective and safe. The review includes 25 randomised controlled trials with 3285 participants of all ages with diagnosed eczema.
Review author Uwe Matterne, from the Institute of Epidemiology and Preventive Medicine, University of Regensburg, Germany said, "The findings of this research may challenge the prescribing of H1 antihistamines as we found no convincing evidence that H1 antihistamines help patients with eczema.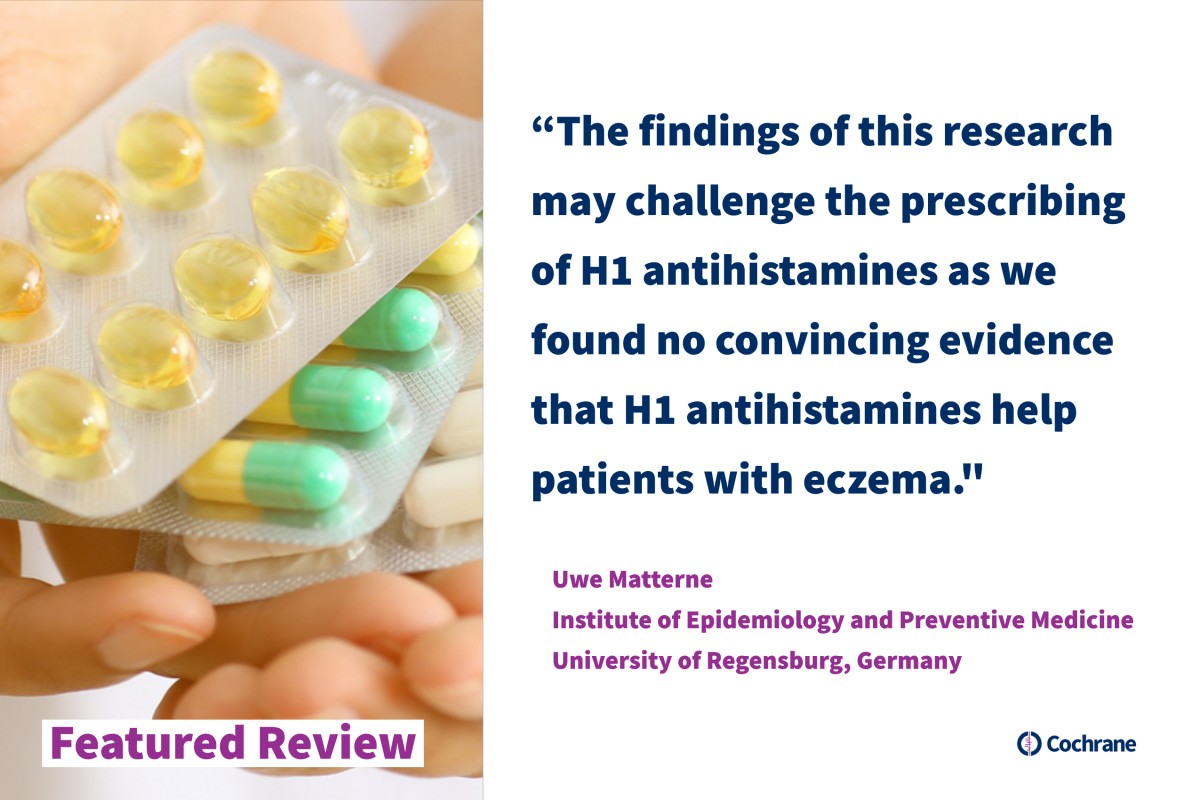 "Based on the main comparisons, we did not find consistent evidence that H1 AH treatments are effective as 'add-on' therapy for eczema when compared to placebo; evidence for this comparison was of low and moderate quality.
"However, fexofenadine probably leads to a small improvement in patient-assessed pruritus, with probably no significant difference in the amount of treatment used to prevent eczema flares. Cetirizine was no better than placebo in terms of physician-assessed clinical signs nor patient-assessed symptoms, and we found no evidence that loratadine was more beneficial than placebo, although all interventions seem safe."
The quality of evidence was limited because of poor study design and imprecise results. Future researchers should clearly define the condition (course and severity) and clearly report their methods, especially participant selection and randomisation; baseline characteristics; and outcomes (based on the Harmonising Outcome Measures in Eczema initiative).
Read this Featured Review in Malay
Tuesday, February 5, 2019