When residency education was disrupted by the COVID-19 pandemic, the Emory University School of Medicine capitalized on student enthusiasm and availability to create COVID-19 education materials. Working closely with Cochrane, they are now summarizing top priority Cochrane Reviews in visual form.
The project involves students being alerted when a high-profile Cochrane review is being published and then working in teams to create accurate, easy-to-read visual abstracts. These visuals are then published on Cochrane.org along with the review Plain Language Summary and news item. To ensure the accuracy of the disseminated information, a fellow or faculty member reviews all infographic content and provides feedback to the students. As a final check to ensure accuracy, a senior member of the Cochrane Editorial team or Cochrane author reviews the final content before publication.
As the pandemic has escalated, what had begun as an experiment to visual explain COVID-19 evidence, has evolved into an online publishing operation involving over 100 Emory medical students, a large group of infectious disease fellows, and several professors and editors. Participants earn Cochrane Membership points for their contributions; as Cochrane Members they can print out certificates and add officially to their CVs. They are also noted on each visual created and tagged on social media to give full credit.
Dr. Caroline Coleman, the editor-in-chief of the project, says, "This has been a really rewarding experience for Emory students. They are diving deep into the Cochrane systematic review and really getting a good understanding of the evidence and conclusions to be able to explain it fully in plain language and in a way that is also visually appealing. Cochrane was something that Emory students learnt about in the classroom --now they are actively involved in improving the understanding of Cochrane evidence."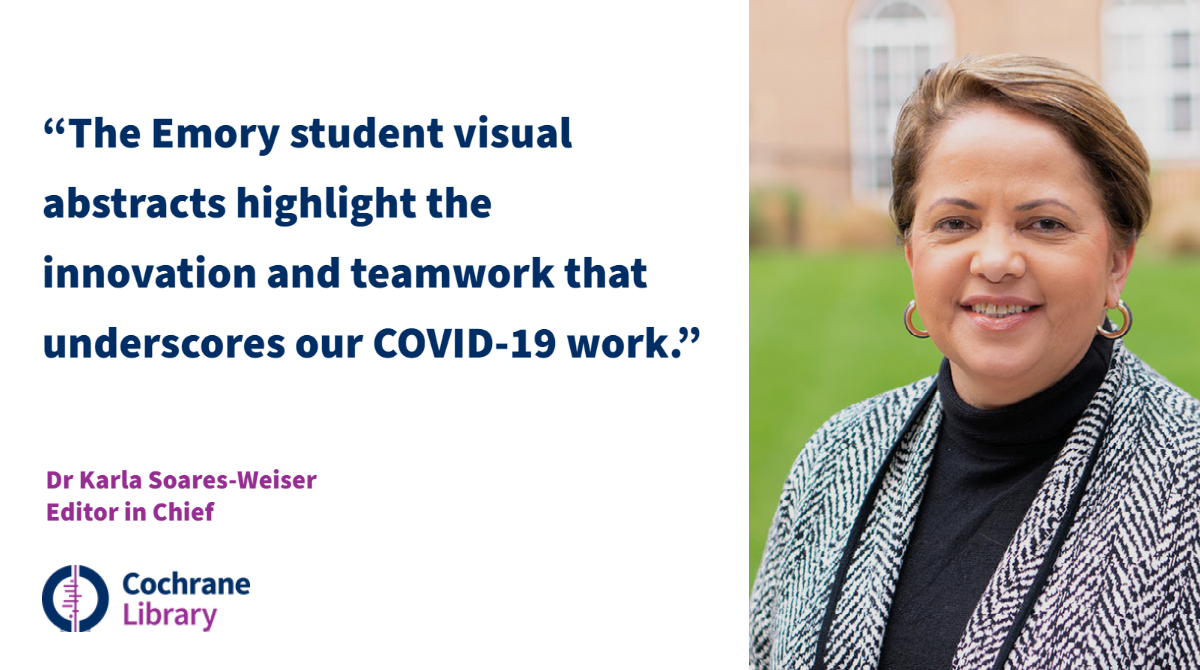 Karla Soares-Weiser, Cochrane Library Editor in Chief, commented, 'The visual abstracts created by the Emory students are high quality and help improve the understanding of Cochrane evidence. The way these have been produced highlights the innovation and teamwork that underscores all of our COVID-19 work. We are pleased to see these visuals being shared widely on social media and the students getting the credit they very much deserve."
Cochrane-specific visual abstracts



Devon Barrett @Devon_L_Barrett  - 4th year MD Candidate and Krittin Supapannachart MPH @krittinsupa - 4th year MD Candidate
"Working on the Cochrane visual abstracts allowed us to familiarize ourselves with the most up to date information regarding botulinum toxin A treatment success and adverse effects, which not only improved our own clinical knowledge but enabled us to put together a useful tool for rapid dissemination of key information to providers and patients alike."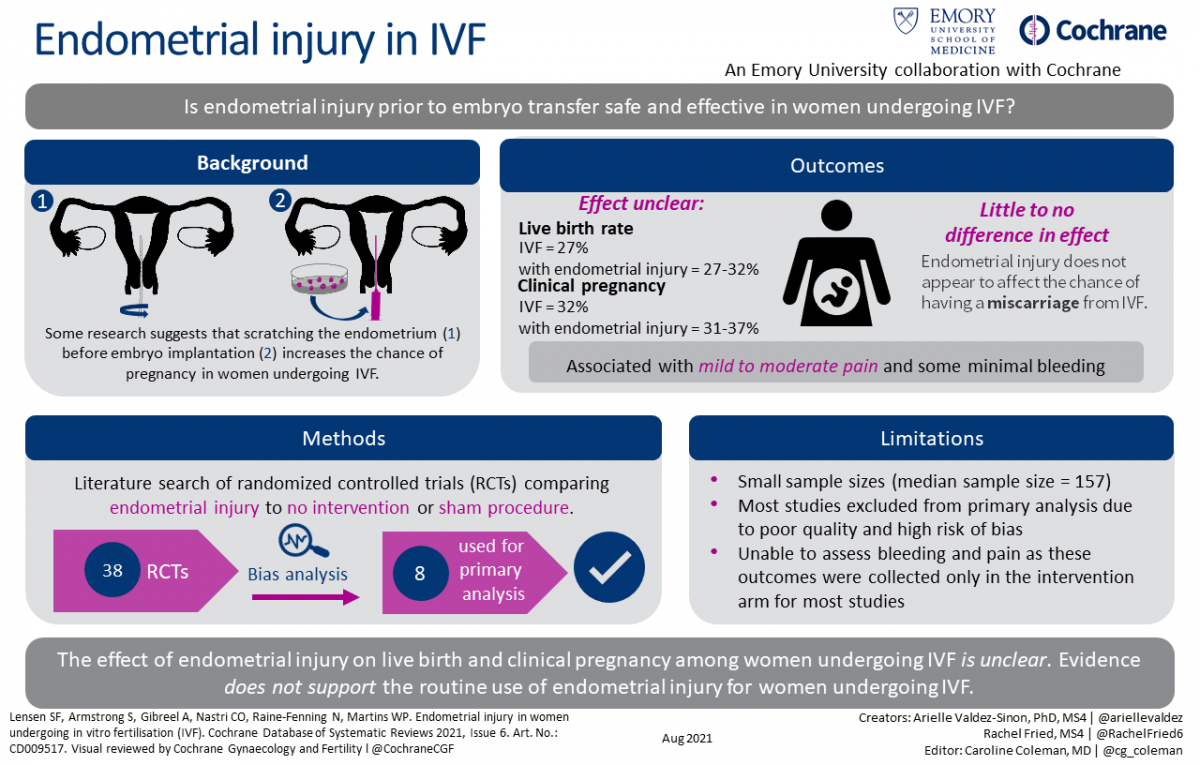 Arielle Valdez-Sinon @ariellevaldez - PhD- 9th year, MD/PhD Program
"I enjoyed the opportunity to combine my experience in visual abstracts with my interest in Obstetrics and Gynecology. Creating this visual abstract with Cochrane helped reinforce the need for high-quality randomized control trials within Obstetrics and Gynecology to best guide our clinical practices. I am grateful for the opportunity to work with Cochrane and my peers on this project!"

Rachel Fried @RachelFried6 - 4th year, MD candidate 
"Working with Cochrane, my classmates, and colleagues has been a wonderful opportunity that combines my interest in graphic design and Obstetrics and Gynecology. It has been a joy to design a platform that highlights the latest research and communicates it in an easily digestible format. Thank you Cochrane for the opportunity!"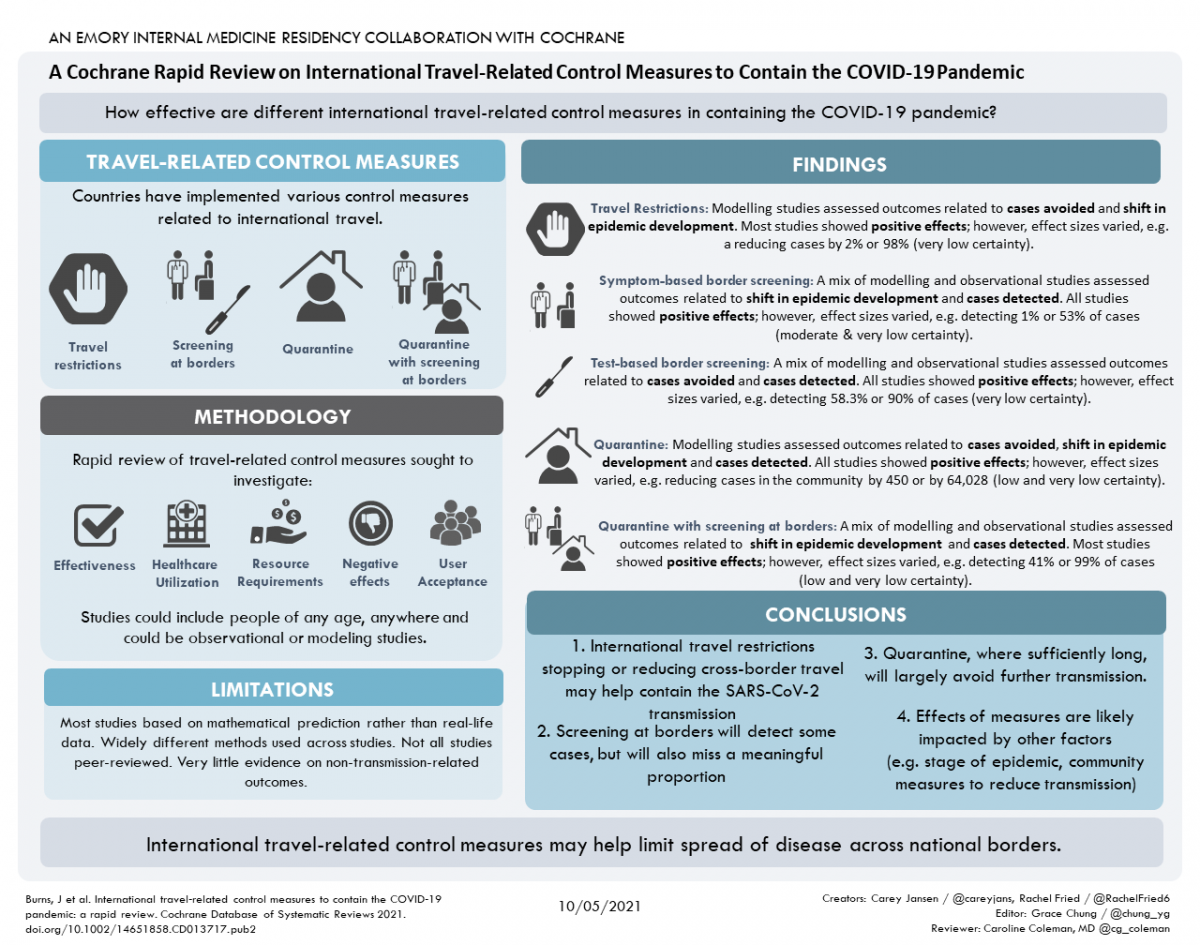 Rachel Fried @RachelFried6 -  4th year, MD Candidate
"Creating COVID-19 visual abstracts has been a wonderful creative outlet that has allowed me to support the healthcare community in an accessible, easily digestible format. The experience of working alongside my talented classmates and colleagues, while staying up to date on the latest research, has been an extremely valuable opportunity." 

Carey Jansen @careyjans - 6th year, MD/PhD Program 
"Creating and refining visual abstracts on the COVID-19 literature has been an empowering way to hone my science communication skills and help me gain confidence in being an advocate for science and medicine in my everyday interactions. I'm so grateful for this opportunity to practice and improve my skills in translating the scientific literature into an accessible, approachable format!" 


Annika Lee, 3rd year Medical Student
"This Visual Abstract really cemented for me how the evidence around the COVID-19 pandemic continues to evolve, and our responsibility to continue to update the scientific community with the most accurate information to date. I was excited to portray this information in a visually appealing and accessible way."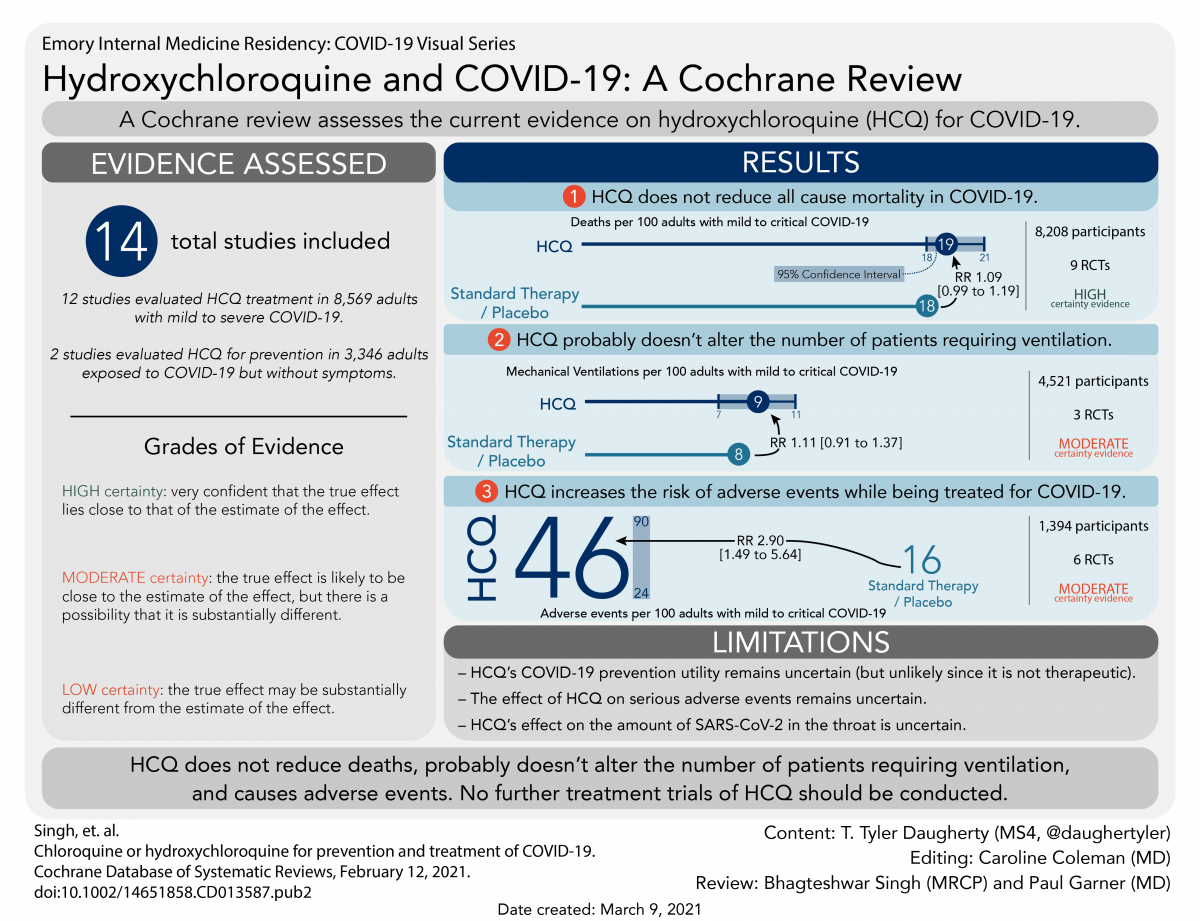 Tyler Daugherty @tylerdau - 4th year, MD program
"This HCQ review is the culmination of the scientific process at work, and it was a privilege to help communicate this vital information. We all hoped that HCQ would help treat COVID-19, but that hope is not enough to act on long-term. This review and the rigorous studies that underpin it allowed us to assess the truth of HCQ's treatment potential and adverse effects. Though it is not the answer we all initially hoped for, it can guide providers to best help patients and allow researchers to focus on other therapies that may genuinely help."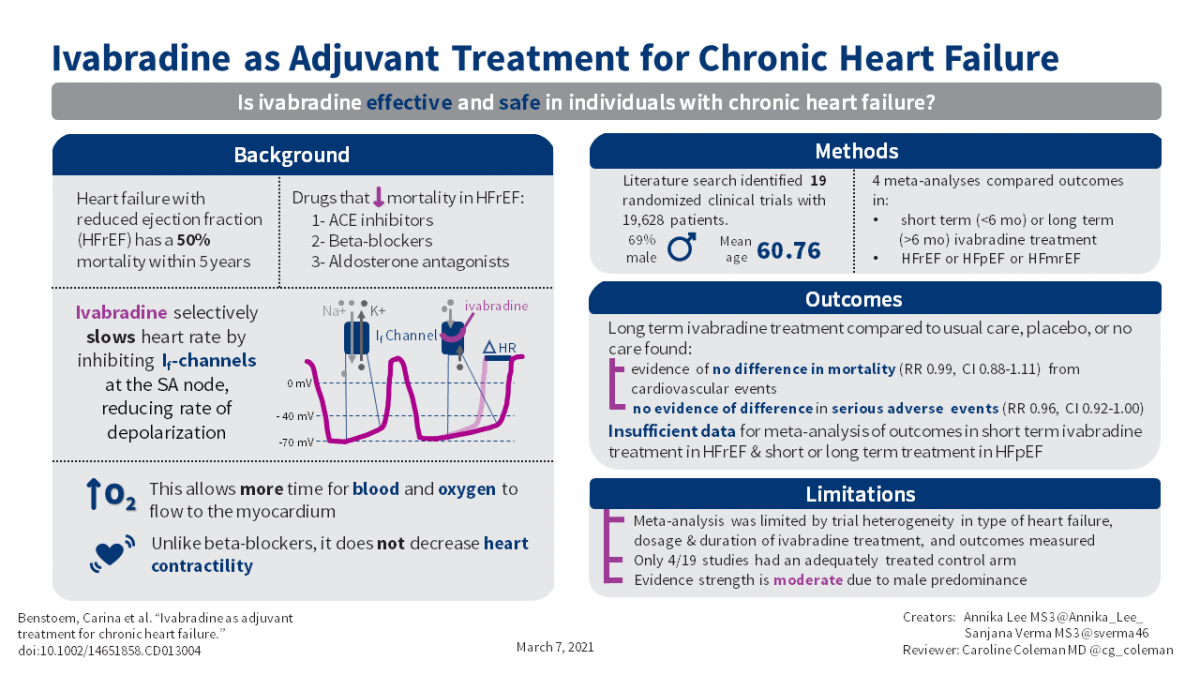 Annika Lee, 3rd year Medical Student
"I believe the visual abstracts are an excellent intellectual and creative outlet to engage with current impactful literature and create a product that can spark a public discussion of new and exciting findings."

Sanjana Verma, 3rd year, MD program
I was drawn to the visual abstracts because I found them to be uniquely effective at condensing, translating, and communicating new results and important therapies to the public at large.

Andy Dong, @andyldong - 3rd year, MD program
In our fast-paced digital era, efficiently distilling and delivering information has become more important than ever. Creating visual abstracts has helped me learn how to keep up to date with current innovative research while also helping disseminate key literature and engage with the greater scientific community. Thanks Cochrane for this opportunity!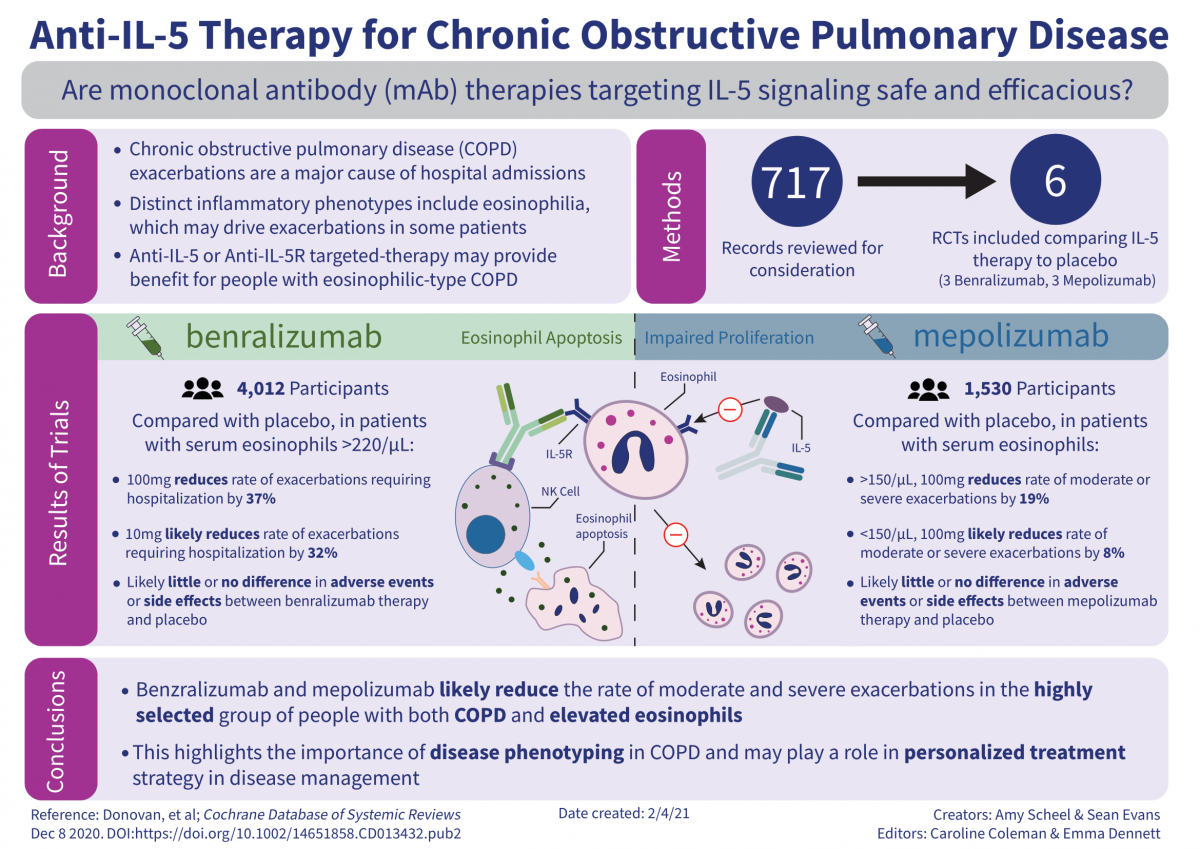 Amy Scheel  3rd year, MD program
"Working with Cochrane has enabled me to stay informed about the latest medical therapies and developing visual aids has generated a much-needed creative outlet for medical students. It has been an extremely rewarding experience and I am so grateful I've had the opportunity to be involved with such an incredible project alongside my fellow peers."

Sean Evans -3rd year, MD program
"These abstracts have become an invaluable tool in effectively and creatively portraying key aspects of innovative research. I'm extremely grateful to have had the chance to work with the team at Cochrane to contribute to this project in a unique and meaningful way."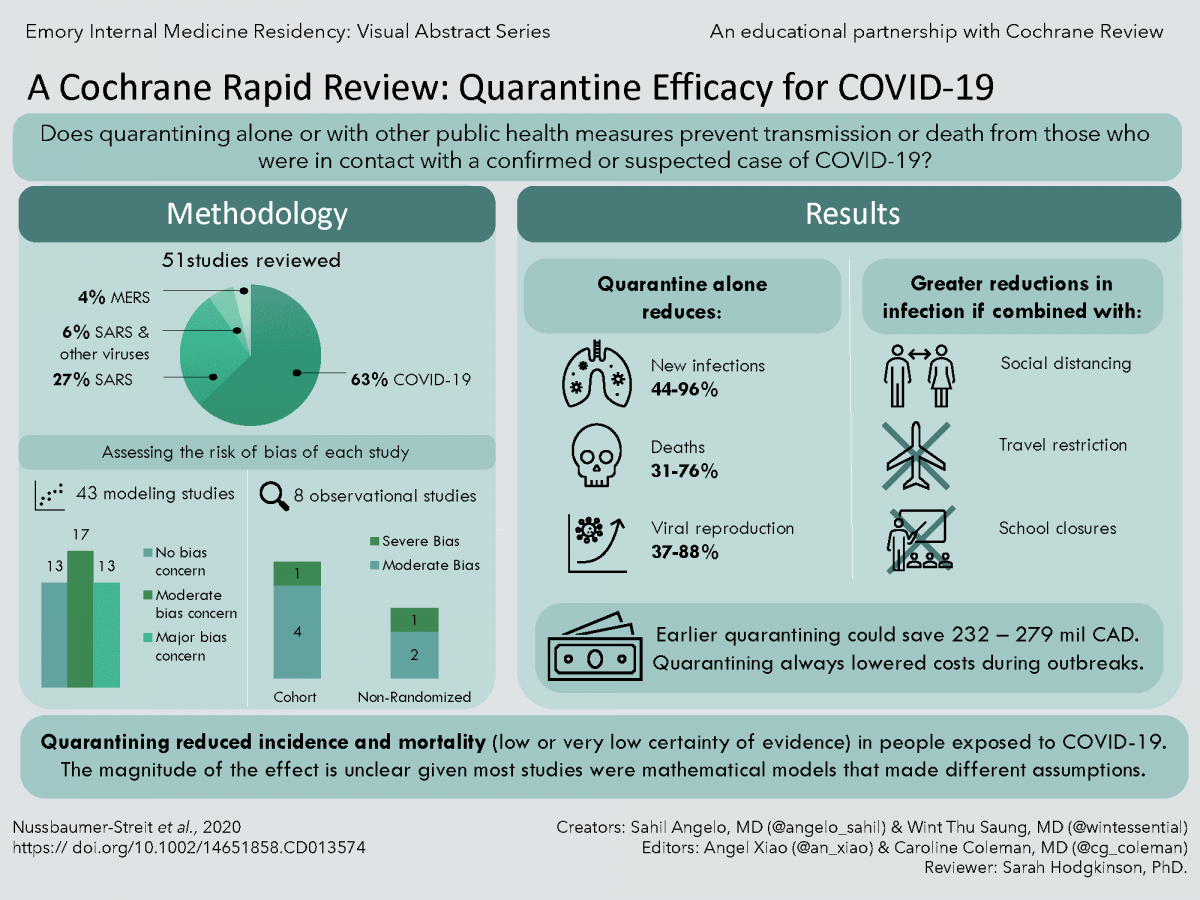 Sahil Angelo @angelo_sahil PGY-1, Internal Medicine
"As a busy resident, there is little time to delve into the details of every study. Distilling complex research into a digestible, visually engaging format helps me stay up-to-date and informed, and helps me further disseminate that information to my patients and the public!"


Angel Xiao @an_xiao_ - 3rd year, MD program
"As someone who has always been passionate about the intersection of design principles and medical education, I feel incredibly grateful to have worked alongside my peers to help disseminate high-impact research through the COVID-19 visual abstract series, and I am excited about the implications of this project on furthering scientific engagement and literacy."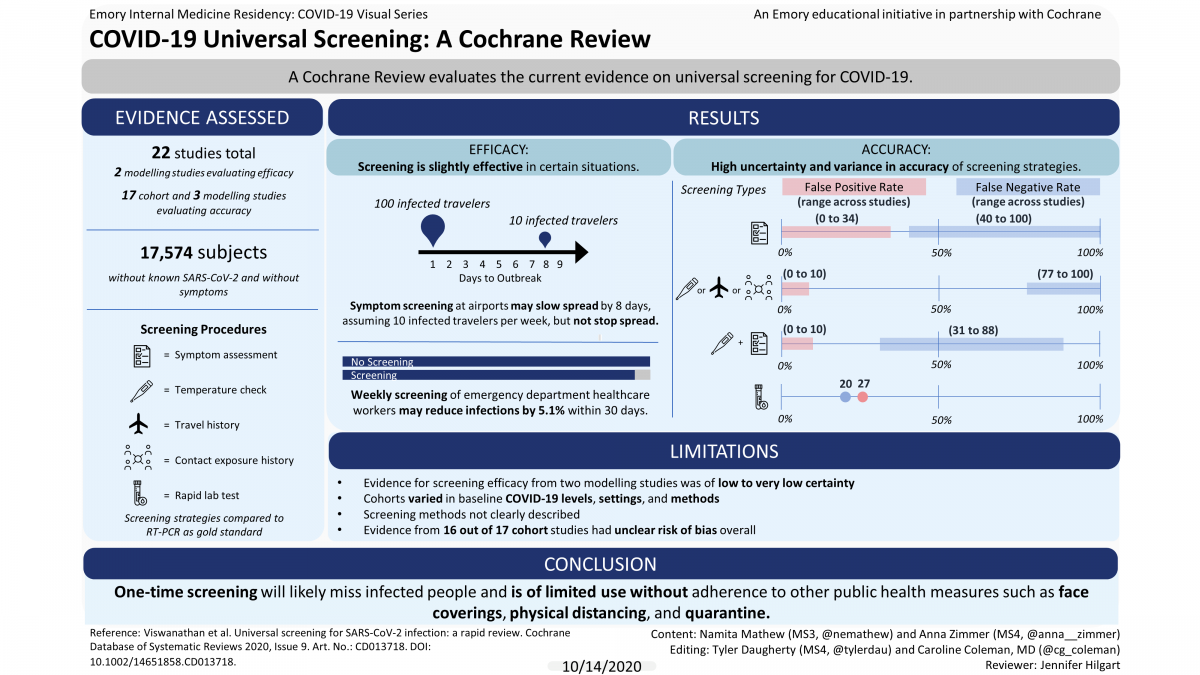 Namita Mathew @nemathew - 3rd year, MD program
"Being involved with the visual abstract project has encouraged me to stay updated on the constantly evolving research on COVID-19 while getting the chance to collaborate with peers. Brainstorming creative ways to visually communicate high-impact research to larger audiences has been a rewarding process."


Anna Zimmer @Anna__Zimmer - MA in Bioethics student, M4
"Communicating scientific evidence is challenging and critical. Creating visual abstracts with my colleagues has been one way to actively participate in improving this communication. As someone who hopes to continue to make science widely accessible (and exciting!), I am really thrilled to be part of this project."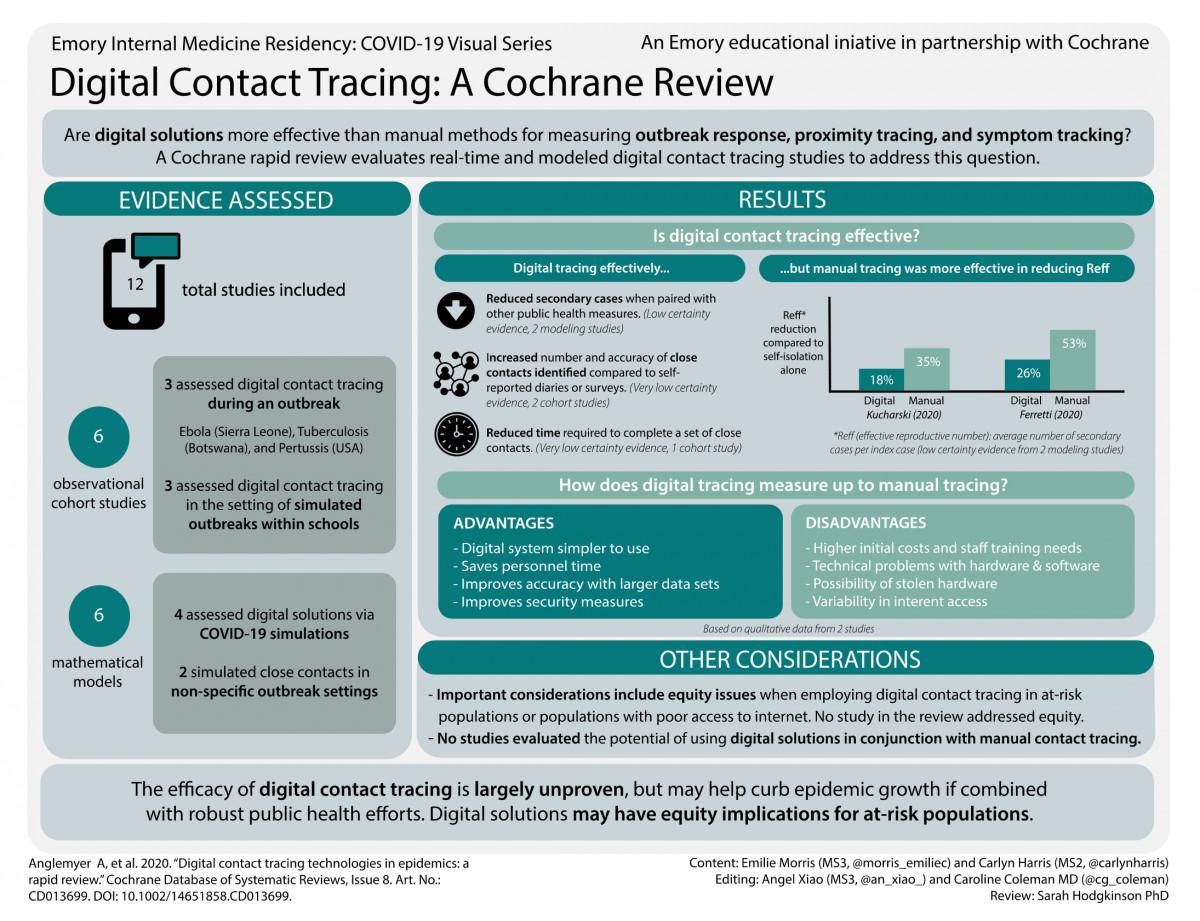 Carlyn Harris  @carlynharris - 2nd year, MD Program 
"I loved the opportunity to collaborate both with my colleagues at Emory as well as faculty at Cochrane while learning about the effect of public health measures for COVID19. We learn more about this disease everyday; it was a privilege to deliver such important messages in an accessible format."

Emilie Morris @morris_emiliec - 3rd year, MD program
"I believe it is incredibly important, now more than ever, to have digestible health and science content to deliver to our patients, providers, and governments. The sheer volume of information can be easily overwhelming, and it is a delight to exercise my creative side in helping remove barriers to a better understanding of COVID-19 research."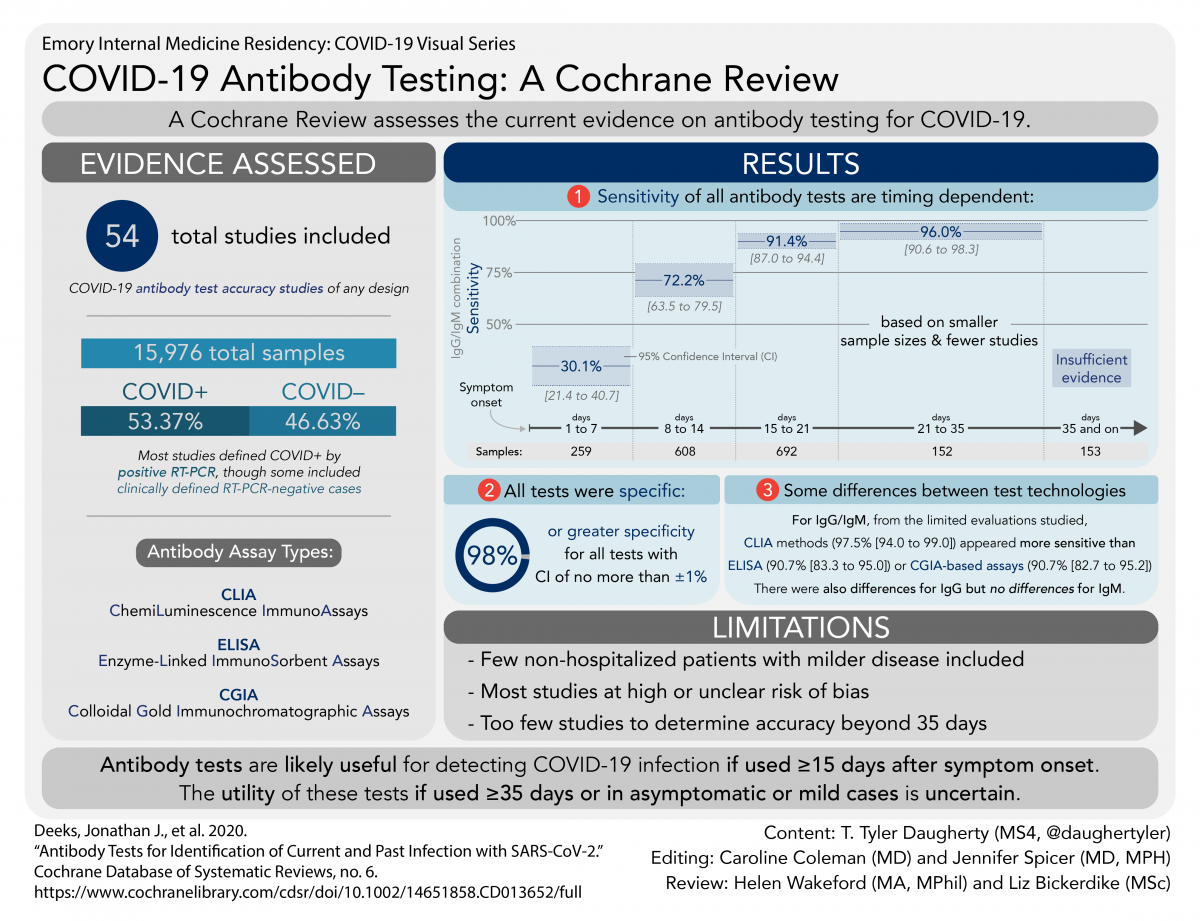 Tyler Daugherty @tylerdau - 4th year, MD program
"Loved the opportunity to convey important science in an efficient way and contribute to the COVID effort. It's a fun challenge to take the complex work of scientific studies and intuitively show it. Efficient dissemination of scientific information so that it can be used is always important, but even more so during COVID where providers are more busy and information is rapidly evolving."

Carey Jansen @careyjans - 6th year, MD/PhD Program 
"Composing visual abstracts has been a fantastic way to interact with the COVID-19 literature, as well as hone my writing and design skills, all while getting to collaborate with other medical students, residents, and faculty."
 Visual abstracts for reviews that have since been updated

Danielle Blemur MPH year of MD/MPH Program
"Working with a team of talented medical students to develop these visual abstracts allows me to develop skills in graphics and visual design. Public health communication has been a barrier to relaying crucial information to the public and participating in a venture aimed at visual representation feels like the first step towards progress."

Emerson Bouldin @em_bouldin 3rd year, MD program
"Creating visual abstracts for high-impact COVID-19 research has allowed me to support healthcare professionals in a unique way during the pandemic and provided rewarding opportunities for creative collaboration with classmates, colleagues, and the larger scientific community."


Rachel Fried @RachelFried6 - 3rd year, MD program
"Creating visual abstracts has been an extremely rewarding creative outlet during these unprecedented times. It has allowed me to stay up to date on the current COVID-19 research, an opportunity to support the healthcare community in an accessible format, as well as collaborate and learn alongside my talented classmates and colleagues."


Grace Chung @chung_yg - 3rd year, MD/PhD Program 
"I love how my interest in art and design can intersect with my passion for medicine and research. Editing these visual abstracts has allowed me to stay up to date with research in a new and creative way. As a student, I'm thankful for the opportunity to be part of this project!"
Wednesday, October 6, 2021