Cochrane is pleased to announce that our revised Conflict of Interest Policy for Cochrane Library Content has taken effect as of today, October 14, 2020. 
The revised Policy now applies to all reviews registered from today and to any updates where work began after today. A Conflict of Interest portal has been set up at http://conflictofinterest.cochrane.org/, where the Policy and a range of training resources are available.  
There are a few important changes in the revised Policy:
Authors without conflicts of interest must make up at least two-thirds of the author team.
Last as well as first authors must be entirely free of conflicts of interest.
Authors of clinical studies that are funded by industry and are relevant to the topic of a review may not be the first or last author of a Cochrane Review. 
Non-financial interests must be closely considered and declared by all Cochrane authors, but will not prevent people from creating Cochrane Library content.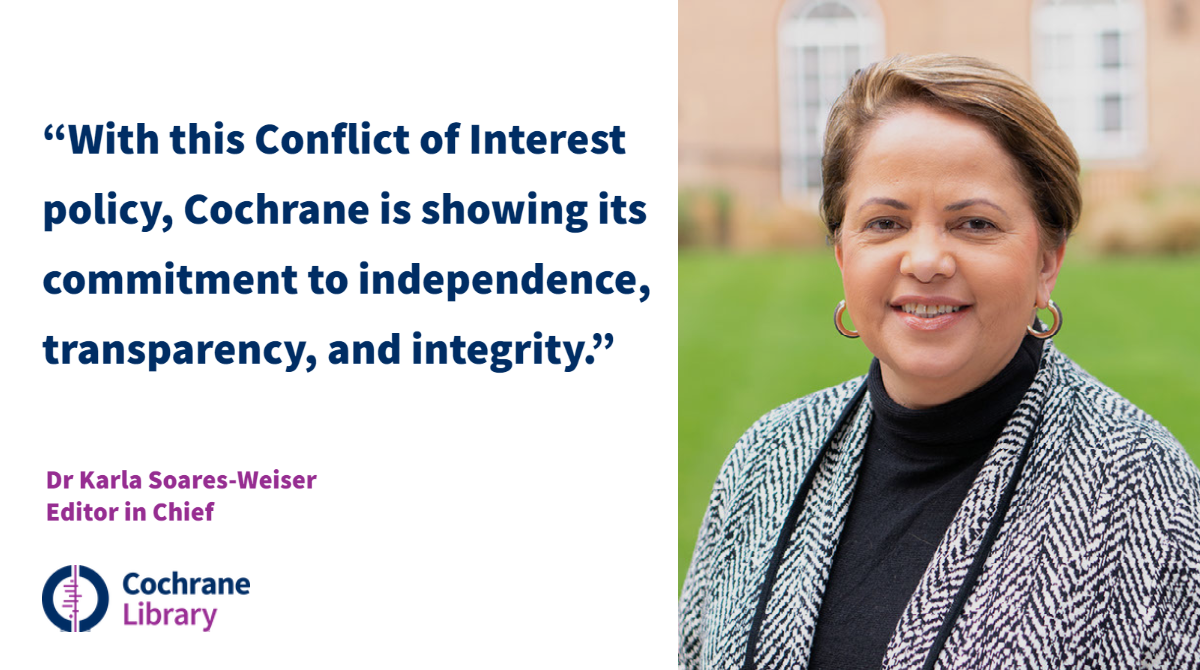 The Research Integrity and Training teams have created resources for Cochrane authors, Review Groups, and other producers of Cochrane Library content to help them to implement the policy.
Additional opportunities for learning about the revised Policy and to ask questions will be made available going forward. Cochrane's Research Integrity Editors and Conflict of Interest Panel are in place to provide advice and manage cases that possibly breach the revised policy. General questions about the Policy can be referred to coiarbiter@cochrane.org.
Karla Soares-Weiser, Editor in Chief of the Cochrane Library, says: "With this Conflict of Interest policy, Cochrane is showing its commitment to independence, transparency, and integrity. This policy will minimize any impact that conflicts of interest could have on Cochrane systematic reviews. We are proud of this policy and its rigor, and know it reaffirms Cochrane's role as an independent leader in evidence synthesis publishing."
To read the full Conflict of Interest Policy, access training resources, and more, please visit Cochrane's Conflict of Interest portal: conflictofinterest.cochrane.org. 
Wednesday, October 14, 2020