The College of Optometrists, UK has funded two Cochrane Review updates in support of the Cochrane Eyes and Vision (CEV) group based at the London School of Hygiene and Tropical Medicine (LSHTM). The global review updates were used to answer questions on the topics of Vision screening for correctable visual acuity deficits in school-age children and adolescents and Reading aids for adults with low vision.
The review updates produced the following key findings:
There are no studies comparing vision screening with no vision screening highlighting a gap in evidence.
Vision screening with the provision of free spectacles results in more children wearing spectacles after screening compared with giving the children a prescription on its own. Children in the free-spectacle group had better educational attainment, although this evidence was not as strong.
Ready-made and custom-made spectacles appear to give similar visual results and similar spectacle wearing compliance levels.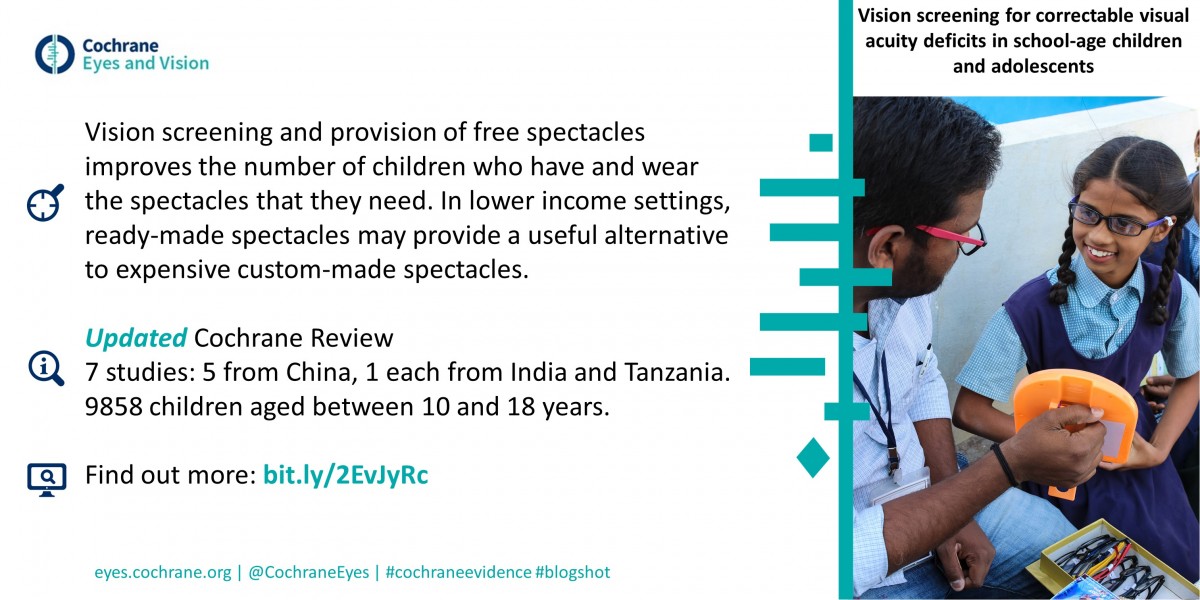 There is insufficient evidence supporting the use of a specific type of electronic or optical device for the most common profiles of low-vision aid users. However, there is some evidence that stand-mounted electronic devices may improve reading speeds compared with optical devices.
There is less evidence to support the use of head-mounted or portable electronic devices; however, the technology of electronic devices may have improved since the studies included in this review took place.
There is no good evidence to support the use of filters or prism spectacles.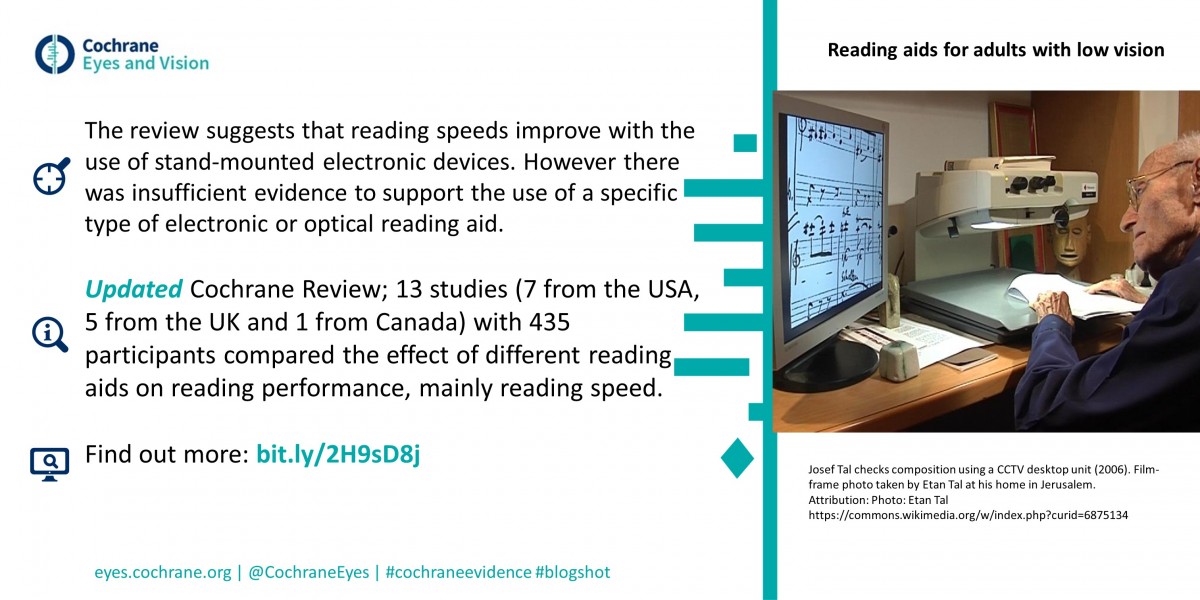 Priya Morjaria MCOptom, author of the vision screening review, said: "Over the past decade, it has become more apparent that as clinicians, we need evidence-based practice and practice-based evidence to make sure that we are not only doing what is best for our patients but also doing it in the best way possible. Findings from reviews help us understand this and ensure we continue to improve and do what is best based on evidence.
"This specific review highlights that screening children with a vision impairment and providing them with spectacles can increase their compliance with spectacles. This can in turn lead to better educational outcomes." 
Jennifer Evans, Editor at CEV, said: "Cochrane Eyes and Vision would like to thank the College of Optometrists for supporting two important Cochrane Review updates. Uncorrected refractive error is an important cause of visual impairment in children. Approximately one per cent of children worldwide (13 million) are estimated to be visually impaired due to the eye disorder. The current update of the vision screening review enabled us to include emerging evidence that shows that vision screening with provision of free spectacles results in more children wearing spectacles and may lead to better educational attainment.
The second review demonstrates that it is important for people with low vision to find the right reading aid. Our review on reading aids for low vision provides a systematic assessment of the research in this area. The updated review provides evidence that electronic aids may help people with low vision with improved reading speeds and reading duration, compared with using optical aids. The review highlights lack of evidence for use of filters or prism spectacles for people with age-related macular degeneration."