Cochrane Rehabilitation has received an award from AMLAR (America Latina Physical and Rehabilitation Medicine Association) and the University of Antioquia's Evidence Based Medicine Group for blogshot translations in Spanish.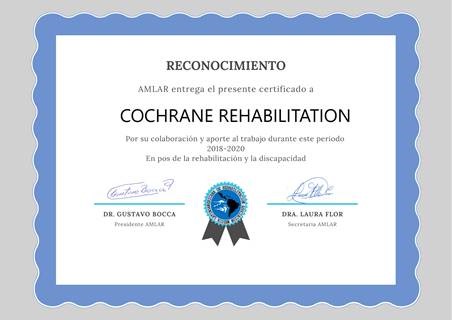 Cochrane Rehabilitation, one of 13 Cochrane Fields, has been producing blogshots for all new Cochrane Reviews published in the past couple of years and relevant to the rehabilitation medicine field. Chiara Arienti started this initiative after her training in Oxford based on the model used by Cochrane UK; some evolution has occurred with the Field's experience with the project, but the overall project is true to Cochrane UK's model. 
Typically, Cochrane Rehabilitation produces 2 to 4 blogshots per months that are then published in the Cochrane Rehabilitation Newsletter with an accompanying text giving more details on the review and commenting on it from a rehab perspective. This is all coordinated by Cochrane Rehab's Comunication Working area led by Francesca Gimigliano, according to our Comunication Strategy. 
The translations into Spanish are provided according to the agreement made with the University of Antioquia, by the group coordinated by Luz Helena Lugo-Agudelo, who is also member of Cochrane Rehabilitation's Advisory Committee.
Congratulations to Cochrane Rehabilitation!