Cochrane is made up of 11,000 members and over 67,000 supporters come from more than 130 countries, worldwide. Our volunteers and contributors are researchers, health professionals, patients, carers, people passionate about improving health outcomes for everyone, everywhere.
Getting involved in Cochrane's work means becoming part of a global community. The Cochrane International Mobility programme connects successful applicants with a placement in a host Cochrane Group, learning more about the production, use, and knowledge translation of Cochrane reviews. The prgramme offers opportunities for learning and training not only for participants but also for host staff.
In this series, we profile those that have participated in the Cochrane International Mobility Program and learn more about their experiences.

Name: Vanessa Young
Location: USA-Germany/Italy
Cochrane Cochrane Rehabilitation, Italy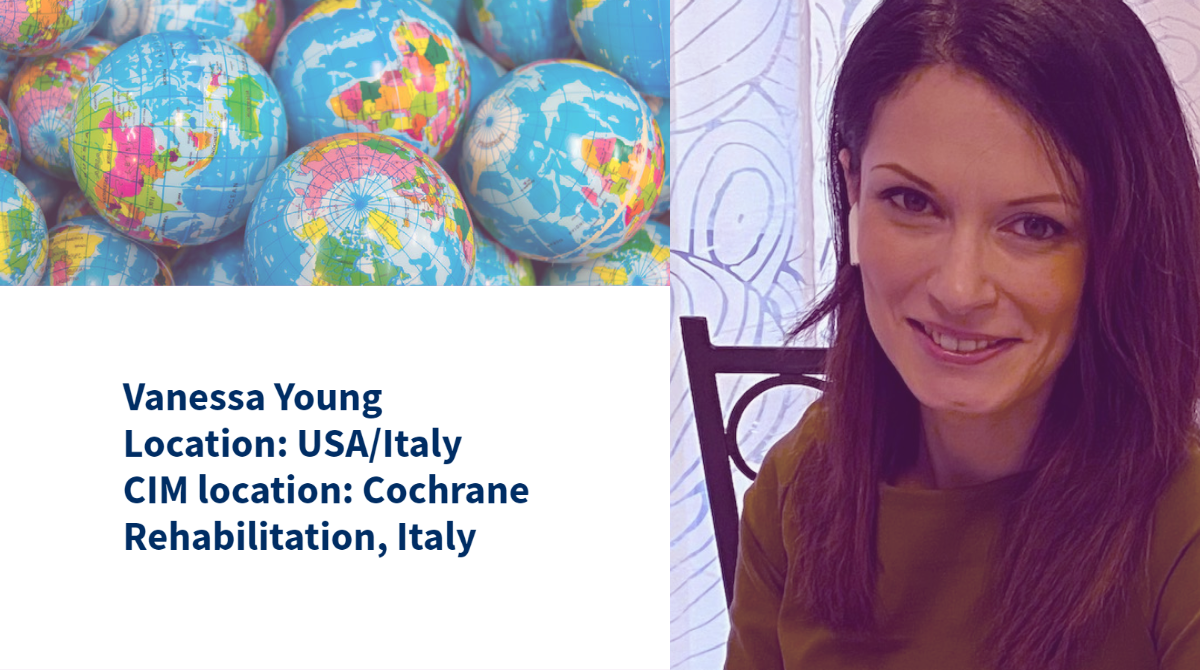 How did you first learn about Cochrane?
I started referring to Cochrane as an undergraduate student to find reputable reviews for my research courses. Cochrane facilitated finding articles pertaining to the scope of my work as well as honing my critical thinking in a scientific but well-organized fashion that allowed me to seek out answers to the questions that I had. Most recently, I became attracted to their "plain language" section that I embraced in order to better develop my written and verbal communication skills with patients or people not familiar with the subject of neuropsychology.

What was your experience with Cochrane International Mobility?
My experience at Cochrane Rehabilitation was enlightening both personally and professionally. Highly regarded professionals like Dr. Chiara Arienti were willing to extend their trust, faith and confidence in my work despite navigating the complexities of a systematic review and the protocol process for the first time in a collaborative environment. It was a wonderful way to learn and grow as part of a distinguished team that inspired and motivated me through their assistance.

What are you doing now in relation to your Cochrane International Mobility Experience?
Currently, we've submitted the protocol for the PTSD interventions as they apply to the clinical rehabilitation process. We are in process of beginning the article screening and data extraction process culminating in the potential for publication and the distinct career building privilege to be listed as a co-author of the project.
 
Do you have any words of advice to anyone considering a Cochrane International Mobility Experience?
If you are a hardworking, eager to learn young researcher just beginning to build the knowledge, skills and experience base required to thrive, consider Cochrane. Cochrane provides unique accessibility and many windows of opportunity to interact with senior researchers on meaningful projects. The senior professionals patiently mentor their younger colleagues as worthy contributors deserving of their role on the team and provide priceless counsel. The main lesson is that science is a collaborative process requiring invested contributors and novel ideas that are not afraid to challenge the status quo.