Cochrane is pleased to announce the launch of a new network of institutions from across India that will promote evidence-informed health care and policy in the country.
The Cochrane India Network launched in an event featuring keynotes from prominent national and international presenters, including the Director General of the Indian Council of Medical Research Dr Balram Bhargav; Dr Vinod Paul who is a member of NITI Aayog; WHO Director of Quality Assurance for Norms and Standards Dr John Grove and Cochrane's Editor in Chief Karla Soares-Weiser. Presentations from each of the affiliate institutions followed, and the event concluded with plenary sessions related to resources available for contributors of the Network.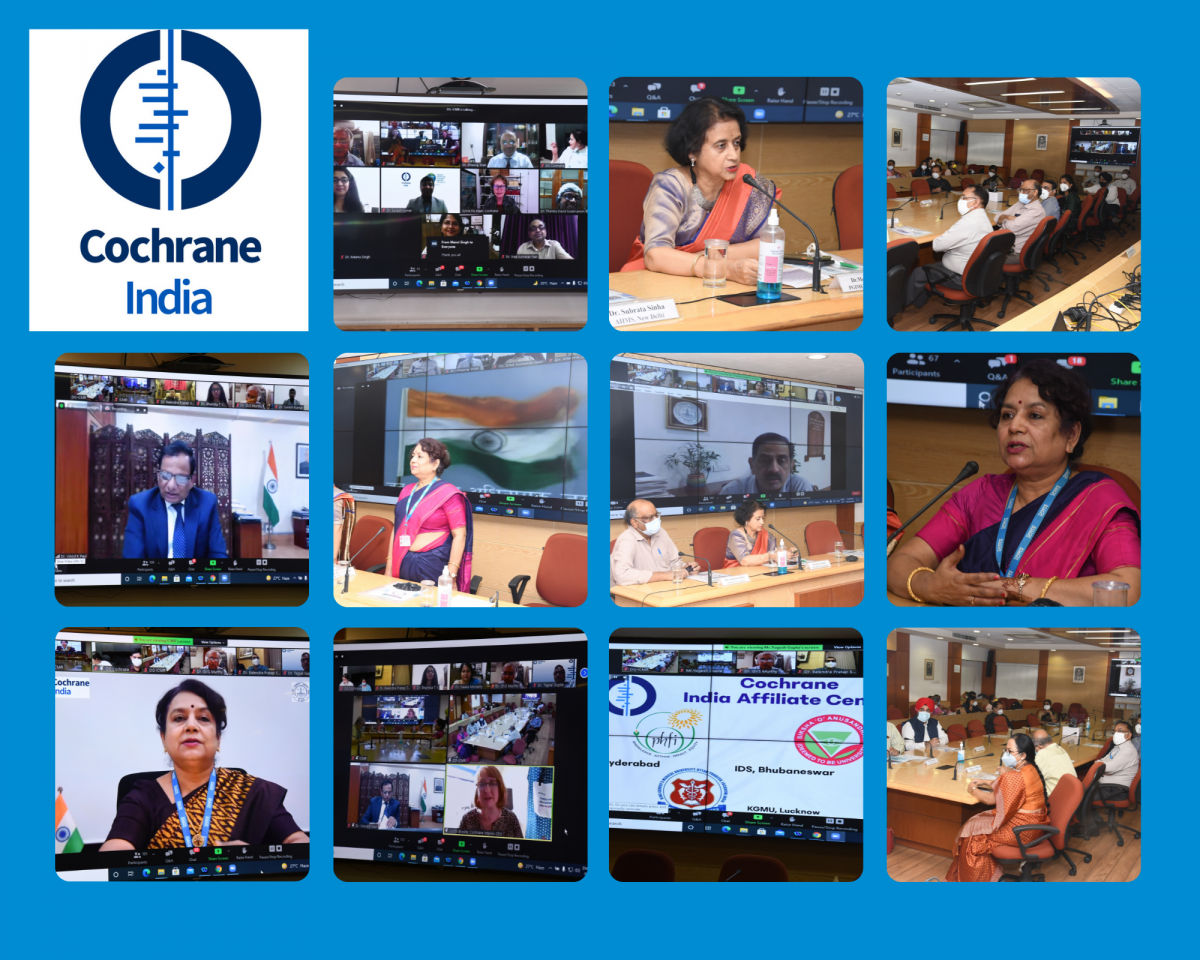 The Cochrane India Network is chaired by Dr. Meenu Singh and Dr. Anju Pradhan Sinha, and comprised of teams from nine affiliate institutions, including: 
All India Institute of Medical Sciences, New Delhi
Christian Medical College Vellore
India Council of Medical Research, New Delhi
Indian Institute of Public Health, Hyderabad
Institute of Dental Sciences, Bhubaneshwar
King George's Medical University, Lucknow
Manipal Academy of Higher Education, Manipal
Postgraduate Institute of Medical Education and Research, Chandigarh
Tata Memorial Centre, Mumbai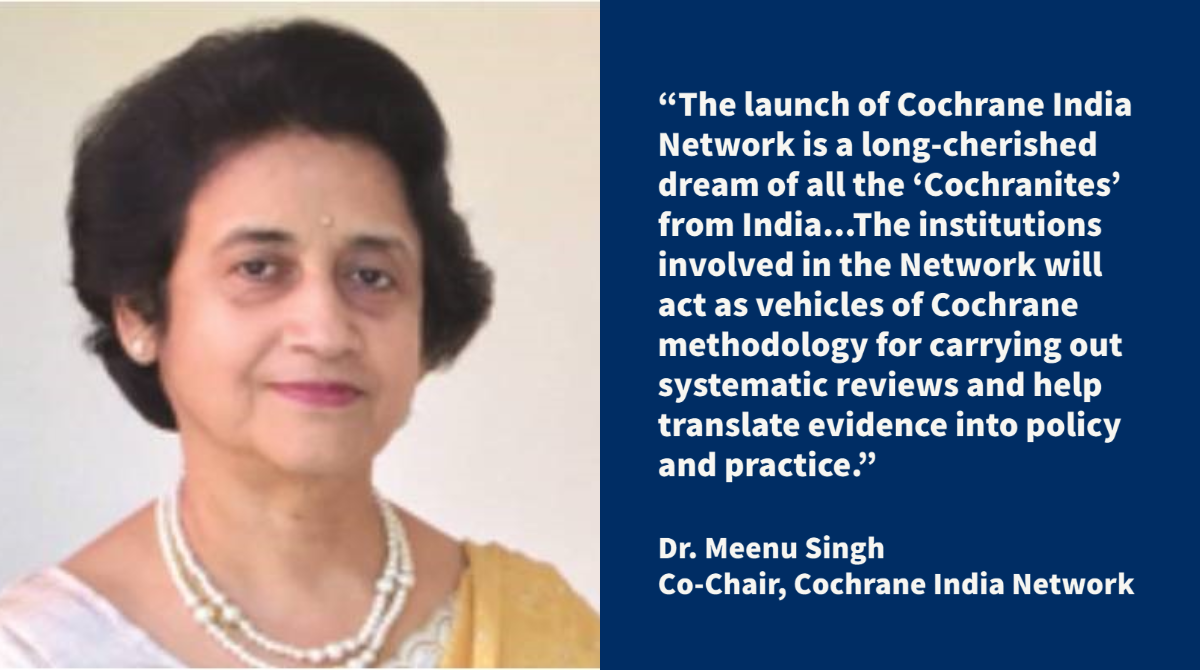 The Network Affiliates each have their own strategic plan with Cochrane activities they wish to implement. Activities vary from training in the use of Cochrane systematic reviews, sharing information about new reviews published by Cochrane and advocating for their use in policy and practice, to the production of systematic reviews.
Judith Brodie, Cochrane's Interim Chief Executive Officer, said of the Network's launch: "I am excited by the expertise and diverse focus of the Affiliates in the Cochrane India Network, and so pleased to see them join together to advocate for evidence-informed health and care in India."
Speaking about the launch, Dr. Meenu Singh, Co-Chair of the Network, said, "The launch of Cochrane India Network is a long-cherished dream of all the 'Cochranites' from India. Working with Cochrane for more than 20 years, it has provided an opportunity for development of in-house Cochrane products with global applications for evidence-based healthcare. The institutions involved in the Network will act as vehicles of Cochrane methodology for carrying out systematic reviews and help translate evidence into policy and practice."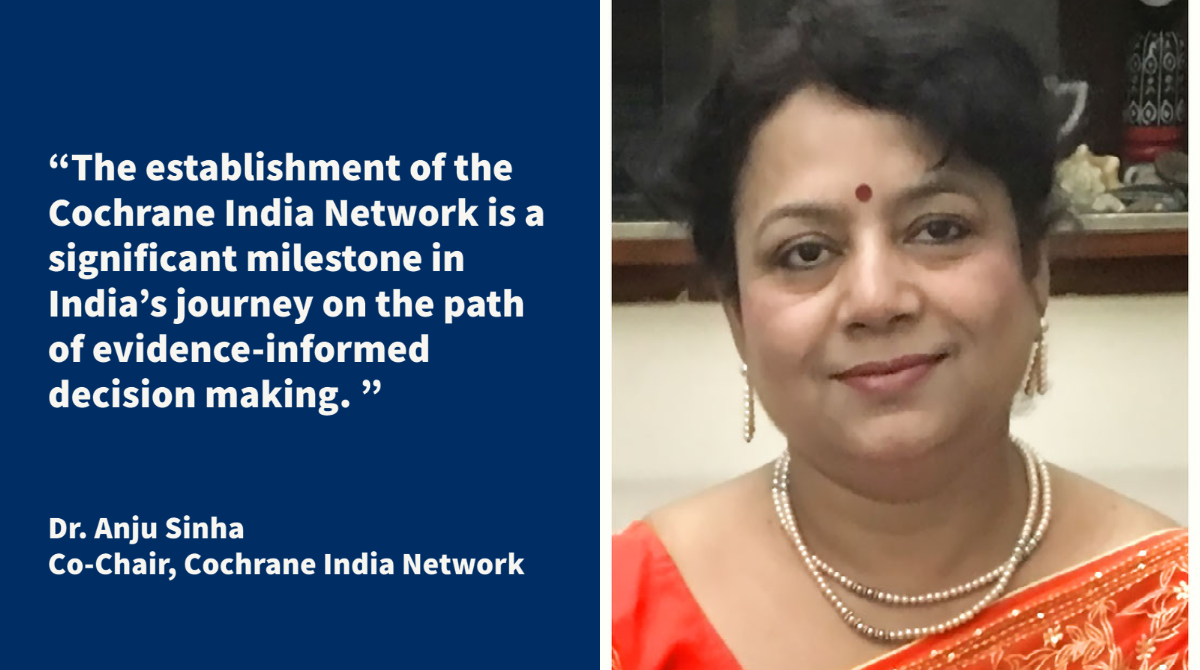 Dr. Anju Pradhan Sinha, Network Co-Chair, added, "The establishment of the Cochrane India Network is a significant milestone in India's journey on the path of evidence-informed decision making. The activities coordinated through the Network will lead to the effective implementation of evidence in clinical practice and policy making."
Tuesday, October 26, 2021