After leading Cochrane South Asia since 2005, first as a Branch of the Australasian Cochrane Centre, and from 2008 as a standalone Cochrane South Asia Centre, Professor Prathap Tharyan is retiring from his role as Director.
Under Prathap's leadership, Cochrane South Asia, based at the Prof BV Moses Centre for Evidence Informed Health Care and Health Policy at CMC, Vellore, has contributed enormously to Cochrane's global efforts to increase the uptake of reliable evidence to inform health decisions. In the early years of the Centre, Prathap organized several very successful annual conferences on evidence-based health care at CMC Vellore, drawing delegates from around the region to hear from internationally renowned experts. In 2014, the Cochrane South Asia Centre, also hosted Cochrane's annual Colloquium in Hyderabad, bringing the international Cochrane community to India. Prathap has also been instrumental in working with the Indian Council of Medical Research to ensure a national subscription to the Cochrane Library from 2007-2015, which has since then been taken over by the National Library of Medicine.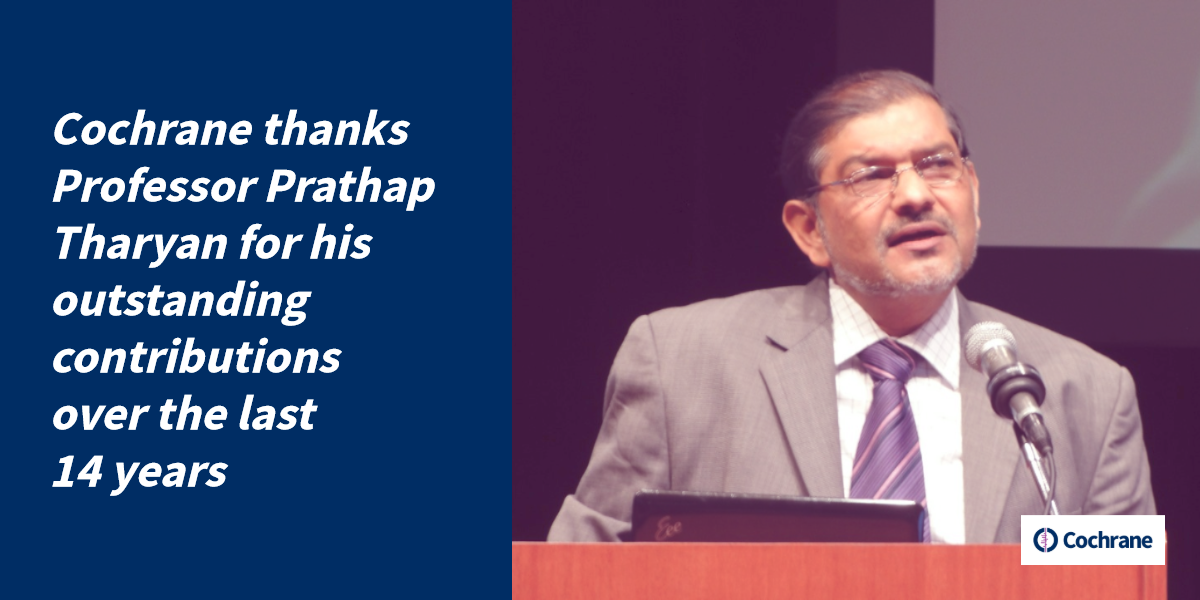 Prathap's research interests are wide, covering issues involving the ethics of clinical trials in India (as protection against commercially-focused research organizations) and promoting the conduct of pragmatic trials – reflecting a concern that research should benefit those who volunteer as participants and the wider community they come from. Through his involvement with the Cochrane Infectious Disease Group's Effective Health Care Research Consortium, Prathap contributed substantially to important reviews, including in malaria that informed WHO guidelines and influenced policy nationally and regionally, and in the area of TB helping develop the INDEX-TB guidelines by the Ministry of Health. 
A few days after the South Asia Cochrane Network was set up in December 2004, the Indian Ocean tsunami struck the region. Prathap was closely involved in relief efforts and providing support to affected villages along the coast of Tamil Nadu; Prathap later became one of the founding members of Evidence Aid in 2005, championing evidence-based approaches in humanitarian action.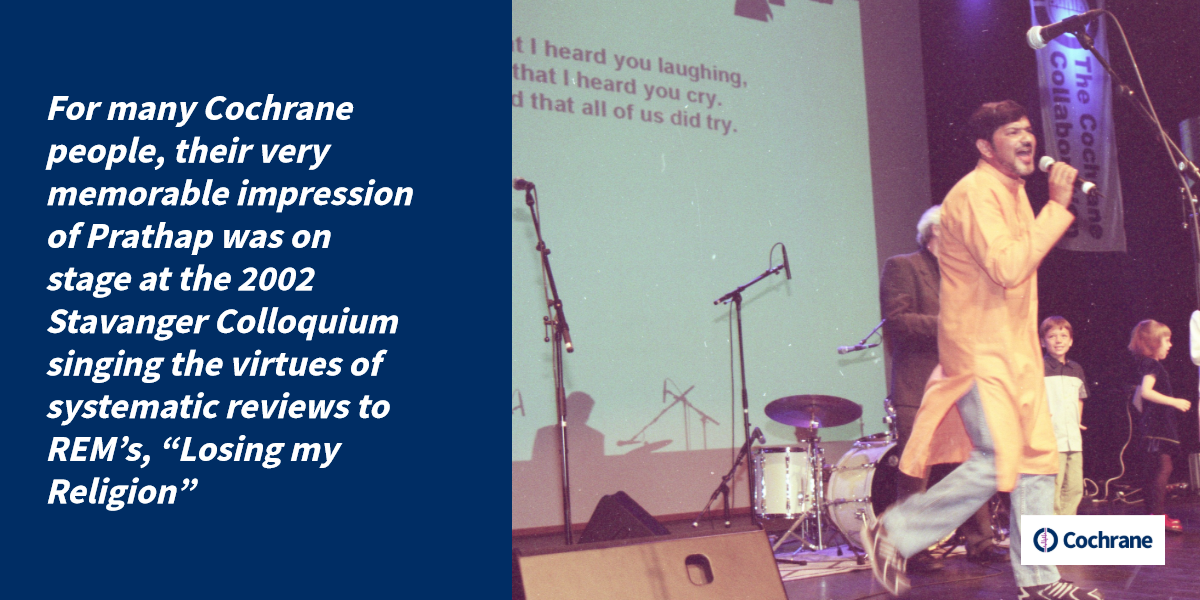 For many Cochrane people, their very memorable first impression of Prathap was on stage at the 2002 Stavanger Colloquium singing the virtues of systematic reviews to REM's iconic song, "Losing my Religion."
Sally Green and Steve McDonald (co-directors Cochrane Australia) say: "It took a special kind of person to believe that Cochrane could take hold and flourish in a region as populous and diverse as South Asia. Prathap was undaunted by the task ahead – always optimistic, full of energy and huge reserves of perseverance. Prathap was bursting with ideas and so could immediately see where a person's talents and enthusiasm could make a difference. He was also extremely generous with his time, forever travelling around the region to lend a hand and committing himself to one too many things. It was our good fortune to be Prathap's guide in those early days (not that we had much guiding to do) and a privilege to spend time at his home base in the peaceful surrounds of CMC Vellore or on cramped overnight train trips from one meeting to another. You always felt with Prathap that the opportunities were boundless – Cochrane got lucky in finding someone so accomplished at exploiting them."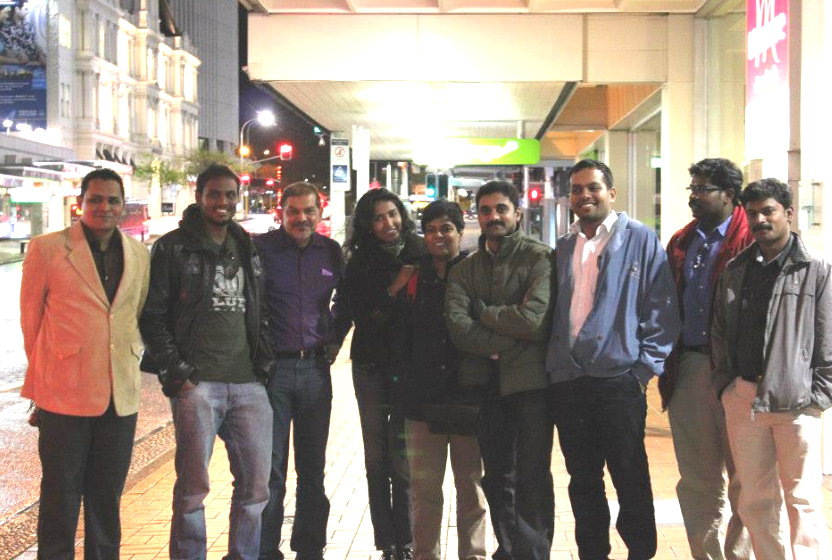 Cochrane's Chief Executive Officer, Mark Wilson, said: 'I would sincerely like to thank Prathap for his outstanding contributions to Cochrane's work, and for his advocacy for evidence-informed health care in India. We will miss Prathap's insights, commitment and support to advance our work in India, and will still count on him to guide Cochrane towards a new chapter of our work with key partners in India. Prathap, we wish you all the best for the future.'
Staff at the BV Moses Centre (BVMV) will continue their activities, including training for evidence-based medicine using Cochrane methods, translation work, maintaining the South Asian Database of Controlled Clinical Trials. They will also be involved in exploring new opportunities for Cochrane in the region including the development of a Indian Cochrane Network.
Cochrane thanks Professor Prathap Tharyan for his outstanding contributions over the last 14 years and we wish him every happiness and success for the future.
Hear more about what has driven Professor Prathap Tharyan all these years to invest in evidence-informed health care: Recommended dose podcast .