Lifeology's tagline is 'The place where science and art converge'. They offer a platform that brings together scientists, artists, and storytellers to help people better understand and engage with science and health information and research. One of the main ways they meet their objectives is through beautifully illustrated, science-backed, bite-sized 'flashcard' courses about science and health-related topics aimed at the general public and students.
Knowing more about the people in science, technology, engineering, arts, and math (STEAM), how they faced adversity and overcame obstacles may inspire others to choose STEAM careers. This was the goal of Lifeology's Historic STEAM Heros card deck. Though art and storytelling they share the story of historical STEAM figures and their excellent but often under-promoted work.
Anne Anderson is included in this STEAM Heros deck. Anne Anderson was a contributor to the stream of thinking and effort that gave birth to evidence-based health care and led to the development of Cochrane. We spoke with the artist who illustrated the card, Anna Doherty, to learn more about the project. 
Hi, Anna! Our Cochrane Community always finds it interesting to learn the backstory of things and learn more about people. Could you tell us a bit more about yourself?
Hi! I'm an illustrator and author from Edinburgh, Scotland. Ever since I was very small, I've always enjoyed drawing, so when I finished school I went to study illustration at Duncan of Jordanstone College of Art and Design. After graduating, I decided to study a masters in Children's Book Illustration at Cambridge School of Art. Since graduating there, I've been working on a mixture of illustrating picture books, science illustration, and other little projects. I now have ten illustrated picture books published, some of which I wrote too! I am especially excited about working in non-fiction, which is why I think I enjoy science illustration so much because I love learning new facts and finding fun new things to share with people. I have a mini-series called Fantastically Feminist which focuses on celebrating stories of amazing women. I wanted to make space for kids to read in not only showed that everyone should be equal and that anyone can do anything regardless of their gender, but also celebrated women who struggled to try and make things more equal for the rest of us in brilliant ways.
What an interesting mix of projects! How would you describe your art style?
I would describe my art style as digital mixed media. I usually draw on a Wacom tablet, which is connected to my computer. When I draw on the tablet, the marks I'm making come up on my screen in photoshop. I use a selection of brushes and add scanned textures that I've made with ink and paint to add some interest.
You've done some science communication and some lovely 'Women in STEAM' work. Can you tell us how you got into that? 
I got into science communication through my picture book Ada Lovelace. I had always loved maths at school, so when I first heard about Ada, I was fascinated, and I started absorbing every fact about her that I could lay my hands on. After I published my book about her, it opened the door to the world of science illustration, and I was particularly excited about promoting more women in STEAM. Ada's work wasn't really recognised until after her death, so it's amazing to be able to celebrate women and gender-diverse scientists who are working today!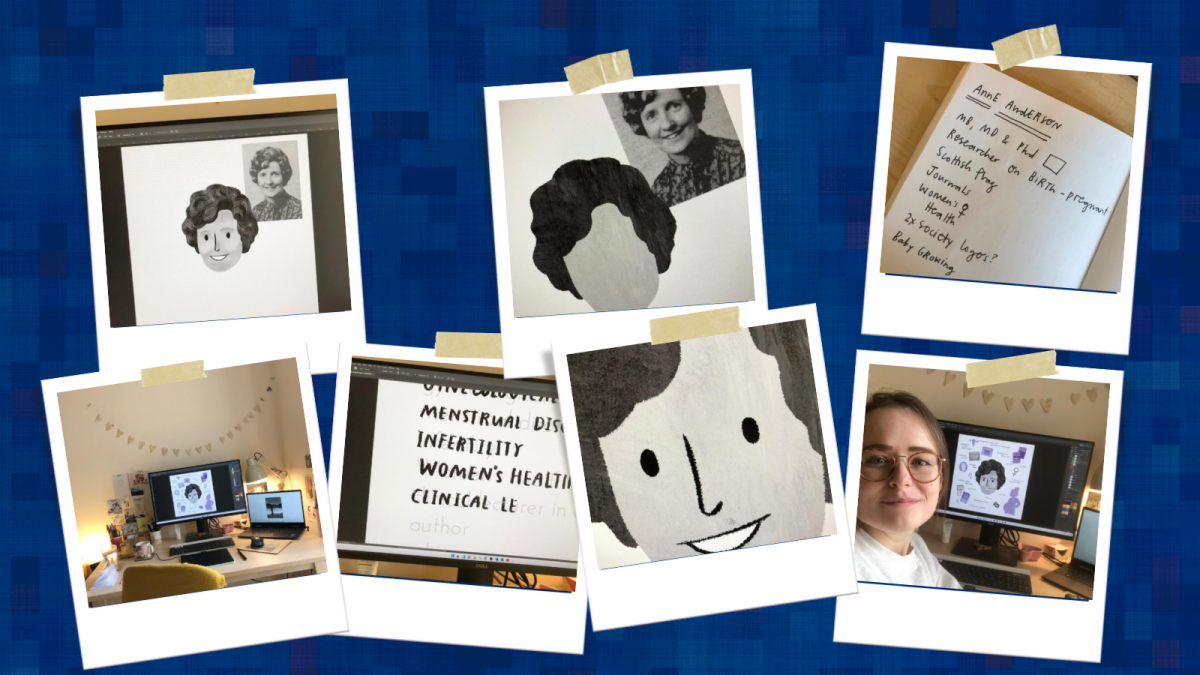 Anne Anderson is a beloved person in the Cochrane Community - we do a walk every year in her honour to raise money for an annual award in her name. Can you tell us a bit about working on that artwork?
I loved working on Anne Anderson's illustration because she wasn't a story I had explored before. It was fun to draw a Scottish scientist! I started by reading the research that Lifeology had collated already, and did a little more digging myself. With every 'Historic STEAM Hero' illustration, I start by drawing the portrait so I can get to know the person a little better first. Then I make a little list of the key things I want to include in the illustration, and think about how I can represent them. Because I work digitally, I tend to draw all the little icons first and then move them around the face to find the best composition. Each illustration is greyscaled with one colour, and I chose purple for Anne because it's the colour of International Women's Day and represents Cochrane!