Cochrane's incidents with Instagram, Twitter, and YouTube highlight the realities of Cochrane's call against misinformation while protecting trusted sources. Cochrane's Instagram posts have been removed, their Instagram account has been shadow banned, a Youtube video removed, and a Cochrane Library Twitter post about winning a prestigious award for trustworthy information was tagged as misleading.
Cochrane's health evidence syntheses are recognised as the international gold standard for high quality, trusted information. Cochrane Library reviews are used to support global and national health guidelines and policy. We advocate for evidence-informed healthcare and make our trusted evidence accessible and available to all. One way we do this is using social media to reach different audiences. 
Cochrane has been the subject of several Instagram misinformation blunders. A post about a Cochrane Review on Ivermectin for prevention and treatment of COVID-19 being removed from the platform in August 2021, and it wasn't until July 2022 that the review notification came back saying it was because it 'goes against Community Guidelines'. Also Cochrane's Instagram account has been denied the verification blue check mark several times.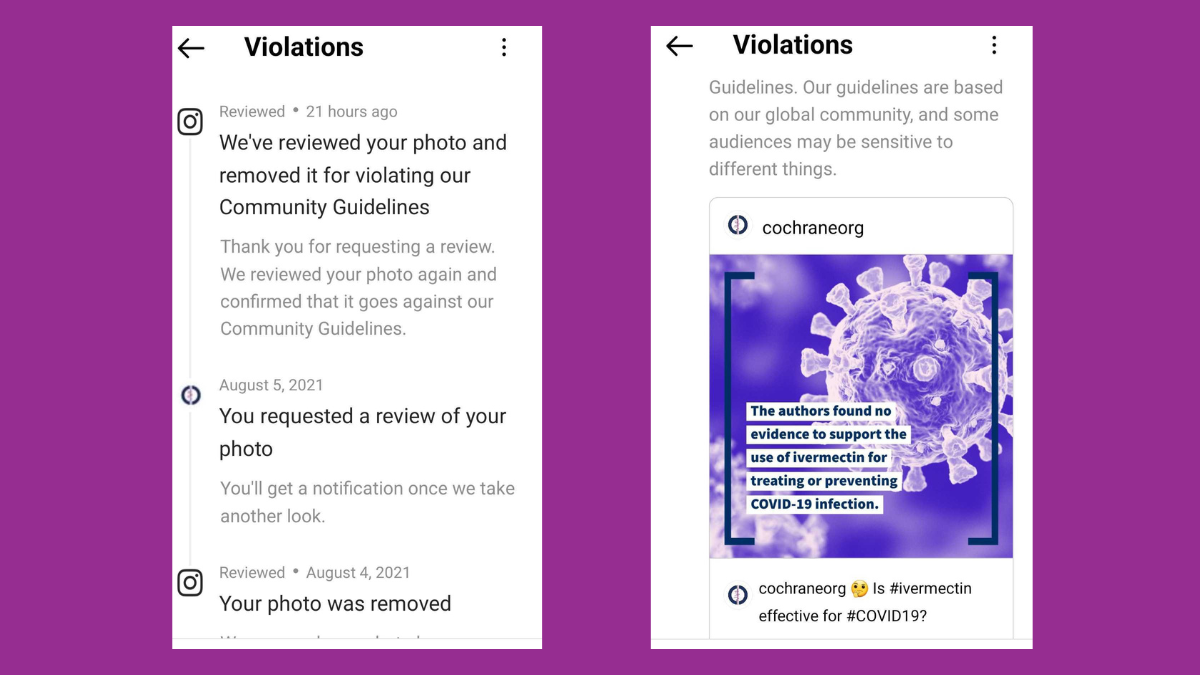 In March 2022, the prestigious Harding Prize for Useful and Trustworthy Communication was jointly awarded to by the ONS Covid Infection Survey and the Cochrane Review of Hydroxychloroquine for COVID-19. The Harding Prize, run in association with Sense About Science and the Science Media Centre, and is supported by Sir David Harding,  goal is to draw attention to the unsung task of 'informing and not persuading' and celebrate those who were doing it well. The Harding Prize judges noted that the Cochrane Infectious Disease Group's review of the evidence for the use of hydroxychloroquine in treating COVID-19 used clear language, communicated straightforwardly, and with balance that that there was no benefit to hydroxychloroquine which outweighed the side effects and that trials of it should be stopped. This review was done with rigorous methodology and communicated with clarity and directness, which enabled policy makers, journalists, and the public to discuss and make decisions based on the best evidence. 
It was particularly ironic that a celebratory tweet from the Cochrane Library about winning an award for useful and trustworthy communication was tagged by Twitter for being misleading. This tag does not allow it to be replied to, shared, or liked.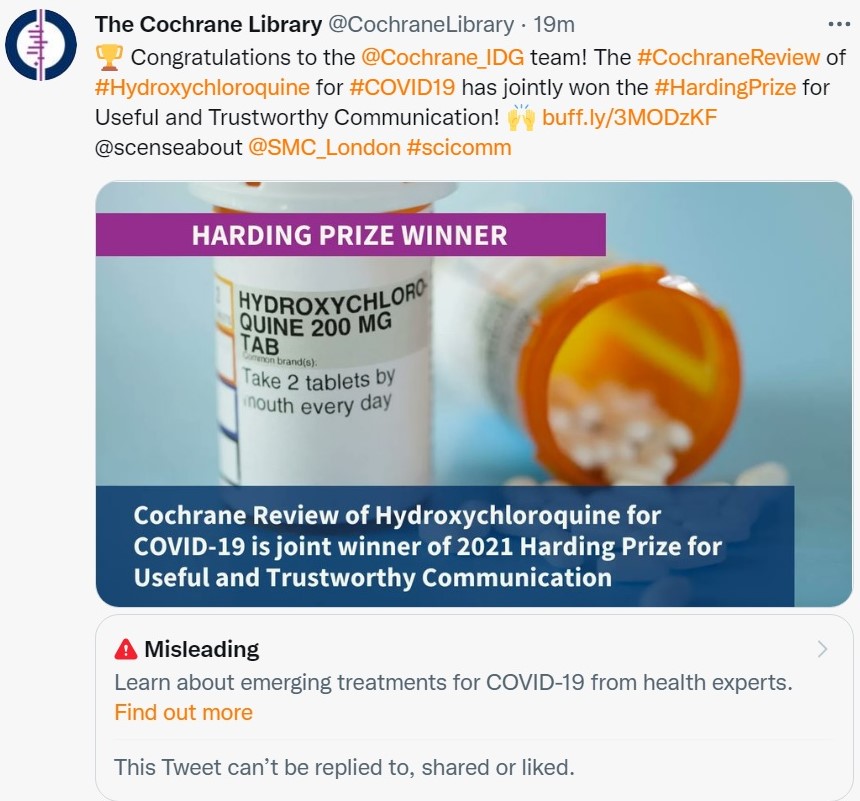 The latest fumble has been a webinar video being removed from Cochrane's YouTube channel for violating Community Guidelines. The video is a recording on the topic of research integrity, where Dónal O'Mathúna discussed findings from his recent study comparing different systematic reviews of the ivermectin literature. After appealing the removal, the video has be restored back to YouTube: 'Ethics and integrity in reviewing research: lessons from ivermectin'.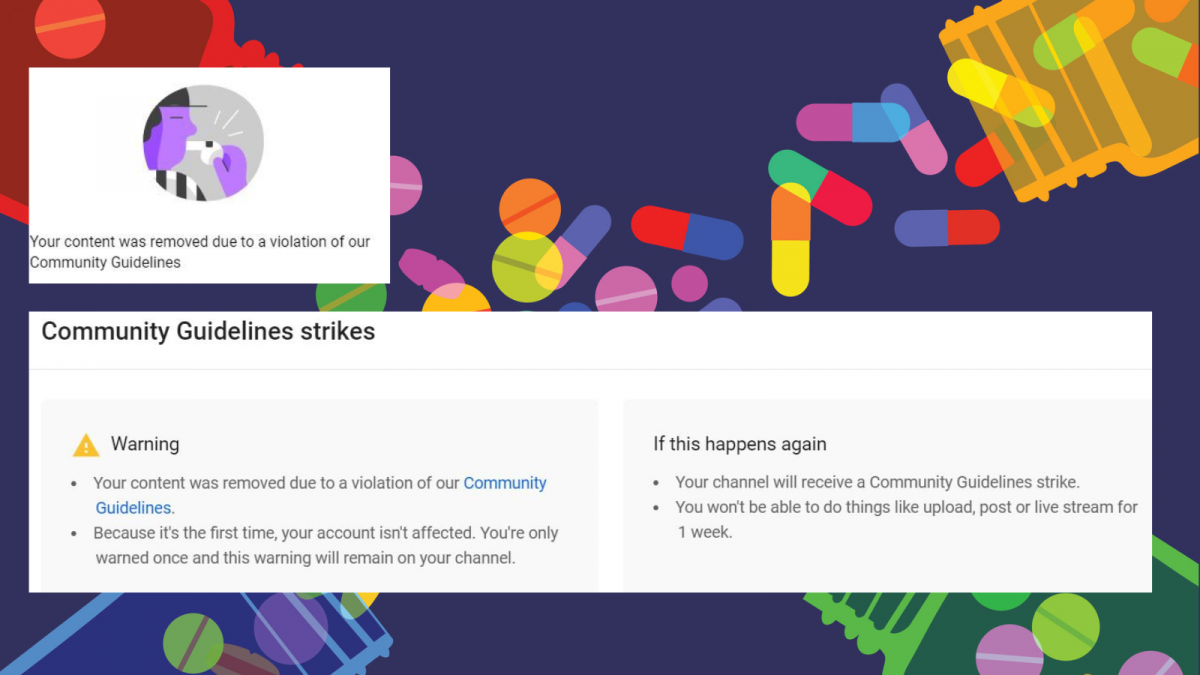 "Social media platforms are starting to act on mis/disinformation by tagging posts that are deemed misleading and penalizing repeat offenders. But they don't always get it correct - we are aware that other research publishers, such as the BMJ, have also experienced similar issues with Facebook", says Catherine Spencer, Cochrane's CEO. "Having Cochrane blocked and posts removed, while other misleading posts remain, illustrates the system needs urgent improvement. This 'censorship' on credible sources of information such as Cochrane underscores the need to not only guard against misinformation but that we urgently need better mechanisms to protect trusted information on social media."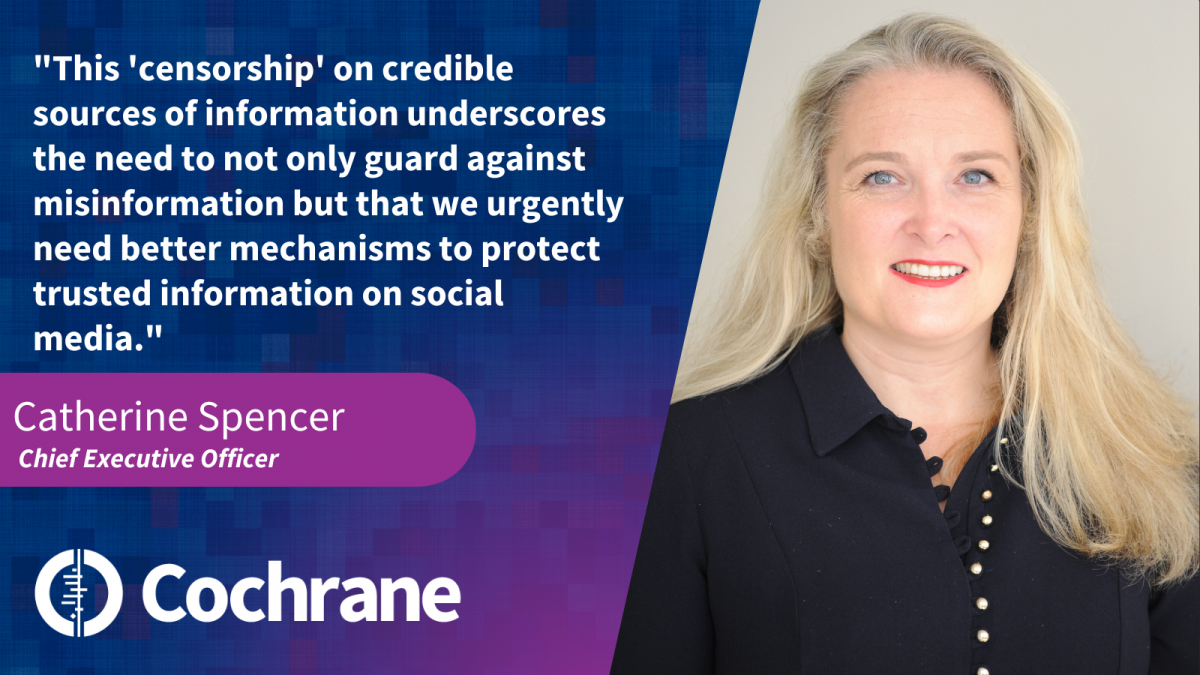 "These social media blunders come after the  launch of the Cochrane Convenes Report which highlights the parallel challenges of generating trust in evidence and countering mis/disinformation and calls for concrete action to address these issues", says Cochrane's Editor in Chief, Dr Karla Soares-Weiser. "There is an ongoing issue with how you hold those deliberately creating and sharing mis/disinformation to account and how you form accreditation and approval for official sources of evidence that have met certain quality control standards. We need to make it easier for people to access trustworthy information – and that includes on social media or YouTube."
Cochrane is a proud supporter of WHO's call to action on infodemic management and is currently collaborating with science communicators at Lifeology and the Association for Healthcare Social Media. We would welcome the opportunity to discuss this recurrent issue with social media platforms directly and to work with others interested in supporting science communication. Write to us at cochrane@cochrane.org, and consider signing our call to action on trusted evidence for all in health emergencies.