The inaugural Harding Prize for Useful and Trustworthy Communication has been jointly won by the ONS Covid Infection Survey and the Cochrane Review of Hydroxychloroquine for COVID-19.
The Winton Centre at the University of Cambridge launched the Harding Prize this year to celebrate individuals or teams who had communicated information in a trustworthy and useful way - that genuinely helped people decide what to do, or help them judge a decision made by others. The award was run in association with Sense About Science and the Science Media Centre, and is supported by Sir David Harding. The organisers wanted to draw attention to the unsung task of 'informing and not persuading' and celebrate those who were doing it well.
The Harding Prize aims to encourage evidence to be presented in a balanced, non-manipulative way, open to talking about pros and cons, and about uncertainties, designed to help the audience make up their own mind on a subject – not to lead them to the conclusions that the communicator wants them to draw.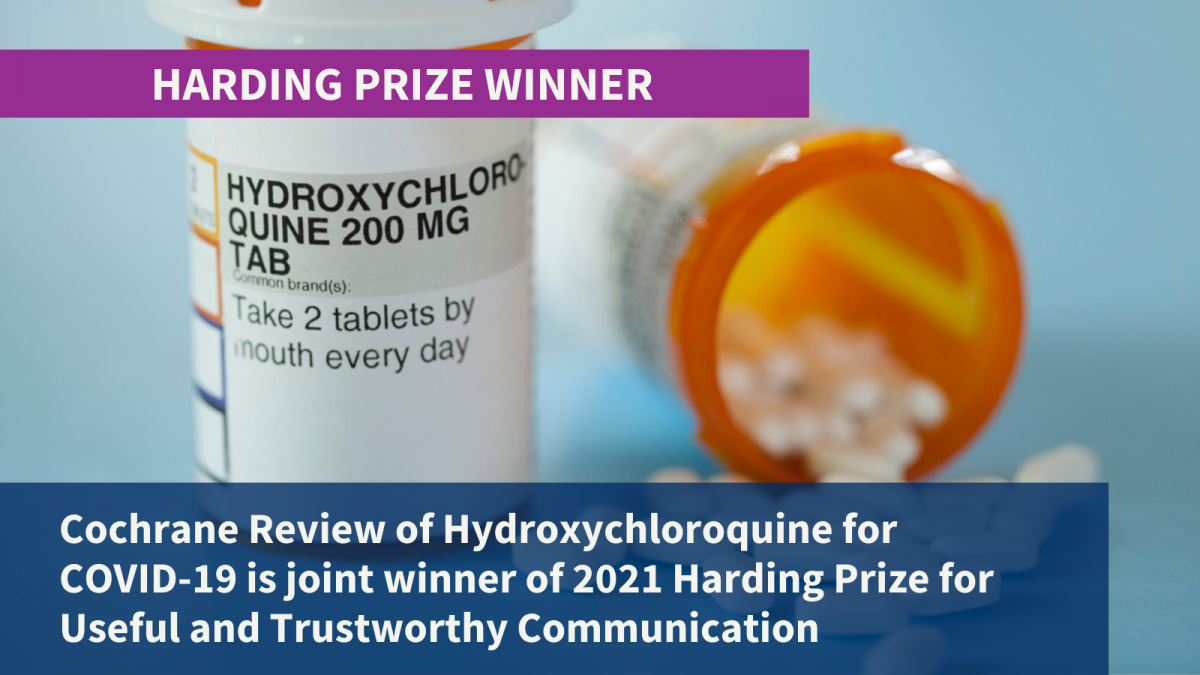 Dr Bhagteshwar Singh, and his co-authors of the Cochrane Review, published by the Cochrane Infectious Diseases Group said:  "We are honoured to receive this award. Our aim was to provide clinicians, policymakers and the public with a balanced, trustworthy, and clear account of the potential benefits and harms of hydroxychloroquine when used for COVID-19. This award confirms that our review was communicated clearly and transparently, which we are thrilled to hear."
The organisers bought together an illustrious judging panel, comprising:
Helen Boaden (Chair): previously Director of BBC News.
Professor Sir Jonathan Van-Tam: Deputy Chief Medical Officer for England
Baroness Onora O'Neill: philosopher and presenter of 2002 Reith Lectures on 'A Question of Trust'
Fraser Nelson: Editor, Spectator
Helen Jamison: previously Deputy Director of the Science Media Centre.
The judges made the following comments about Cochrane as a joint winner:
As with all its projects, the Cochrane review worked to internationally agreed methodology and prioritised high quality (randomised) evidence. This particular review was a summary of the evidence for the use of hydroxychloroquine in treating Covid-19. Using clear language, it communicated straightforwardly and with balance that that there was no benefit to hydroxychloroquine which outweighed the side effects and that trials of it should be stopped. That decision was then made. 
This subject may seem minor in the UK where treatment by hydroxychloroquine was never a big part of medical discussion. However, many millions of people around the world, especially in the USA and Brazil, were encouraged by their leaders to take this treatment seriously. 
The panel felt that just as the ONS survey was the bedrock of accurate information about Covid-19 infection rates in the UK, the Cochrane approach delivered rigorous, trustworthy and balanced reviews of scientific papers communicated with clarity and directness. Such reviews enabled policy makers, journalists and the public to discuss and make decisions based on the best evidence.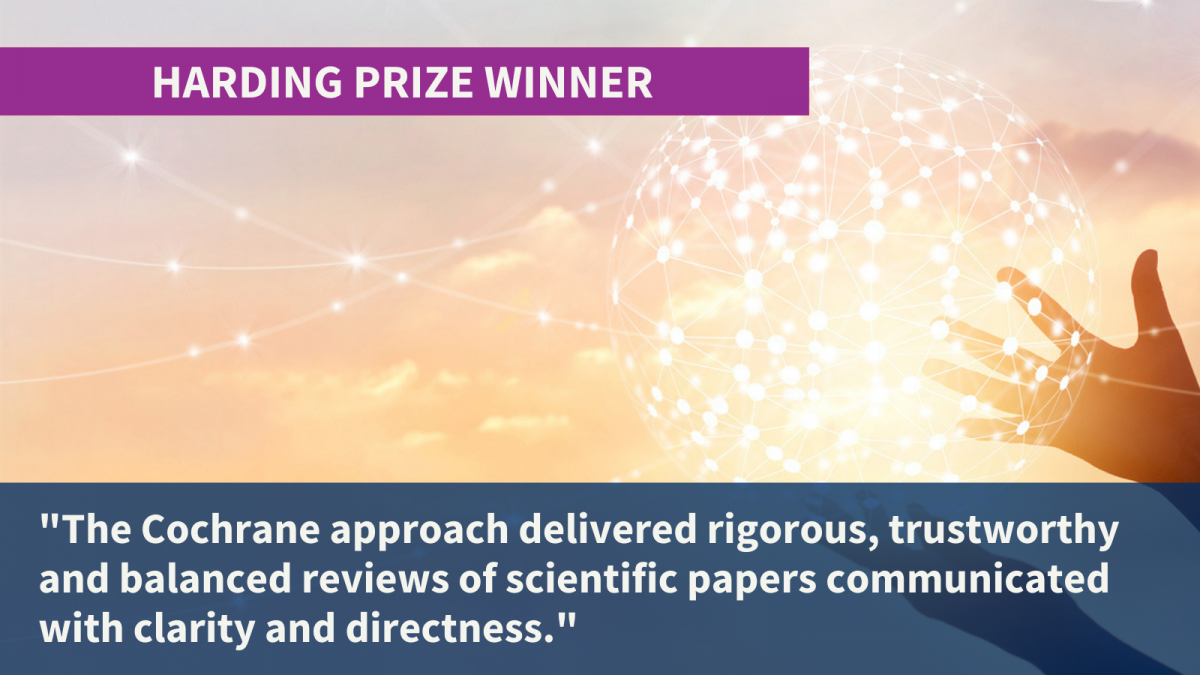 Helen Boaden, Chair of the judging panel, commented: "It's never been more important for the public and policy makers to have access to the best possible evidence before they make significant decisions for themselves or others. Both our winners set the gold standard  for clearly communicating accurate, trustworthy, transparent data without frills or spin. The panel is delighted to jointly award them the inaugural Harding Prize."
Professor Sir David Spiegelhalter, Chair of the Winton Centre, said: "The panel considered many fine examples, and we are delighted with the examples that they chose. We had intended to have a booby, 'weasel words' prize for untrustworthy communication dressed up as an unbiased source. There were many possible candidates, particularly in social media and in scientific pre-prints that had not gone through any peer review. But we finally decided that it would be inappropriate to highlight, and indeed publicise, such poor practice, and instead chose to focus on the positive efforts people have made. The Royal Society's recent report makes clear that online misinformation is best tackled, not through censorship, but by encouraging a diverse media, independent fact-checking, careful monitoring, and education."
Tracey Brown, director of Sense about Science, said: "Statistics are the currency of public life. They are how we can describe the world and debate what is getting worse or better, and never more so than during the pandemic. We are so pleased to support the Harding prize in celebrating the individuals who have sought to equip people with the means to be part of those debates."
Fiona Fox, Chief Executive of the Science Media Centre, said: "These are fantastic winners. The brilliant thing about the ONS survey is that it was communicated independently from the government communications machine so that the media and the public got to see the numbers every week free from government messaging.  And in the middle of an 'infodemic' where 1000s of scientific papers of variable quality were circulating, Cochrane's high quality review summarising where the best evidence lay on a much-hyped treatment undoubtedly saved lives."
Emma Rourke, Director of health analysis and pandemic insight at ONS, said: :The Covid Infection Survey has required the skill and perseverance of a large and multi-talented team. At our core has been the need to communicate such an important and sensitive issue accurately to a diverse audience, and be trusted to do so. We are delighted with this award, and are gratified that the information we have provided has proved valuable to expert users and influential on policy, but also understood clearly by the public."