Lifeology's tagline is 'The place where science and art converge'. They offer a platform that brings together scientists, artists, and storytellers to help people better understand and engage with science and health information and research. One of the main ways they meet their objectives is through beautifully illustrated, science-backed, bite-sized 'flashcard' courses about science and health-related topics aimed at the general public and students. We spoke to Paige Jarreau, VP of Science Communication at LifeOmic and co-founder of Lifeology more about their work.
Can you tell us a bit more about yourself?
My name is Paige Jarreau and I am VP of Science Communication at LifeOmic, a health software company. I am the co-founder of Lifeology (a LifeOmic product) along with Doryan Algarra, the VP of Design at LifeOmic.
I am a scientist turned storyteller and science communication scholar. When I was a child, the first thing I ever wanted to be when I grew up was a poet (or a science fiction writer!). As I got older I settled on a more "practical" career path as a doctor or a biomedical engineer - I imagined creating artificial organs and implants. But many years later I was enrolled in a PhD program in biomedical engineering when I realized that writing and creative expression needed to become my priority again, for my own mental health and fulfillment. From there, I never looked back. I started science blogging and ultimately got my PhD in Mass Communication studying science communication in new media environments.

Over the past decade, my interest in creative science communication has slowly morphed from primarily written to visual methods and formats. For example, I became interested in how scientists' "selfies" on Instagram could help people see them as more human and trustworthy! I became interested in how art could make science more relatable to people. Meeting and collaborating with Doryan at LifeOmic was a turning point in my change in perspective of what good science communication looks like. We founded Lifeology on the idea that art is a critical, foundational aspect of engaging and accessible science communication - but that scientists struggle to create this art on their own.

How did Lifeology get started?
Lifeology, a platform that combines science and art, was the brainchild of my friend and coworker Doryan Algarra, VP of Design at LifeOmic. Over the course of his time at LifeOmic, Doryan has worked on the design of all kinds of products that facilitate precision medicine and wellness. In this work, he has realized that science and health information is often presented in overly complex and technical ways, or in outdated ways such as doctors' office brochures that are not accessible and inclusive, much less interesting and beautiful to look at. Before developing the idea of Lifeology, Doryan had also been inspired by a book he was reading on epigenetics, of all things. Doryan generally felt that the book was complex and hard to follow. But he remembers one particular chapter to this day that helped the concept of epigenetics finally "click" for him. The chapter started with a question and then told a story about how some bees become queens and the rest become workers - based on different diets that affect the expression of their DNA! This got Doryan thinking about how even small storytelling devices and metaphors could help him understand and remember science that he thought was too difficult and niche for him to understand, let alone enjoy! As a designer, he quickly began imagining how these metaphors, and the "invisible" factors of epigenetics, could be made visual for even more impact.



Fast forward a few months, and Doryan had designed a prototype of what we know as Lifeology "flashcard" courses today. By giving art and science the same "real estate" on each "flashard" and making these courses easy to access and fun to interactively navigate on a phone, he hoped to make science and health information less intimidating and more inviting. He hoped to make science and health information more accessible to all people, including people who might be distrustful of or put off by science.

When Doryan showed me his Lifeology prototype, I was in awe. Like Doryan, I saw in these flashcard courses an innovative and fun way of delivering science information to broad audiences. But in talking through how courses would be created, we also began to see an opportunity to bring scientists and artists together to create the content as a team. Working together (a designer with a science communicator!) we became convinced that sci-art collaboration had to be a core feature of Lifeology courses. Today, we and the rest of the Lifeology team are baking collaboration tools and community into our platform to allow scientists, storytellers and artists to easily work together in the creation of Lifeology courses for broader audiences. We do this through cloud-based software collaboration tools but also processes and educational materials that help scientists and artists successfully collaborate to create better science communication.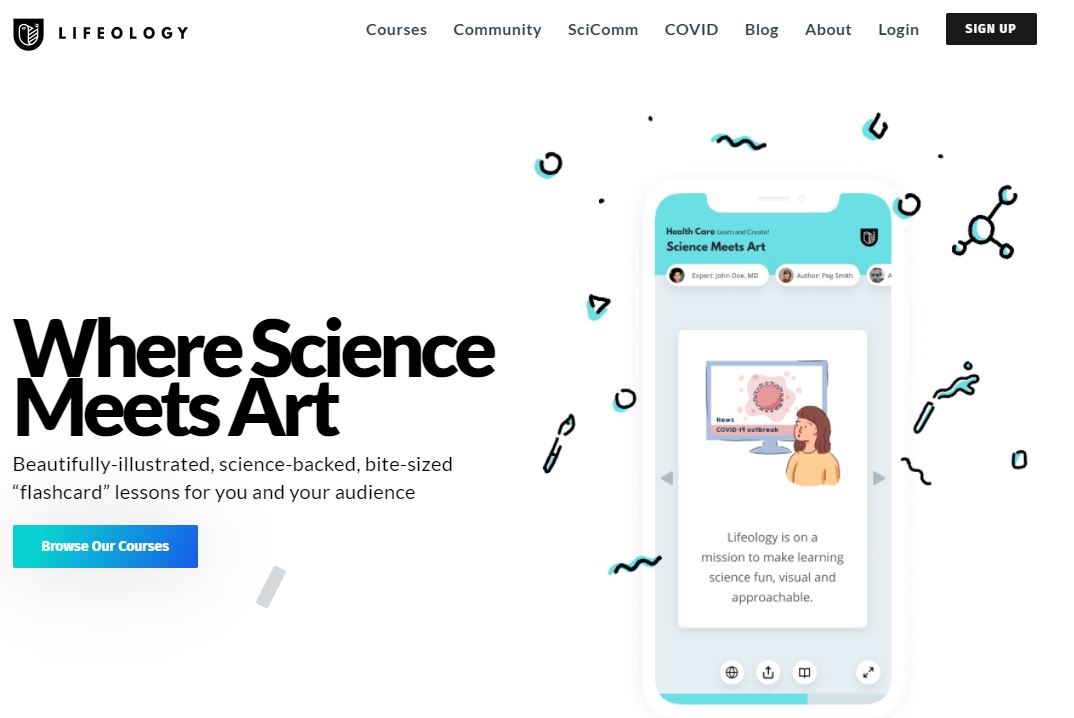 What does Lifeology do?
Lifeology is a platform and communication tool that engages broader audiences in science, health and research in a fun, accessible way. We do this by bringing together science and art in our bite-sized digital "flashcard" courses. We designed these courses and their creation process to engage populations underserved by many science communication efforts - people with low literacy for example, and populations who tend to mistrust healthcare, science and government. Self-paced learning, empathetic storytelling and inclusive visuals are some of our key elements.
But we also believe that science communication in any format, including our flashcard courses, is far better when it is the product of collaboration between scientists and professional creatives like storytellers and artists. That is why we embedded within the Lifeology platform a growing community of storytellers, translators and artists from all over the world who want to collaborate with scientists. We have over 800 members in this community today! Our Lifeology platform guides scientists and other experts through successful collaborations with storytellers and artists as they create Lifeology courses together.

Teaching people the skillset to communicate science seems important to Lifeology. Can you tell us more?
Absolutely. While there are many tools out there that try to make it easier for scientists to create visual content to communicate their work, no tool can replace the need for collaboration and empathetic storytelling. To help scientists be successful in creating engaging, accessible and inclusive Lifeology courses (or other other science communication products!), we try to teach them key science communication skills, from knowing their audience, to how to tell a story, to how to be inclusive, to how to work with artists. One way we are doing this is through our Lifeology University SciComm Program, a free series of Lifeology courses and activities that help scientists become better communicators!

What advice do you have for researchers who want to communicate their review findings out?
Our most important piece of advice is to collaborate! Collaborate with members of the communities you are trying to reach with communication of your findings. Get to know your audience and involve them in the creation of culturally relevant content. Collaborate with community leaders. Collaborate with storytellers and artists who excel at creating content that connects with people on an emotional as well as a cognitive level.

The World Health Organization has said that in addition to dealing with a global COVID-19 Pandemic we are also dealing with a Pandemic with all the misinformation being spread. What do you think about this?
Misinformation around COVID-19 has certainly become its own pandemic or "infodemic." The uncertainty, anxiety and fear that have surrounded the spread of COVID-19 have only accelerated this spread of misinformation. Uncertainty, anxiety and fear drove people to seek their own answers to questions that science didn't have clear answers to yet.
In my mind, the only way to deal with this, from a science communication perspective, is through transparency, empathy and storytelling that is driven by data but also by local knowledge systems. It takes two-way communication and not making people feel bad for falling for misinformation, while also clearly and accessible presenting what we know now and solutions that people can actually put into practice locally.
There is also plenty that each of us can do to double-check what we read online and to prevent spreading misinformation.

Plans are in the works for some future collaborations between Cochrane and Lifeology. What are your thoughts on this?
We are so excited to collaborate! We hope to produce beautifully illustrated and accessible educational content around the topic of infodemics and what we can all do to prevent the appearance and spread of misinformation.
If you would like to learn more about Lifeology:
If you would like to learn more about knowledge translation and disseminating evidence at Cochrane: