Dear Cochrane Colleagues, Members and Supporters, 
Thank you to everyone across our community for your dedication and commitment to Cochrane during 2022. The last few years have at times felt tumultuous, both due to Covid and world events, but also because of the changes we are making to ensure that Cochrane is fit for a future that meets our vision of a world of better health for all people, where decisions about health and care are informed by high-quality evidence. 
We are well on our way to creating an evolved impact-driven organisation to support evidence-based health and social care. With your help we are building on your enormous achievements, over the past thirty years, to create new ways of producing the right evidence, in a timely manner, to support decision making.  
Our updated Future Cochrane micro-site demonstrates the scale of progress at Cochrane and the work under way to transition to our new model. The site is designed to be a one-stop shop for news and information on the change process.  
Global Ageing

 

Health Equity

 
Nutrition and Physical Activity

 

Person-Centred Care, Public Health and Health Systems

 

Sexual and Reproductive Health

 

Vascular

 

Work and Health and Social Security

 
Many of you are interested in the next steps of our transition. We will make further announcements about the process for establishing Evidence Synthesis Units next year. 
At the end of November Jimmy Volmink provided a superb Cochrane lecture focusing on equality and diversity. Many of the themes and challenges that he raised are already being threaded through our future plans.  
Open Access is of course key to that future, ensuring that more people have immediate access to our content.  Progress demonstrating our commitment was evident last month when Cochrane launched Cochrane Evidence Synthesis and Methods, our first open access journal, in which we will publish diverse types of evidence synthesis, methods research, and research on other areas vital to evidence synthesis. This new platform allows us to disseminate research beyond systematic reviews from across Cochrane groups and collaborators ­– who until now, have not been able to publish their research in a Cochrane journal.  
And of course, we have been delighted with the high-profile reviews that we've published in the Cochrane Library. 
As we ramp up our fundraising efforts across the organisation it's great to see that we have already had success in the US, with  $5 million for Cochrane Eyes & Vision US Satellite,  $1 million to Cochrane US Network and in South Africa with partners, funding for The Global Evidence, Local Adaptation project.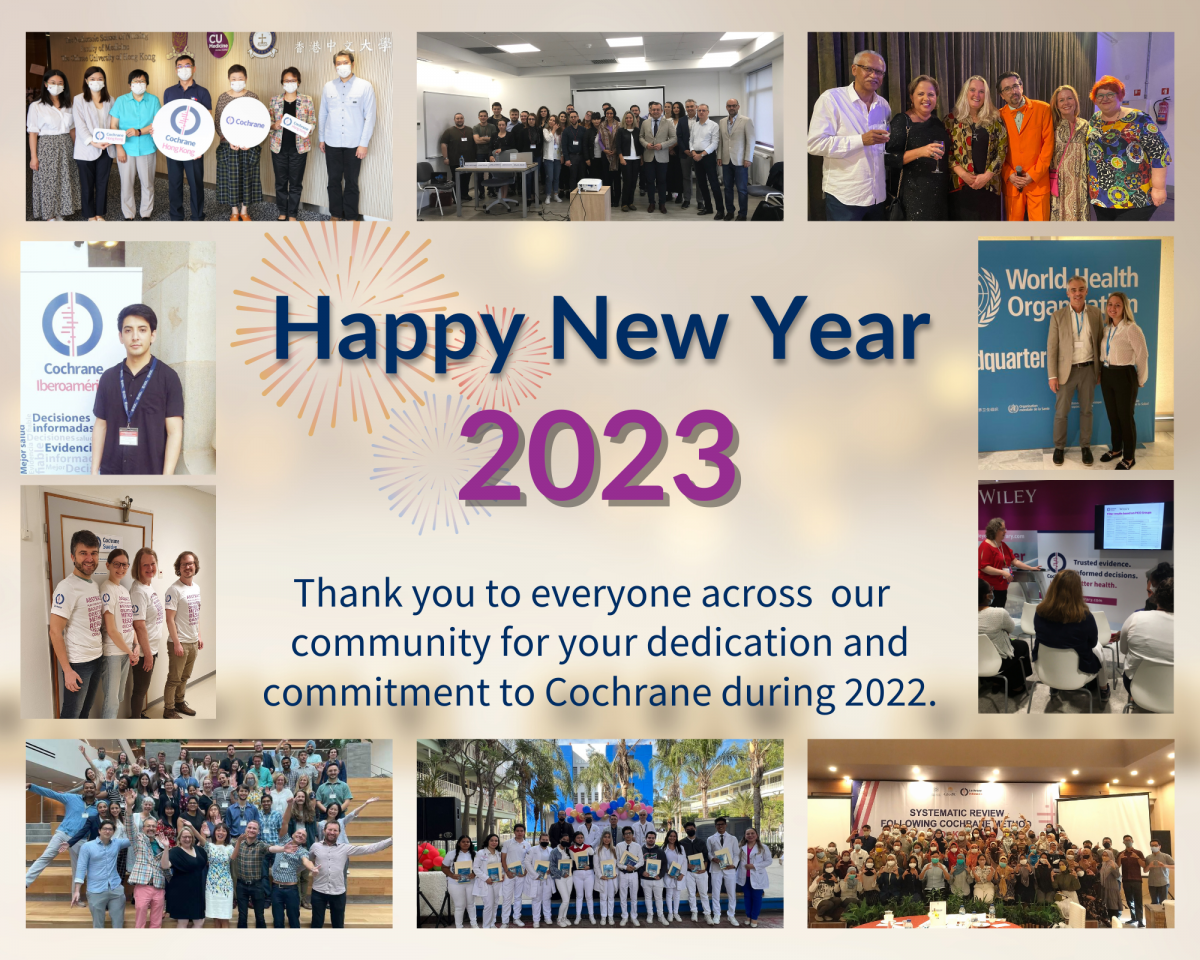 6,100+ plain language summaries were translated in 15 different languages in 2022 so far

 
Diversity and Inclusion progress: 
And there's also great news from our Evidence Pipeline Team. Cochrane has always been a leader in innovation, and now we have demonstrated further success by introducing the ability to browse the Cochrane Library by patient/population, intervention, comparison, and outcomes, which is universally shortened to PICO. It is now possible to browse Cochrane content using themed groups of included PICOs from the Cochrane Library homepage. Users can discover Cochrane content using themed groups of included PICOs curated and maintained by Cochrane PICO ontology experts. With one click, users can see all available search results for categories with included PICOs. In addition, there is clear contextual help for those new to PICOs, with clear guidance on using PICOs and links to the relevant section of the Cochrane Handbook.  
Additional successes include: 
Over

5200 new contributors

have joined

Cochrane Crowd

this year, bringing total Crowd community to 28,302 people from 178 countries!

 

1.7 million records assessed by the Crowd this year

 

Launched new Crowd task

PICO Extract

in August 2022. Over 4000 RCTs have now been PICO annotated. 

 
We launched the

Central Study Identification Service

– a service that helps to identify the studies for any Cochrane Review. We are in a pilot phase at the moment but the service has been used by 7 Cochrane Intervention Reviews so far and reduced author screening by an average of 70%. 

 

Cochrane Crowd hosted a

huge 24-hour screening challenge

in October this year: organised by Cochrane Mexico using Cochrane Classmate, nearly 600 students screened over 250,000 records in just 24 hours.

 
2022 has been a busy but productive year, thank you all for the incredible work you have done. 
2023 promises to be challenging as we continue our transformation. This includes the changes to UK Review Groups as a result of the loss of NIHR funding in the UK; their contribution to the Cochrane Library and Cochrane has been immense. It is difficult to find words which adequately describe how much they have given to Cochrane.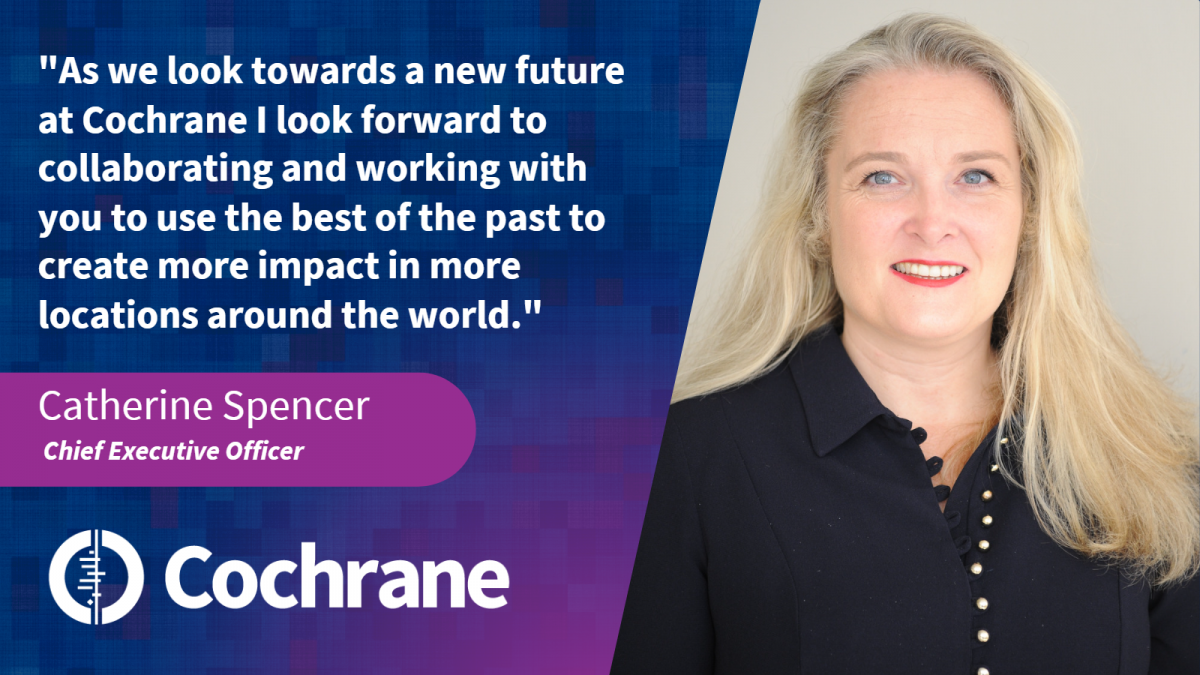 As we look towards a new future at Cochrane I look forward to collaborating and working with you to use the best of the past to create more impact in more locations around the world. 
Best wishes for a wonderful festive season and a happy and healthy 2023, 
On behalf of the Executive Leadership Team 
Wednesday, December 21, 2022