Cochrane's framework to 2027 builds on existing work leading to consumer involvement throughout the entire process of research and dissemination of Cochrane evidence. 
Healthcare consumers (patients, carers, and the public) play a vital role in making sure that Cochrane evidence addresses important questions and is produced, presented, and made available in a way that's useful for people making difficult decisions about healthcare. 
Our consumer volunteers are a vital part of our evidence community, and we thank them for contributing their time, skills and lived experience to the organisation. 
Cochrane supports consumer involvement and engagement in health research because it promotes transparency, accountability, and trust in the way that research is produced; results in evidence that addresses consumers' needs; reduces waste in research; improves the translation of research into policy and practice;  leads to improved benefits for health systems and better outcomes for patients; is consistent with current health research approaches; and is expected or mandated by our funders, partners, and consumers themselves.
Cochrane's framework for consumer engagement and involvement to 2027 is a result of significant involvement of stakeholders: a task group, consultations, surveys, prioritisation exercises, and drawing on central strategies and previous work with consumers.
We would like to thank all those people who contributed to creating this ambitious vision and we look forward to the work ahead to make this a reality. 


Richard Morley, Cochrane's Consumer Engagement Officer, explains; "Cochrane has a long and rich history of collaborating with healthcare consumers. The Cochrane Consumer Network has played a formal role since 1995 with over 2,000 members and 2 Consumer Executives serving on the Cochrane Council. This framework will help guide Cochrane's work to 2027; upscaling our existing efforts and ensure consumers are embedded and central to our work."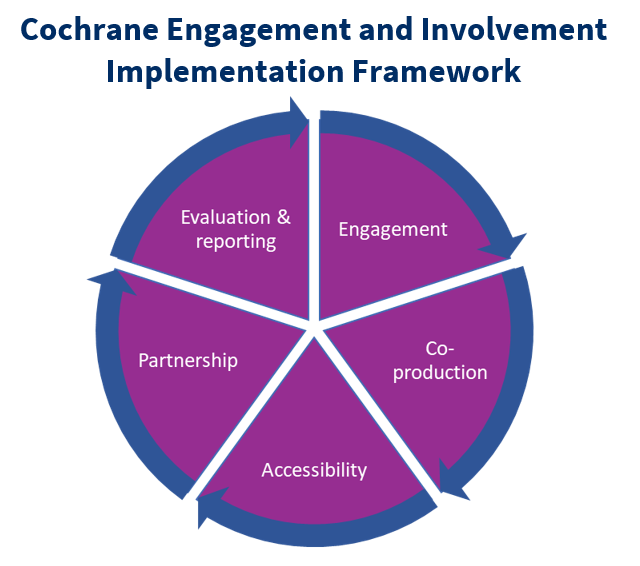 The framework has five elements:
Engagement - a programme of communication about health research, evidence dissemination, recruitment and learning that helps more people use evidence in health decision making.
Co-production - increase the number of reviews prioritised and that involve consumers in the evidence production process to ensure that reviews are aligned with users' needs and support consumer involvement in the governance of Cochrane.
Accessibility - a programme to improve health literacy amongst healthcare consumers that covers understanding evidence, health research, critical appraisal, and shared decision making, whilst working to make Cochrane evidence more accessible.
Partnership - establish a range of international strategic partnerships, including patient groups, to develop engagement, co-production, advocacy and health literacy activities leading to the dissemination of Cochrane evidence and improved engagement and involvement.
Evaluation and reporting - establish an observatory in order to ensure Cochrane's work in engagement and involvement is evidence based, and to monitor and evaluate the impact of its work.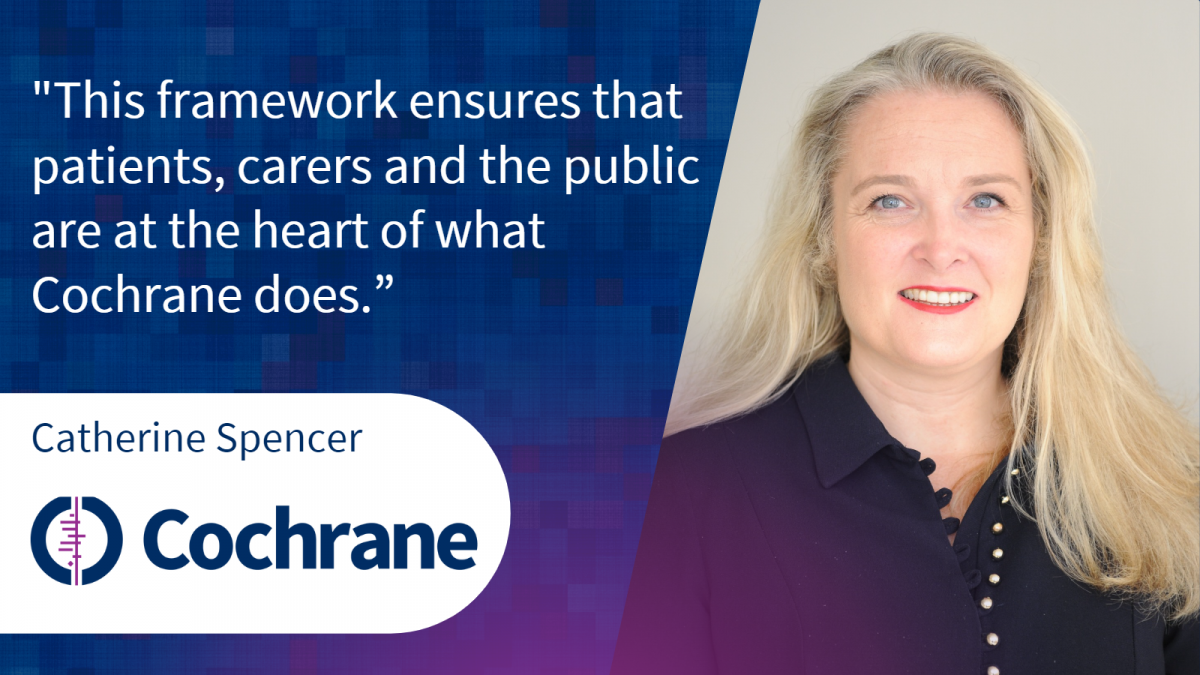 "Cochrane's importance in the world of evidence-based medicine, its increasingly global reach, and growing membership, create an opportunity to significantly develop its work to engage with an international patient and public audience," says Catherine Spencer, Cochrane CEO. "This framework ensures that patients, carers and the public are at the heart of what Cochrane does." 
Chris Champion, Cochrane's Engagement, Learning and Support, explains how the framework fits in to Cochrane's engagement strategy and how you can get involved. 
Maureen Smith, Chair of the Cochrane Consumer Network Executive, explains how the framework fits into Cochrane's engagement strategy and is relevant to patients, carers, and the public.