People with fibromyalgia have persistent, widespread body pain and there are more than 30 Cochrane Reviews of interventions that might help them. In September 2019, a new review was added to the Cochrane Library, studying the effects of flexibility exercise training. We asked its lead author, Soo Kim from the University of Saskatchewan in Canada, to tell us about the findings.
"As well as suffering from pain across their whole body, some people with fibromyalgia also have fatigue, anxiety, depression, and sleep difficulties. Exercise training is commonly recommended for them and flexibility exercise training is one of the techniques that is frequently prescribed. This is a type of exercise that focuses on improving or maintaining the amount of motion available in muscles and joint structures by holding or stretching the body in specific positions. We've investigated its impact when compared to regular treatment which doesn't include any formal exercise program; land-based aerobic training, such as treadmill walking; resistance-training, such as using weight machines to provide resistance and other interventions, such as Pilates.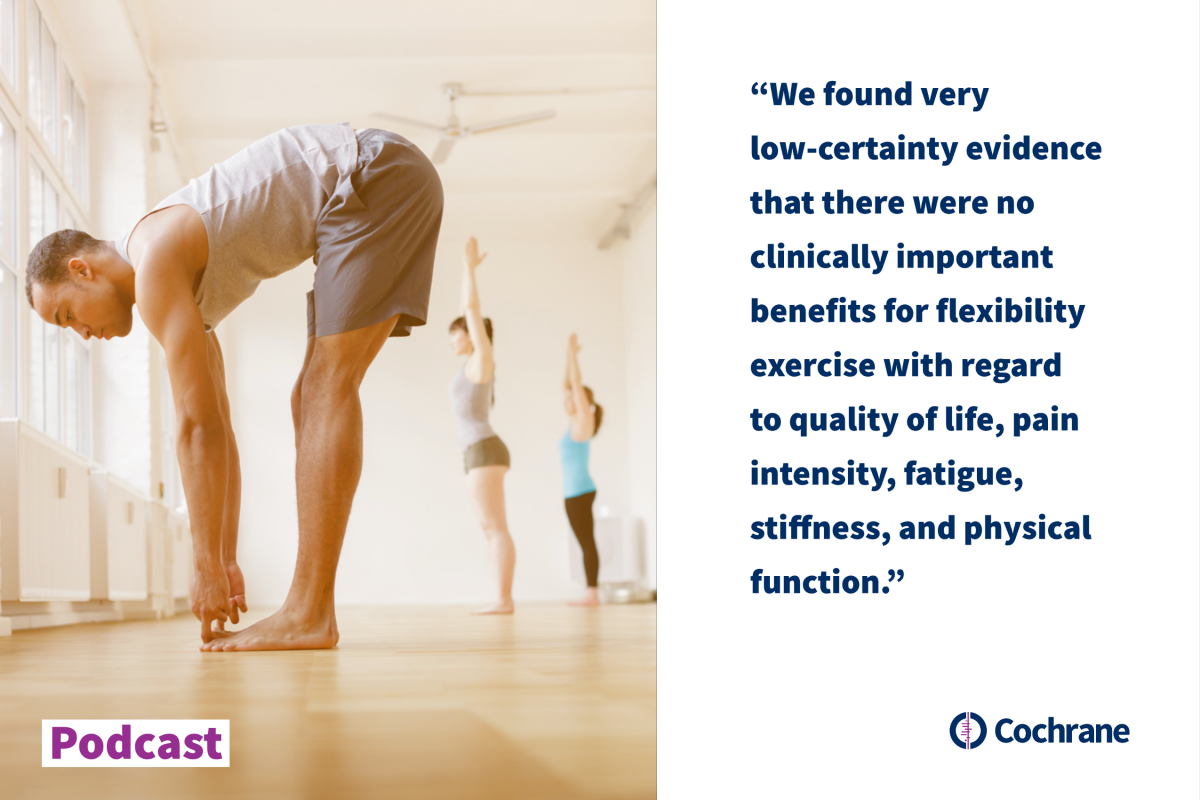 Our main comparison was flexibility exercise versus land-based aerobic training and we found very low-certainty evidence that there were no clinically important benefits for flexibility exercise with regard to quality of life, pain intensity, fatigue, stiffness, and physical function.
Our review includes 12 randomized trials, involving nearly 750 people, with an average age of 49. The trials were done in seven countries, and seven of the 12 included women only. The stretching exercise programs ranged from 40 to 60 minutes, 1 to 3 times a day, with patients taking part in the trials for between 4 and 20 weeks.
The reports differed in how much detail they provided on the exercise but one of the main limitations of the trials may be that the protocols for flexibility exercise training were not set according to American College of Sports Medicine, or ACSM, guidelines, and may not have reached the necessary threshold to achieve benefits for people with fibromyalgia. None of the included studies met all the recommended FITT‐VP (frequency, intensity, time, type, volume, and progression) principles for healthy individuals outlined in the 2013 guidelines.
In conclusion therefore, although our review has shown no significant long-term benefits of flexibility exercise training, there is so much variability in how trials have been conducted that we cannot be sure if there will, or won't, be lasting benefits for people doing this form of exercise intervention. It's also not possible to make specific recommendations about the optimal design of flexibility exercise training protocols without a larger body of high‐quality studies with clearly outlined flexibility training protocols that meet the recommended FITT principles and ACSM guidelines. Such studies would greatly advance our understanding of the potential benefits and harms of this type of exercise."
Friday, February 14, 2020