Cochrane is made up of 13,000 members and over 50,000 supporters come from more than 130 countries, worldwide. Our volunteers and contributors are researchers, health professionals, patients, carers, people passionate about improving health outcomes for everyone, everywhere.
Cochrane is an incredible community of people who all play their part in improving health and healthcare globally. We believe that by putting trusted evidence at the heart of health decisions we can achieve a world of improved health for all. 
Many of our contributors are young people working with Cochrane as researchers, citizen scientists, medical students, and volunteer language translators and we want to recognize the work of this generation of contributors as part of this series called, Cochrane's "30 under 30." 
In this series, we will interview 30 young people, 30 years old or younger who are contributing to Cochrane activities in a range of ways, all promoting evidence-informed health decision making across the world. 
We will be hearing from them in a series of interviewees published over the coming months.
We're keen to hear from you. Would you like to take part in this series? Do you know someone you'd like to see interviewed? Contact kabbotts@cochrane.org.  Or if you want to know more about Cochrane's work contact membership@cochrane.org where our community support team will be happy to answer your questions.

Name
: Ammar Sabouni
(on Twitter at @amosabo)

Age
:
26

Occupation
: Academic Clinical Trainee and Students 4 Best Evidence Pioneer
Program
: Academic Foundation Year 1 Doctor at Hull and East Yorkshire Hospitals NHS trust
How did you first hear about Cochrane?
I started medical school in Syria, a year before the start of the uprising. Towards the end of my first year I became interested in the activities of the Cochrane Schizophrenia group through one of my Psychiatry professors, Prof. Adib Essali. During my first two years at university I attended my first Cochrane Standard Author training in Damascus, by Prof. Clive Adams, head of the Cochrane Schizophrenia Group and I also had the chance to meet Sir Iain Chalmers and listen to his talk when he visited Damascus.

How did you become involved with Cochrane? What is your background?
Still in my basic science years at University studying to become a doctor I struggled to grasp the clinical contexts of the Cochrane reviews we were doing at first. Though my first systematic review was not a Cochrane one, later and with time I completed my first update of a Cochrane systematic review with the Cochrane Heart group. During this time, I became involved with Cochrane's student initiative, Students 4 Best Evidence through which I was invited to come to Oxford for a placement within Cochrane UK.

What do you do in Cochrane?
I have since completed a number of consultancies for Cochrane UK including work on Cochrane review impact on Guidelines, early stages of the Cochrane-Wikipedia work, and Arabic translation work for Cochrane Bahrain, and become a Students 4 Best Evidence pioneer, authoring many blogs for the network. I have also continued to author Cochrane reviews for the Heart Group, Bone Muscle Joint Trauma group and am currently working on advancing Cochrane Arabic translation through a blogshot translation project.

What specifically do you enjoy about working for Cochrane and what have you learnt?
I know it may sound cheesy – but Cochrane is very much a huge family. Most people you will work with are there because they really believe in the work. I remember asking Sir Iain Chalmers if I could be involved in any research work while I was in Oxford and him telling me that in his opinion currently carrying out almost any primary research was unethical; that we should all be working on Cochrane systematic reviews, period. That is something you will really live and feel when working with people in Cochrane. It is a huge, multi-cultural, truly global collaboration of people who have come together because they really believe in the need for this work.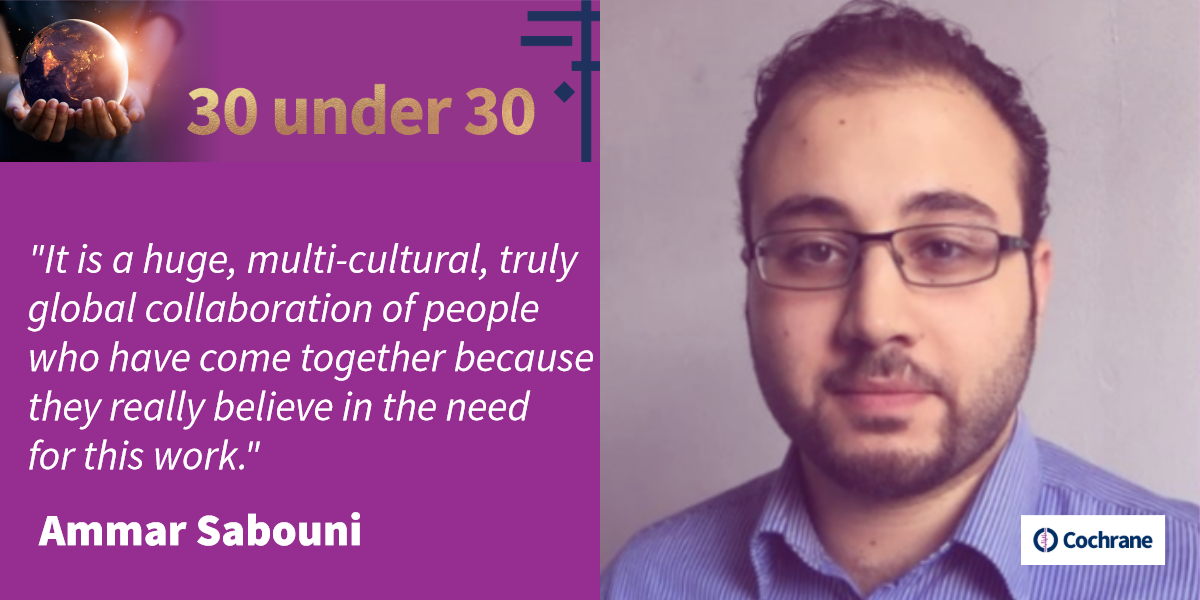 What are your future plans?
I received a bursary to attend the Global Evidence Summit in Cape Town but unfortunately was unable to attend because of the birth of my little baby girl, Maria. The ethos behind the Global Evidence Summit though I did not attend carries a lot of meaning for me. The fact that we need evidence-based policy not simply in health, in this day and age, is essential.

When many are keen to blur the lines between fact and fiction our best response is to produce, disseminate and advocate for the use of the best evidence and critical thinking for policy in all aspects of life. I am still searching for what truly interests me and where I can do the most good. Be that as it may rest my belief in the importance of the work that Cochrane does, best evidence and critical thinking, will go with me wherever I go.

In your personal experience, what one thing could Cochrane do better to improve its global profile?
I think there has been a lot of work to engage with much wider audiences. There is still much left for us to do to engage with younger generations. The nature of the work that Cochrane does makes this no easy task. I believe we can though create places where young authors work to create draft reviews and get instant feedback in a learning environment that is streamlined and friendly. In a way that will give people the opportunity to get stuck right into the work. In addition to helping with translations, dissemination and other tasks.

What do you hope for Cochrane for the future?
I hope Cochrane will continue to involve patient and wider communities into the synthesis and application of the amazing work that happens. I am ambitious that the evidence we produce we will keep finding new and innovative ways to translate directly into practice. I am especially excited about the Cochrane – Wikipedia work and hope that it will continue to bear fruit and help people get access to the best evidence.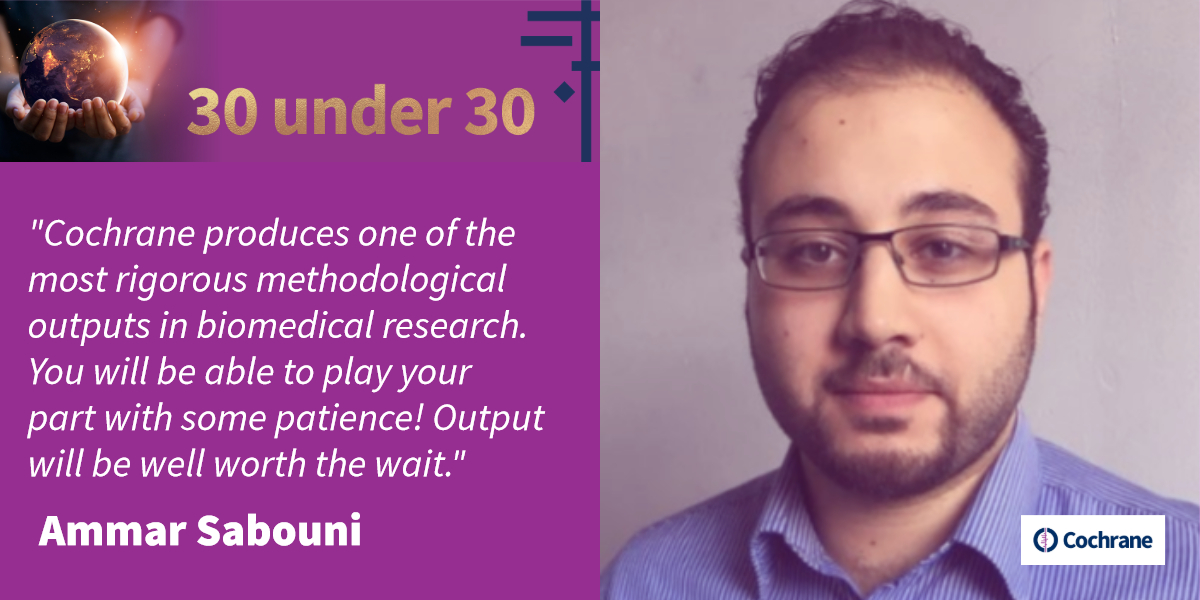 How important is it that young people get involved in Cochrane? Why is this, do you think?
I think you may have gathered from above that I feel young people are essential for Cochrane. Context is key; with a collaboration of this magnitude and with how critical it is for the evidence we produce to be utilised. Eventually we will no longer understand the contexts that we work in as well as the younger generations. To make the work Cochrane does sustainable then we need to actively engage the younger generations.

What would your message be to other young people who want to get involved with Cochrane's work but not sure where to start….?
With tens of thousands of volunteers from around the world Cochrane is a very large organisation. Start small and find any opportunity to help. Translations, task exchange, social media, and training courses are very good places to start. Students 4 Best Evidence are a great community and always welcome new people. It will take some time until you create your network of Cochranites but with a little perseverance you will find yourself a member of this big family. 

Remember that Cochrane produces one of the most rigorous methodological outputs in biomedical research. You will be able to play your part with some patience! Output will be well worth the wait. I attended Cochrane Colloquium Edinburgh and I met people I had not seen for years and it still felt like it was only yesterday!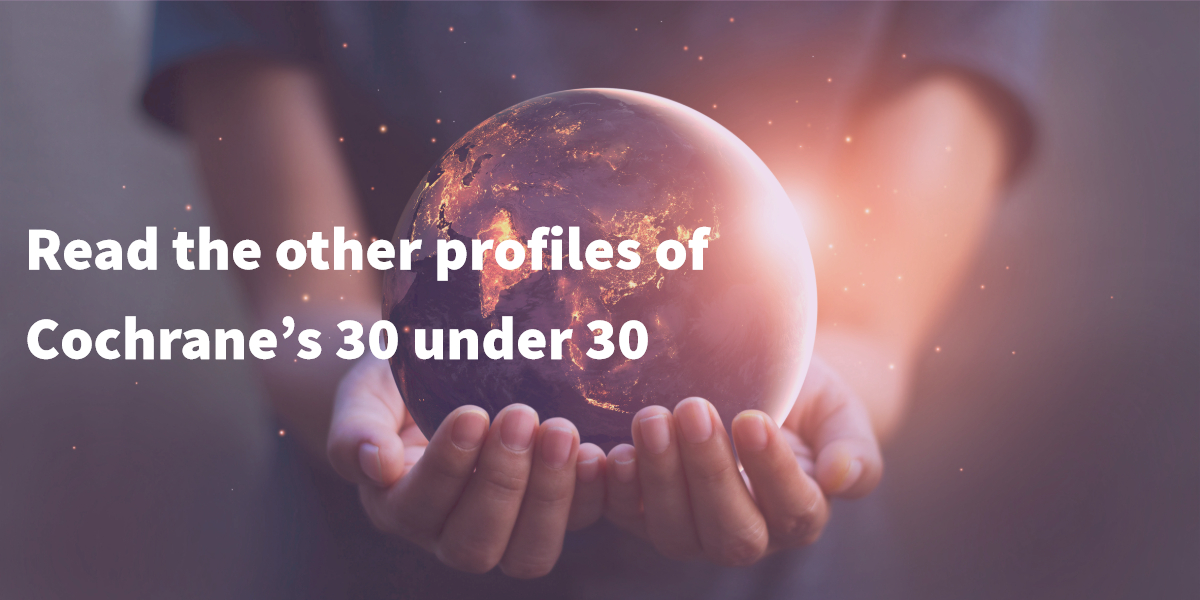 Friday, February 15, 2019